140 Reading Quotes For Kids (To Inspire You in 2023)
What do you say to encourage a child to read?
Reading Quotes for Kids inspire a love of reading in your student.
Becoming a lifelong reader doesn't happen overnight.
Your first grader complains about reading his nightly book for school.
Your seventh grader struggles to make it through an assigned novel.
Your teenager just doesn't like to read.
Sound familiar? Are you swallowing the urge to scream JUST READ ALREADY! IT'S GOOD FOR YOU!?
Inspirational kids reading quotes help us focus on a goal and take action. Plus, they guide your child to see the impact reading can have on themselves and others. So, when you're not sure what to say…give these children's reading quotes a shot!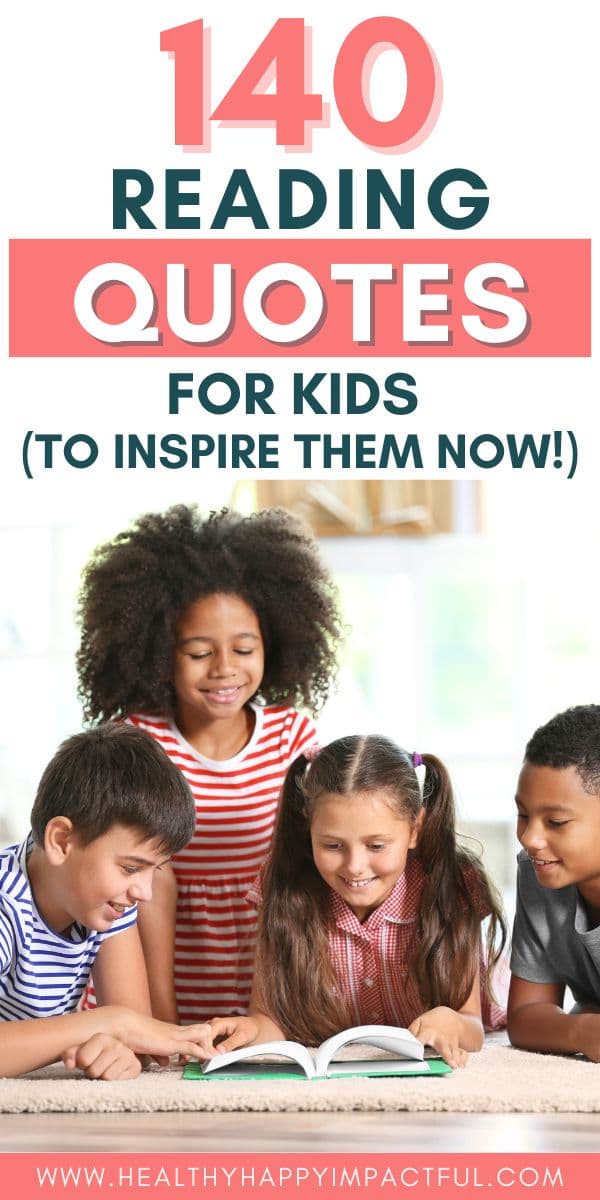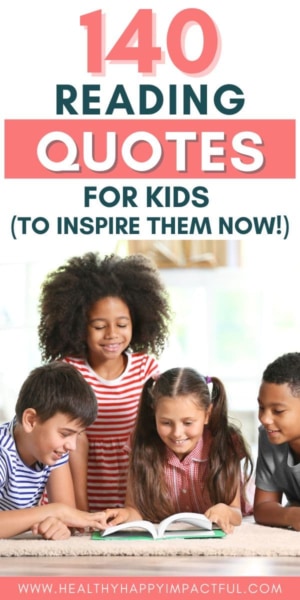 Quotes About the Importance of Reading For Kids
First, from Taylor Swift to Roald Dahl, find unique quotes on the importance of reading books and starting a reading habit.
1. "The more that you read, the more things you will know. The more that you learn, the more places you'll go."–Dr. Seuss
2. "Once you learn to read, you will be forever free."–Frederick Douglass
3. "Reading is to the mind what exercise is to the body."–Richard Steele
4. "Books train your imagination to think big."-Taylor Swift
6. "The whole world opened up to me when I learned to read."–Mary McCleod Bethune
7. "There are many little ways to enlarge your world. Love of books is the best of all."-Jacqueline Kennedy
8. "A book is a gift you can open again and again."–Garrison Keillor
9. "Books make great gifts because they have whole worlds inside of them."–Neil Gaiman
10. "If you don't like to read, you haven't found the right book."– J.K. Rowling
11. "He that loves reading has everything within his reach."-William Godwin
12. "I really had a lot of dreams when I was a kid, and I think a great deal of that grew out of the fact that I had a chance to read a lot."-Bill Gates
13. "It is books that are the key to the wide world; if you can't do anything else, read all that you can."-Jane Hamilton
14. "Keep reading. It's one of the most marvelous adventures that anyone can have."–Lloyd Alexander
15. "Never put off till tomorrow the book you can read today."–Holbrook Jackson
16. "Not all readers are leaders, but all leaders are readers."-Harry S. Truman
17. "Reading is a basic tool in the living of a good life."-Mortimer J. Adler
18. "The only way to do all the things you'd like to do is to read."-Tom Clancy
19. "Reading is an exercise in empathy. An exercise in walking in someone else's shoes for a while."-Malorie Blackman
20. "No matter how busy you may think you are, you must find time for reading, or surrender yourself to self-chosen ignorance."-Confucius
22. "Books can be dangerous. The best one should be labeled "This could change your life."-Helen Exley
23. "Books shouldn't be daunting, they should be funny, exciting, and wonderful; and learning to be a reader gives us a terrific advantage."– Roald Dahl
24. "In the case of good books, the point is not to see how many of them you can get through, but rather how many can get through to you."-Mortimer J. Adler
25. "From your parents you learn love and laughter and how to put one foot before the other. But when books are opened you discover you have wings."-Helen Hayes
Encouraging Children Reading Quotes
26. "I read a book one day and my whole life was changed."-Orhan Pamuk
27. "Books are good company, in sad times and happy times, for books are people-people who have managed to stay alive by hiding between the covers of a book."-E.B. White
28. "It is not true that we have only one life to live; if we can read, we can live as many more lives and as many kinds of lives as we wish."– S.I. Hayakawa
29. "Children who love reading have everything within their reach."-Unknown
31. "Kids lose themselves in books, they find themselves there too."-Lewis Keegan
32. "The easiest way to open your mind to new ideas and concepts is to open a book and read."-Unknown
33. "Reading is essential for those who seek to rise above the ordinary."-Jim Rohn
34. "The person who deserves most pity is a lonesome one on a rainy day who doesn't know how to read."-Benjamin Franklin
35. "Read. Travel. Read. Ask. Read. Learn. Read. Connect. Read."-Dr. Seuss
36. "If we encounter a man of rare intellect, we should ask him what books he reads."-Ralph Waldo Emerson
37. "Reading is a way for me to expand my mind, open my eyes, and fill up my heart."-Oprah Winfrey
38. "Think before you speak. Read before you think."-Fran Lebowitz
*Need another way to get kids motivated? Try one of these fun kids reading challenge ideas!
Short Cute Reading Quotes for Kids
Kids will love these short reading quotes that make you smile.
39. "Reading one book is like eating one potato chip."-Diane Duane
40. "I was reading a book…'history of glue'…I couldn't put it down."-Tim Vine
41. "The things I want to know are in books."-Abraham Lincoln
42. "Books are the quietest of friends."-Charles W. Eliot
43. "Reading brings us unknown friends."– Honore de Balzac
45. "Reading…a vacation for the mind."-Dave Barry
46. "Reading gives us someplace to go when we have to stay where we are."-Mason Cooley
47. "You can find magic wherever you look. Sit back and relax, all you need is a book."-Dr. Seuss
48. "There's something good in every book, but sometimes you just have to look for it."-Unknown
49. "So many books, so little time."-Frank Zappa
50. "Never put off till tomorrow the book you can read today."-Holbrook Jackson
51. "You cannot open a book without learning something."-Confucius
52. "A poem begins in delight and ends in wisdom."-Robert Frost
53. "Oh, magic hour, when a child first knows she can read printed words."-Betty Smith
54. "You have to be a speedy reader because there's so so much to read."-Dr. Seuss
55. "A book is like a garden, carried in the pocket."-Chinese Proverb
57. "Let's be reasonable and add an eighth day to the week that is devoted exclusively to reading."-Lena Dunham
58. "I used to walk to school with my nose buried in a book."-Coolio
59. "If you ever find yourself in the wrong story, leave."-Goldilocks and the Three Dinosaurs by Mo Willems
60. "Reading is dreaming with open eyes."-Unknown
61. "Between the pages of a book is a lovely place to be."-Unknown
62. "If a book is well written I always find it too short."-Jane Austen
63. "When books are opened you discover you have wings."-Helen Hayes
64. "Books are the perfect entertainment: no commercials, no batteries, hours of enjoyment for each dollar spent."-Stephen King
65. "You are never alone when you are lost in the magic of a book."-Marie Lu
66. "I do not read a book. I hold a conversation with the author."-Elbert Hubbard
67. "The only thing that you absolutely have to know, is the location of the library."-Albert Einstein
*Need to a boost to help get your child motivated? Join our free reading challenge – unique tips, freebies, and book recommendations all year long!
Fun Kids Reading Quotes
Reading is supposed to be fun! Use these fun and funny reading quotes for students to remind everyone to enjoy a good book.
68. "Be awesome! Be a book nut!"–Dr. Seuss
69. "Outside of a dog, a book is man's best friend. Inside of a dog, it's too dark to read."-Groucho Marx
70. "Books are the plane, and the train, and the road. They are the destination, and the journey. They are home."-Anna Quindlen
72. "So the writer who breeds more words than he needs, is making a chore for the reader who reads."-Dr. Seuss
73. "What word in the English language has three consecutive double letters? Answer: Bookkeeper."-Unknown
74. "I find television very educating. Every time somebody turns on the set, I go into the other room and read a book."-Groucho Marx
75. "Some books should be tasted, some devoured, but only a few should be chewed and digested thoroughly."-Cornelia Funke
76. "Some women have a weakness for shoes. I can go barefoot if necessary. I have a weakness for books."-Oprah Winfrey
77. "A classic is something that everybody wants to have read and nobody wants to read."-Mark Twain
78. "So please, oh please, we beg, we pray, go throw your TV set away, and in its place you can install a lovely bookshelf on the wall."- Roald Dahl
79. "I can read in red. I can read in blue. I can read in pickle color too."-Dr. Seuss, I Can Read With My Eyes Shut!
80. "Books are the bees which carry the quickening pollen from one to another mind."-James Russell Lowell
81. "If you can read this, thank a teacher."-Unknown
82. "The journey of a lifetime starts with the turning of a page."-Rachel Anders
83. "Reading is a discount ticket to everywhere."-Mary Schmich
84. "Wear the old coat and buy the new book."-Austin Phelps
86. "No book is really worth reading at the age of ten which is not equally- and often far more- worth reading at the age of fifty and beyond."-C.S. Lewis
87. "I am part of everything that I have ever read."-Theodore Roosevelt
88. "The books transported her into a new world and introduced her to amazing people who lived exciting lives."-Matilda by Roald Dahl
89. "You can't buy happiness, but you can buy books. And that's kind of the same thing."-Unknown
90. "There are no happy endings. Endings are the saddest part. So just give me a happy middle. And a very happy start."-Every Thing on It by Shel Silverstein
Quotes About Reading by Famous Authors
Enjoy reading what famous authors have to say about their favorite pastime.
91. "There's so much more to a book than just the reading."-Maurice Sendak
92. "There's no such thing as a kid who hates reading. There are some kids who love reading, and kids who are reading the wrong books."-James Patterson
93. "Let children read whatever they want and then talk about it with them."-Judy Blume
94. "There is no friend as loyal as a book." –Ernest Hemingway
95. "You can never get a cup of tea large enough or a book long enough to suit me.– C.S. Lewis
96. "Never trust anyone who has not brought a book with them."–Lemony Snicket
97. "Reading should not be presented to children as a chore, a duty. It should be offered as a gift."– Kate DiCamillo
98. "To learn to read is to light a fire; every syllable that is spelled is a spark."-Victor Hugo
100. "Books and doors are the same thing. You open them, and you go through into another world."– Jeanette Winterson
101. "Reading is the gateway for children that makes all other learning possible."– Barack Obama
102. "There is more treasure in books than in all the pirate's loot on Treasure Island."– Walt Disney
103. "Books to the ceiling, books to the sky, my pile of books is a mile high. How I love them! How I need them! I'll have a long beard by the time I read them." –Arnold Lobel
105. "I do believe something very magical can happen when you read a good book."–J.K. Rowling
106. "Books are a uniquely portable magic."–Stephen King
107. "I owe everything I am and everything I will ever be to books."-Gary Paulsen
108. "Reading is a passport to countless adventures."-Mary Pope Osbourne
109. "A writer only begins a book. A reader finishes it."-Samuel Johnson
110. "The man who does not read good books is no better than the man who can't."-Mark Twain
111. "There is no frigate like a book, to take us lands away."-Emily Dickinson
112. "Remake the world, a little at a time, each in your own corner of the world."-Rick Riordan
Good Quotes About Reading to Children
The benefits of reading aloud to kids include:
stronger vocabulary
strengthening cognitive abilities
basic understanding of how books work
bonding and enjoyment by both kids and parents
Reading statistics show 83% of children love or like being read to a lot. 86% of parents feel the same way. (Scholastic) Plus, kids that read (or are read to) a lot have higher test scores and are better readers.
113. "One of the greatest gifts adults can give- to their offspring and to their society- is to read to children."– Carl Sagan
115. "So it is with children who learn to read fluently and well; They begin to take flight into whole new worlds as effortlessly as young birds take to the sky."-William James
116. "You may have tangible wealth untold; Caskets of jewels and coffers of cold. Richer than I you can never be – I had a Mother who read to me."-Strickland Gilliland
117. "A children's story that can only be enjoyed by children is not a good children's story in the slightest."-C.S. Lewis
118."Show me a family of readers, and I will show you the people who move the world."– Napoleon Bonaparte
119. "Children are made readers on the laps of their parents."-Emilie Buchwald
120. "If you want your children to be intelligent, read them fairy tales. If you want them to be more intelligent, read them more fairy tales."-Albert Einstein
121. "When I say to a parent, 'read to a child', I don't want it to sound like medicine, I want it to sound like chocolate."– Mem Fox
122. "There is no substitute for books in the life of a child."-May Ellen Chase
124. "Reading aloud with children is known to be the single most important activity for building the knowledge and skills they will eventually require for learning to read."-Marilyn Jager Adams
125. "There is no such thing as a child who hates to read; there are only children who have not found the right book."-Frank Serafini
126. "You're never too old, too wacky, too wild, to pick up a book and read to a child."-Dr. Seuss
127. "Any book that helps a child to form a habit of reading, to make reading one of his deep and continuing needs, is good for him."-Maya Angelou
128. "Few things leave a deeper mark on the reader, than the first book that finds its way to his heart."-Carlos Ruiz Zafon
129. "I will defend the importance of bedtime stories to my last gasp."-J.K. Rowling
130. "No entertainment is so cheap as reading, nor any pleasure so lasting."-Lady Mary Wortley Montagu
*Want more quotes? See great kids kindness quotes too!
Top 10 Love to Read Quotes
Ultimately, we want our kids to love to read! Be inspired by these reading quotes for children.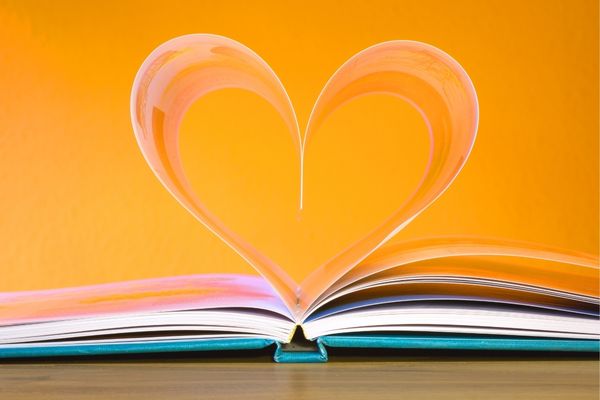 131. "An hour spent reading is one stolen from paradise."-Thomas Wharton
132. "I think reading one book leads to another book."-Kate DiCamillo
133. "Knowing you have something good to read before bed is among the most pleasurable of sensations."-Vladimir Nabokov
134."Each book was a world unto itself, and in it I took refuge."-Alberto Manguel
135. "I have always imagined that Paradise will be a kind of library."-Jorge Luis Borges
137. "Books are the most accessible and wisest of counselors, and the most patient of teachers."-Charles W. Eliot
138. "It is a great thing to start life with a small number of really good books which are your very own."-Arthur Conan Doyle
139. "A reader lives a thousand lives before he dies…The man who never reads lives only one."-George R.R. Martin
140. "There are perhaps no days of our childhood we lived so fully as those we spent with a favorite book."-Marcel Proust
To Consider With Kids Reading Quotes
Help instill the lifelong love of reading in your kids (and yourself) with these kids reading quotes. After all, reading isn't an event but a journey. And every book counts.
Good luck friend!
Other HHI Posts You'll Love…
Check out these articles for more inspirational quotes and books to get your kids reading.
Sources
Best Quotes About Reading For Kids (How to Encourage Books)