140 Best Boy Mom Quotes (To Make You Smile) In 2023
Quotes For Being A Boy Mom
Recently, I glanced at my job notes and saw 'poop' written in 7-year-old handwriting. And that sums up my life as a mom of two boys!
Along with dirty faces, smelly feet, bottomless stomachs, and daily living room sessions of WWE Smackdown.
Lego pieces litter the floor and Nerf gun darts are stuck in every nook and cranny.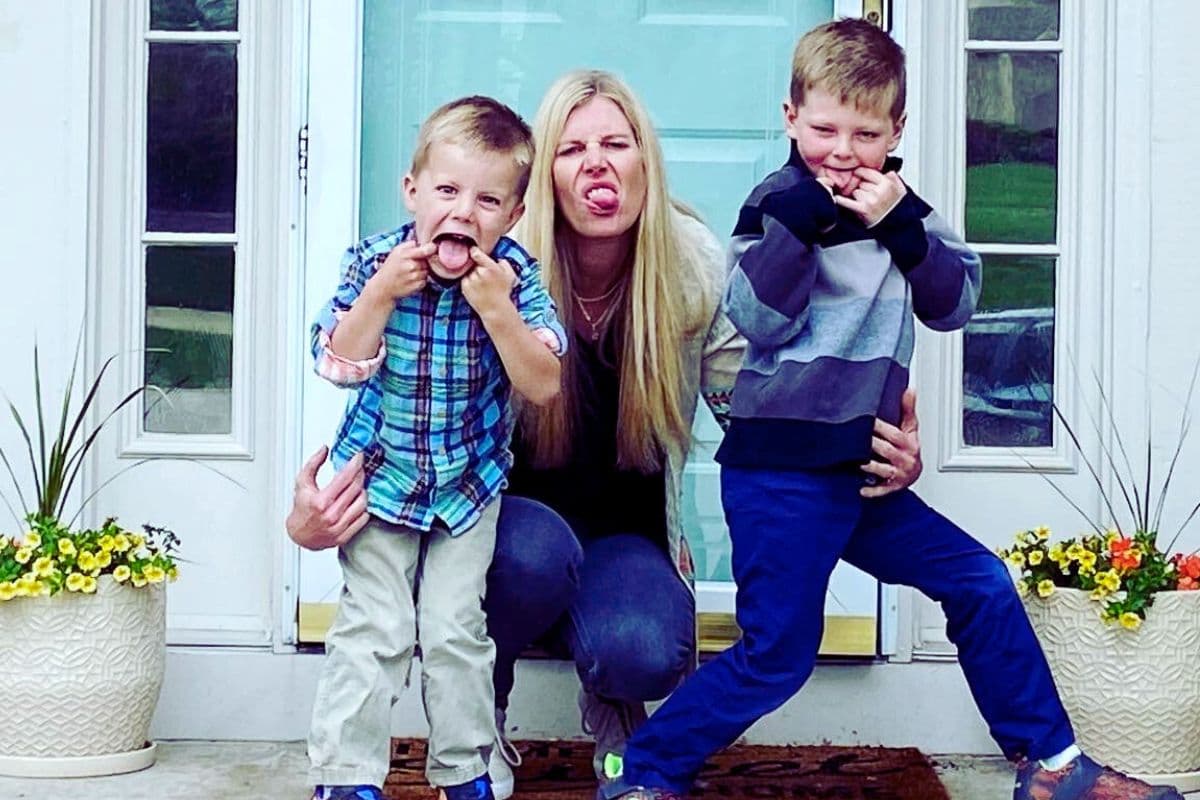 If you know, you know.
Being a boy mom isn't for the faint of heart.
And while your toilet may never be clean again, you will relish being fiercely loved by that sweet boy. Your heart will melt each time he looks at you and smiles. (Even if it is in the midst of chaos.)
The boy mom quotes on this list help you capture the essence of raising sons.
Whether you are a new mom or a seasoned parent, these quotes resonate and leave you feeling empowered and grateful for the privilege of being a boy mom.
This post contains affiliate links, and we may earn a commission at no cost to you. See our disclaimer for more.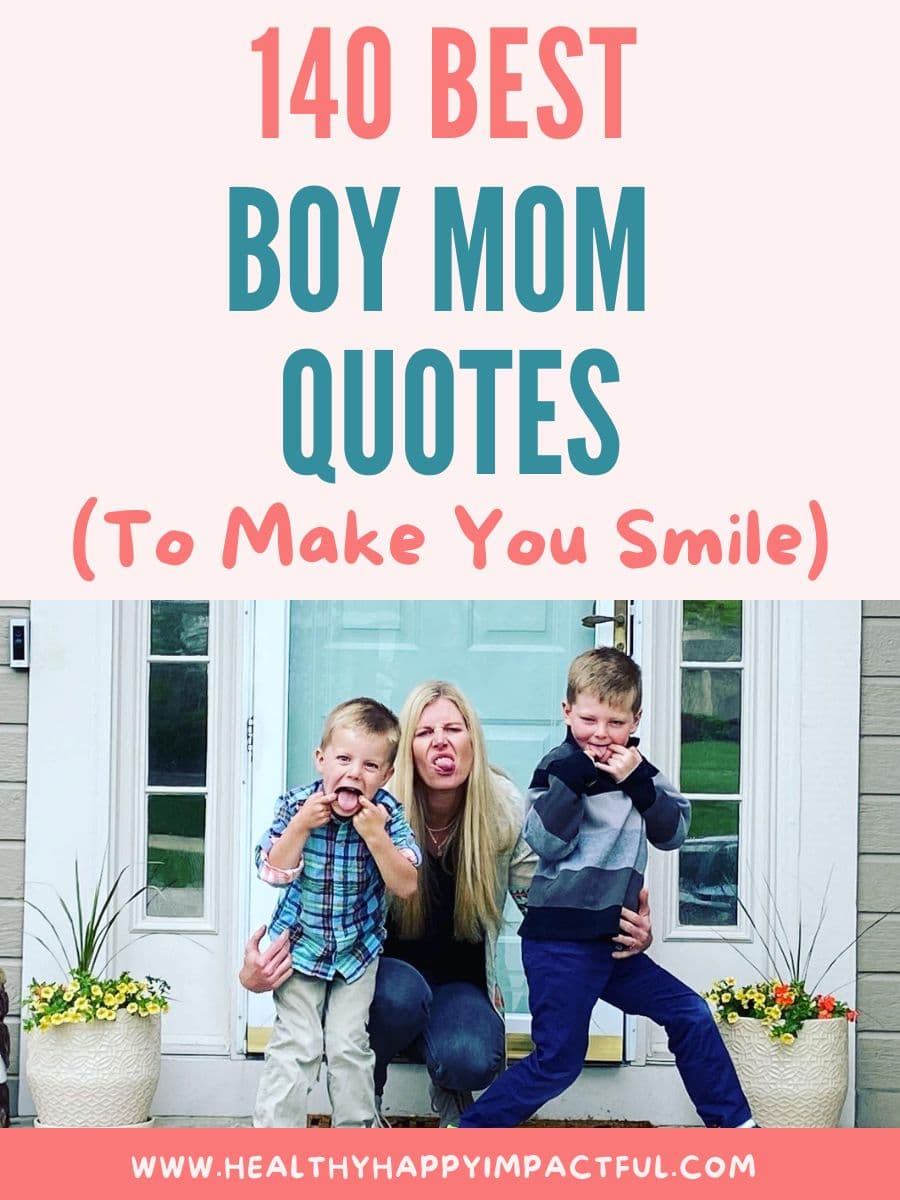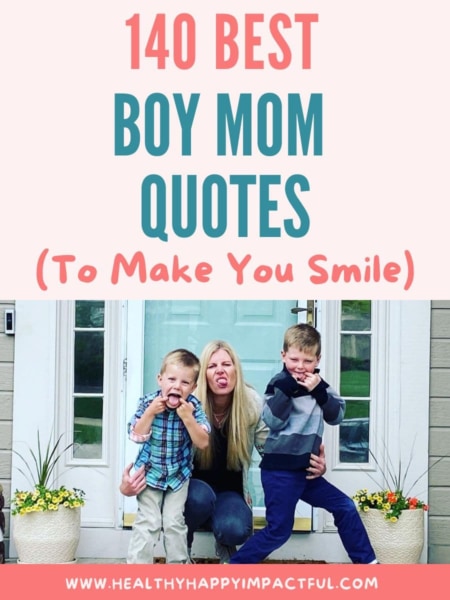 Check out 3 of my favorite boy mom quotes: #39, #59, and #71.
Funny Boy Mom Quotes
Raising boys comes with its fair share of laughter and humor. These light-hearted and funny quotes remind us of the joys of being a boy mom. Embrace the chaos!
1. "Boys; Less drama than girls, but harder to keep alive." – Author Unknown
2. "You know you're a boy mom when your entire world is coffee and chaos." – Author Unknown
3. "Little boys can test your patience, run you ragged, and make you want to pull your hair out. But they will also melt your heart with just one look, and make you wonder how you ever existed before them." – Katie Bingham Smith
4. "Here's what I've learned about raising boys…if you keep 'em busy, they're fine. You let 'em get bored, they'll dismantle your house board by board." – Kenny Rogers
5. "Boys are God's way of telling you that your house is too neat!" – Author Unknown
6. "Moms are as relentless as the tides. They don't just drive us to practice, they drive us to greatness." – Steve Rushin
7. "A small son can charm himself into, and out of, most things." – Jenny De Vries
8. "You never realize how many times you can say, 'Get your hands out of your pants!' in a day until you are a mom of boys." – Jen Florio
9. "Having children is like living in a frat house — nobody sleeps, everything's broken, and there's a lot of throwing up." – Ray Romano (He's most definitely talking about boys!)
10. "Having an infant son alerts me to the fact that every man, at one point, has peed on his own face." – Olivia Wilde
11. "Every mother hopes that her daughter will marry a better man than she did, and is convinced that her son will never find a wife as good as his father did." – Martin Andersen Nexo
12. "You're going to miss this someday, I whisper to myself as I'm shot in the butt with a Nerf Gun while unclogging the toilet." – Author Unknown
13. "Little boys bring you just to the brink of insanity before gently easing you off the edge with a sweet kiss and laughter from a perfectly timed fart." – Author Unknown
14. "My father used to play with my brother and me in the yard. Mother would come out and say, "You're tearing up the grass." "We're not raising grass," Dad would reply. "We're raising boys." – Harmon Killebrew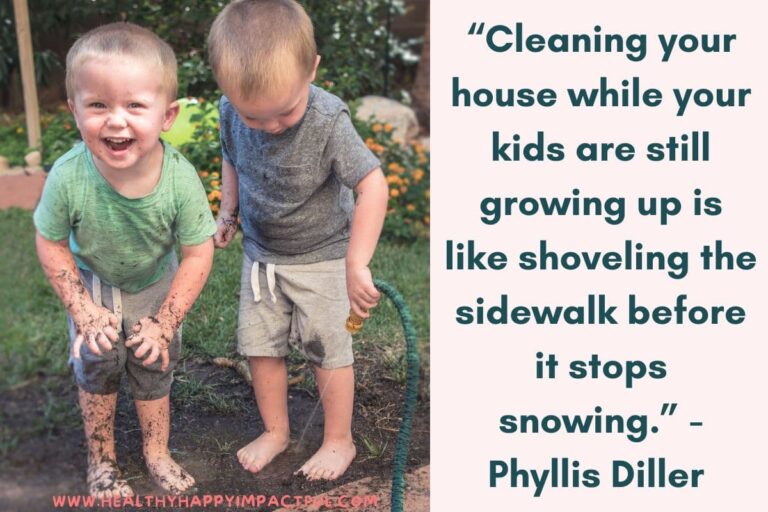 15. "Cleaning your house while your kids are still growing up is like shoveling the sidewalk before it stops snowing." – Phyllis Diller
16. "Older people sit down and ask, "What is it?" but the boy asks, "What can I do with it?" –Steve Jobs
17. "Being a boy mom means being the CEO of a wrestling federation, a garbage disposal unit, and a lost item detective, all at once." – Author Unknown
18. "The phrase 'boys will be boys' should really be 'boys will be messy, noisy, and endlessly energetic.' It's a more accurate description." – Author Unknown
19. "If you ever need to test the durability of an object, give it to a boy. They're experts at finding its breaking point." – Author Unknown
20. "Raising boys has made me a more generous woman than I really am." – Mary Kay Blakely
21. "The word 'quiet' has no meaning in a boy mom's dictionary. It's just a myth whispered by parents of girls." – Author Unknown
22. "They say boys will be boys, but no one warned me that 'boys' was synonymous with 'walking natural disasters'." – Author Unknown
23. "Being a boy mom means embracing the never-ending smell of dirty socks and mysterious stains on every surface." – Author Unknown
24. "I'm a mom of boys, you can't scare me." – Proud Happy Mama
25. "Farts are the unicorns of the boy world. Each one can magically make them laugh." – Author Unknown
26. "Raising boys is an extreme sport, that's why I wear workout clothes every day." – Author Unknown
27. "My son will use his hand, shirt, pants, bare leg, sock, and the wooden table before he'll pick up the napkin one inch from his plate." – Kate WhineHall
28. "Apparently, saying "Go take a shower" sounds a lot like "Go reenact an epic lightsaber battle." – My Questionable Life
29. "Moms of boys: Don't worry about all the bathroom humor. It's just a phase boys go through when they're 6. And 8. And 10 and 15 and 30." – Unremarkable Files
For more laughs, check out Who Is Most Likely To Questions.
Boy Mom Quotes By Well-Known People
Authors, celebrities, and even presidents understand the delights of raising a boy. Enjoy reading boy mom quotes by these well-known people.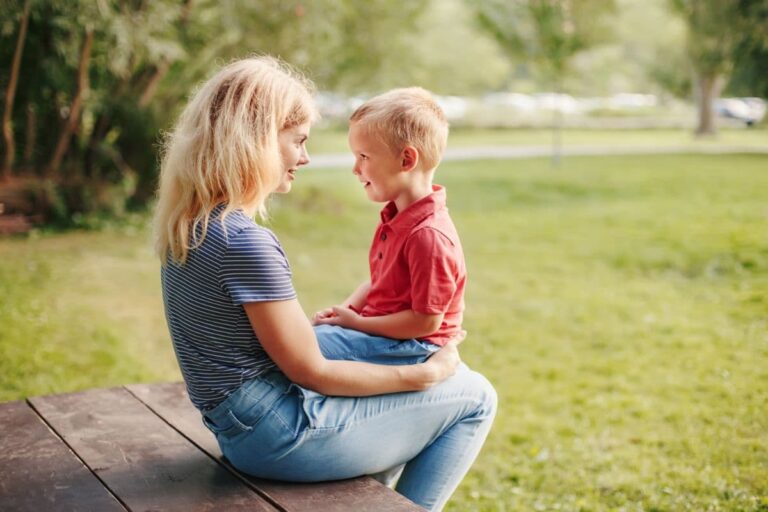 30. "My mother had a great deal of trouble with me, but I think she enjoyed it." – Mark Twain
31. "Of all the animals, the boy is the most unmanageable." – Plato
32. "I live for my sons. I would be lost without them." – Princess Diana
33. "My mother never gave up on me. I messed up in school so much they were sending me home, but my mother sent me right back." – Denzel Washington
34. "And she loved a little boy very, very much- even more than she loved herself." – Shel Silverstein
35. "Men are what their mothers made them." – Ralph Waldo Emerson
36. "The only man who has stolen my heart is my son." – Sandra Bullock
37. "There is a deep bond between a mother and son that starts from the heart." – Sheryl Crow
38. "Boys are just so fun and rowdy, and there is this mischievous glint in their eyes." – Jennifer Garner
39. "I have a son who is my heart. A wonderful young man, daring and loving and strong and kind." – Maya Angelou
40. "My mother said to me, 'If you are a soldier, you will become a general. If you are a monk, you will become the Pope.' Instead, I was a painter, and became Picasso." – Pablo Picasso
41. "Happy is the son whose faith in his mother remains unchallenged." – Louisa May Alcott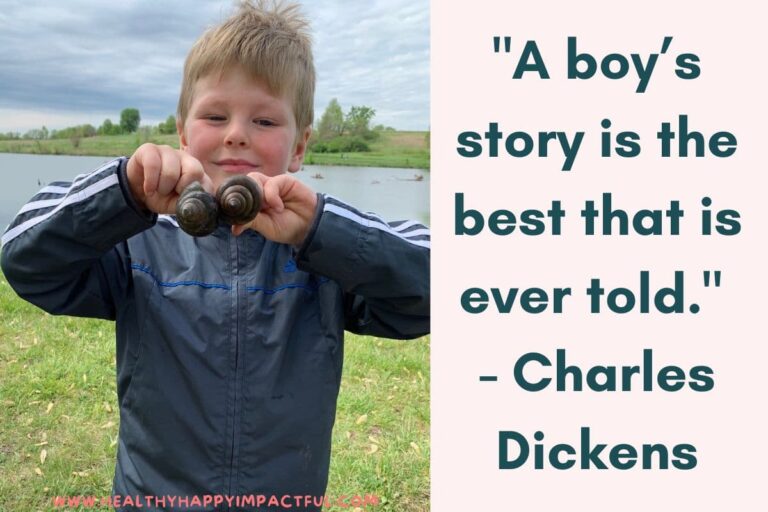 42. "A boy's story is the best that is ever told." – Charles Dickens
43. "He didn't realize that love as powerful as your mother's for you leaves its own mark." – J.K. Rowling
44. "That strong mother doesn't tell her cub, 'son, stay weak so the wolves can get you.' She says, 'toughen up, this is reality we are living in.'" – Lauryn Hill
45. "When you look into your mother's eyes, you know that is the purest love you can find on this earth." – Mitch Albom
46. "The boy who is going to make a great man must not make up his mind merely to overcome a thousand obstacles but to win in spite of a thousand repulses and defeats." – Theodore Roosevelt
47. "Children love their mothers. Especially with a boy child and his mother, there's a bond that's unbreakable." – Tyler Perry
48. "Heaven on earth is looking at my little boy. The minute he was born, I knew if I never did anything other than being a mom, I'd be fine." – Jenny McCarthy
49. "If a man has been his mother's undisputed darling, he retains throughout life the triumphant feeling, the confidence in success, which not seldom brings actual success along with it." – Sigmund Freud
50. "My mother was the making of me. She was so true, so sure of me, and I felt I had something to live for, someone I must not disappoint." – Thomas Edison
51. "All I am I owe to my mother." – George Washington
52. "My mother is my root, my foundation. She planted the seed that I base my life on, and that is the belief that the ability to achieve starts in your mind." – Michael Jordan
53. "If love is as sweet as a flower, then my mother is that sweet flower of love." – Stevie Wonder
54. "Ain't a woman alive who could take my mama's place." – Tupac
Related:
Short and Simple Boy Mom Quotes
Sweet and short, consider memorizing or displaying your favorite quote about being a boy mom from this section.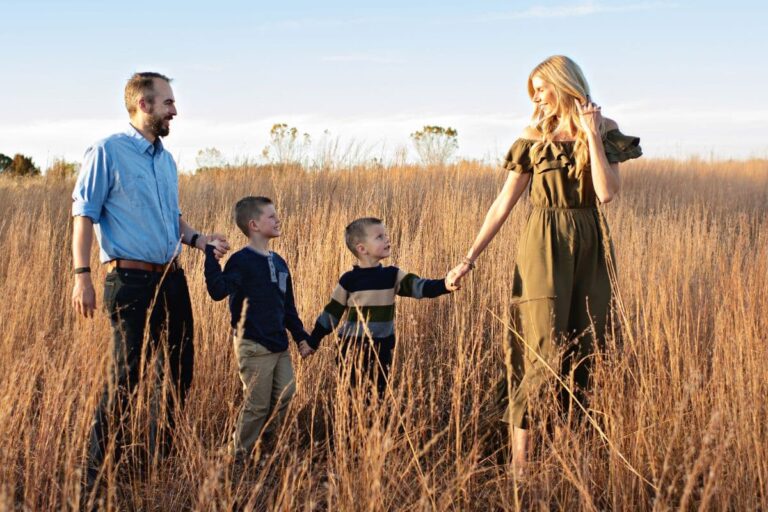 55. "His little hands stole my heart and his little feet ran away with it" – Anonymous
56. "A boy's best friend is his mother." – Joseph Stefano
57. "To raise a strong boy, you need a strong woman." – Author Unknown
58. "Boy moms: Raising boys to be the men the world needs." – Author Unknown
59. "A mother is her son's home base." – Tamara L. Chilver
60. "Mom: a title just above queen." – Author Unknown
61. "There's no love on earth like a mother's love for her son." – Author Unknown
62. "There is no greater warrior than a mother protecting her child." – N.K. Jemisin
63. "Sons are the anchors of a mother's life." – Sophocles
64. "To wake up to the sound of my son saying 'Mama, mama!' It's the best sound ever." – Miranda Kerr
65. "The most important mark I will leave on this world is my son." – Sarah Shahi
66. "You've been a blessing from the start, I love you, son, with all my heart." – Unknown
67. "Behind every young child who believes in himself is a parent who believed first." – Matthew Jacobson
68. "Little boys should never be sent to bed. They always wake up a day older." – J.M. Barrie
69. "Giving your son a skill is better than giving him one thousand pieces of gold." – Chinese Proverb
70. "Little boys are just heroes in disguise." – Author Unknown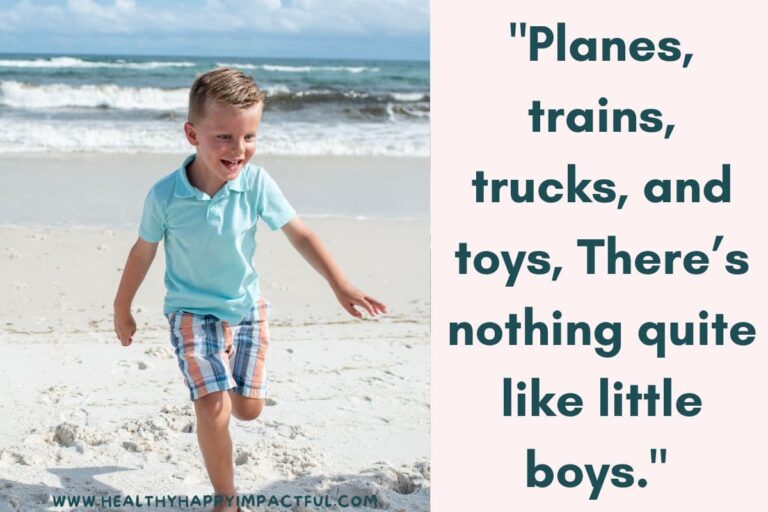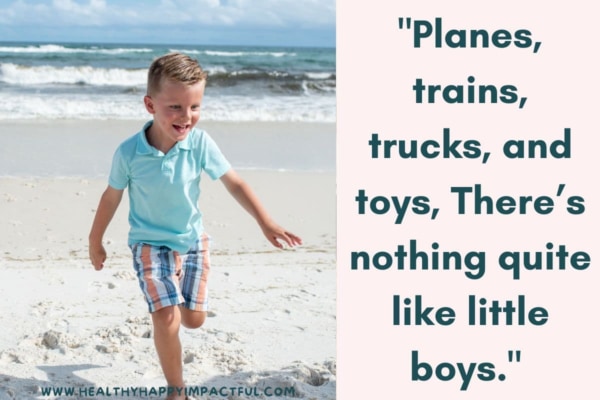 71. "Planes, trains, trucks, and toys, There's nothing quite like little boys." – Author Unknown
72. "Son, you'll outgrow my lap, but never my heart." – Author Unknown
73. "There's this boy who stole my heart . . . he calls me mom." – Author Unknown
74. "Who's a boy gonna talk to if not his mother?" – Donald E. Westlake
75. "You are his definition of home, the place where he feels most confident and comfortable." – Katie Clemons
76. "A mother's love is the fuel that enables a son to achieve the impossible." – Marion C. Garretty
77. A son is a mother's greatest treasure, her pride, and her heart's delight." – Author Unknown
78. "Happiness is seeing your boys grow into thoughtful, kind men." – Author Unknown
79. "Life is better with boys." – Author Unknown
80. "Little boys leave smudges on your heart." – Author Unknown
81. "Boy Mom: Messy, Exhausted, Blessed." – Author Unknown
82. "With BOYS you always know exactly where you stand… right in the path of a Hurricane." – Erma Bombeck
Related: Kindness Quotes For Kids & Family Bonding Activities and Quotes
Bond Between Mother and Son Quotes
Celebrate the unique experience and deep connections that come with being a mom to boys.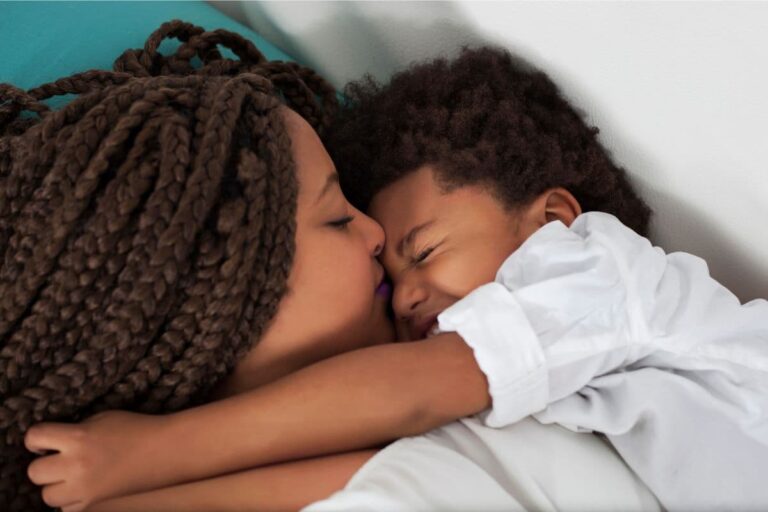 83.. "You don't raise heroes, you raise sons. And if you treat them like sons, they'll turn out to be heroes, even if it's just in your own eyes." – Wally Schirra
84. "To be a mother of a son is one of the most important things you an do to change the world. Raise them to respect women, raise them to stand up for others, raise them to be kind." – Shannon L. Alder
85. "It takes a village to raise a child, but it takes a loving and supportive mother to raise a son with integrity and character." – Tara Moss
86. "Teach your sons to be kind, to be honest, to stand up for what is right, and to never stop learning." – L. R. Knost
87. "Every mother hopes her boy will be a better man than his father, and each one dreams he'll make the world a better place." – Terri Guillemets
88. "Making the decision to have a child is momentous. It is to decide forever to have your heart go walking around outside your body."- Elizabeth Stone
89. "Youth is the time of inexperience, boyhood the time of innocence. A mother's arms are the best of all places for a boy to begin his journey."- Robert Louis Stevenson
90. "In my practice, I've seen something extraordinary, almost spiritual, in the eyes of young mothers who hold their sons for the first time." – Meg Meeker
91. "A mother's arms are made of tenderness and children sleep soundly in them." – Victor Hugo
92. "Of course, my son has been the center of my life and will always be the center of my love. When he was young, I was the rock in his life. Now that I am old, he is the rock in my life." –Hyacinth Mottley
93. "If you would have your son walk honorably through the world, you must not attempt to clear the stones from his path but teach him to walk firmly over them – not insist upon leading him by the hand, but let him learn to go alone." – Anne Bronte
94. "There is an enduring tenderness in the love of a mother to a son that transcends all other affections of the heart." – Washington Irving
95. "You will be his first kiss, his first love, his first friend. You're his momma and he is your whole world. He is your little boy." – Author Unknown
96. "Being a mother to a little boy and helping him discover the world is one of the greatest experiences in a woman's life, which makes objective goals dull in comparison. The connection between a mother and her son opens the gate to a new world of wonder and love." – Author Unknown
97. "Yet now in my arms, I was holding a helpless baby boy who would grow into a man. I cannot imagine that soft little face one-day having whiskers." – Rhonda Stoppe
98. "No man succeeds without a good woman behind him. Wife or mother, if it is both, he is twice blessed indeed." – Godfrey Winn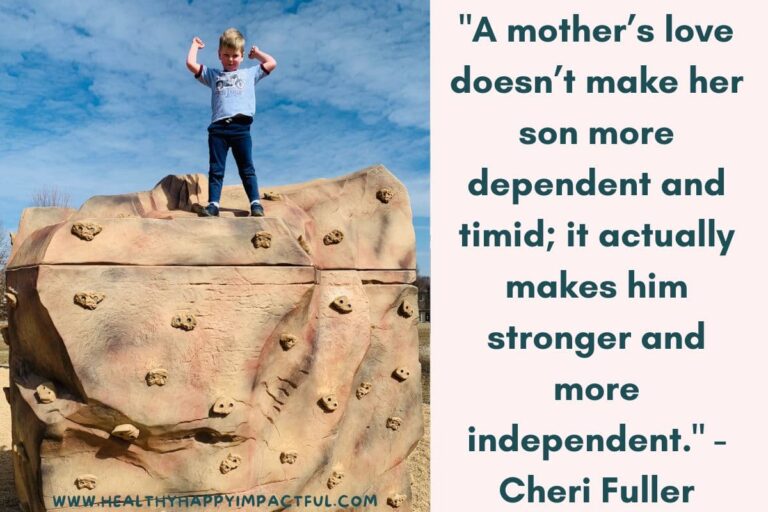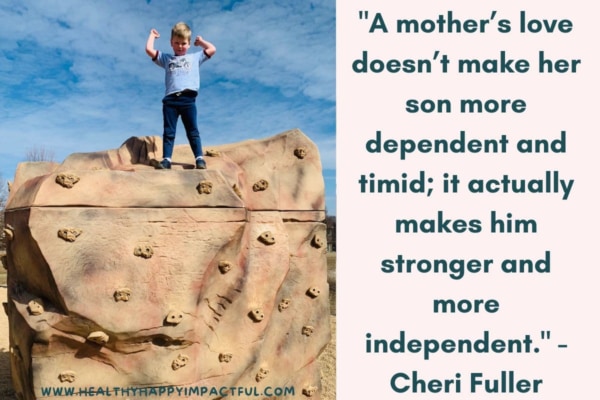 99. "A mother's love doesn't make her son more dependent and timid; it actually makes him stronger and more independent." – Cheri Fuller
100. "I may not be perfect, but when I look at my son, I know that I got something in my life perfectly right." – Author Unknown
101. "Sometimes when I need a miracle, I look into my son's eyes and realize I already have one." – Author Unknown
102. "Only one woman is able to love a man more than she loves herself. It's his mother." – Author Unknown
103. "A son may grow taller than his mother, but he will always look up to her for guidance." – Author Unknown
104. "The love between a mom and her boys is unbreakable." – Author Unknown
105. "Hold him a little longer, rock him a little more, read him another story, you've only read him four, let him sleep on your shoulder, rejoice in his happy smile, he is only a little boy for such a little while." – Author Unknown
106. "Boys are meant for kisses and hugs, for watching rainbows and catching bugs, for sharing all of your favorite things, for books to read and songs to sing." – Author Unknown
107. "I am a boy mom, and I keep my eyes on the goal; raising the boy I love into a man who will make this world a better place." – Monica Swanson
Related: Love Notes For Kids & Family Affirmations
Cute Son and Mom Quotes
108. "A boy is Truth with dirt on its face, Beauty with a cut on its finger, Wisdom with bubble gum in its hair, and the Hope of the future with a frog in its pocket." – Alan Marshall Beck
109. "A man loves his sweetheart the most, his wife the best, but his mother the longest." – Irish Proverb
110. "Let your boys test their wings. They may not be eagles, but that doesn't mean they shouldn't soar free." – C.J. Milbrandt
111. "Being a boy mom means constantly having to remind yourself that dirt and chaos are signs of adventure and exploration." – Author Unknown
112. "My son makes me smile when he stands up for what he believes in, even if it's his right to have a second portion of dessert." – Author Unknown
113. Boys charm you with their cuteness while destroying every item you own." – Author Unknown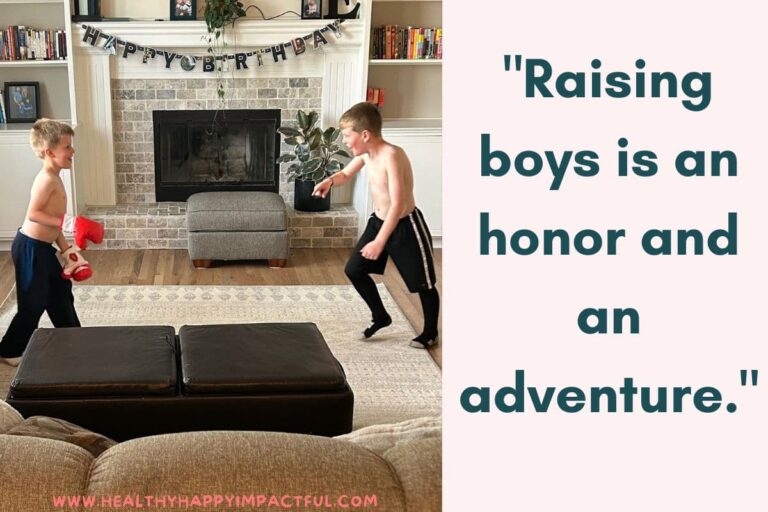 114. "Raising boys is an honor and an adventure." – Author Unknown
115. "Boy moms know that each little boy has a bit of devil and a lot of angel. The key is to accept both." – Author Unknown
116. "Boymom is an experience, not a description." – Author Unknown
117. "I was normal three boys ago." – Author Unknown
118. "Let them be little, let them be wild, let them be a little wild." – Author Unknown
119. "He believed he could, so he did….and now he's in timeout." – Author Unknown
120. "Being a boy mom is a true joy. But you often wonder how you will keep them alive until adulthood." – Author Unknown
121. "Raising a son will make you stronger, braver, and more comfortable with dirt than you ever imagined.." – Author Unknown
122. "When your son puts his hand in yours on a stroll, perfection exists for a moment in time." – Author Unknown
Also, check out sweet love quotes for kids and parents.
Spiritual Boy Mom Quotes
Mothers have a significant influence on the lives of their children.
These boy mom quotes and passages emphasize the importance of raising sons with wisdom and love as well as the blessings that come with motherhood.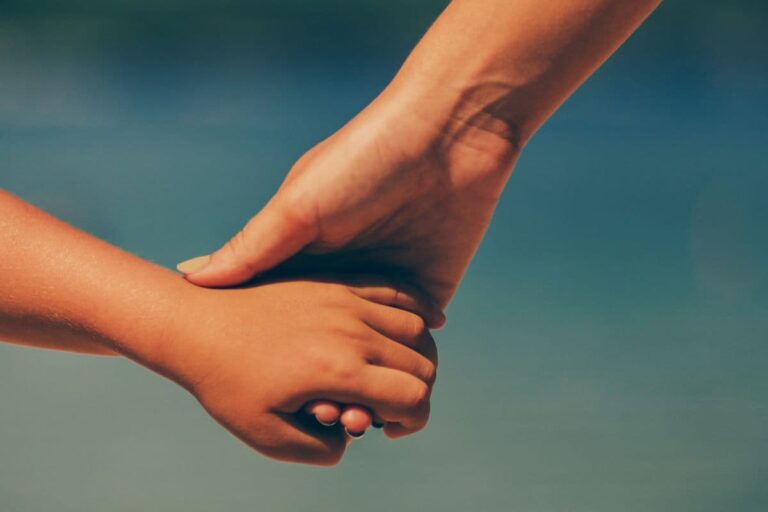 123. "My mother was a Sunday school teacher. So I am a byproduct of prayer. My mom just kept on praying for her son." – Steve Harvey
124. "Listen, my son, to your father's instructions, and do not forsake your mother's teaching. –Proverbs 1:8
125. "Build me a son, O Lord, who will be strong enough to know when he is weak and brave enough to face himself when he is afraid, one who will be proud and unbending in honest defeat and humble and gentle in victory." – Douglas MacArthur
126. "To my son, God knew I needed you." – Author Unknown
127. "I remember my mother's prayers, and they have always followed me. They have clung to me all my life." – Abraham Lincoln
128. "Be strong out there, my son. Look for the love and kindness in others. Forgive yourself when you make mistakes, and enjoy the journey." – Kirsten Wreggi
129. "For this child I prayed, and the Lord hath given me my petition which I asked of him." –1 Samuel 1: 27
130. "A mother's prayers and blessings are a son's shield and guidance throughout life." – Author Unknown
131. "God has blessed me with a precious son, and in his laughter and innocence, I see the reflection of heaven." – Author Unknown
132. "Being a boy mom is a divine calling, entrusted by God to nurture and shape the hearts of mighty warriors." – Author Unknown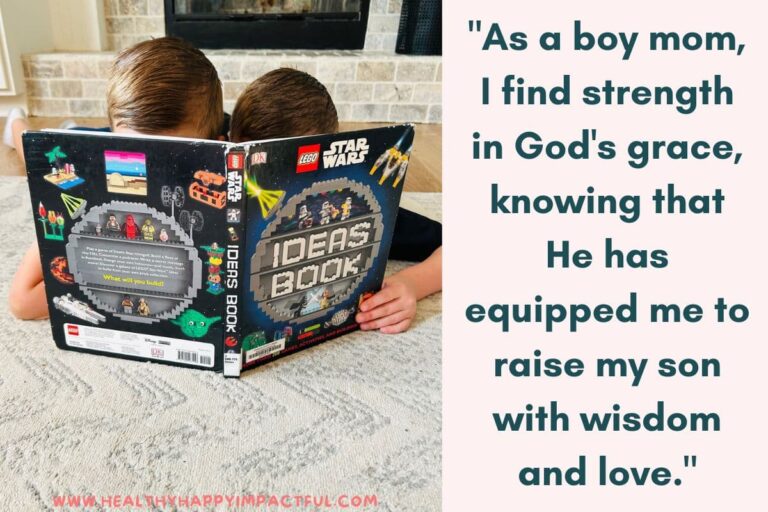 133. "As a boy mom, I find strength in God's grace, knowing that He has equipped me to raise my son with wisdom and love." – Author Unknown
134. "The Lord has chosen me to be a guardian of a young soul, and through His guidance, I will lead my son towards righteousness." – Author Unknown
135. "Train up a child in the way he should go; even when he is old, he will not depart from it." – Proverbs 22:6
136. "She opens her mouth with wisdom, and the teaching of kindness is on her tongue." – Proverbs 31:26
137. "Thy father and thy mother shall be glad, and she that bare thee shall rejoice." – Proverbs 23.25
138. "Even more than the time when she gave birth, a mother feels her greatest joy when she hears others refer to her son as a wise, learned one." – Thiruvalluvar
139. "My son is the best gift I have ever received. He is the sunshine in my day. The joy in my soul. And the love of my life." – Author Unknown
And finally, my own personal quote that I repeat multiple times daily.
140. "Flush, and wash your hands!"- Jess Evans

Boy Mom Gifts
Finally, find something for yourself or a gift for another boy mom from this section.
Add A Quote to a Personalized Photo Frame
Add your favorite boy mom quote to a wood frame and add a picture of you and your boys! This is a great gift idea!
Between Mom and Me: A Guided Journal for Mother and Son
Build the bond between mother and son with this interactive journal. Included are question prompts, places to record memories and reflections, and more!
Grab this Mother & Son Keepsake Journal. Also, see this Mother and Son Journal for teenage boys!
Strong Mothers, Strong Sons by Meg Meeker, MD
Gain confidence and strength in your parenting journey and a better relationship with Strong Mothers, Strong Sons.
Letters To My Baby Boy As I Watch You Grow: Birthday Letter Prompt Journal
Write down your hopes and dreams for your son yearly up until their 18th birthday in this sweet memory journal. (This free birthday letter template is also fun!)
Boy Mom Shirt
Grab this Boy Mom Heart Graphic T-Shirt for yourself or another boy mom.
Scented Candle for Boy Mom
Grab this gift for a boy mom to make her smile and help her unwind!
Boy Mom Stainless Steel Wine Tumbler
Grab this fun gift for any boy mom for all of her hot and cold beverages.
What's Next?
Embrace the special bond you have with your son(s).
Try to tackle new obstacles with patience and understanding, and stop to enjoy the unique experience of raising a son.
Write down your favorite quotes about being a boy mom and read through them often to keep humor and love in your daily life.
It may be messy, but it's worth it!
For more quotes, read Thought of the Day Quotes for Kids and get the free printable in the resource library below.
And, for more ways to bond with your son, check out these Mother-Son Date Ideas.
More posts you'll love…
Being A Boy Mom: Quotes About Mothers and Sons