101 Fun Family Staycation Ideas In 2023 (Affordable & Relaxing)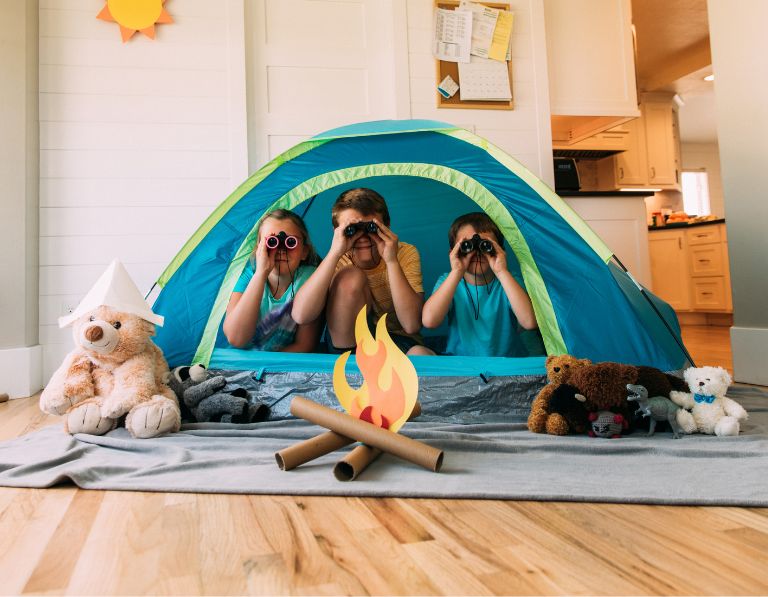 Recently, my son asked when we could visit a local water park. It got me thinking about all of the adventures we could have close by. And while we love to travel, it isn't always an option.
Good news! There are tons of fun and affordable family staycation ideas too. Check them out!
This post contains affiliate links, and we may earn a commission at no cost to you. See our disclaimer for more.
What is a family staycation?
First, a staycation is a vacation at home or spent close by. It is a way to connect and have fun with family without the hassle or expense of a big trip.
It typically involves day trips to local places, attending events, or having fun in creative ways at home.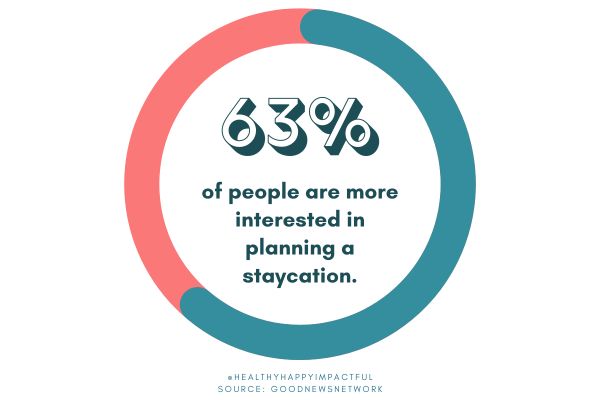 Now, read on for the best ideas, and don't miss the pro tips at the end of this article for making your staycation extra special!
At Home Family Staycation Ideas
From the backyard to the kitchen, you can be creative, connect, and make amazing memories with these family staycation ideas at home.
Backyard Fun Ideas
First, take advantage of your own backyard with these family staycation ideas. These are great ideas for summer or spring break staycations.
Water play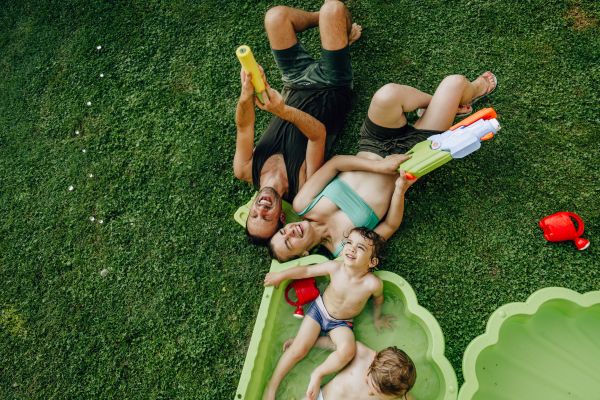 Splash in the kiddie pool or sprinkler
Have a water balloon or water gun battle
Or get out a water table for younger kids
If you don't mind spending a little extra money, check out places to rent a water-slide bounce house. This will keep your kids (and you) busy in the backyard for hours.
Science experiments
Try out kid-friendly science experiments at home. If you keep the experiments outside, this is less mess for mom and dad too!
Build an obstacle course
Use objects you have to create places to climb over, on, under, and through. Time your family members to see who can get through the obstacle course the quickest.
Go on a picnic
Pack a picnic, spread out a blanket, and take your meal outdoors to enjoy the weather.
Get creative with your picnic spread and make mini sandwiches and other fun picnic treats.
Do a scavenger hunt
Try an outdoor nature scavenger hunt for your family. Split up into teams and see who finishes first.
To make your own hunt: Have kids find things that start with each letter of the alphabet. You can always decide to toss out a letter or two if needed for your search purposes. (This can also be done inside if the weather isn't cooperating)
Camp In the Backyard
Set your tent up in the backyard. Grill, make s'mores, and spend the evening telling stories about the campfire. Then, see who can make it the entire night sleeping in the tent!
Set up an outdoor movie theatre
If you have a projector, set it up in your driveway and use your garage door as the screen. Get comfy with blankets and pillows and don't forget the popcorn!
In The Kitchen: Family Staycation Ideas
Next, being in the kitchen together is a great way to bond as a family.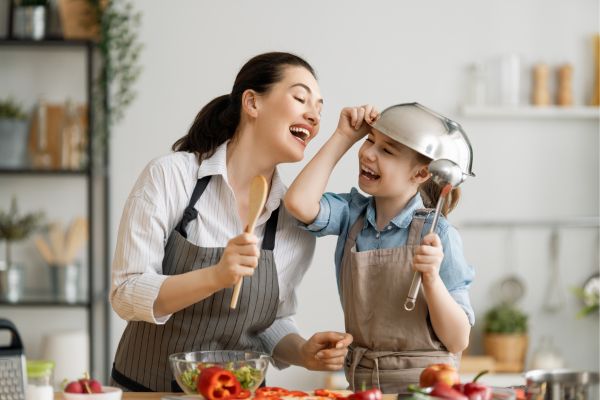 Have a baking or cooking competition.
Cook a fancy breakfast or brunch! (One of my favorite meals when traveling.)
Get takeout. (No cooking and no dishes!)
Creating And More: Fun Family Staycation Ideas
Explore your creative side to spend focused time at home together.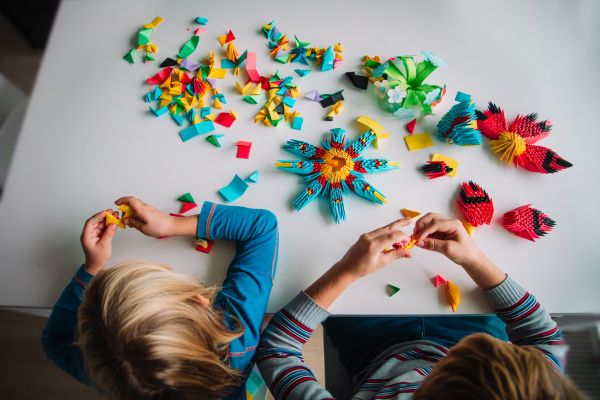 Travel subscription box
Bring the experiences of traveling into your home with a travel box subscription. This is a great way to encourage your kids' curiosity about different cultures and geography.
Little Passports & Kiwi Co's Atlas Crate are two good travel subscription boxes to try.
Make your own play dough
Making your own playdough is fun, you get to pick the colors, and then the play possibilities are endless. The entire family will enjoy this activity.
Create origami
Enjoy this Japanese art of paper folding. Watch some simple tutorials online and spend hours folding origami creations with your family.
Learn a new craft
There a lot of options when it comes to crafts. Choose something you are all interested in learning and get the supplies needed. Find the perfect list of craft books to get started.
Ideas include jewelry making, knitting, candle making, tie-dye, etc…
Have a Lego building competition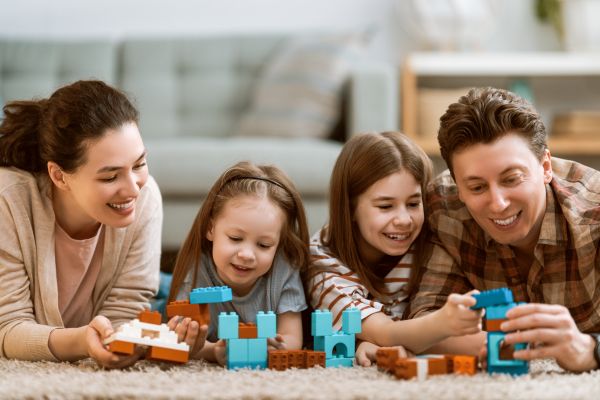 If you have a tub full of Legos, you have the supplies for an ultimate building competition. Decide on a theme and have everyone start to create.
Our family did this with Duplo Legos a couple of years ago. Our theme was "summer" and I was very impressed with the creativity that came out with this activity.
Related: Fun Family Challenges To Try
Do a jigsaw puzzle
What's the biggest puzzle you've completed as a family? 100? 300? 1000 pieces? Make it a goal to complete the puzzle with the largest number of pieces you ever have together.
Build a fort (Family Staycation Ideas)
Gather all the blankets and pillows and make an epic living room fort.
Have a read-a-thon
Use your fort or make your living room extra cozy with blankets and pillows. Then grab a stack of books, and enjoy a day of relaxing and reading together.
Related:
Read a book that is a movie together
There are so many books I want to read with my kids before they watch the movie. Staycation is a perfect time to get through a couple of those awesome books.
Family Staycation Ideas To Connect At Home
Next, use these at-home family staycation ideas to connect, relax, and hang out with one another.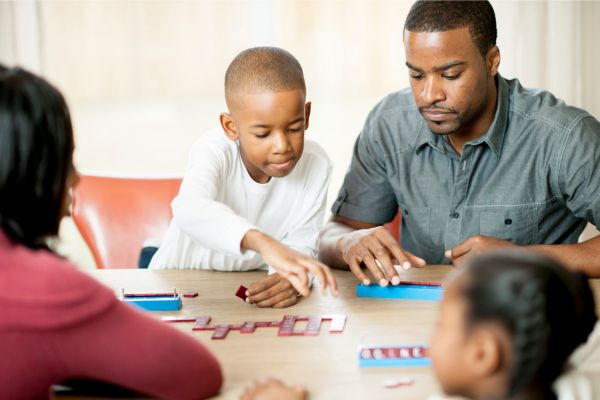 Have A Family Game Night
Pick out board games or cards games and enjoy playing with your family.
Related Game Night Games:
Sing Karaoke
Warm up those vocal chords! Break out your kid's karaoke machine or find karaoke on a streaming service.
Movie night
Bring the movie theater experience into your house with a fun movie night. Pop popcorn, get out all the candy, and watch a family-friendly movie (or two) that everyone will enjoy.
Camp out in the living room
Set up your tent indoors and do all of the things you normally would on a camping trip, but inside instead.
This is an awesome winter staycation idea when it's too cold to camp outdoors.
Binge Watch A TV Show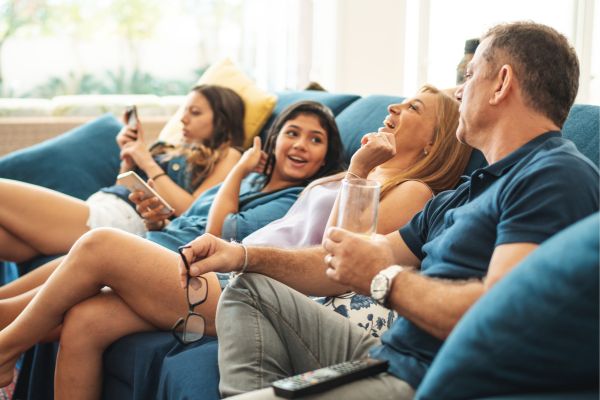 While most of these ideas are technology-free, you only live once. Go ahead. Binge watch that show. You are on staycation after all!
Have a "yes" day
Let your kids plan a day where you say "yes" to anything (within your pre-set boundaries).
Play Minute To Win It Games
Spend an evening with these creative games. They are all 60-second games using items you can find around the house.
More Games:
Be A Tourist: Family Staycation Ideas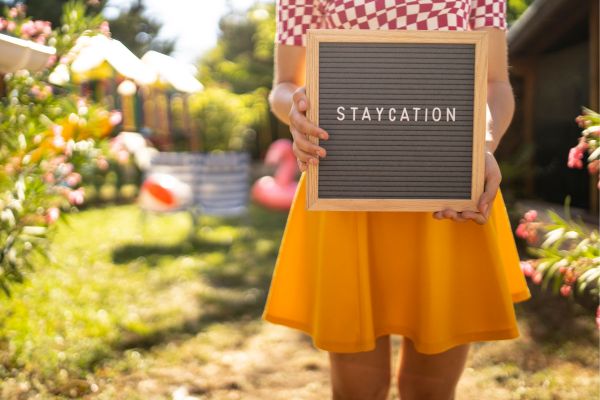 If you want the adventures of travel, but the convenience of staying close to home, these family staycation ideas will make you feel like you are on vacation. Plus, many of these activities are budget-friendly or free.
Here are a few pro tips to help save:
Check around and plan ahead for activities to find discount days or family-friendly times that are cheaper.
Look for family passes that can get you into multiple attractions or season passes if you plan to go more than once.
Have Fun While Learning Something New
When I did a quick search in my area for what is near me, I found a free money museum and several other kid-friendly exploration places I didn't know about. Do a little research!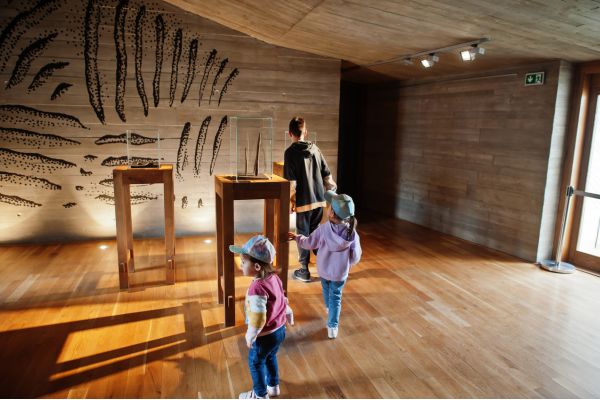 Visit a local history museum
Find a local guided city tour
Visit a nearby cultural center
Explore an indoor kid's exploration or children's museum
Visit a transportation museum
Discover a new science museum
Attend a classical music concert (our local symphony has family-friendly performances throughout the year)
See a matinee play at a local theater
Visit local attractions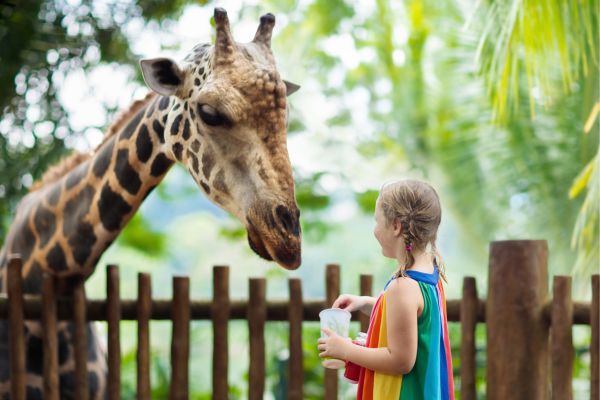 Jump for hours at a trampoline park
Go to an indoor or outdoor swimming pool
Attend a local festival or fair
Get tickets to a fun event (We had a great time attending a Monster Jam event.)
Related: Best List of Experience Gifts For Kids
Get sporty
It will depend on what is in your area, but plan ahead for tickets to local sports teams. Many offer family nights (including fireworks) or discounted days.
Make a day of it by planning to tailgate and inviting friends.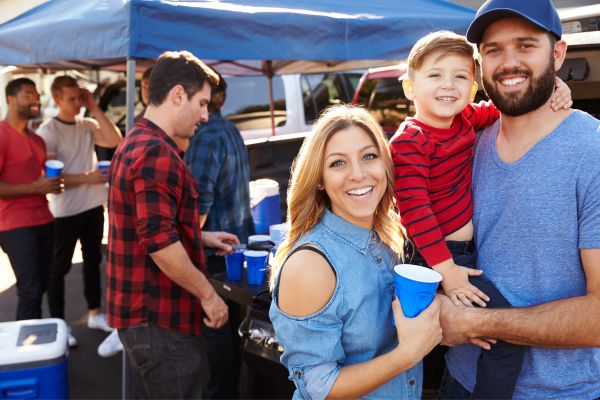 See a local major or minor league baseball game.
Grab tickets to a soccer game.
Find a local hockey league and plan to attend.
Attend a local college sporting event.
Hit the batting cages for some fun.
Spend a day golfing or miniature golfing.
Take Day Trips
Learn about the area you live in. When my son was crazy about trains, I found a local railroad that gave short train rides on a real train. Be a tourist and go exploring!
Take day trips to explore local towns and cities.
Go to an orchard to pick fruit.
Visit a local well-known attraction you've never explored.
Head Outdoors: Family Staycation Ideas
If the weather is nice, head outside for budget-friendly activities.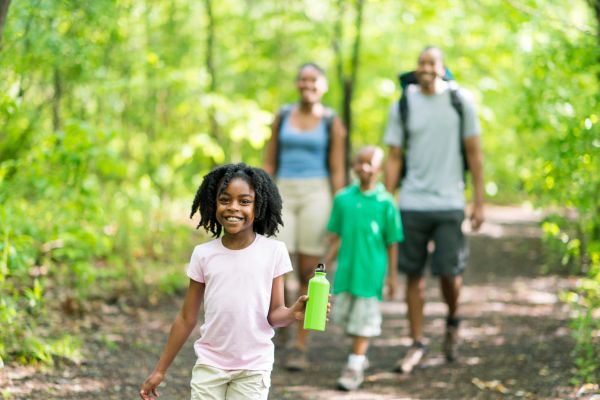 Go to a nature or conservation center.
Visit the local arboretum.
Have a family fun day at a park.
Discover a new hiking trail.
Find an outdoor adventure center or course.
Go shopping
While not always budget friendly, if you like to shop, visit stores outside of your typical shopping.
Go antiquing in local towns.
Support small businesses you don't shop in regularly.
Spend the day at a mall or a new shopping district.
Ideas For Your Family Staycation: Be a foodie
Try a new ice cream place.
Be adventurous by eating at a restaurant with new cuisine.
Eat at a restaurant that sells farm to table food in your area.
Visit a food market outside of your culture.
Take your pet to a local store that sells pet treats.
Take A Class
Have fun learning something new with your family while you stay at or close to home. Most of these ideas can be done online if you don't have a class offered nearby.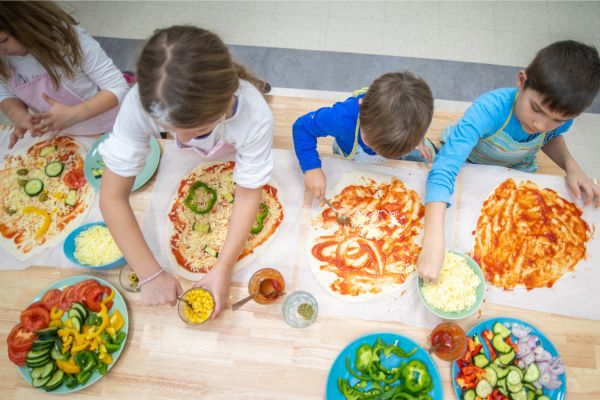 Goat yoga anyone? Enjoy a family workout class together.
Try a family mixed martial arts class.
Learn about a new country, place, or culture.
Volunteer
Instill the importance of helping others by using a staycation to volunteer.
Help at a local animal shelter.
Volunteer at a local food pantry or soup kitchen.
Help a neighbor with yard work.
Pick up trash in and around your neighborhood.
Related: Best Family Hobbies Ideas
Productive And Fun Family Staycation Ideas
Next, check out these family staycation ideas that make good use of your extra time off at home.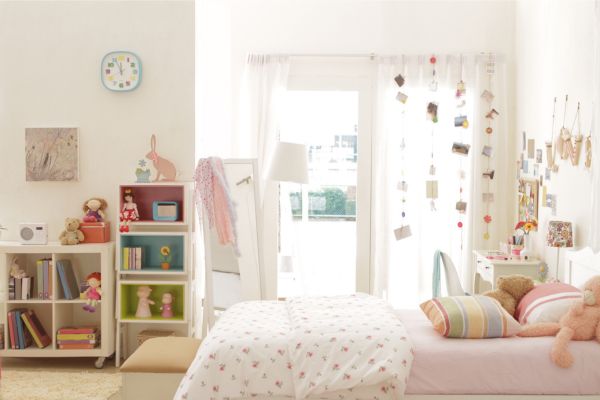 Let your kids redecorate their bedrooms
Move around the furniture, add new paint to the walls, or reorganize their space for a new and fresh look.
Related: Best Non Toy Kids Gifts
Plan ideas for your kids to make money
If your kids are at the age where they need (or want) money, take this opportunity to figure out good ideas for your kids to money. This is a great time to teach them the basics.
Declutter
Get the entire family involved in decluttering the house. Conquer and divide.
Overnight Ideas: Staycation Close To Home
If you are short on time, but still want to "get away", plan an overnight or weekend close to home.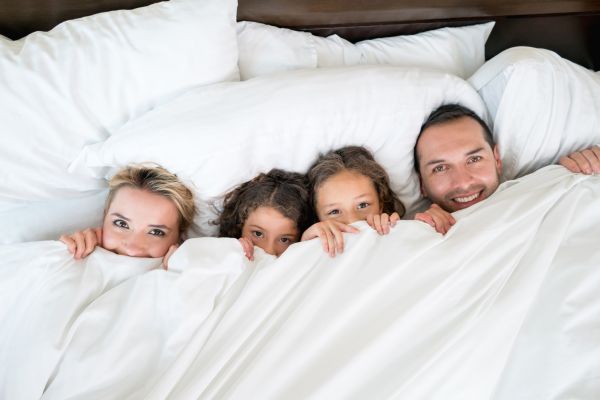 Stay Overnight in a Hotel
Sometimes I think my kids enjoy hotels more than they do the rest of the trip! Find a good deal and stay overnight at a hotel. Order room service and spend the day relaxing.
Call ahead to make sure the pool is operating and open!
I have heard great things about the Drury Inn breakfast and kickback menu. Great Wolf Lodge or another waterpark hotel is another staycation option if you can't get away on a vacation.
Go tent camping for your family staycation
Camping at a local campground is a budget-friendly way to spend a night or weekend. Or visit a National Park that is within a few hour's driving distance.
Grab this free kids packing checklist if you go!
Stay with cousins
One of my kids' favorite things is spending time with their cousins. Suggest an overnight visit and your kids will have a blast playing, adventuring, and being together.
How do you make a family staycation special?
Follow these ideas to make your family staycation a success.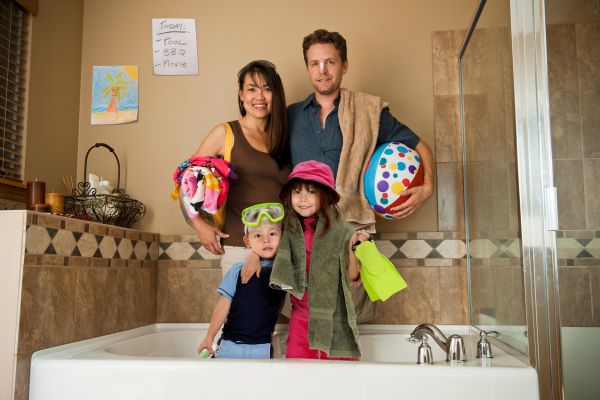 1. Plan ahead
Like taking a trip, plan ahead for a staycation to make the most of it. Set a budget for expenses and gather the supplies you need to make staying at home fun.
Make a bucket list of ideas to include in your staycation as a family. Post these ideas where everyone can see them and decide what you will do together.
2. Be all in
To make a family staycation work, turn your 'out of office on' your email and keep your devices out of reach as much as possible. Treat this time like a real vacation- a total break from work and outside life.
3. Be willing to pivot your family staycation
Just like on a vacation, your plans will surely change. The weather won't cooperate or an event will be unexpectedly canceled.
Be willing to pick another activity from your list to do instead.
4. Have realistic expectations
Your staycation can be as busy or as low-key as you would like. Just make sure to choose activities that will suit your kids' ages and ability levels as much as possible.
And be prepared for complaining. You won't be able to make everyone happy all of the time.
To Consider With Family Staycation Ideas
Staycations are a wonderful way to connect with your family and spend time together. This list has many great family staycation ideas that will keep you busy creating memories together.
Enjoy this time with your family and loved ones!
More Healthy Happy Impactful posts you'll love…
Fun Staycation Ideas For Families