130 Best Summer Bucket List Ideas for Kids (& Mom Too) in 2023
Ultimate Summer Bucket List For Your Child + Free Printables!
Kids are home, and as moms, there's a lot to juggle in the summer. So, we could spend all summer trying not to go crazy, OR we can have a summer bucket list for kids to make this season our best one yet!
In fact, kids summer bucket list ideas are more important for your family than ever. It's about being intentional with quality time together. And it makes a world of difference.
With that, this article contains: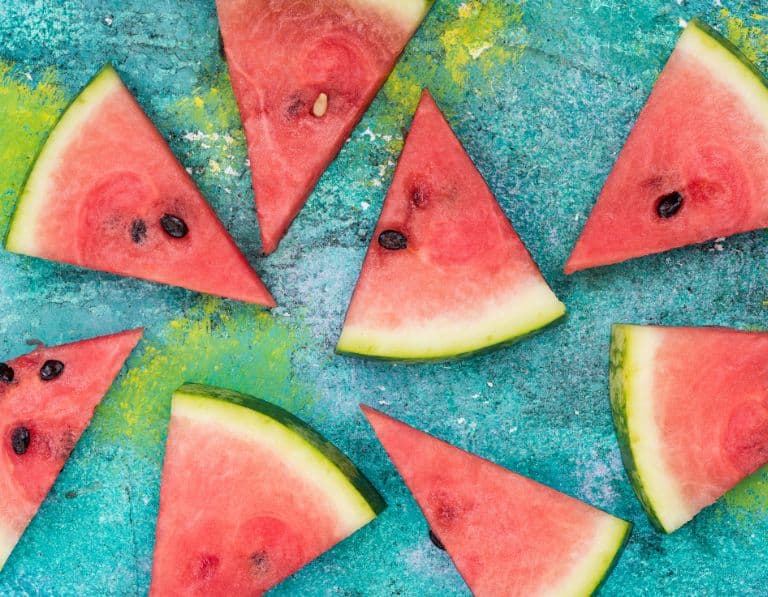 The ultimate summer bucket list for kids at home, with yummy treats, outside, and going places.
A fierce summer bucket list for MOM (adults need fun too!)
5 Tips for less stress and more fun using a list
We'll leave no rock unturned! So, let's check out the lists!
This post contains affiliate links at no cost to you. See my disclaimer for more.
What Are The Top 10 Summer Bucket List Items?
Want some fast and fun ideas?
Here are our choices for the top 10 Bucket List Items to do this summer! Then keep reading for more great ideas for the best summer with your kids (and for mom too!).
1. Take a picnic and try out three new parks
2. Make crafts out of recycled items
3. Play flashlight tag after dark
4. Host a driveway movie with friends
5. Plant a garden
6. Participate in a fun reading program or reading challenge (check out our awesome book lists by age or specific summer reading books)
7. Eat watermelon
8. Have a balloon or water gun fight
9. Try a new organized sport
10. Pick berries (and eat them with ice cream!)
Keep reading for more ideas plus your free summer bucket list printable!
Summer Bucket List for Kids: Inside Adventures!
This is a fun reminder that there are TONS of fun activities to do at home! These activities are great for when you're stuck inside due to the heat.
11. Take a family photo and have it framed
12. Make a home theater (or indoor fort) in your home and have a movie day
13. Make journals (or start a summer journal)
14. Make a time capsule
15. Do the Home Depot crafts (It's free and great for toddlers!)
16. Try a fun Science project. Check out easy ones HERE.
17. Make friendship bracelets
18. Do a family puzzle
19. Make treats for neighbors
20. Have a pillow fight
22. Set up a living room campout
23. Paint rocks (Later, put them around the neighborhood or trail)
24. Make sun-catchers (or dream catchers)
25. Plan an epic Father's Day.
26. Engage in amazing 4th of July Traditions. See this cool ebook for year-long traditions!
27 Make paper airplanes or paper boats
28. Write a story and illustrate it
29. Make a bird feeder
30. Do a random act of kindness. Check out this post for tips on spreading positivity.
31. Start a pen pal
32. Play a game with these I Have Never Questions, How Well Do U Know Me or Summer This or That Questions.
33. Do Summer Trivia Questions
34. Make a blanket fort
35. Do a family tye-dye t-shirt project
Related: Free Summer Reading Log with Tips & Activities
Delicious Summer Food Ideas
Have fun with food to make your kids summer bucket list a memorable affair.
36. Eat breakfast for dinner (or backwards day with food)
37. Do a homemade pizza party
38. Make homemade jam
40. Bake cookies
41. Make root beer floats
42. Eat ice cream sundaes
43. Make snowcones
44. Try homemade fruit popsicles
45. Make BLTs using fresh in season tomatoes
46. Make s'mores
47. Have a fondue night
48. Celebrate National Ice Cream Month in July (or these other fun July holidays)
Related Posts:
Kids Summer Bucket List: Outside (at Home)
Nothing beats the sound of bug life this time of year or the starry wonder of a clear summer night.
49. Create sidewalk art or paint rocks
50. Gather around the firepit
51. Do a fun nature scavenger hunt
52. Skip rocks in the creek
53. Campout in the backyard
54. Throw out the slip in slide or baby pool.
55. Catch fireflies
56. Nap in a hammock. This high-quality hammock will immediately alleviate summer stress!
57. Make an obstacle course in the backyard (try these fun family staycation ideas at home)
58. Do some cloud watching
59. Dance in the rain
60. Fly a kite
61. Have a bike parade
62. Stargaze, and get out that telescope
63. Run in the sprinklers
Summer Bucket List for Kids: Out And About
Add these out and about adventures to your summer bucket list for kids!
64. Check out the animals and live music at the county fair
65. Hit up your favorite pool
66. Bike around a new trail or neighborhood
67. Go to a drive-thru movie theater
68. Go to a summer matinee
69. Visit the zoo
70. Go to a sports game
71. Go to an amusement park
72. Visit a nature center
73. Buy fresh food at the Farmer's Market
74. Go on a road trip (try these road trip trivia questions and answers while in the car)
75. Visit a state or national park
76. Go bowling
77. Try fishing in a new spot
78. Go to a water splash park
79. Attend a story time
80. Go to the beach – make sandcastles and do the best kids beach scavenger hunt printables
81. Visit an aquarium
82. Go to a children's museum
83. Play mini golf
84. Ride a ferris wheel or amusement park ride
85. Go camping (use this kids camping checklist to help pack)
86. Visit a library you've never been to before
87. Try a new restaurant
88. Visit a pick your own produce farm
89. Attend a free kids art class
90. Go geocaching
91. Volunteer as a family
Related Post: 11 Epic Ideas for Your Amazing Summer Staycation
Bonus Summer Bucket List Ideas: Quality Family Time
Enjoy spending some extra quality family time together with more of these summer bucket list ideas.
92. Stay in your pajamas all day
93. Read a book and watch the movie or tv series together
94. Wash the family car together
95. Find a new ice cream or frozen yogurt place
96. Play a fun charades game or hide and seek
97. Start a gratitude jar
98. Complete a fun family challenge
99. Buy a new arts and craft book and get creative
100. Have a dance party or family talent show
Download the full kid summer bucket list template HERE –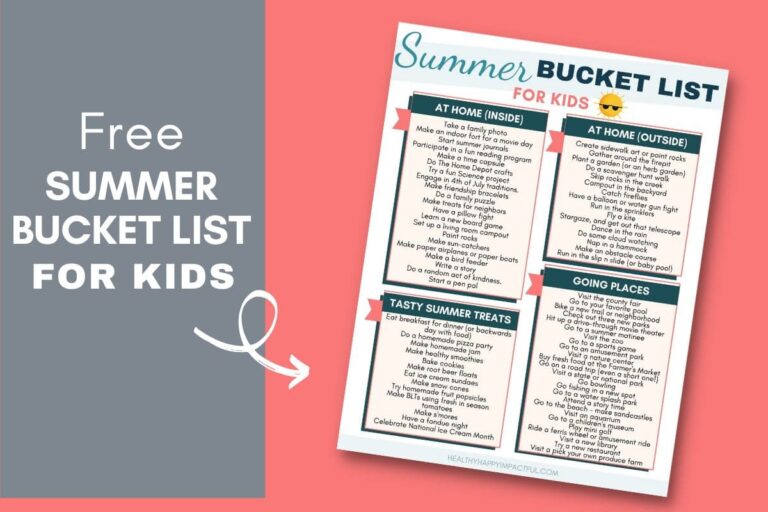 Want more printables like this? Get free access to my library below!
Summer Bucket List for Moms
Here's the thing. Adults need fun and spontaneity too. And isn't this summer the best time to go for some?!
So, once the kids are in bed and you can think about "me time", add a few of these on your adult summer bucket list.
1. Add one fun sundress or flirty skirt to your wardrobe
3. Give yourself or get a bright summer pedicure
4. Wear heels or wedges just once
5. Go on a solo bike ride around a new place
6. Clean out your ________ (closet, basement, garage…)
7. Watch a sunrise or sunset
8. Try something new that will improve your life – meditating, journaling, etc.
9. Take a nap (or ten)
10. Go wine tasting
11. Plan a summer date with your partner. Try a romantic picnic!
12. Run a 5K or 10K
13. Work on a new habit. Check out this list of life-changing habits.
14. Host someone you haven't seen in a while.
15. Make a summer playlist
16. Make sangria or another classic summer drink. Try fun drinks HERE.
17. Read an amazing book for women. Or, get one off the NYT bestseller list HERE.
18. Watch fireworks
19. Bake a fruit pie from scratch
20. Porch sit with tea for an afternoon
21. Brew your own beer or make your own wine
22. Do something you've never done before (get a tattoo, go on a spontaneous road trip, learn to surf, etc.)
23. Hike a new trail
24. Volunteer
25. Go camping with your friends or partner
26. Get a fresh summer hairdo
27. Write someone a kind note
28. Host a game night with friends
29. Take a weekend or week completely off of work and household tasks
30. Buy a delicious ice cream treat on a hot day – to eat by yourself
Download the full mom summer bucket list printable HERE –
*Need ideas for fall too? Don't miss the fall bucket list!
Now, read on for what to do with our amazing new lists!
5 Tips for Less Stress This Summer
Alright, I'm a sucker for lists. BUT, it can be easy to get stressed out feeling like there's MORE to do as a mom. And there's no need for that!
Check out these five tips to leave the stress behind with our 2022 summer bucket lists!
1. Make it Manageable
First, ONLY pick the activities that mean the most to you or that you can see yourself smiling with. If you know you're going to go overboard on ideas, then force yourself to keep it to a certain number.
2. Make Your Summer Bucket List a Dream Board
Who says it has to be a checklist?!
Instead of one big to-do list, think of it as more of a vision board or dream board of ideas.
3. Write Only What You've Done
As you DO activities this summer, write them down.
Spend the summer creating a list of fun activities you've completed. You'll be reminding yourself of what you've done, not what you have left.
Plus, focusing on positive progress is a huge trick for overall happiness and motivation!
Related Posts:
4. Improvise on Your Traditions
All seasons bring unexpected events.
So, make adjustments as needed. The more we go with the flow, the easier it will be on our mental health.
How can you be creative with the summer traditions you have?
5. Stay Healthy
Summer = fun, but it's also a lot of togetherness (which can lead to stress)! You'll enjoy this time MOST if you take care of yourself. So, don't forget your self-care for moms, regular movement, and healthy eating too.
Related Posts: 11 Healthy Summer Tips You Need to Know

To Consider With the Summer Bucket List for Kids
The best way to create an unforgettable summer is with a plan. Even if it's a flexible one. So, don't let this time slip by you! It's the perfect opportunity to build up our close-knit families.
What will you add to your summer bucket list for kids (or adults)? I'd love to know!
Other Healthy Happy Impactful posts to enjoy…
Best Kids Summer Bucket List for 2023