37 Easy Ways To Become a More Playful Mom
Are you a playful mom?
How would your kids describe you right now?
Some days, I'm a little scared to find out. Hmm. Tired? Stressed? Oh, I've got the market on that. But fun?
There's a million things to do as a mom. So, even when sitting, we're rarely relaxed. This makes it incredibly difficult to step back and remember to be chill with them.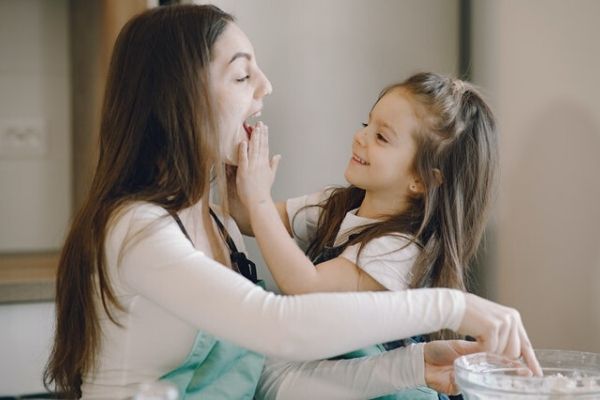 However, I'd like to be a fun mom. In fact, it's a part of my mom mantra, or daily goal, if you will.
"present, playful, calm"
Today, we're focusing on the playful part…
Playful means that I take the time to be silly with them. I show them I love them by getting on their level and having fun.
Because one day my kids will be grown.
And the opportunity to play will be long gone. Those adorable rolling giggles will be a thing of the past. And my chance to make childhood memories will be too.
This post contains affiliate links at no cost to you. See my disclaimer for more.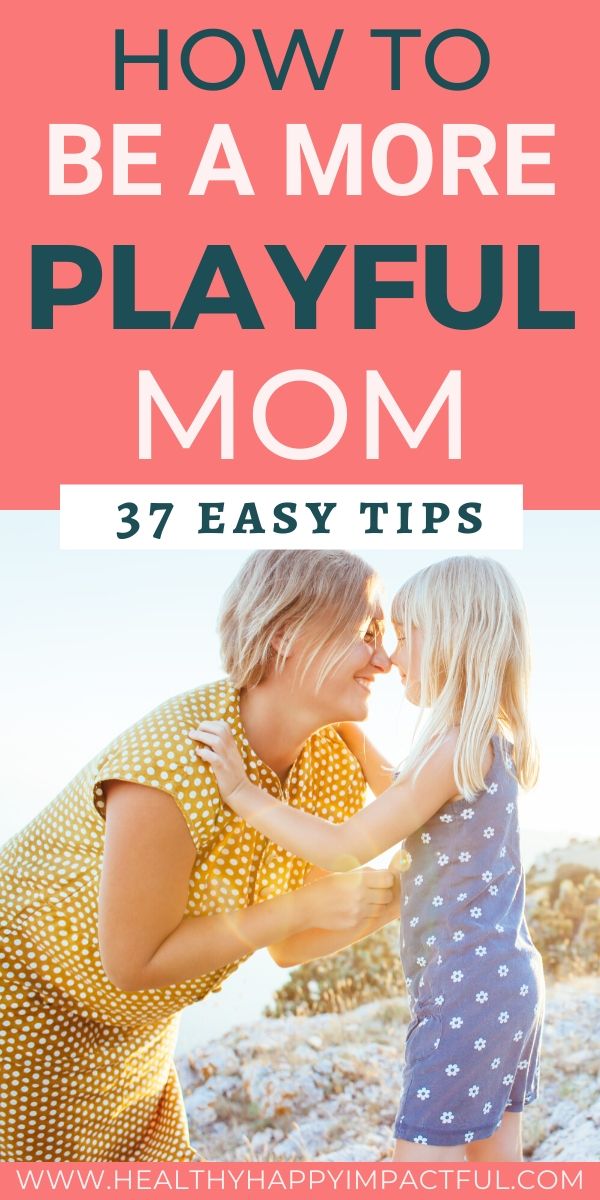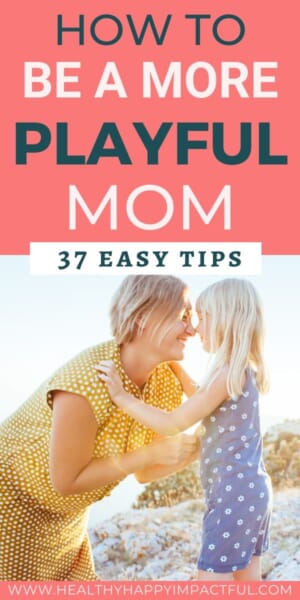 But, you may be thinking "how can a person be more playful?"
First, Two Rules To Being Playful…
Before we dive into the fun mom activities, let's clarify a few critical things!
1. Pick What You Enjoy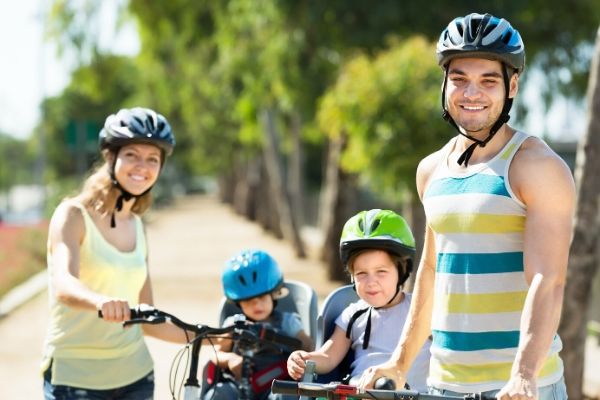 Most importantly, steer clear of the activities that YOU don't like. It sounds obvious right? But us moms are experts at self-sacrifice.
In this case, it does more harm than good.
Forcing yourself to play something that you can't stand will only make you begrudge your time with your little ones. Trust me, hours of playing legos does not make me the fun mom I want to be.
So, take a look at the list, and only do the activities that you can see yourself smiling with.
2. Do More Than Plan it
Additionally, the activities should include you in it. No excuses!
Often, I fall into the trap of planning fun things, but then not participating. IT DOES NOT COUNT if you set up an awesome obstacle course but then walk away to do laundry.
And now…
37 Easy Ways To Be Playful
1. Have a Tickle Fight
First, tickles are the most effective one on the list!
If you don't know where to start, we love The Tickle Monster book. It's our favorite book, and it ALWAYS ends in a tickle war. Talk about a simple tip that works!
2. Go on a Bike Ride
The first time I went on a bike ride with my kids, my son brought the first aid kit in case I crashed. Apparently, moms can get hurt having fun.
3. Play a Game at the Park
Anytime you go to an empty playground, start tag or hide and seek with your kids. Get a little exercise and show your kids you can let your hair down.
4. Color With Sidewalk Chalk
Trace your kids' bodies or draw a road or city that they use their bikes on.
Need more activities to keep kids busy? Read the Best at Home Activities for Kids
5. Have a Nerf Gun/Water Gun War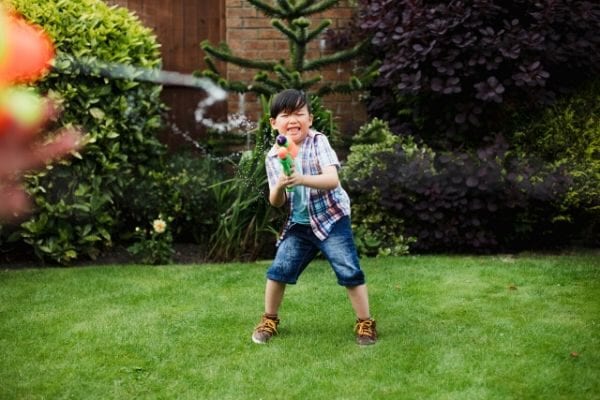 A water gun fight shows up on every summer bucket list. Get a little competitive and soak your family. Or keep it indoors, turn out the lights, and start shooting those darts.
6. Have a Dance Party
Next, an impromptu dance is a great way to get the wiggles out before bed. Freeze dance is our favorite.
7. Leave Notes Under Their Pillows
My daughter leaves TONS of stuff under my pillow. Honestly, I sleep with a constant paper crunching under my head.
I try to reciprocate when I can because it takes 2 minutes and she feels loved when she gets them back.
*Sign up below for easy notes to use!
8. Make Silly Faces
Are you waiting for food to be ready? Or in line for something? Make silly faces and take some selfies while you wait!
9. Go Sledding or Build a Snowman
Bundle up and contribute to that snowman they're so excited to make.
10. Wrestle Together
Get on the floor and jump on each other. The kids do it anyway, so might as well join in!
11. Look at the Clouds Together
When was the last time you looked at those fluffy clouds? Take turns telling each other what shapes and animals they look like.
12. Play a Board Game
Pull out a simple game and get playing. Our favorites are the easy ones like Sequence for Kids and Monopoly Jr.
13. Play in a Creek
We have a creek near our house that the kids love checking out. Undoubtedly, the snakes creep me out, but it's perfect to explore in the winter months.
14. Play in a Sprinkler
This activity has very little to set up or clean up, making it an EXCELLENT choice!
15. Draw Together
Art for Kids Hub has incredible free drawing videos! Also, Ed Emberley's drawing books do a great job of teaching how to draw step by step.
16. Build Legos
Make a new creation together. Challenge your kids to build something they haven't before.
For family ideas using legos, read: 25 Easy Family Night Activities (#15)
17. Play the Story Game
First, you start a story with 3-5 words, then your child continues with 3-5 words and you continue back and forth. It gets silly pretty quickly and is an easy mealtime activity.
18. Create Silly Traditions
Traditions are so important because they force you to be a playful mom year after year. Once your kids expect it, there's no going back.
Trust me, this is THE major reason I've become more fun. It's accountability at its finest!
So, why not celebrate "backwards day" or chase your kids under the mistletoe?
And if you have no idea what or how to do traditions – check out my affordable ebook with over 250 ideas to strengthen your family unit and build the quality time you want.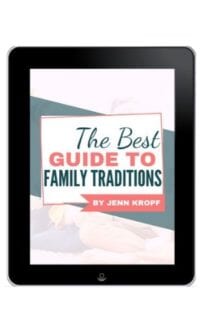 19. Bake Something Sweet
What kid (and adult) doesn't like sugar? Make some simple cookies with their help. But, go in knowing things will get messy!
Or keep it healthy with these 50 easy kid snack ideas (+free printable)
20. Play Card Games
War and go fish are popular at our house. Plus, the best thing about card games is they are easy to take places. Find a set of 6 games HERE.
Related: Best Conversation Games For Families
21. Have a Tea Party
Tea time with a little juice is an effortless way to turn a normal afternoon into a luxurious affair.
22. Campout in the Backyard
Grab your camping stuff and make an evening out of being together around the firepit. But don't forget marshmallows!
*We love giving camping supplies as gifts. Check out A Big List of Non-Toy Gifts for Kids for lots of other unique and useful gift ideas!
23. Play a Prank
Show dad a little love by pranking him. Pop out in a mask or have the kids scare him.
24. Play with Play-dough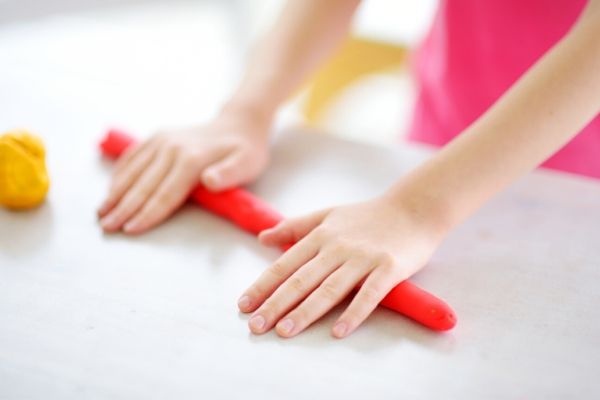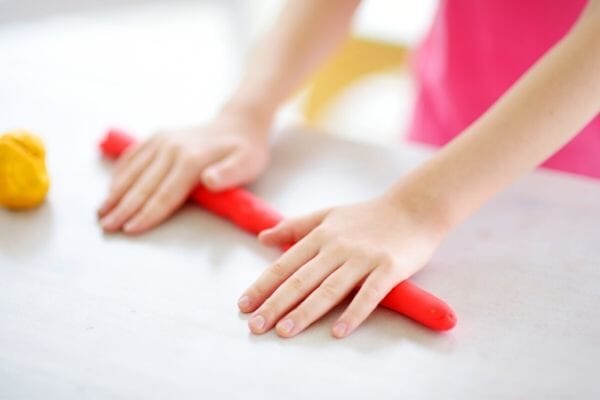 If you've never made playdoh, it is incredibly easy to make. This recipe HERE gives step by step instructions. Then, spend some time creating something original with your kids.
25. Read to Them
Kids are never too old to be read to. So, use an animated voice to get the kids interested and choose books that you also find fun.
26. Play a Video Game
Additionally, my son is obsessed with Minecraft, and it would mean the world to him if I played it too.
27. Play a Sport
When your little one gets active in something, practice with them. Shoot hoops or kick the ball back and forth outside.
28. Race
Race the kids down the street or to the next tree. It takes 2 minutes, but it's very effective.
29. Do an Obstacle Course
Set up an amazing obstacle course with the kids in the backyard, and then be the first to try it out!
30. Make Slime
There are tons of homemade slime recipes like this one.
31. Tell Jokes
We gave our son this joke book last Christmas and have entertained ourselves for quite some time telling them back and forth.
*See more kids joke books >>
32. Play "Would you Rather"
This is fun to play with kids and adults. Simply say two normal or outrageous ideas and see what kids pick. Makes great dinner conversation!
"Would you rather have blue hair or green feet?" Find a HUGE list of questions for kids
*And for more entertaining questions, check out this funny never have I ever game or the "how well do you know me" to play with kids!
33. Have a Spa Night
Spending time devoted to nails and hair makes any little girl feel special.
34. Fly Kites
We always drag our feet going out, but have the best time when we get there.
35. Have Cuddle Time
Those snuggle moments won't last forever.
36. Make an Epic Fort
Forts are the symbol of childhood, so get involved and make an awesome one.
37. Use Your Imagination
Finally, just taking a moment to use your imagination is a huge step towards being a playful mom. Talk to their stuffed animal or pretend you're fighting a fire. The kids won't forget it.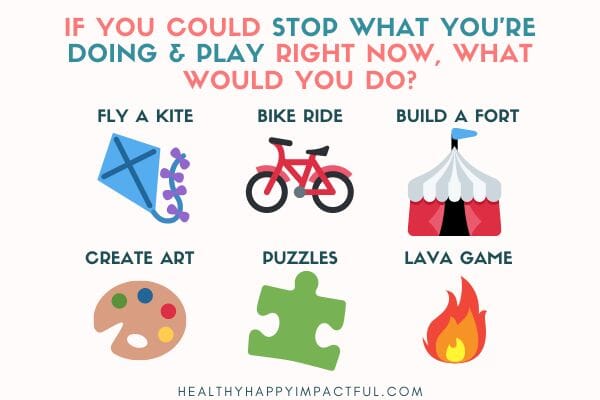 Final Thoughts: How to be a Playful Mom
Honestly, becoming a playful mom doesn't have to take tons of work. It's being intentional about the small actions we do every day.
For more great ways to love mom life, check out: Simple tips to be a Happy Mom
And if you're looking for more great family ideas, grab the pdf below!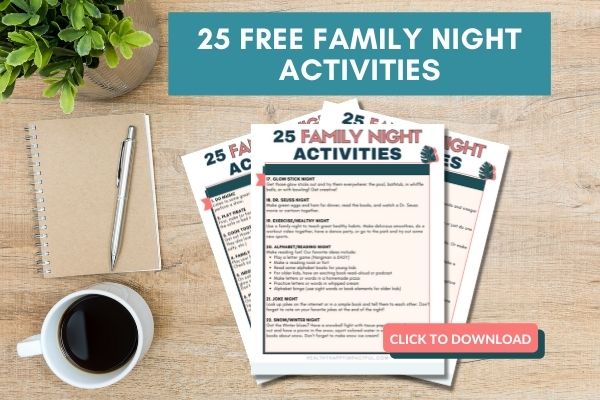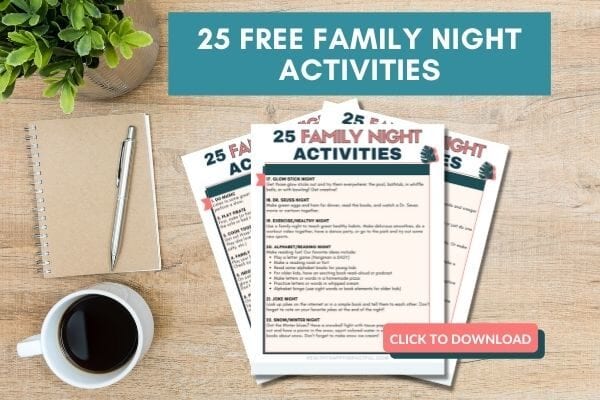 Awesome parenting posts …
How to Become More Playful