30 Best Joke Books For Kids (Of All Ages) 2023
Laughing is not only the best medicine, but it's a great way to pass the time with your kids.
So when your family needs a pick-me-up or you want to have some fun, grab one of these joke books for kids and enjoy giggling with your family!
Why should we read joke books for kids?
There are many benefits of reading joke books with your children.
Joke books are a great read aloud. They are interactive and create a bonding experience through laughter.
They boost reading confidence for reluctant readers. After just a line or two of reading, they get a feel-good chuckle!
Kids joke books have fewer words and funny illustrations that are less likely to overwhelm young readers.
Laughter can relieve stress and soothe tensions. It has long-term positive effects on the immune system, can provide pain relief, and improves mood. (source)
Give laughter a try and add humor into the life of your family with these joke books.
"A good laugh is sunshine in the house."-William Thackeray
Funny Joke Books for Kindergarten
Young kids and early readers build confidence in their joke-telling and reading skills with these silly, colorful, and fun-to-read joke books.
This post contains affiliate links, and we may earn a commission at no cost to you. See our disclaimer for more.
1. My First Joke Book For Kids Ages 4-9 by Scripto Love Press
*5 stars on Amazon!
What has 4 wheels and flies?
Answer: A garbage truck!
Colorful pictures and easy-to-read jokes, riddles, and tongue twisters make this a great first joke book for young readers.
2. The Easy Reader Joke Book for Kids Ages 3-6: Especially created for Kindergarten and beginner readers by Earl Fizwickle
Encourage your beginning reader to pick up a book with this easy reader joke book for kids. Colorful illustrations and funny jokes motivate your child to read each page.
3. The Best Joke Book for Kids: Illustrated Silly Jokes for Ages 3-6 by Rather McSilly
Pick up this easy-to-read joke book and your young child will become a great joke teller in no time!
4. Silly Jokes For Kids: Illustrated Joke Books for Ages 3-6 by Malarkey Gubbins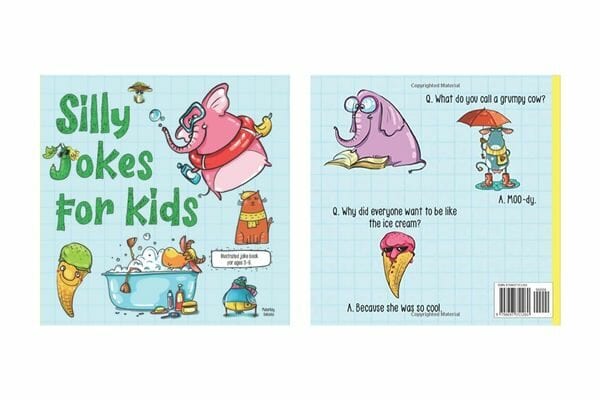 Check out this joke book for your young child with clever jokes and cute illustrations.
5. My First Kids Jokes ages 3-5 by Cindy Merrylove
This joke book is a fun way to build reading confidence for Kindergarten and beginner readers.
Featuring simple cartoons and funny jokes, your young child will be telling these jokes to anyone who will listen.
Related:
Joke Books for Kids Age 6-9
6, 7, 8, and 9 year-olds will especially love these kids joke books designed for them.
6. The Big Book of Silly Jokes for Kids by Carole P. Roman
*800+ jokes!
Laugh and improve your reading skills with this fun book of riddles, tongue twisters, puns, and knock-knock jokes.
This book also includes silly facts, illustrations, AND beginner joke-writing tips for any jokester!
7. The Silly Kids Joke Book by Cooper The Pooper
Read 500+ hilarious jokes that will make you laugh out loud!
Keep your child entertained with this silly book that contains a unique collection of question and answer jokes the entire family will enjoy.
8. Jokes For Kids by Rob Stevens
Kids will enjoy knock-knock jokes, riddles, tongue twisters, and one liners for kids in this joke book! This is a great book for families and kids of all ages.
9. Lots of Knock-Knock Jokes for Kids by Whee Winn
*Includes over 250 jokes!
Knock, knock.
Who's there?
Noah.
Noah who?
Noah good place we can get something to eat?
Enjoy this kid-friendly collection of jokes that will keep you all giggling! This book includes knock-knock jokes, tongue twisters, and more!
10. Super Silly Jokes for Kids by Vicki Whiting
Help your kids develop their sense of humor and joke-telling skills with this book of over 200 quips, riddles, and puns.
<<Get your copy here!>>
11. Ultimate Jokes and Riddles for Kids by Nevada Turner
Get the Ultimate Jokes and Riddles book for kids for the young comedian in your life. Over 800 jokes will keep your kids entertained in the car or on a day at home.
*See these what am I riddles and answers on the site for more like this!
12. 101 Animal Jokes For Kids by Them Kids
Introduce your child to this silly kid joke book all about animals.
This is a great early reader book for ages 6-8.
13. Silly Jokes for Silly Kids by Silly Willy
Warning: Some of the jokes in this book are really really silly! You may not be able to stop laughing!
14. Awesome Jokes That Every 7 Year Old Should Know! by Mat Waugh
Doctor, Doctor! I think I'm turning invisible!
I'm sorry. I can't see you today.
This is THE joke book for the 7 year old in your life. See all of the books in this series for jokes for 4, 5, 6, 7, 8 and 9 year olds!
15. Hilarious Jokes for 8 Year Old Kids by Hayden Fox
*Grab all the books in this series by age: 6, 7, 8, 9, 10, 11 & 12 year old books
Each book in this series is designed for your child's exact age! Includes over 300 jokes, riddles, tongue twisters, and mind-boggling facts.
Try saying this fast 3 times: Willie's really weary!
Get your copy here!
16. Laugh-Out-Loud Jokes for Kids by Rob Elliott
*USA TODAY Bestseller and over 2 million sold!
Laugh-Out-Loud Jokes For Kids will provide your child with hours of entertainment and laughter. This bestselling book provides hours of comedy to the entire family!
Look for all the books in this Laugh-Out-Loud Jokes series including holiday joke books and jokes for road trips!
17. National Geographic Kids Just Joking by National Kids (Joke Books)
*Part of the Just Joking Series (15 books)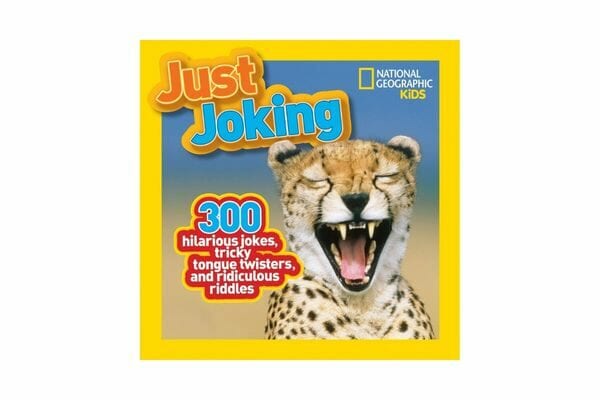 National Geographic presents a just joking book for kids with engaging photographs, quips, tongue-twisters, riddles, and more.
Your kids will want to read all of the joke books in this series and share them with their friends!
18. Highlights Laugh Attack! Joke Books Series by Highlights
*From the joke experts at Highlights
Enjoy this super-sized collection of wholesome jokes, riddles, knock-knocks, tongue twisters, and cartoons to keep everyone in the house laughing.
Related: Funny Questions For Kids to Ask and Best Animal Riddles
Joke Books For Kids Ages 10+
Next, older kids will enjoy reading and chuckling with these unique joke books.
19. The Don't Laugh Challenge-10 Year Old Edition by Billy Boy
*Part of The Don't Laugh Challenge series (10 books)
Why did the t-shirt only text his girlfriend?
Answer: He didn't like the COLLAR!
This unique joke book series is set up as a challenge for two jokesters to take turns reading jokes and silly scenarios to the other player. If you can get your opponent to crack a smile, you win!
Follow the instructions on each page and then add up your score to find the final winner.
*Look for more Don't Laugh Challenge joke books in this series for 6, 7, 8, 9, and 11, and 12 year olds. Plus more!
20. The Ultimate Joke Book for Boys + Girls by Silly Sloth Press
Hilarious jokes will keep your kids reading and sharing with others in this Ultimate Joke Book for Boys + Girls.
21. Funny Jokes for 12 Year Old Kids by Jimmy Jones (Joke Books)
Funny 12 year-olds will enjoy a joke book just for them! This family-friendly joke book includes gags, puns, original and classic jokes, riddles, tongue twisters, and knock-knock jokes.
22. Knock! Knock! Who Was There? by Brian Elling and Who HQ
*Over 300 hilarious jokes based on the New York Times best-selling series
Featuring hilarious and original jokes about all the people and subjects of the Who Was? series, this book will keep kids laughing through history!
23. Roald Dahl's Whoppsy-Whiffling Joke Book by Roald Dahl
*Beloved author!
Read Roald Dahl's Whoppsy-Whiffling Joke Book for gags and jokes that will make anybody laugh! Perfect for fans of Charlie and the Chocolate Factory and Matilda. (See those books in our 6 and 9 year old books lists)
24. Belly Laugh Hilarious School's Out for Summer Jokes for Kids by Sky Pony Press
*5 Stars on Amazon
Are you looking for 350 jokes all about summer? This book even includes a laughing-sound button for more side-splitting summer entertainment!
<<Get your copy here!>>
Related: Funny Telephone Game Phrases & Summer Picture Books
More Joke Books For Kids: Fun Holiday and Seasonal Jokes
Lastly, look for joke books to celebrate the holidays and different seasons for added fun and laughs.
25. St. Patrick's Day Jokes & Riddles for Kids Ages 8-12 by Scripto Love Press
*5 Stars on Amazon
Get ready to celebrate St. Patrick's Day with jokes and riddles for kids about leprechauns, The Luck O' the Irish and more!
26. Laugh-Out-Loud Springtime Jokes For Kids by Rob Elliott
*#1 bestselling Laugh-Out-Loud Jokes for Kids series
Enjoy family-friendly jokes as you say good-bye to Easter and hello to Spring! Get yours here!
27. Try Not To Laugh Challenge: Easter Joke Books for Kids
*#1 Best Seller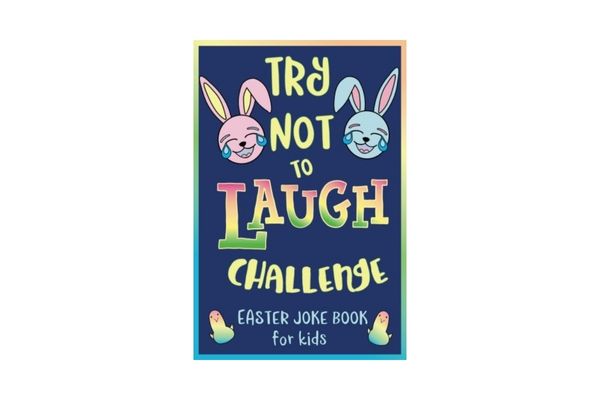 With over 275 Eggs-tra funny jokes, riddles, and more, this is a great addition to any Easter basket and a great game joke book for the entire family.
28. Laugh Yourself Silly Kooky Spooky Jokes for Kids by H.A. Riddle
Halloween can be funny too with this book with jokes, puns, and riddles all about spooky things!
29. The Ultimate Thanksgiving Joke Book For Kids by Ciel Publishing
*5 Stars on Amazon
While you are gathered together with family and friends during Thanksgiving, bring this book of 170 jokes all about this holiday.
Get your copy now!
30. The Best Christmas Joke Book for Kids by Rather McSilly
Enjoy Christmas with your family even more with this brightly illustrated and fun joke book for kids all about Christmas!
To Consider With Joke Books For Kids
Life is better when you're laughing, so add a joke book to your child's library and enjoy!
And, if you want to give your child added laughs during their school day, pack one of these hilarious laugh-out-loud joke notes in their lunchbox!
Also, find funny duck and farm animal jokes that will have you quacking up!
Let me know what books you liked from the list!
"A day without laughter is a day wasted"-Charlie Chaplin
More Fun Kid posts you'll love…
Children's Joke Books