Best Camping With Kids Gear for 2023
Fun Camping Gear for Kids + Free Packing List Pdf
Looking for useful camping gifts for your kids?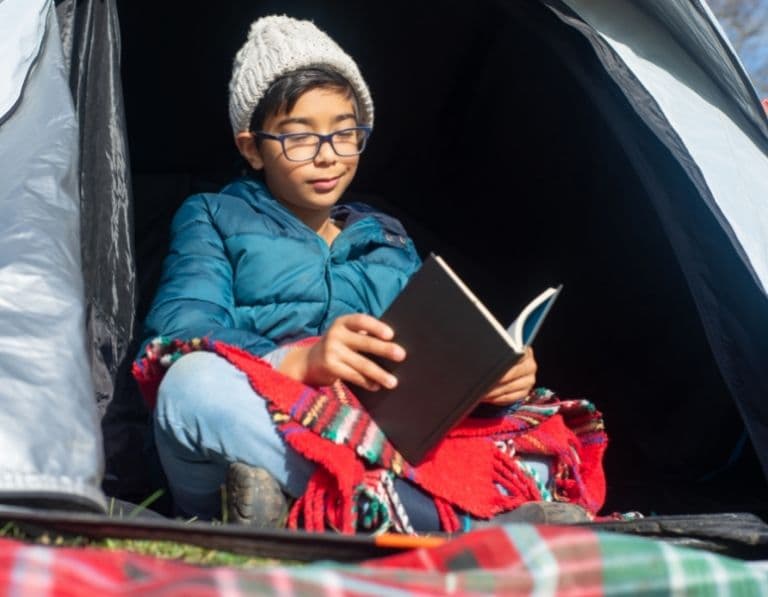 Or perhaps you need basic kids camping gear for your next outdoor adventure?
As a mom, I know that going places with kids (and packing) can be a TON of work. But, these items will help make things easier. And so will the packing list pdf at the end!
This post contains affiliate links, and I may earn a commission at no cost to you. See my disclaimer for more.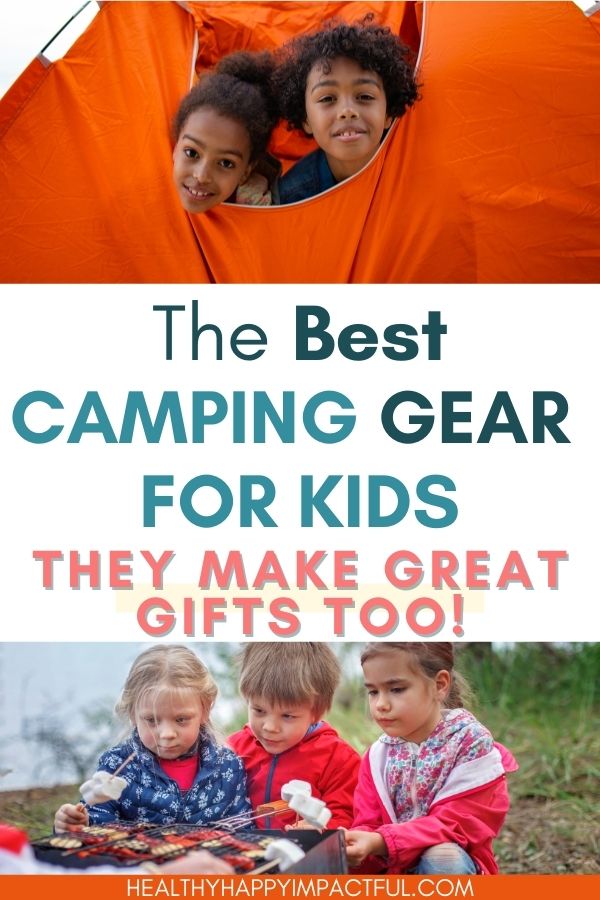 NOTE: The great thing about camping items is that they are helpful in emergencies too. Use them to beef up your emergency preparedness!
Best Camping Gear for Kids List
First, these make for cool camping gifts for kids or just when you need to replace your gear!
Kids Camping Chair
*Must have camping gear for toddlers
A cool camping chair will have your little ones jumping up and down to get outside. Plus, I mean, how cool is this chair! It has dinosaur feet and everything!
(There's a girl version of a unicorn too.)
Camping Chair for Older Kids
*Affordable price!
Now, if your kids are older, then it's important to buy a durable chair. And if you're like me, you don't want to splurge on the fancy chair because kids are HARD on things!
I like this popular Coleman chair. It's a good price, it's easy to pack, and it has pockets that kids need.
Camping With Kids Tent
*Best Seller
When camping with kids, you need plenty of room. A quality 4 person tent is a must, and an 8 person tent comes in handy for larger families too. (This large one has easy setup)
Quality Kids Sleeping Bag
#1 Best Seller – in many colors
Kids can't sleep in a tent without a quality sleeping bag! I love that this one is lightweight, waterproof, and good for warm or hot weather. It's also BY FAR the most popular!
Best Lantern for Kids Camping Gear
*Good for emergencies too!
There are a lot of cheap plastic lanterns out there. And they last all of five seconds when it comes to kids. I prefer a durable LED lantern that will be with us for the long term and we can use for power outages too.
(But if you are looking for more of a toy lantern as a gift, try this cool Discovery starlight lantern.
Portable Tent Lamp
*Great to have for emergencies!
These portable LED tent lights come in handy if you have a child that is afraid of the dark or if someone gets up a lot at night. I know that a night light is a must with my kiddos.
Fun Headlamp
Headlamps are where it's at when you're a kid. It's hands-free entertainment, and it sure makes going to the bathroom in the dark a whole lot easier. These small portable flashlights are also helpful.
Special Camping Backpack
*Waterproof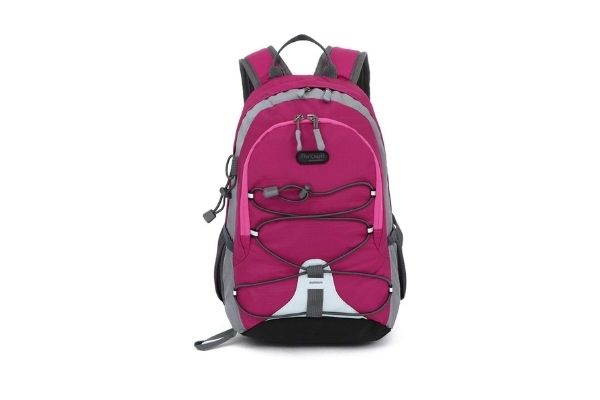 If you go camping often (or plan to), then getting the kids their own backpack makes packing a lot easier. Just keep what they need in it and have it ready to use!
Fun Hammock
Whether for camping or just taking to the park, a hammock is one of our favorite things! Who doesn't love the idea of lounging under a tree?
Be careful though, you'll have to fight your kids for it!
Marshmallow Roasting Sticks
#1 Best Seller
My kids are really in it for the s'mores. (And if we're being truthful, so am I.)
So, a great set of roasting sticks is a must-have!
These popular roasting skewers are sturdy, color-coded (for keeping track amongst kids), and great for marshmallows or hot dogs.
Note: If you're never tried a Reeses Peanut Butter cup in place of the Hershey's....you should do so, pronto!
Family First Aid Kit
Scrapes and burns are a given when you have kids. So, make sure that you have a first aid kit on hand and that your kids know where it's located.
See this great family kit here >>
Portable Camping Fan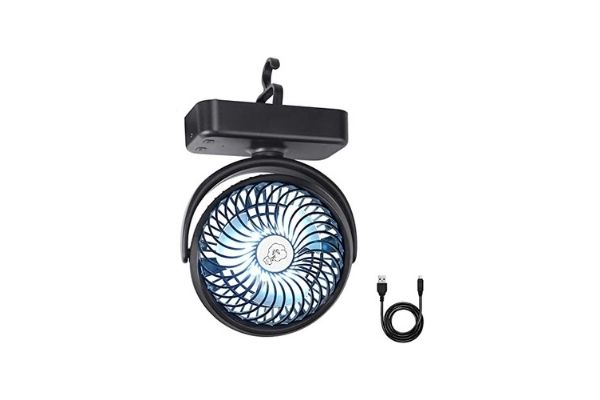 My husband and son recently went camping during a heat wave. Our camping fan turned out to be a lifesaver! This camping fan has LED lights and comes with a hanging hook to put on the tent.
Cold Weather Gear
On the opposite side, if you know you'll be camping in the cold, don't forget your Hothands and a good outdoor waterproof blanket.
Kids Camping Toys
Next, the following toys make excellent gifts for camping with kids. Plan ahead and give them for birthdays, Christmas, or Easter and you'll be ready!
Walkie Talkies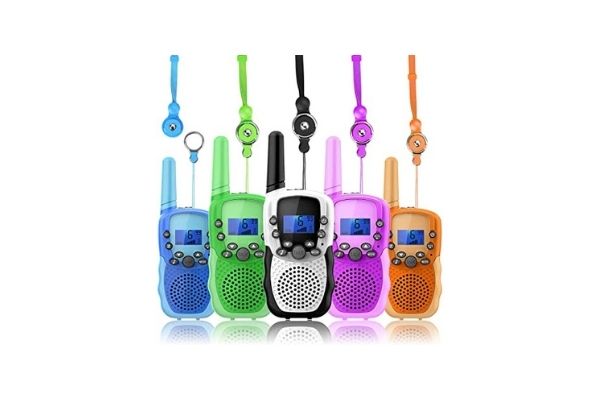 Long-range walkie-talkies are good both for playing and for when the kids want to go exploring.
I love how these walkie-talkies have lanyards so the kids can wear them. (And they are color-coded – eliminating fights over them!)
Binoculars
The kids will have plenty of time to watch birds and critters during your outings, so help them pack a set of binoculars that's easy to take with them.
I like that these are compact and portable >>
Kids Bug Catcher
There's never a better time to do bug watching than when you are living in the outdoors! Grab them this cool bug catcher kit that has a light. (Just tell them to keep the bugs outside!)
If you're trying to save space, a magnifying glass and bug net would also be tons of fun!
Buckets & Shovels
You have to pack A LOT when camping with kids. So, consider simplifying by just getting them a bucket and shovel and watching as they collect rocks, worms, bugs, and anything else they can find.
My hunch is that they'll be busy for HOURS.
Camping Activity Book for Kids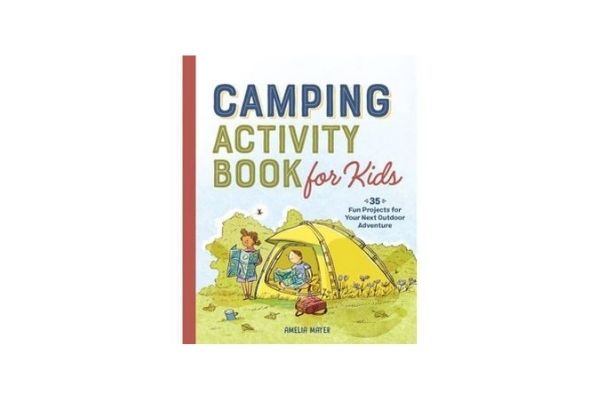 The Camping Activity Book features 35 fun outdoor experiments and adventures. It's sure to keep your kiddos busy!
Telescope
*Unique camping gift for kids
It's difficult to see the stars from where we live, so the kids always beg to take our telescope camping. And exploring the night sky always reminds us of how vast and mysterious our solar system is.
We also love this free Skywalk app that tells you what the stars are.
Camping With Kids Cookbook by Amelia Mayer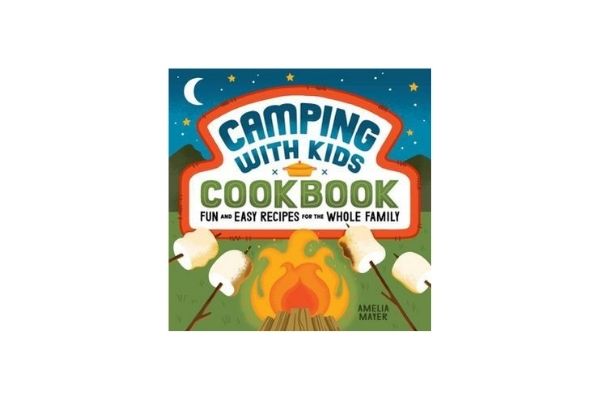 Cooking over a fire is half of the fun when you're camping. This book makes an excellent kids camping gift because it will give them creative new ideas for what to make.
Books About Camping
Next, if your kids are new to camping, these books will both help them get excited and show them what to expect.
Good Kids Camping Games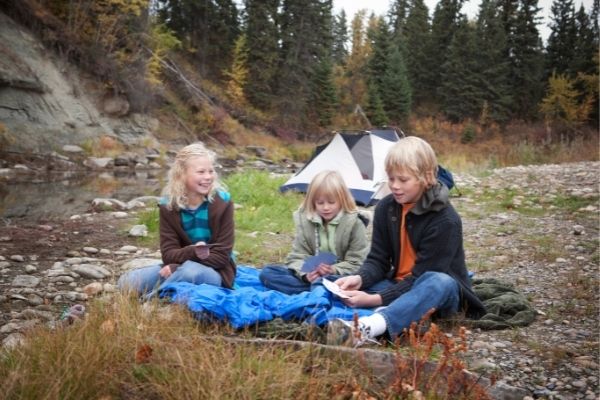 Next, games are a MUST HAVE when you're camping. Not only do they add an essential element of fun, but you are able to connect and be fully present with your family.
Card games are easy to pack and travel well.
Here's a great post for more family game ideas >>
Sports Equipment For Camping With Kids
Finally, for camping toys, don't forget a soccer ball or frisbee and any other outdoor games you might have. Most major parks have courts and fields that make it the perfect time for kids to practice their skills and start a fun game.
Here are a few other ideas:
Badminton
Basketball
Horseshoes
Bags/cornhole
*Word games like kids family feud, a family charades game, and family truth or dare also go well with camping!
Kids Hiking Gear + Fishing Gear
When camping, it's common to go for a hike and spend some time fishing. Therefore, these camping supplies for kids make those activities more fun (and safe)!
Kids Water Resistant Hiking Boots
#1 Boys Best Seller Hiking Shoe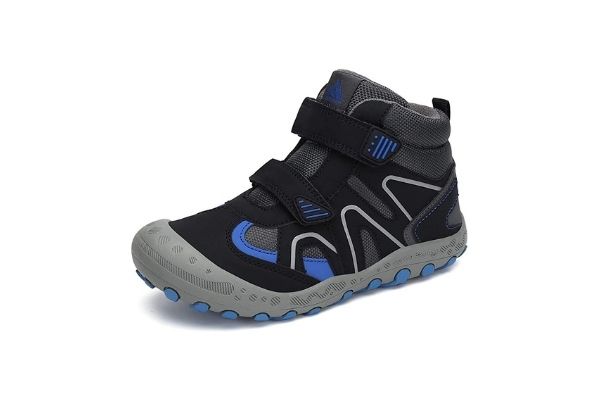 These kids hiking boots come in lots of different colors, have a full cover toe cap, and are water-resistant. They'll be the perfect shoes for playing in the backyard or hiking a muddy trail in the woods.
Kids Hydration Backpack
*Comes in 7 different colors!
If you enjoy longer walks and hikes with the family, your child will love this hydration pack to keep from being thirsty along the way!
A Child Carrier
*Great for hiking with toddlers
Going on a decent hike is almost impossible with a toddler. That's why this sturdy child carrier saves the day! We've used it more than once on back trails.
Kids Fishing Pole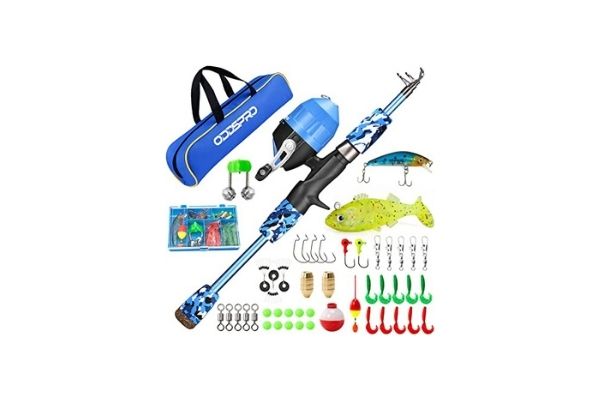 Whenever we go camping, fishing is always the first thing my kids ask about. That's why they each have their own fishing poles. (It eliminates fighting!)
Here's a great fishing starter kit, with everything together!
Kids Tackle Box
Now, if you already have the essentials, but your child could use a little organization – consider a tackle box! It's cheap and will give them something to do while they wait to go fishing!
Other Essential Kids Outdoor Gear
Next, these items may not be as fun, but they are vital to a safe and comfortable outside experience.
Mosquito Repellent for Kids
*Non-greasy, non-toxic DEET-Free formula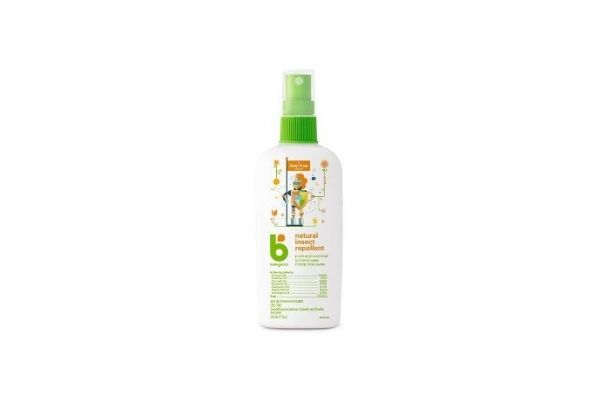 I like that this brand is all-natural for babies and for kids!
High SPF Sunscreen
A good sunscreen is a must-have when you're spending your days outside. We prefer the spray-on kind because it's easier!
Kids Rain Jacket
*Columbia brand – best seller!
The weather doesn't always work out like you think it will when you're outside camping. So, be prepared by having a hooded rain jacket ready. A few good ponchos might come in handy too!
Here's a link to the girls' rain jackets too!
A Good Quality Whistle
Good emergency whistles are both cheap and essential. I love that these popular whistles come on lanyards and are loud. (Though maybe don't be close by while the kids test them out…)
A Sun Protection Hat
*Comes in many colors!
And finally, for the general outdoors, it's important to shield kids' faces and necks from the sun when possible. This floppy brim hat would also be useful for a day at the beach.
Camping Gear for Teenagers
Finally, this teens camping gear is great for older kids that like to venture out on their own often.
Cool Water Bottle or Canteen
As kids grow, they'll need a water bottle that is right for them. This unique water bottle is collapsable – making it super easy for your child to carry and pack.
Survival Bracelet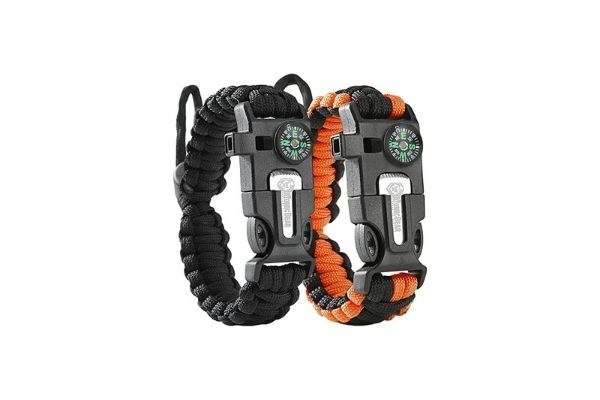 This Atomic Bear Paracord Bracelet has everything! You'll find the 5 survival gear essentials in just one bracelet: fire starter, reliable compass, loud emergency whistle, ferro rod striker and 12 feet of military-grade paracord.
Thermal Underwear
*Also great for skiing!
Teens become more adventurous and camp on colder nights more often. When this happens, thermal underwear will keep them warm for long periods.
An Archery Set
*Perfect Christmas or birthday camping gift!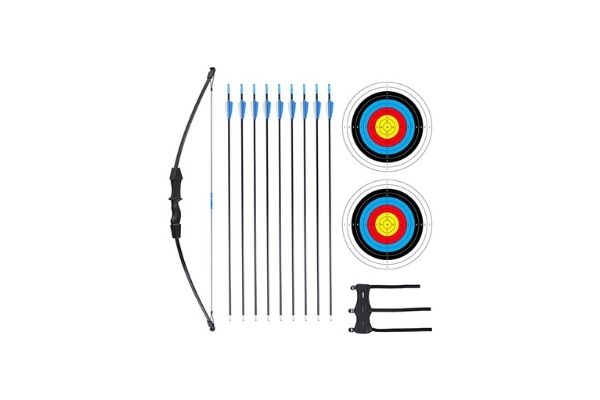 If you have the space and interest, set up your camping space for target practice! This archery set is a great gift for beginners!
A Real Camera
Teens won't be as into imaginary games as little ones, but they would enjoy taking pictures of the beauty they see around them.
This one is cool because it's instant >>
Kids Survival Guide
Many teens enjoy figuring out how to thrive in extreme situations. For this reason, there are lots of interesting survival field guides available.
Camping Journal for Kids
Finally, if your child is a true nature buff, encourage him or her to take notes and study. They'll love recording their adventures with this kids journal.
Related Posts:
Grab Your Free Packing Checklist!
Now, packing for a family can be a lot of work! Make it easier with this free kids packing checklist! Sign up below to gain access!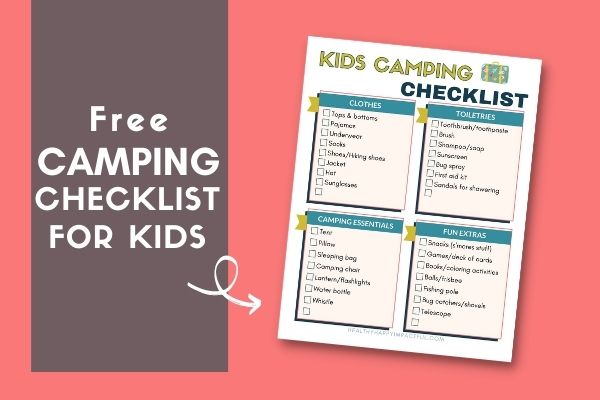 *Need more ideas to get kids outside? Don't miss the best outdoor gift ideas for kids >>
To Consider With Kids Camping Supplies
Our kids are growing up in a digitally connected world. How cool is it to go camping, take time appreciating nature, and make deeper connections with your kids.
What is your favorite kids camping gear?
More kids posts you'll love…
Kids Gear for Hiking, Camping, and Outdoor Adventures