How to Spend More Quality Time With Your Child
How much quality time do you spend with your child lately?
Really present. Really listening. Without distractions or other kids?
I know. It's a tough question. Or, maybe it's a difficult answer.
One of the challenges of having multiple children is spending enough one-on-one time with EACH child.
I'm often tired or distracted and have to make a focused effort to be present with them individually. It doesn't always happen, but when it does, I can instantly tell how much it was needed.
I saw this recently. The other night, my husband and son went to an impromptu baseball game with friends. It was just the girls and me, so I made a special effort to make it fun for my oldest daughter. We had a tea party and watched My Little Pony.
This post contains an affiliate link, at no cost to you. However, I only mention products I love and recommend. See my disclaimer for more info.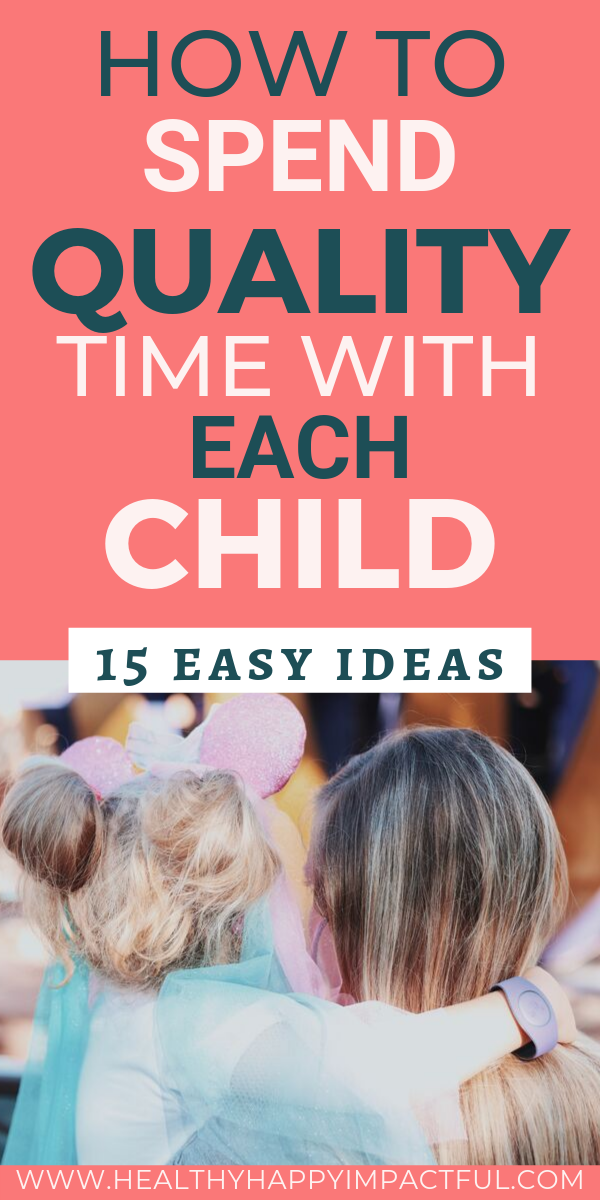 But, I quickly noticed that she didn't even watch the show. She was so into spending time with me, that she IGNORED our television. That's a big deal with my kids!
And the evening had me wondering how I can easily connect more often. So, here are simple and creative ways to get in that quality time with your child. Regardless of life getting in the way!
Day To Day Ways to Connect
These are the small daily moments that we are often not aware enough to use with one kid.
And, it's a great reminder that extraordinary connection can be found in the most ordinary moments.
1. RUN ERRANDS
A necessary task can be a super easy way to spend some quality time with just one of the kids.
For example, my husband often takes our son to the hardware store. And, I enjoy the grocery store so much more when there's just one child with me. Usually, I then have the patience to explain how things work to him or her.
3. Q&A BOOK
As I mentioned in my kids birthday post, we give this book to our kids on their 5th birthday. It's a three-year book that has daily conversational questions. It's such an automatic way to talk and connect with your kids.
Plus, the questions are super fast, and if we forget we just double (or quadruple) up later. Check it out HERE.
4. READ BOOKS ALOUD
While it's a great reminder to read to your young kids, it also works well when they're older.
When the time is right, we plan on doing a Harry Potter read aloud with each child individually. But, this could be done with any book or book series! You could even let the child dictate the topic, and go from there!
5. CREATE DOWNTIME
Those sweet moments with our kids are found when we have time to just BE with them.
However, that's tough when they're always running from school to activities to bed. So, decide as a family and CREATE the space in your schedule that allows for that quality time with your child. (Use this free block schedule)
Maybe it's as simple as cutting out one activity or changing around the schedule to be able to walk them home after school. You will NEVER regret adding the space to be together.
Related Post:
Weekly & Monthly Quality Time With Your Child
2. TAKE A WALK
We love family walks, but it would be special to take a short walk with one child and talk about whatever they'd like to discuss.
This could take as little as 10 minutes, but they would love being the center of attention once a week.
6. HELP IN THE KITCHEN
This school year, I added "help with one item for dinner" into their chores. So, once a week each child helps me a little in the kitchen. It's been some fantastic built-in time with them and we usually get to talking about something else. (Find a free chore chart template HERE)
Plus, since they aren't both trying to help at once, mama has a LOT more patience.
Related Post: The Best Trick To Raise Independent Kids
7. KID & PARENT DATES
Here are a few ideas for a child parent date out…
Dinner out with mom or dad (bring games)
Go to the bookstore and buy a book
Go fishing with dad
See a movie with mom
Go out for a treat with one parent
Choose a new plant at the nursery and plant it at home
Go to a sporting event together
Take a picnic lunch to the park
Explore the nearby creek
Go to the Farmer's Market together
See more specific to mother and son dates >>
Related Posts: Good Things to Do as a Family and fun experience gifts for family
8. MINI KID & PARENT DATES
Additionally, mini kid dates work just as well if you're short on time or money. Or if you are at home a lot.
If you simply spend quality time with your child in a different part of the house, it's enough to spark that connection. Here are some low-key ideas for mini-dates in your home.
Throw some blankets and pillows in your bathtub and read together
Do an easy craft together
Play board games (Here are some super fun ones!)
Write and illustrate a story together
Build a blanket fort and play together
Stargaze with cocoa
Make a pizza together for dinner
Go for a bike ride
These little love notes would be fun for a date or the tuck in time below. Sign up to get them for free!
9. TUCK IN TIME
A fellow blogger over at funcheaporfree.com does a tuck-in time with her 6 kids.
Each child gets a different day of the week and on that night they get to spend an extra 15 minutes with mom or dad after the others go to bed.
10. DO A CHORE
As parents, our lives are filled with chores and responsibilities. But some of them can pull double duty!
Need to rake the leaves? Have one child help rake! Need to clean out the pantry? Get a kid to help stack and organize.
Make it a common goal you have together!
Related Post:
11. PIE DAY
I once read of a family that had a Sunday pie night. The parents would go upstairs, and each kid (individually) would take their piece of pie up and spend the time eating it and talking one on one with mom and dad. Then, the kids would take turns until everyone was done.
What a sweet, unique idea, that gives you a great excuse to eat pie once a week! 🙂
12. USE EXTRACURRICULARS
Children's activities are common, and the transitions between them can be great openings for parents. This is an especially awesome way for dads to get involved!
I remember having a lot of one-on-one conversations with my dad to and from sports when I was young. So, use travel time as a golden opportunity by making the car a "no phone zone."
Related Post: How To Spend Less Time On Your Phone
Yearly Ways to Spend Time
13. MAKE A FOOD TRADITION
Cooking is an integral part of every culture, so include the kids in making something special for others. First, it will make them feel SO proud! And, if you do it yearly, you'll be creating some unforgettable childhood memories.
Here are some simple ideas for holiday food you can use for quality time with your child.
You could also change it up and have each child pick a different food to help with every year.
14. VOLUNTEER TOGETHER
Whether through church or a cause you believe in, this would be an incredible opportunity for connection.
Not only is it ripe with teachable life lessons, but it would undoubtedly strengthen your relationship.
15. TAKE A TRIP
Lastly, this one does take a bit more work. However, the experience would be something that your child remembers forever.
A camping trip with dad or a road trip with mom before they go into middle school would be an extremely cool tradition for each of the kids.
Something To Consider with Quality Time
One-on-one time doesn't have to be an expensive, grand event. It just has to be intentional.
So, take just a few moments to figure out how it can be incorporated into your household. Want specific tradition ideas?! Check out my affordable ebook HERE, with 260+ ideas to build a remarkable family bond. You'll never regret creating your own family legacy.
You might be surprised by how easy it is! 🙂
Finally, what is your favorite way to spend quality time with your child?
More posts on parenting and family..


How to Spend More Quality Time with Your Kids