33 Impactful Questions To Ask Your Child After School
"Each day of our lives we make deposits into the memory banks of our children."

Charles R. Swindoll
How was school? Fine.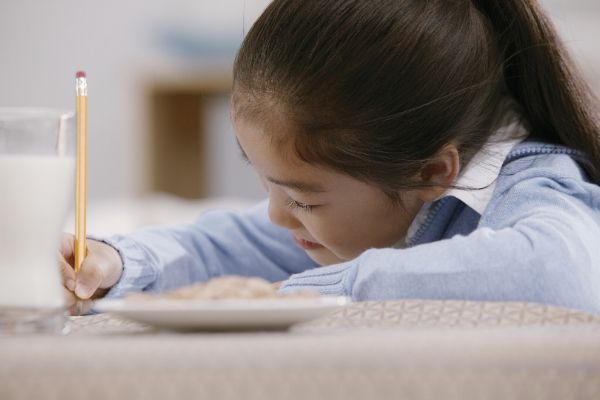 It's how every day goes in our house. And then… nothing. Nada. Silence.
This question NEVER gets a real answer from my son.
You see, my oldest two are opposites. My daughter will tell me everything down to the sparkly barrette her friend was wearing.
And my son? He's like Fort Knox. He never tells me much because he just doesn't have much to say. He'd rather go play legos.
As a result, I feel I know less about his day than I should. I just wish I had the brainpower in the late afternoon to ask better questions!
Quality Questions To Ask Your Child
So, I've done some research and created some questions to ask your child after school instead of "how was your day?"
I want the kids to feel like I know what's going on in their lives. Plus, I'm always looking for ways to promote the growth mindset with them, so these questions cover both!
This post contains an affiliate link at no cost to you.
1.Who did you play with at recess today? What did you do?
2. What was your favorite activity today?
3. What mistake did you make today that taught you something?
4. Did you read today? What are you reading right now?
5. What happened today that doesn't happen every day? Was it good or bad?
6. What are you excited to do at school tomorrow?
7. What hard thing did you do today?
8. How did you help somebody today?
9. Who or what made you smile/happy today?
10. What is something you learned today?
11. What was the best thing that happened today?
12. What is something funny that happened today?
13. When did you feel proud or good about yourself today?
14. Was someone kind to you today?
15. How were you brave today?
16. Did you ask any questions today?
17. Was anyone unkind to you today? What did you do?
18. What was the best part of your lunch?
19. What did you do today that was creative?
20. If you could change anything about your day, what would it be?
21. What did you do today that made you think hard?
22. What hard thing will you do tomorrow?
23. What was your favorite subject today?
24. Who did you sit with at lunch? What did you talk about?
25. What game did you play at recess or gym?
26. What was your high and low of the day?
27. What was the hardest rule to follow today?
28. What made your teacher happy? What made her mad?
29. What nice thing did you say today?
30. If you could switch seats with anyone, who would it be? And why?
31. Tell me a story from today.
32. What happened today that made you keep going (even if it was hard)?
33. What will you do to solve a problem at school or improve your work?
Looking for more questions?
Check out these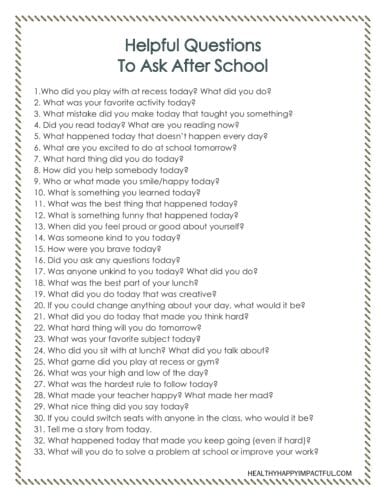 Here's a fun all about me template for kids too >>
Plus, get your kids really thinking with these deep thinking questions and philosophical questions to ask kids >>
Need a little school organization help? Get the calendar:
Something To Think About
I'll be keeping a printed copy on the fridge so that I can glance in the afternoon and pick one or two questions to ask my child (children) after school.
***HERE's a pdf to print and put on your fridge too!
What question do you ask your child after school that gets the best answers?
FURTHER RESOURCES
We are also HUGE fans of the Tabletopics questions for promoting great conversation! We have both the family set (above) and the couples set. Check it out here!
YOU MAY ALSO ENJOY…