Best Back to School Checklist For Parents
This year, we're juggling three kids at three different schools. Being organized is going to be the key to our sanity. Isn't it always?
That's why I created a back to school checklist for parents! It's simple, covers the most important actions, and is easy to follow through. Plus, checking off each item makes you feel amazing!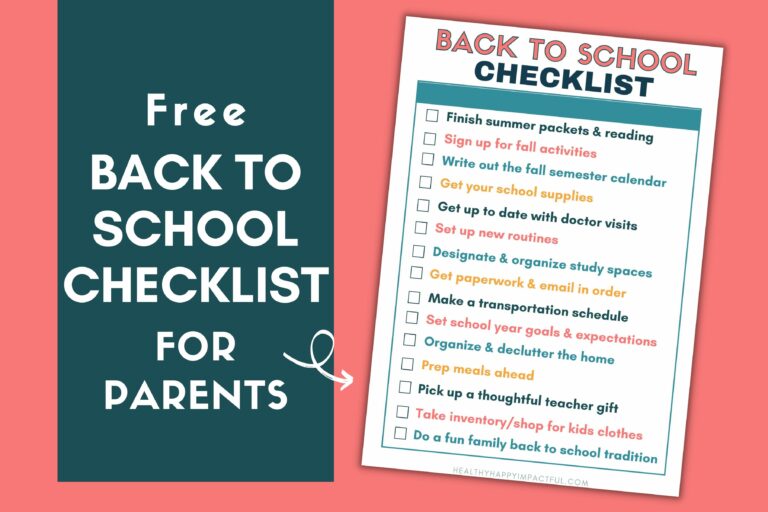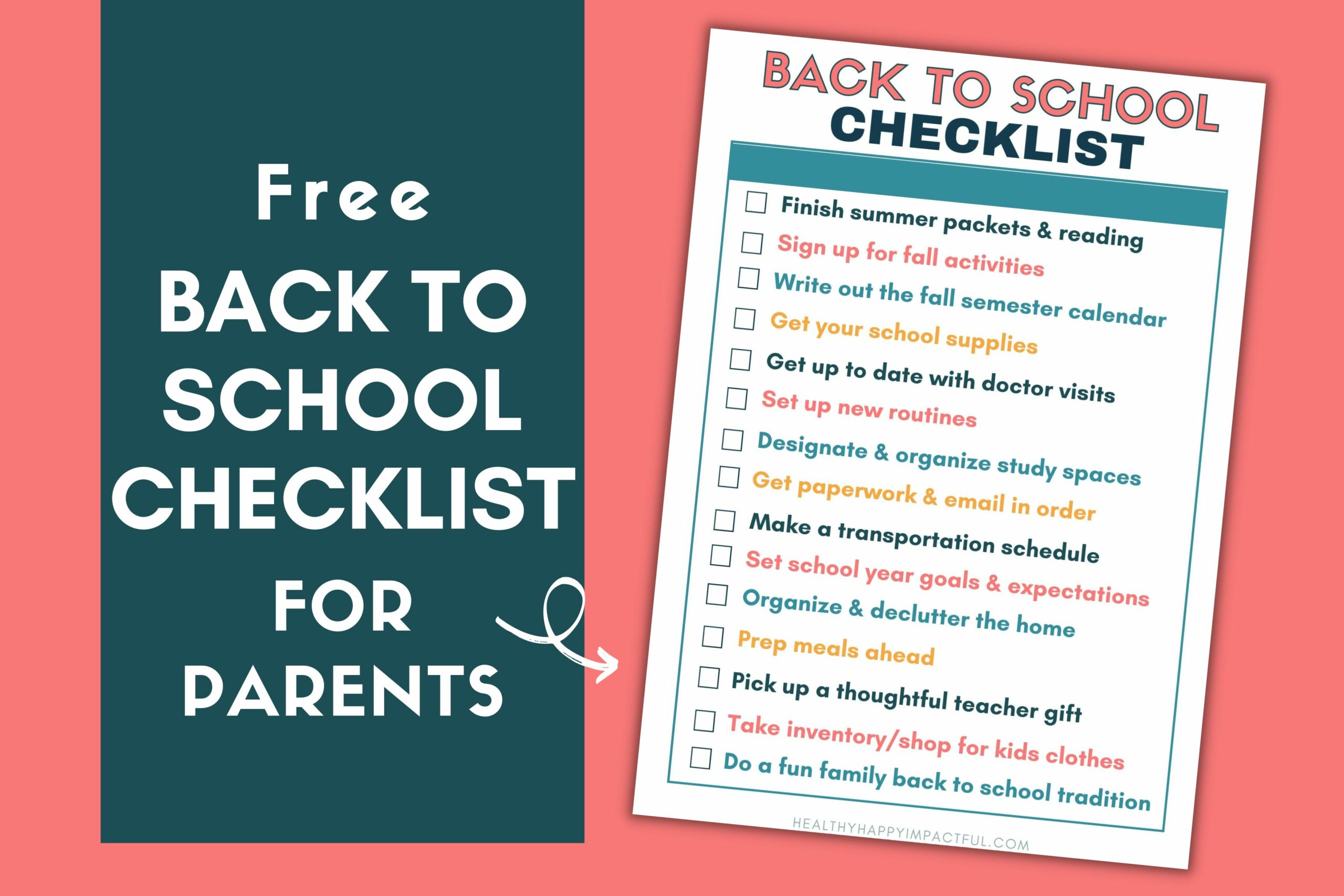 Back to School Checklist For Parents
Read through each one for my best tips, then grab the free printable back to school checklist for parents below!
1. Finish Summer Packets & Summer Reading
At my house, we start each summer with fabulous intentions. We do well through June. But July? Summer packets tend to collect dust!
The last few weeks before school, finish these up and get kids back into the mindset of learning.
Related: Free Reading Log For Kids
2. Sign Up For Fall Activities
Once fall starts, we hit the ground running. So, schedule extracurricular activities, sports, or after-school programs before the first day of school. This ensures that you can focus on getting your family off to the right start instead of worrying about sign up deadlines.
Bonus: Make a reminder in your calendar for when you'll need to sign up for winter sports too!
3. Write Important Dates for Fall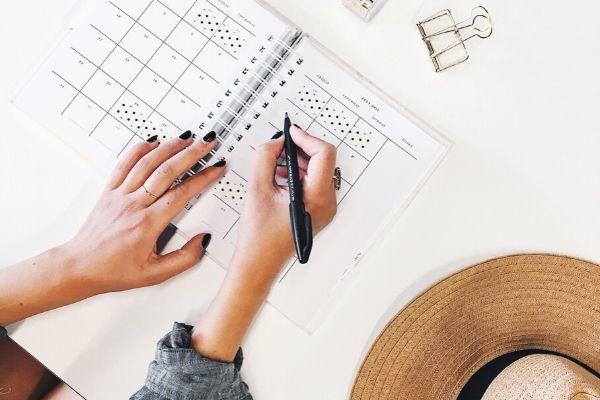 Set an hour aside one afternoon to write down dates that your family needs to know.
I like to write the current month on a fridge whiteboard and put future months on a shared family phone calendar. And I try to do this all the way to the end of the calendar year.
Write in:
School activities
Extracurricular activities (practices, games, lessons)
Days off and early dismissals
Parent-teacher conferences
Holidays, vacations, birthdays, weddings
Mom and dad time off
4. Get Your School Supplies in Order
Your school district and school should have exactly what you need for your kids. So, check out their website or pick up a list at your local store. A school supplies list will most likely include:
backpack
notebooks
pencils
pens
folders
binders
glue
markers, colored pencils, crayons
pencil box
scissors
highlighters
ruler
eraser
These items are not on school lists, but you'll probably need them too:
Water bottle
Lunch box (Outside cover and bento box)
Thermos
Ice packs
5. Get Up To Date on Doctor Visits
Schedule a visit to the doctor for a general check-up and ensure that your child is up to date on vaccinations. This is especially important if you are moving up to the next school level (i.e. preschool to elementary, elementary to middle)
*Squeeze in appointments that are hard to do during the school year, i.e. eye exams and dental appointments.
6. Set Up New Routines
Going from a summer routine to a school year one can be a harsh reality. Ease kids into new routines before the start of the school year, so that the change isn't so abrupt.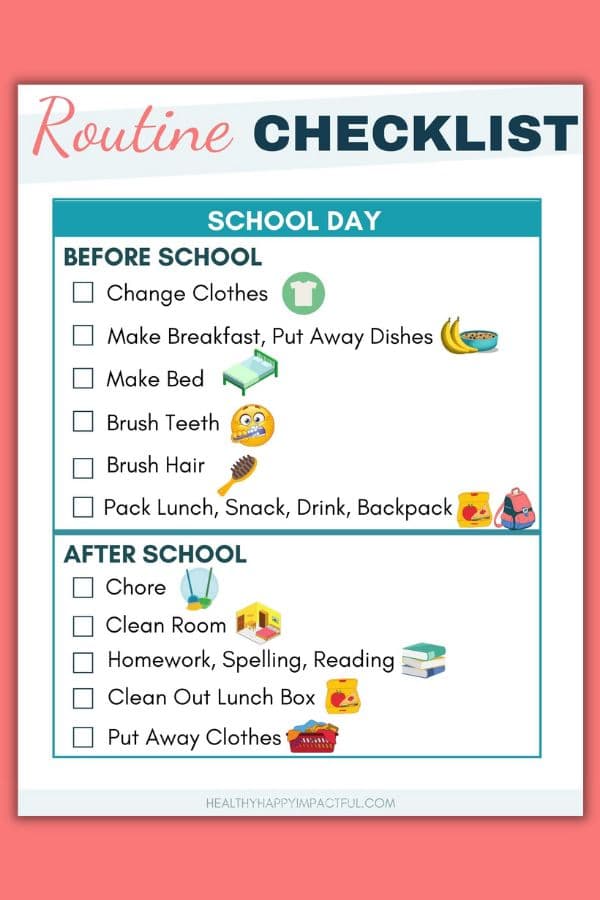 We love our daily routine printables because it helps our kids know exactly what to expect. The checklist reinforces good kid habits, helps with family chores, and does the heavy lifting for us. (It's a lot harder to argue with a piece of paper than with mom!)
Related: Free Morning Routine Chart
*If you've gotten off track, it's also the perfect time to re-establish family dinners as many nights of the week as possible.
7. Designate & Organize Your Study Spaces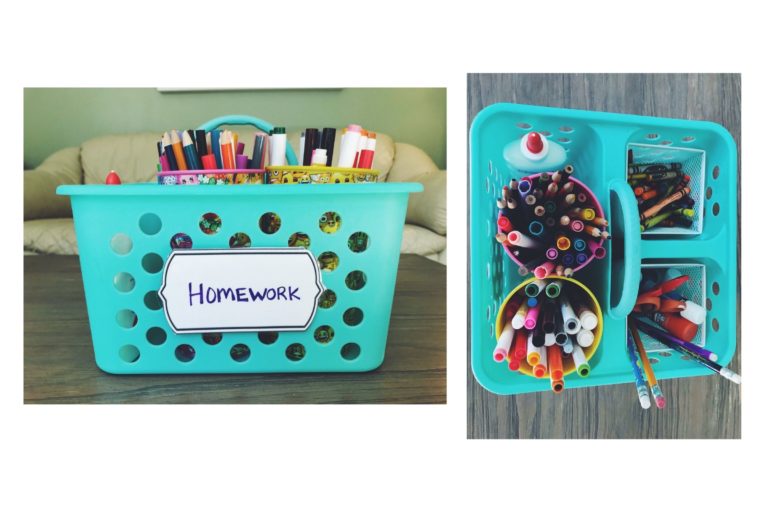 Set up a designated study area at home where the kids know they can do their homework. For younger kids, a portable homework tub is nice. For older kids, make sure they have a desk, a good chair, and enough lighting.
8. Make a Transportation Schedule
Start with writing down bus schedules, setting up a carpool with parents, or talking to your kids about walking home.
My husband and I also set up a drop-off and pick-up schedule. It helps us TREMENDOUSLY to know who is in charge of what. And this schedule doesn't change unless we have a conflict.
It might look like:
| | | |
| --- | --- | --- |
| Day of the Week | Drop Off | Pick Up |
| Monday | Dad | Dad |
| Tuesday | Mom | Mom |
| Wednesday | Dad | Mom |
| Thursday | Dad | Mom |
| Friday | Mom | Dad |
We do the same thing for kids activities. Generally, he does the transportation for Scouts, while I do gymnastics and trumpet lessons. Splitting it up this way is a sanity saver with multiple kids!
9. Set Goals & Expectations For the School Year
Talk to your child about expectations, concerns, and goals for the new school year. They may have anxiety about new surroundings, so talk it through and give them emotional support.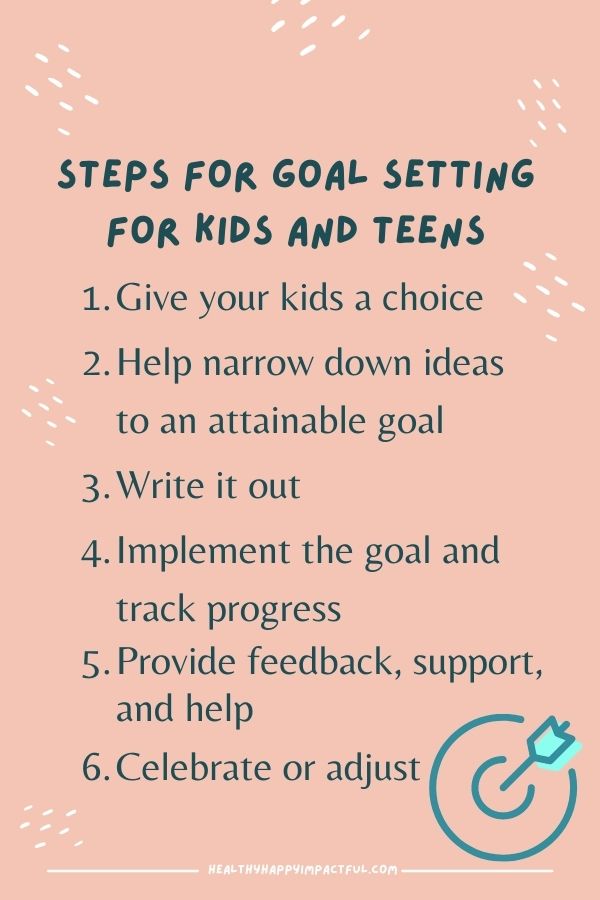 Homework, screen time, balancing activities, grades, and making friends are all great topics for this conversation. Brainstorm strategies together for any challenges you foresee.
Related:
10. Organize & Declutter Your Living Spaces
Shifting your home environment to a school mindset will help everyone transition quickly.
A week or two before school starts, I try to
clean out the pantry and freezer
restock the snack drawer
put away pool and summer stuff
get back on track with the weekly meal plan
declutter and organize our living spaces.
It feels good to start the school year organized instead of scatter-brained!
11. Prep Meals Ahead: Parents Best Back to School Checklist
Whether you do a full-on freezer meal party, or double a few of your favorite meals for the freezer, this is a lifesaver!
Prep ahead healthy breakfasts, lunches, or freezer dinners (or a mix of all) to have on hand for when the schedule gets hectic. It's one less thing to worry about!
I also like to make a lunch list of food options for the kids when they pack their lunches in the morning. It stays on the fridge!
12. Make Sure Paperwork & Email Are Good To Go
This step is easy if you've been going to the same school. But if it's a new school, make sure you are good with health forms and communication.
Update contact information and medical issues
Turn all emergency and health forms in
Make sure you are on the email list for school and your teacher
Determine if you have paperwork in for any additional fall activities
Not sure about something? Write down your questions before meet the teacher night so you don't forget!
13. Pick Up a Thoughtful Teacher Gift
Personally, I've found that back-to-school night goes smoother for my kids when they have something to give their teacher. It's an easy ice breaker, and it also reinforces the importance of giving.
Check out our favorite back-to-school gift: DIY Teacher Survival Kit (With a free printable tag)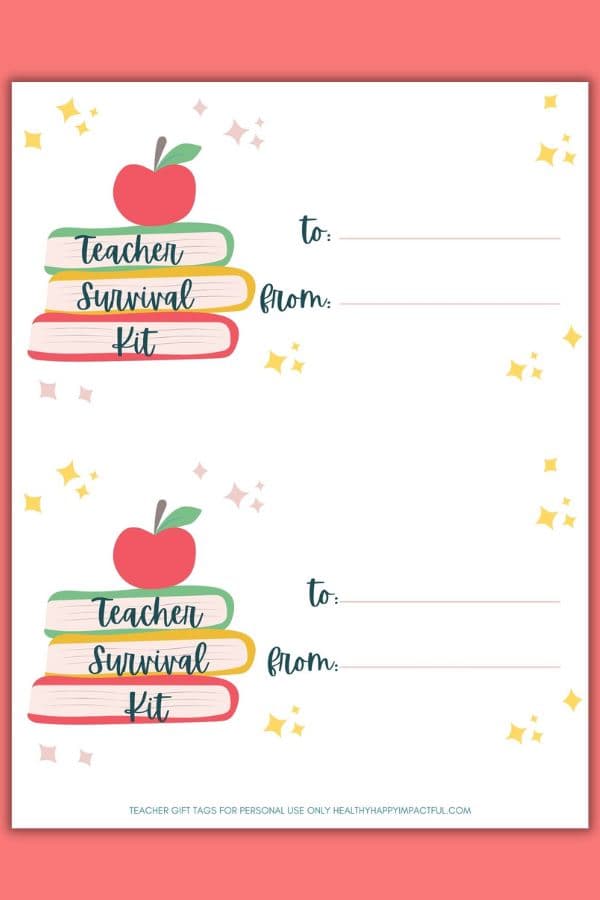 14. Take Inventory & Shop For Kids Clothes
Ugh. Clothes. If your family is like mine, someone always needs something.
But this is a great time to take inventory.
Keep in mind…
when the weather changes in your area (we don't hit fall weather until October)
school dress codes
how often you do laundry (we do it once a week)
And then spend a day shopping so that you have what you need BEFORE the kids start telling you they need shoes…and a jacket….and jeans.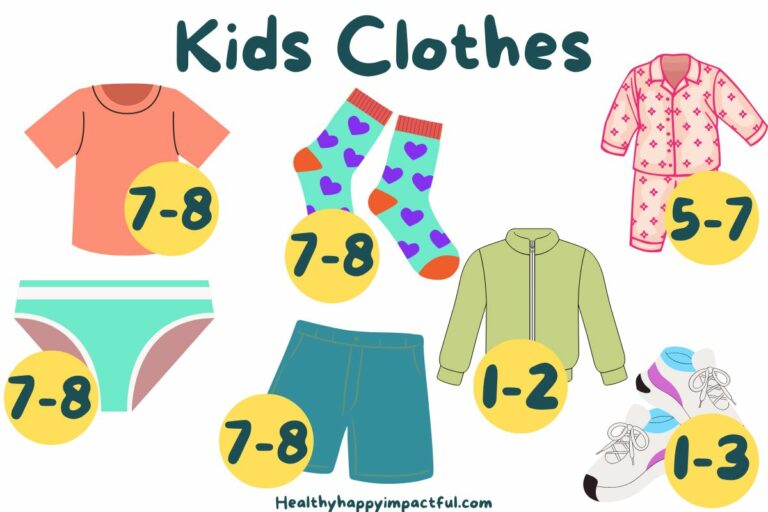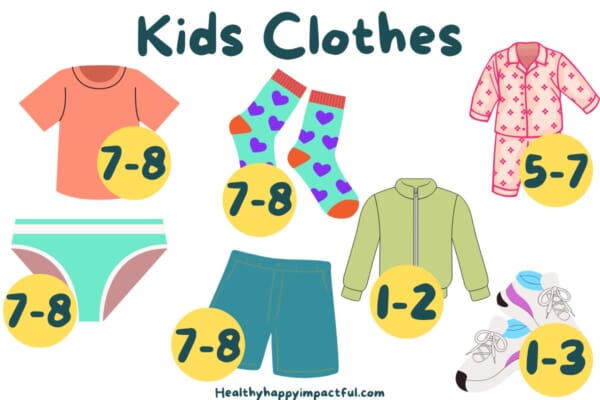 Clothes will get ruined and pants will end up with holes in them. Such is life. If you aren't sure, it's best to have an extra pair of something.
15. Get Kids Excited With a Back To School Checklist Tradition
Finally, a tradition helps with the back to school jitters, gets your family ready for change, and builds excitement for learning.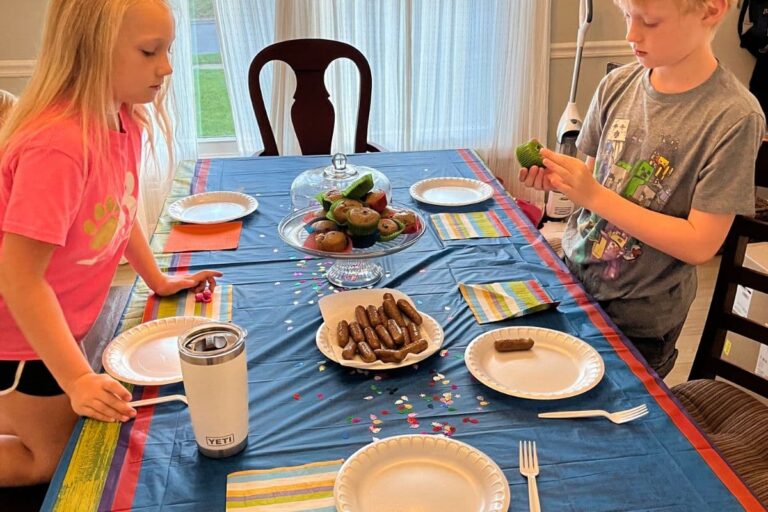 We love the back to school breakfast tradition. I make the muffins the day before, and the kids help decorate the table. It's easy, but also something they start talking about weeks in advance.
Related: Best Traditions For Back To School
Grab The Back to School Checklist For Parents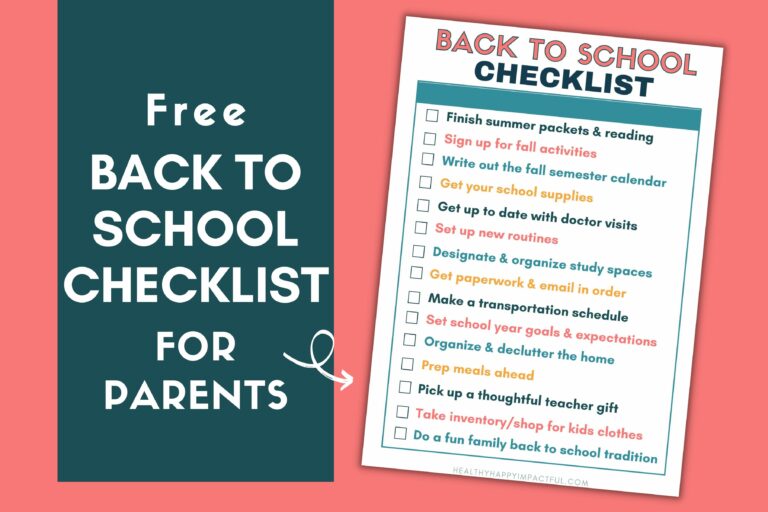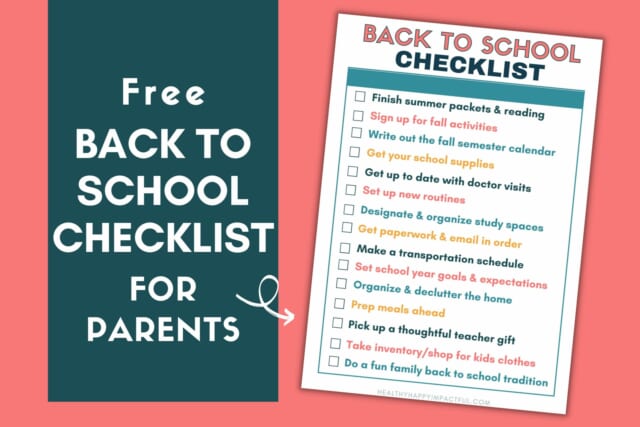 And Grab The Free Organization Calendar for more!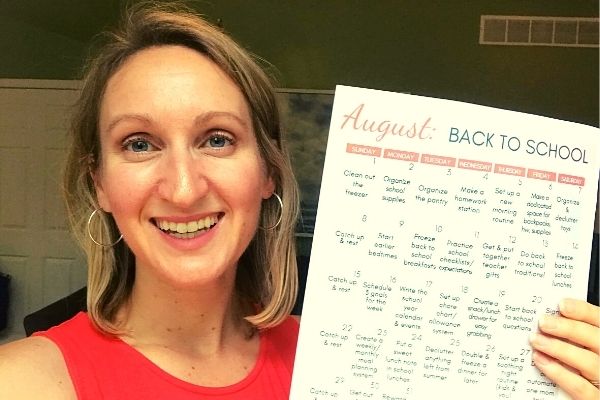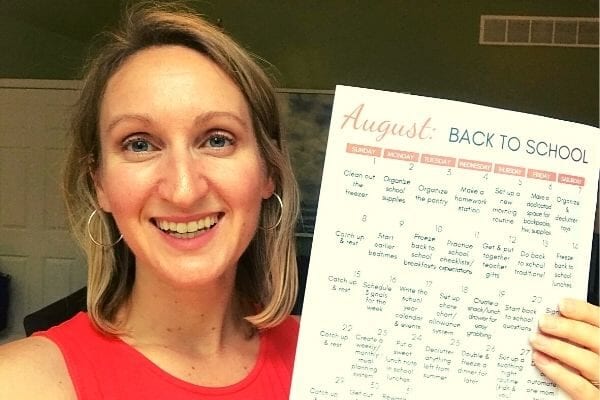 Sign up below to get the full August calendar sent straight to your inbox. I love using the full calendar each year. It's detailed and gives you one action to tackle each day (totally doable!) After, you'll feel empowered to take on the busy season to come!
What's Next?
For more actionable help on your kids routines, check out the Kids Routine Pack. It has everything you need!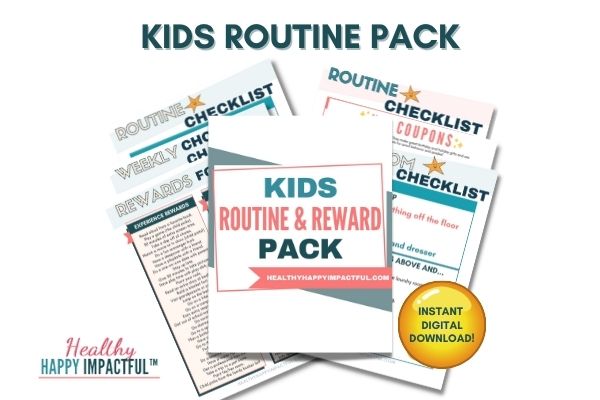 15 Things To Do: Parents Back to School Checklist