Free Kids Morning Routine Chart That Will Save Your Sanity!
Best Daily Routine Checklist for Kids (Free Printable)
It's before school. And the morning rush is in full swing.
You may hear….
children whining
playing legos (instead of getting ready)
or crying
But, imagine if you heard…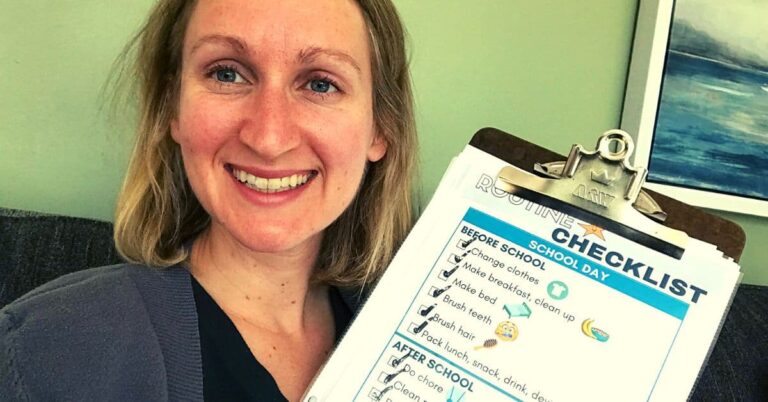 "Mom, I brushed my teeth, put away breakfast, and did my school stuff. What's my chore?!"
And it came WITHOUT having to tell them 20 times?
With the right organization, and morning routine chart for kids, it's easier to get to the second scenario than you'd think.
Why We Do a Kids Morning Routine Chart
The first scenario used to be our everyday experience. Mornings were terrible. We were all in tears. And we had to seriously adjust our before school routine (see here for what we did).
Most importantly, I realized that if we were going to thrive, what we needed MOST was organization, clear expectations, and child independence. Plus, my kids had to be able to do things without me standing on top of them.
As the solution, I created a morning checklist for kids!
This post contains affiliate links, at no cost to you. See my disclaimer for more.
Pin this post to save it for later!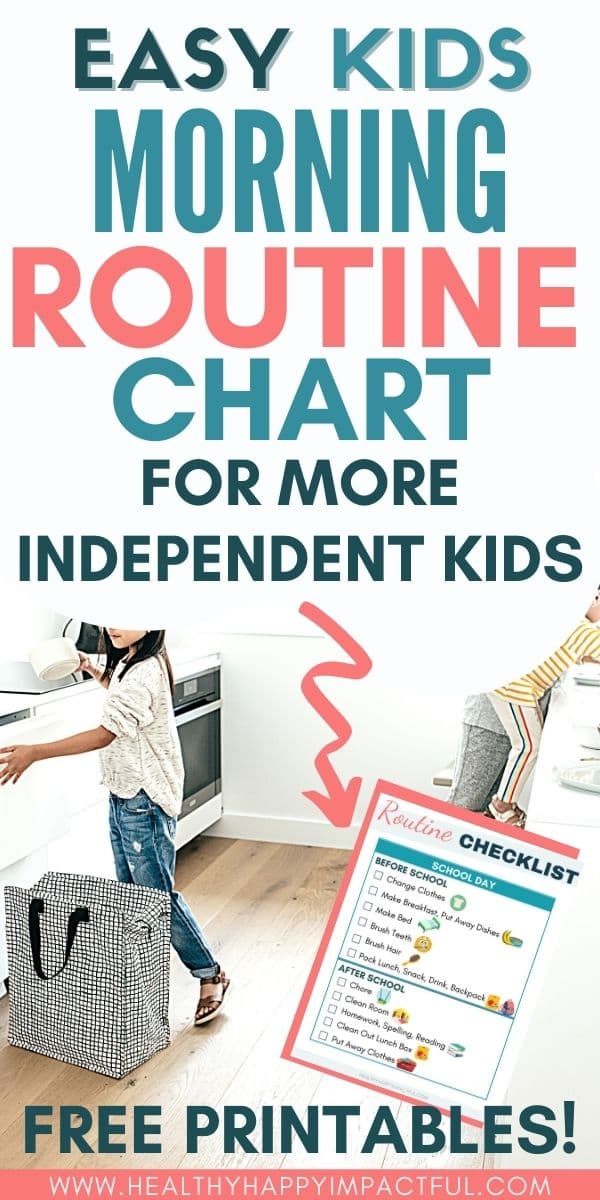 What should be included in a morning routine?
Like all good things, your morning routine is up to you.
We've found that the trick is to give kids more "good habit" items in the morning. Tasks that get them ready for the day and out the door. Because in our experience, if you stuff too much in the mornings, it will hurt more than help.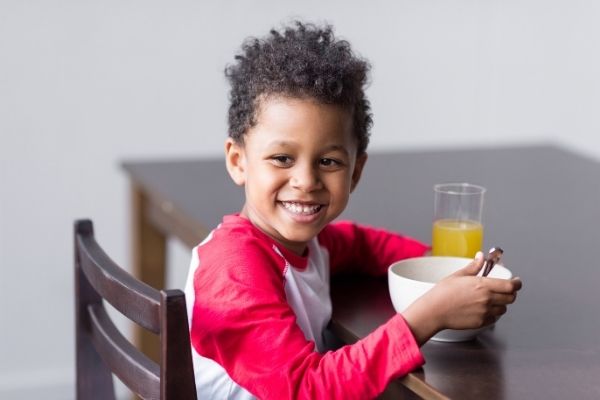 So, these are all the great kids morning checklist ideas on the free printable:
Brush teeth
Brush hair
Make bed
Pack backpack (get ipads)
Pack lunch
Get snack for later
Fill drink with water
Eat and clean up breakfast
Change clothes
*Breakfast note: Make it easy for them to get their own supplies and clean up after themselves. My kids have the cereal and oatmeal in handy containers (within reach). They can get to the bowls, and they know what their other options are for breakfast. Plus, they MUST clean up after themselves in order to move on.
Here are a few additional good morning habits for older kids:
Clean out school folder
Wash face
Open blinds
Practice a skill or do homework
Afternoon/Night Kids Routine Chart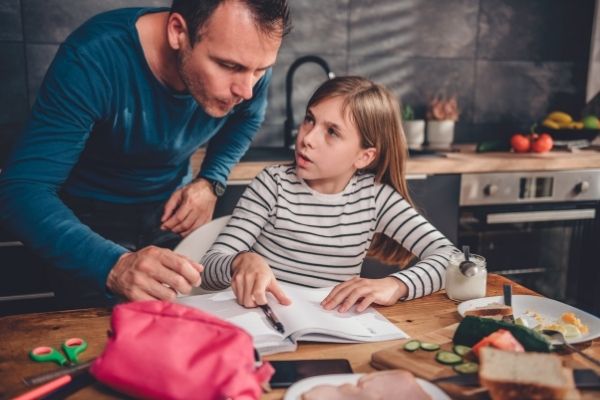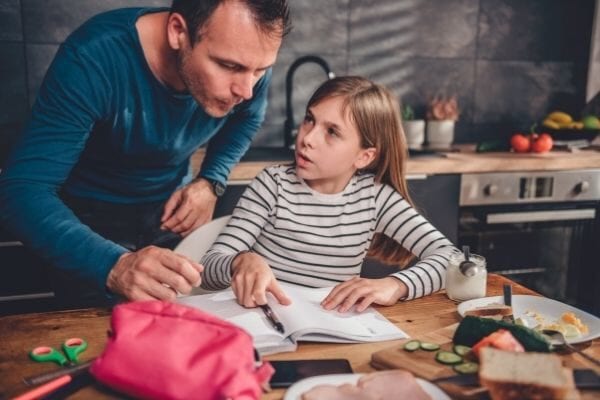 Now, here's the thing. We NEEDED a kids morning routine chart. But, we quickly realized a routine after school is also crazy beneficial.
So, I made a daily routine chart that has both. After school, they complete a chore (see this free chore chart printable for kids), homework, and pick-up tasks.
Check out the great night ideas on the free pdf here:
Again, older kids might also do well with:
Bath or shower
Pack lunch for the next day
Feed pets
Pick out clothes for the next day (if morning are rushed, this may be helpful)
Charge ipads
*Now, my kids can always work ahead and get done in the morning what is usually for later in the day. Sometimes, they'll get their chore for the day done and not have to worry about it after school.
A printable daily schedule for kids (with morning & night) gives flexibility on this, and they love feeling as though they have a bit of freedom. Here's what it looks like:
How to Set Up Your New Routine
There are three things you need to get started:
1. Print the free download (Grab your access here or at the end of this post! (See the tips below for where we put it and how to make it easy for them)
2. Talk with your child and discuss a reward or consequence (read below for ideas)
3. Keep track and follow through!
*For Young Kids: Toddler Morning Routine Chart
Now, if you have a toddler, start sloooow. Here's what's on a great toddler morning checklist:
Get clothes on
Eat breakfast and put bowl in the sink
Brush teeth
Get shoes on
*Check out this routine pack for an awesome 3-year-old daily routine chart for kids (and template).
Also, use this routine read-aloud to help your younger kids.
How do I motivate my child in the morning?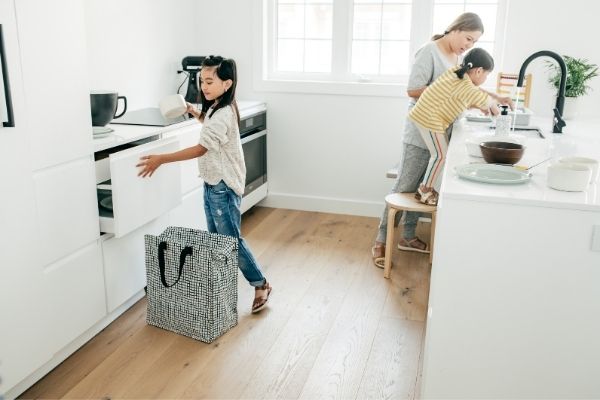 As much as I LOVE the morning or daily checklist for kids, they wouldn't work without rewards and consequences. They are kids, after all.
REWARDS:
So, if the kids complete their daily routine chart during the week, they get their electronics time on the weekend. (I also pay an allowance on a monthly basis).
If you need a daily reward, consider telling them they need to finish their checklist before playing with friends. Or electronics. Or whatever it is they love doing at night.
CONSEQUENCE:
Now, we did still need to come up with something daily and specific to keep my daughter moving in the mornings (girlfriend is NOT a morning person)…
So, if they don't get the morning routine section of their daily checklist done before a certain time, they have to go to bed 30 minutes early that night.
We've tried to make this a natural consequence. If they are too tired to get ready for school on time, they must need extra sleep. It makes sense.
Watch the kids routine chart video
Here's how we use the kids routine chart. Then get for your freebie below!
Free Kids Daily Schedule Template pdf
Want a printable daily schedule for kids already done for you? Go HERE to print out a free printable checklist with our morning routine and after-school routine items!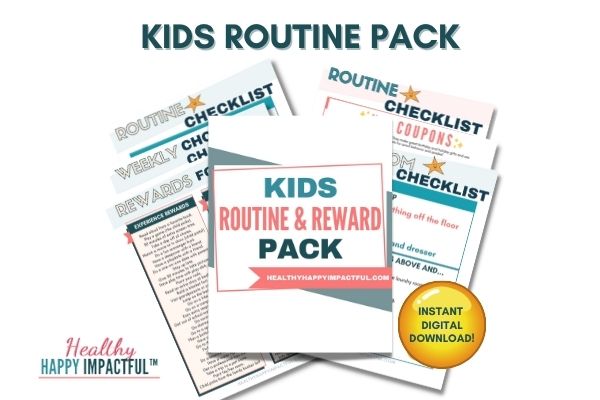 And if you're looking for an editable morning routine chart, check out this routine pack for kids, which includes 3 kids morning checklists + templates that are customizable. (& SO MUCH MORE!)
Best Tips for Long-Term Success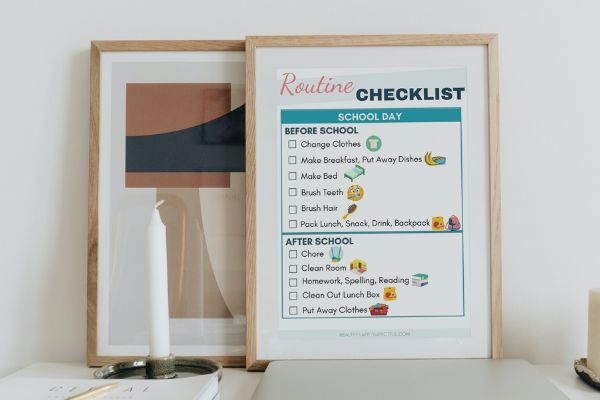 Alright, now you've got the gist of it, and how to get pre-made checklists. But, how do you start? And make it last?
Have a chat and do it with them.
First, discuss what's expected on the kids morning routine checklist, your rewards/consequences, and model any tasks needed.
If this is completely new to the kids, start small. Put only a few things on the checklist. After a few weeks, add to it. Then add more later on as the kids can handle it. It's better to start small and build than to overwhelm them at the beginning.
Once you begin, for at least a week, pay really close attention. YES, this is more work to begin with, but don't worry, it doesn't require a whole lot on your part after that.
Let the checklist guide them. Instead of you.
Now that they know exactly what to do, let go a bit. (This is my favorite part because it's a lot harder to argue with a piece of paper than with a parent.)
Give them a small amount of freedom and choice. For example, let them pick the order of how they do things and when (within the morning/night sections). I've noticed that especially with my daughter, it's best to let her do her own thing in the order that she wants.
As long as she gets it done, does it really matter?
Make the daily chart easy to use.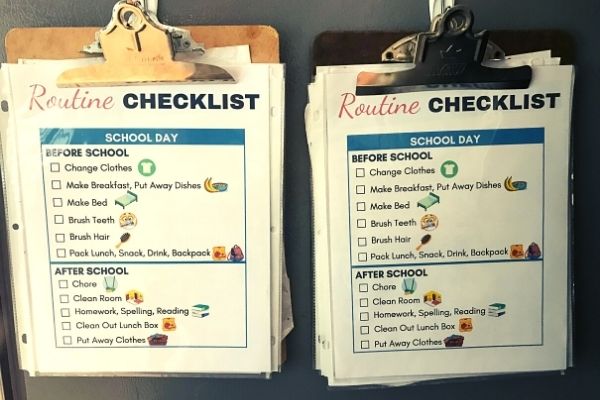 For this to work well over time, your daily checklist for kids needs to be in an obvious location and re-usable.
So first, place it at your kitchen desk, or hang it from your fridge or a high traffic wall. We like to put ours on clipboards (on the side of our fridge) so that we can also put school papers that need to be kept behind them.
To make it re-usable, stick it in a page protector (or laminate it if you have a laminator). Alternatively, you can place the chart in a cute picture frame if you're putting it on a surface.
Finally, make sure there's a dry erase marker next to it, or at least handy in a nearby location. If you want to get a little crafty, you can attach one with a string.
Add fun to your daily checklist for kids.
And now that the basics are down, don't forget to loosen up. Listen to upbeat music and dance while everyone's doing their thing. Let the system that you set up do its job, and follow through when you need to with rewards/consequences.
Trust me, this awesome printable daily schedule just gets better with time.
Don't miss this other useful free printable:
Click here for the free kids bathroom cleaning checklist >>
To Consider With the Kids Morning Routine Chart
That's it! Please leave a comment if you have a question about how the checklist works! Otherwise, I hope you found this system helpful for running your household.
I know from our experience, it makes things 10X easier for mom and dad, plus builds valuable skills in kids.
What do you want on your morning checklist for kids? Do you need a night one too? If you're still trying to figure it out, leave a comment below and I'll help brainstorm with you!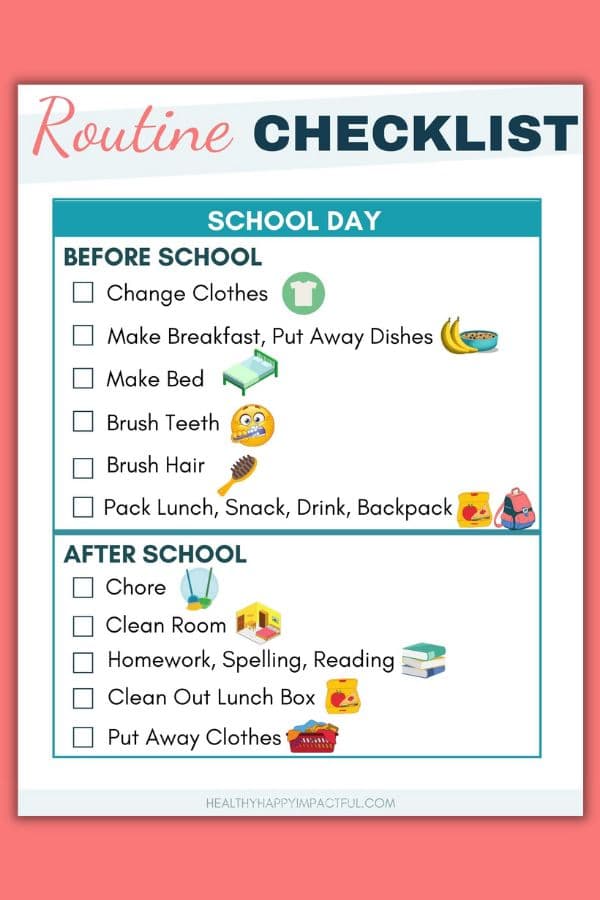 More awesome family posts…
A Kids Daily Schedule Template Free Printable