The Best Household Chores List + Kids Chore List (Free Printable)
What is a good chore list?
Are you tired of pulling your hair out because you can't find what you need? You feel like your house is a mess? Or you're the only one doing all the work?
Using a good list of household chores can be a game-changer. And today we have a master chore list, a great list of chores for kids, and tips for how to work smarter – not harder on household tasks.
Why a Household Chores List Will Help You
First, here are some important benefits of a chore list: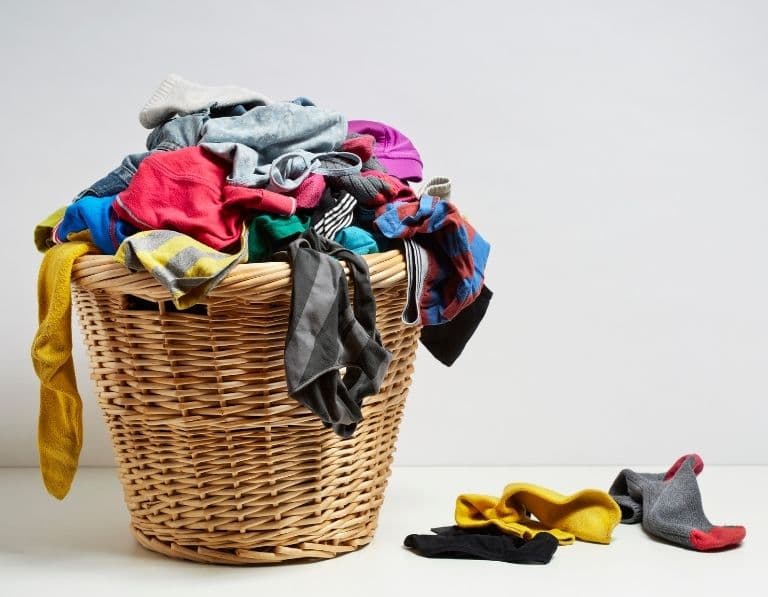 You'll stay ahead of the game.
You'll know what needs to be done! You can work on chores incrementally instead of doing one big soul-sucking clean up all at once. That's a big mental boost right there!
This post contains affiliate links, and I may earn a commission at no cost to you. See my disclaimer for more.
It's easier to delegate.
Once you see everything that needs to be done clearly, it's much easier to list out chores for everyone in your household.
You can put things on autopilot.
No one wants to spend their time thinking about chores. So, don't!
As a mama of 3, I've learned that the more I can get down on paper – and automate- the better life is for all of us!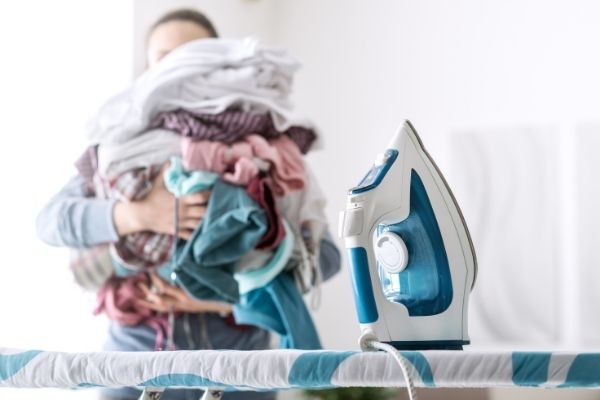 You reduce mental overload.
By using the list to organize and automate your household duties, you'll have so much less to keep track of in your head! You'll feel less scattered and have more focus and energy for other activities that matter to you.
What should you include in your list of chores?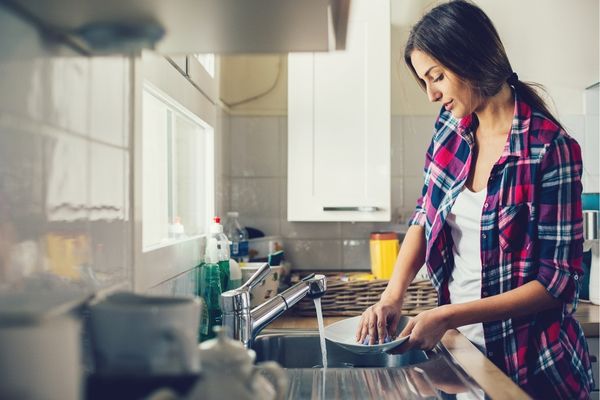 Now, we're ready for the master list! So, get out a piece of paper to make yours.
And remember: this doesn't have to just be cleaning. It can include anything that keeps your household running smoothly throughout the week. Things like:
Meal prep
Common house repair
Errands
Getting kids to activities
The Master Chore List
(Keep scrolling to get your hands on the freebie too!)
Now, you can create your master chore list two ways. First, here are ideas for household categories. Then, read on for ideas based on frequency.
Common Cleaning List of Chores
Picking up different rooms
Vacuuming
Doing the dishwasher
Sweeping
Mopping
Dusting
Cleaning bathrooms
For specific common rooms, check out the tabs below:
Pick up clutter
Wipe counters
Clean the stovetop
Clean out sink
Wipe down appliances
Run the dishwasher/do dishes needed
Wipe inside of the microwave
Clean out the fridge
Replace kitchen towels
Sweep floor
Mop floor
Wipe the mirror
Wipe the sink
Clean the bathtub/shower
Wipe the toilet
Clean the inside of the toilet
Sweep floor/mop
Replace bathroom towels
Take out trash
Pick up stuff
Make bed
Clear off desk and dresser
Change sheets
Clean out trash
Clean under bed
Dust
Vacuum
See this kids routine pack for a fun bedroom cleaning checklist
Errands
Grocery shopping
Household supplies
Car supplies and maintenance
Getting kids to and from activities
Laundry
Running loads of laundry
Sorting, folding, and putting away
Washing sheets, blankets, pillows
Ironing
Cooking
Preparing a meal or snack ahead
Cooking
After meal clean up (wiping the table, putting dishes away, washing pans, etc.)
Outside Chores
Mowing the lawn
Working in the garden
Landscaping
Weeding
Small house repair jobs
Responsibilities Involving Kids/Pets
Childcare
Kids activities (signing up for and/or being involved in)
Buying kids supplies
School drop off and pick up
Feeding, bathing, cleaning up after pets
Chores By How Often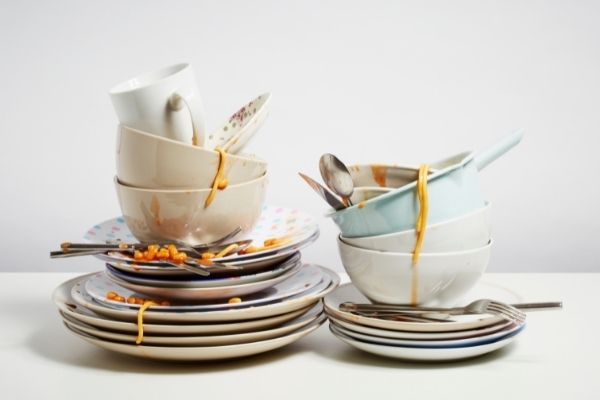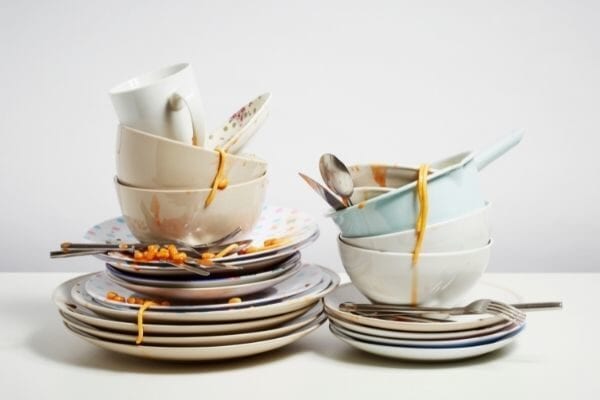 Now, here's a list of chore ideas broken down into how often something needs to be done (daily, weekly, monthly).
Note that some ideas are different from above. Use ALL of the task ideas in this article to help you create your own customizable list.
Daily Household Chores List
Making beds
Picking up rooms
Taking out the trash
Running the dishwasher
Wiping countertops
Washing dishes
Spot sweeping & vacuuming
Wiping the dinner table
Setting and clearing dinner table
Cooking and meal clean up
Feeding pets
Childcare
Scrubbing kitchen sink
*Use this free daily schedule block template to schedule them in!
Weekly
Sorting the mail (this may be daily for you depending on the amount you receive)
Paying the bills / doing the budget
Mowing the lawn
Sweeping & mopping
Vacuuming
Doing laundry
Meal prepping
Cleaning particular rooms (bathrooms, kitchen, etc.)
Going grocery shopping
Cleaning out fridge
Kids activities
Working in the garden
Watering plants
Wiping mirrors & dirty windows
Washing towels
Wiping surfaces
* This free habit tracker may be helpful in tracking progress!
Monthly or Seasonal Chores:
Cleaning inside of the oven
Deep cleaning the inside of the fridge
Cleaning out and organizing spice rack
Cleaning inside of cabinets
Cleaning out the freezer
Wiping outside of cabinets
Scrubbing the showers/bathtubs
Washing rugs, pillows, throws, curtains
Changing sheets and bedding
Cleaning hard to reach windows & fans
Cleaning out closets
Decluttering toys, shoes, etc.
Washing the car
Bathing pets
Wiping baseboards/switch plates, railings, chairs, doorknobs, walls, etc.
Yearly List of Chores:
Shampooing carpets
Cleaning the garage
Pruning shrubs and trees
Wiping baseboards
Replacing air filters
Dusting blinds
Paying taxes
Home repair
Cleaning dryer vent
Deep cleaning specific rooms (office, basement, etc)
Want a handy pdf template of this list?
Grab access below and get the free chore list printable! Then, read on to get the scoop on the kid's list.
List of Chores for Kids
Now that we have a master list, it's time to divide out what needs to be done!
Why Kids Should Help
First, kids absolutely should be helping with chores. Not only does it help mom and dad stay sane, but it teaches kids responsibility, good habits, work ethic, and teamwork.
A recent poll discovered that just 28% of parents say they regularly assign chores to their kids, even though 82% of parents said they grew up doing chores themselves. (source)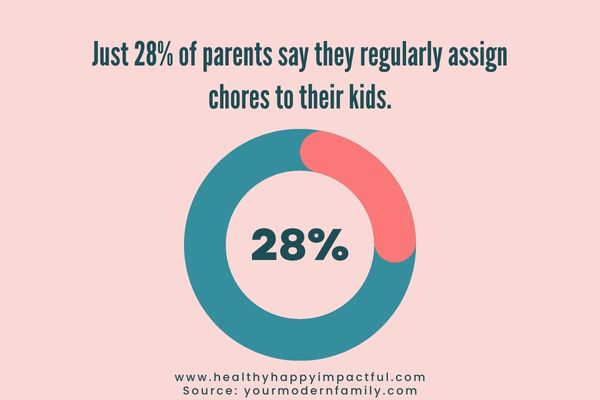 Here's a simple kids chore list by age:
Household Chores List for 2-4 Year Olds
At this level, they are just learning. So, start with small areas and easier tasks. And be sure to model repeatedly.
Sweep
Dust
Light vacuum
Wipe windows
Pick up
Wipe counters
Help put away clothes
Set and clear the table
Pick up room/toys
Feed pets
Water the plants
Help make/put away breakfast
Chores List for Kids 5-9 Year Olds
The LIST ABOVE, PLUS:
Sort laundry into whites and darks
Help with laundry
Sort & put away their own laundry
Clean bathrooms
Take out light trash/recycling
Regular vacuuming
Wash or dry dishes
Cook simple recipes
Help with cooking
Help clean up after dinner
Load and unload the dishwasher
Bring in groceries from the car
Make and put away breakfast (by themselves)
List of Kids & Teens Chores (for 10 Year Olds & Up)
The LISTS ABOVE, PLUS:
Walk the family dog
Do own laundry
Watch younger siblings (with supervision when younger)
Mow the lawn (older kids)
Take out heavy trash & recycling
Pack themselves when traveling (Here's a packing checklist for camping)
(You can also find a clear kids chore list printable in my family routine pack)
How to Use the Kids List of Chores
Divide Responsibilities
Now that you have a master list and kids list, divide out chores to do to each family member.
For daily responsibilities, a routine checklist works well. And for weekly chores, you'll want a chore chart printable template. Both of these resources can work for kids or adults.
Break Down Some Chores for Kids
Especially with younger kids, you may need to break down a common chore.
For example, one child can clear the table, while another washes, and another dries. If you find something a struggle, start with less and build over time.
Get Input and Practice
As my kids have gotten older, I've realized that chores run smoother when they have input on when and what they do. Therefore, we now work together on what their responsibilities (and good habits) should be. Plus, I try to give them some autonomy on when it gets done.
The rest is a matter of practice! It gets smoother with time.
Motivate Everyone
And finally, if your kids need extra motivation, try out these free coupons for kids in the resource library. My kids LOVE them and they could be just what you need to kick-start your family chores.
Related Post: Fun Kids Rewards & System Ideas
For yourself, see this list of non food rewards for adults to get you inspired!
Other Ideas to Reduce the Chore Load
Creating a list of chores, automating, and dividing them out is a big step. But sometimes, it's not enough.
If you need more help, consider these creative solutions:
Hire a cleaner:
If you are drowning in to-dos, this could take A LOT off your plate.
Talk to your partner:
Be open, clear, and firm that you expect everyone to help. If your partner isn't pitching in enough, it's time to put your foot down.
Stop folding kids clothes:
Honestly, do they stay folded anyways?
Ask for help in other ways:
There are companies that will pick up your dirty laundry, wash, and drop off your clean clothes on the doorstep. It's magic!
You can also hire someone to mow your lawn, add to your childcare, or do your taxes.
But, what if you are short on cash? Enlist relatives and friends instead, barter and trade for things, or join a carpool. If you are motivated enough, you can find more help than you realize!
Buy healthy pre-made food:
If cooking is a problem, invest in more healthy options at the store that make meals easier. Ideas include rotisserie chicken, pre-made salads, and cut-up veggies. (Or try HelloFresh HERE)
Let stuff go:
Perhaps there are things on your master list that don't HAVE to be done. What could you cut out entirely?
Simplify, automate, and delegate anywhere that you can.
Try my free email challenge for more ideas!
To Consider With Your Chores To Do Around the House
Remember, the best list of chores is the one that works well for YOU. I hope this helped make yours today!
And tell me, what did I miss on this household chore list? Let me know in the comments and I'll add it!
Do you want to increase responsibility AND raise helpful kids?
Start today! Use the Kids Routine & Reward Pack to help create routines for your kids that will help them throughout life. (Includes a pdf version of the kids chore list too!)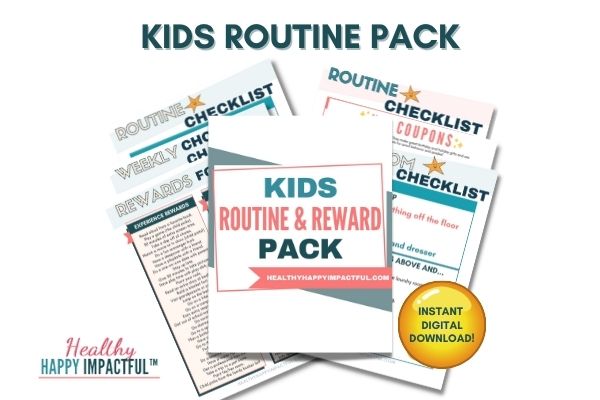 Other great family organization posts & resources…
All the Household Chores Ideas in One Big List