11 Thanksgiving Day Activities for Your Unique Holiday
What to Do on Thanksgiving Day
What are you looking forward to MOST this Thanksgiving? Is it the Thanksgiving Day activities or the scrumptious food?
The Macy's Day Parade? Or the giant, moist turkey and mashed potatoes? Or perhaps it's the good-natured bantering with your crazy aunt?
This post contains affiliate links, and I may earn a commission at no cost to you. Check out my disclaimer for more info.
Here are 4 crucial ideas to make your upcoming holiday your best yet, then read on for plenty of Thanksgiving day activities (for families) to go around.
First, Define Your Perfect Holiday
The holiday season often brings overzealous expectations and overwhelming stress to make things perfect.
Therefore, let's take a moment to remember that people have flaws and this is real life. Your kids may WILL PROBABLY melt down. It's possible you'll burn something. And there are any number of things that will not be "just right."- But in the grand scheme of things, those things don't matter.
So, distinguish what the MOST important things are to you this Thanksgiving. Strive to make those happen, and let go of the rest (especially things outside of your control).
Your attitude towards the day makes a HUGE difference in how much you enjoy the holiday.
Second, Decrease the Work
You know what I hate?
Cooking for Thanksgiving while my family lays on the couch watching the parade. Darn it, I want to be with them!
So, I prefer to make breakfast ahead and make side dishes AROUND the parade and our other traditions.
Here are some flavorful make-ahead breakfast ideas:
egg casserole (my personal favorite)
fruit muffins
cinnamon rolls or french toast
baked oatmeal
breakfast cookies
yogurt protein bites
Click HERE for Healthy holiday breakfast ideas that also make PERFECT Thanksgiving options!
Furthermore, spread out the work when it comes to preparing food! If you host the holiday, have others bring plenty of sides.
And as the kids get older, it's a great opportunity to teach them how to make their favorite dishes. We'll be pulling jobs out of a hat this year to get the kids more involved!
Check out these posts for other great ways to plan ahead:
Third, Fun Thanksgiving Day Activities
Make sweet memories with your family using these 11 incredible (and cheap or free) activities.
1. I SPY THANKSGIVING
Have kids color and find all the fun Thanksgiving-themed objects!
Check it out HERE from Paper Trail Design
2. A THANKSGIVING GRATITUDE GAME
This game uses M&Ms but you can use anything that's colorful like craft sticks or straws.
Check it out HERE from Happy Go Lucky
*Find more fun kids gratitude activities HERE!>>
3. THANKSGIVING COLORING PAGES
Color a page with the kids in your family while you wait for dinner to be ready!
Check it out HERE at Paper Trail Design
4. FREE THANKSGIVING JOKES & FUN FACTS
Amp up the fun with some silly Thanksgiving jokes!
Check it out HERE at TeePee Girl
5. THANKSGIVING MINUTE TO WIN IT GAMES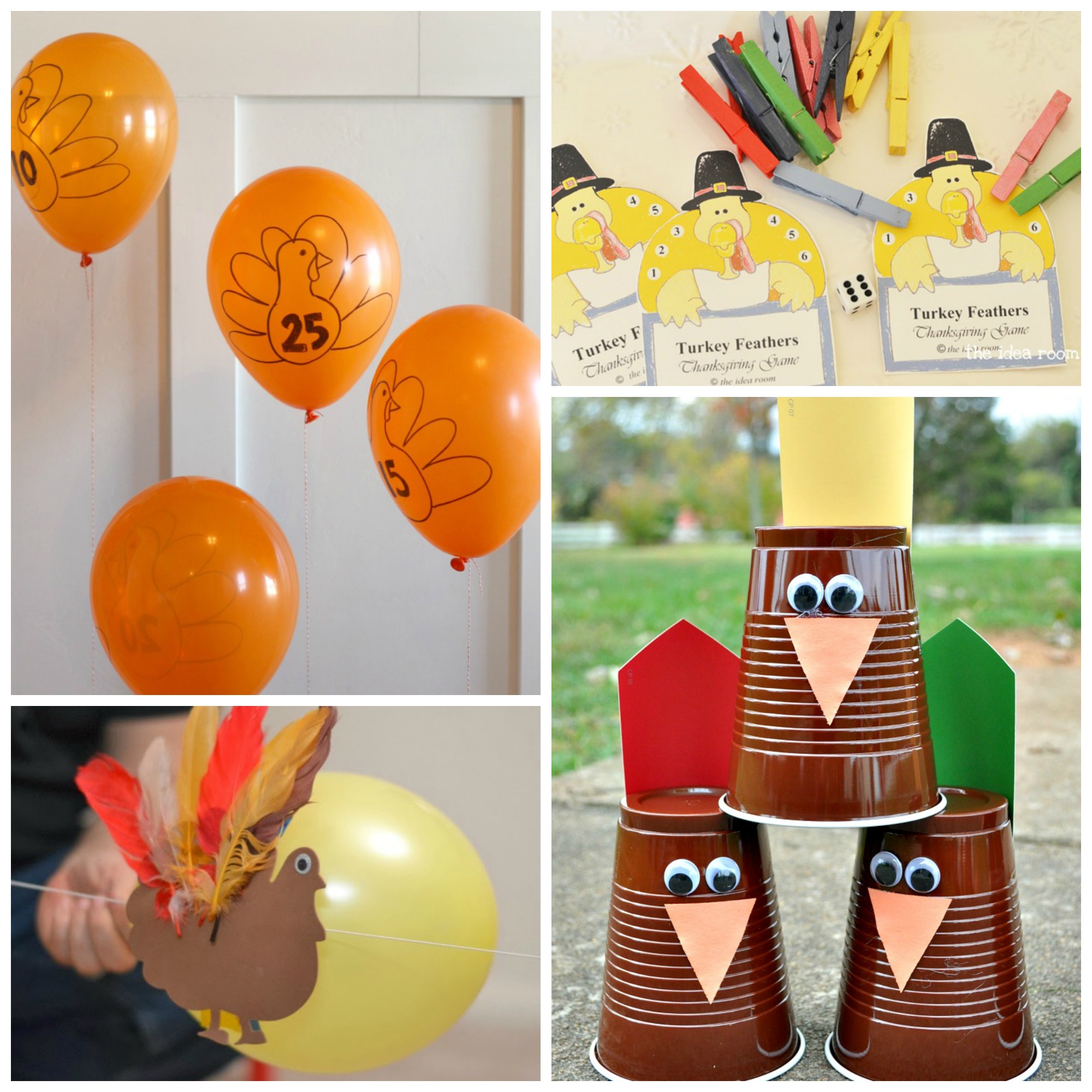 There are so many simple and fun games to play on Thanksgiving. This site even has a scorecard to keep track of the winners.
Check it out HERE at Happiness Is Homemade
6. GRATITUDE SCAVENGER HUNT
Get everyone moving with this easy Thanksgiving photo scavenger hunt for kids!
7. THANKSGIVING BOOKS
Read a few books to help teach those valuable Thanksgiving lessons!
Bear Says Thanks
We love the way this book rhymes and mama loves how it emphasizes togetherness and gratitude.
Thankful
This short little board book for kids discusses being thankful for all of the little things. Children and adults can always use a reminder of this!
Thanks for Thanksgiving
Another amazing book to guide you in a thankful discussion!
The Magic Treehouse: Thanksgiving on Thursday
This is a great read for the older kiddos! My son LOVES the Magic Treehouse series, and this is the perfect segway to talk about Thanksgiving day activities, history, and traditions.
8. THE BOWL GAME
This game looks like the PERFECT family Thanksgiving game!
First, every person writes down something others don't know about them. Then, players try to guess who wrote it. Points are given to those that guess correctly. The trick is to write random and silly things not even your spouse would know!
9. THANKSGIVING DINNER CONVERSATION CARDS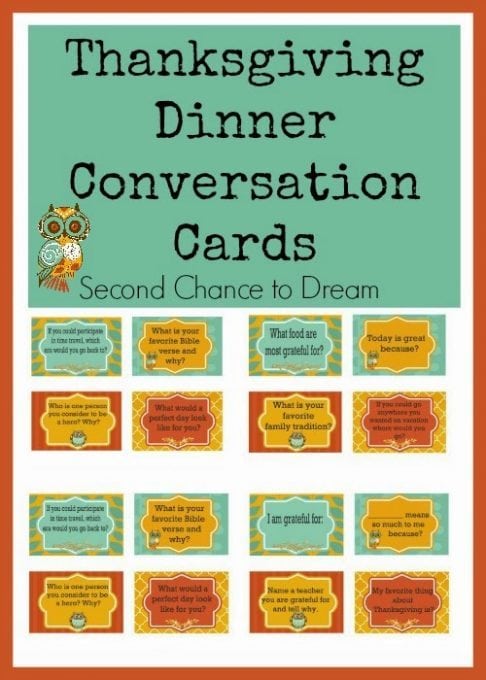 Keep the conversation at dinner lively with these fun starters.
Check it out HERE at Second Chance To Dream
10. THANKSGIVING PICTIONARY
Use fall and Thanksgiving words to make this an easy game for all ages. Simply write themed words on a paper and have teams take turns drawing them to see who can guess the fastest.
11. TURKEY TAG
Now, this is possibly the cutest idea I've ever seen. Have kids make these simple clothespin turkeys, then attach them to their shirts. It becomes a game of tag to get the clothespins off. Don't just let the kids do this one. It's a playful game for everyone!
Check it out HERE at Let's Get Together
Looking for more ways to be playful with your kids?
Check out: Easy Ways To Become A Playful Mom or Free Printables for Your Amazing Fall Bucket List
Something To Consider With Fun Thanksgiving Activities
Friends, wait a day for the madness of shopping and put the phones away. Instead, make this Thanksgiving about connecting with the people that mean the most to you.
Cheers to your perfect holiday, whatever that may be!
What are your favorite Thanksgiving Day activities for families?
You May Also Enjoy…


What You Can Do With Kids on Thanksgiving Day