Free Thanksgiving Menu Template: Ideas to Stress Less in 2023
Are you a little overwhelmed with your holiday to-do list?
Use the free Thanksgiving menu template to make planning your feast easier this year. No need to run around last minute!
When the big day comes, you'll have a huge smile on your face knowing that you prepped ahead of time. Then, you can focus on what really matters – the gratitude you feel for family and food.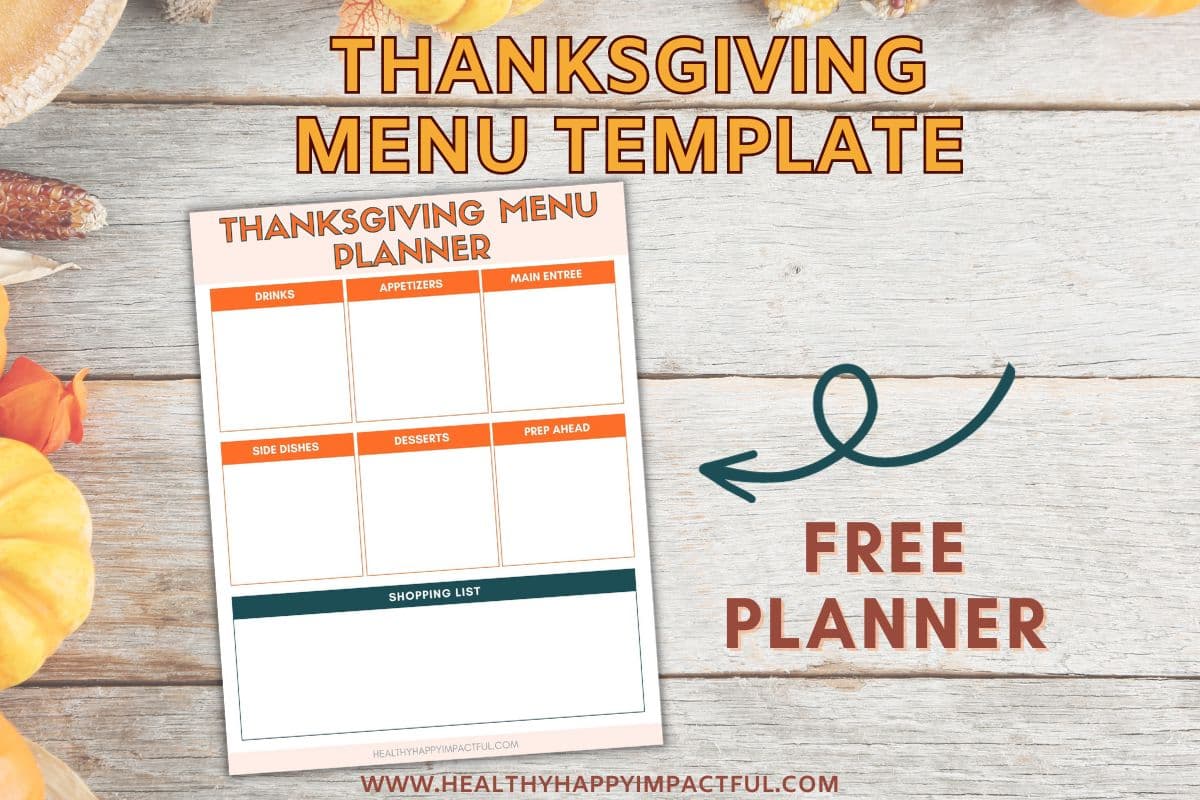 How do You Plan a Thanksgiving Menu?
If you haven't planned your feast, these are essential first things to consider!
This post contains affiliate links, and I may earn a commission at no cost to you. See my disclaimer for more info.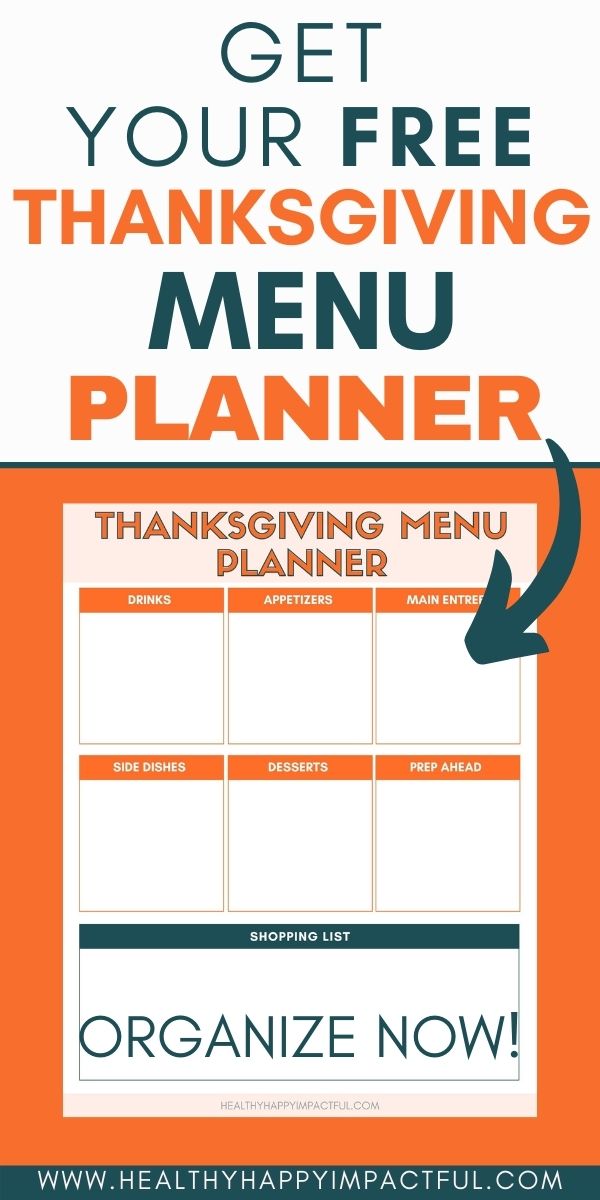 Start With the Must-Haves
First, we all have favorite traditional foods that are a MUST at Thanksgiving. So, start with the dishes that mean the most to you. These cherished foods will inevitably make an appeareance.
Plan a Variety
Then, use the free Thanksgiving menu printable to make sure there's a variety of drinks, appetizers, desserts, etc. The free planner will ensure that you're not repeating the same types of foods.
Decide What to Delegate & Prep Ahead
And share the work! Everyone in the family has something to contribute. So, consider these questions to make the menu as easy as possible:
What can others bring?
Do you need to buy something already made?
What can you prep and/or freeze beforehand?
What can your kids and partner help with?
Now, read on for Thanksgiving menu ideas and more ways to organize ahead of time!
Easy Menu Plan Ideas for Thanksgiving
Here are the foods most often found at a Thanksgiving place setting. Scan each of the sections to get brainstorming!
Delightful Drink Ideas
Lemonade
Water/Sparkling Water
Tea (hot or cold)
Pop
Wine
Beer
Cocktails – Check out this Hard Cider Sangria!
Coffee
Appealing Appetizers
Dips (artichoke dip, bean dips, cranberry cream cheese dips, etc.)
Cheese and crackers
Olives
Stuffed peppers or mushrooms
Cheese fondue
Meatballs
Slider sandwiches
Bruschetta
Pinwheels
Bacon-wrapped pineapple or anything
Check out this AWESOME fall charcuterie board!
Marvelous Main Entrees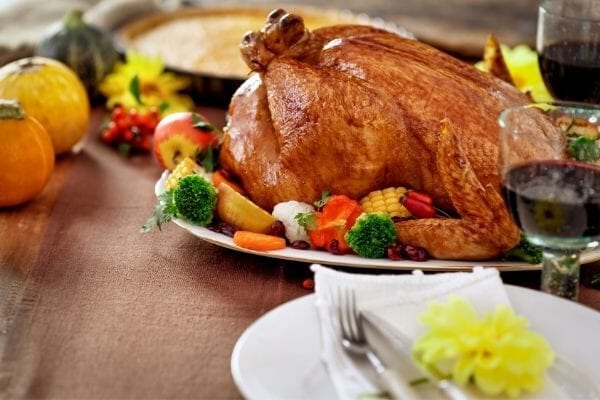 Turkey
Ham
Roast
Herbed chicken
Prime rib
Savory Side Dishes
Mashed potatoes
Gravy
Sweet potatoes
Cranberry sauce
Green beans with almonds
Traditional Stuffing
Cold salads
Carrots
Rolls
Roasted squash
Cornbread
Roasted brussel sprouts
Green bean casserole
Baked mac and cheese
Asparagus
Creamed spinach
Related Post: Big List of Healthy Meal Ideas + Free Printable
Delectable Desserts
Pecan pie
Pumpkin pie
Chocolate pie
Cream pie
Fruit Trifle
Cheesecake
Apple pie
Fruit cobbler
Cookies
Pumpkin spice cake
How to Prepare Ahead of Time
Next, Thanksgiving is hectic if you're the one doing the planning. And while some tasks have to be done on the day, a lot can be organized ahead to make your holiday stress-free.
Here's what to do:
1. Make a guest list – First, decide who's eating and what they are bringing to the feast!
2. Fill out your Thanksgiving menu template with the rest of your food items. Delegate items.
3. Make a shopping List! What items can you buy ahead? Can you consolidate where you buy items?
4. Chop, mix, and bake days ahead. Decide which dishes can have small items done a day or two before. Often desserts and casseroles do not need to be done on the same day!
Pro Tip: We also like to make breakfast items ahead of time so that we ALL enjoy the Thanksgiving Day parade together!
Do You Have a Thanksgiving Agenda Yet?
Check out these family-friendly Thanksgiving Activities and this creative Thanksgiving scavenger hunt to make your family day even more special!
Or try these other great Thanksgiving activity ideas:
Thanksgiving Menu Free Printable
If you love meal planning pages, check out the Free Weekly Meal Planner post too!
To Consider With Your Thanksgiving Menu Template
Finally, have fun! Smile! Focus on the good stuff, and try not to stress about your Thanksgiving planning.
If you are feeling overwhelmed, perhaps it's time to let other family members contribute more to the food and festivities.
So that you make sure you're enjoying the special day too!
Next, check out these funny and meaningful Thanksgiving conversation starters. Print and use the free cards at your Thanksgiving meal.
Fall Gratitude Articles to Read (All With FREE Printables!)
Try the Free Thanksgiving Menu Planner Printable