Best Thanksgiving Photo Scavenger Hunt for Kids: Free 2023 Printable
What is a gratitude scavenger hunt?
This fun Thanksgiving scavenger hunt for kids is exciting. And, it highlights the meaning of the day!
It's perfect for Thanksgiving Day! Or use anytime to foster a gratitude focus.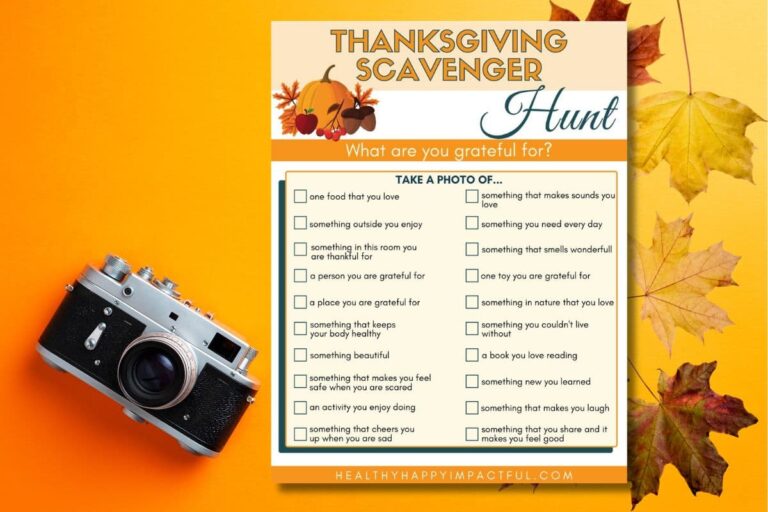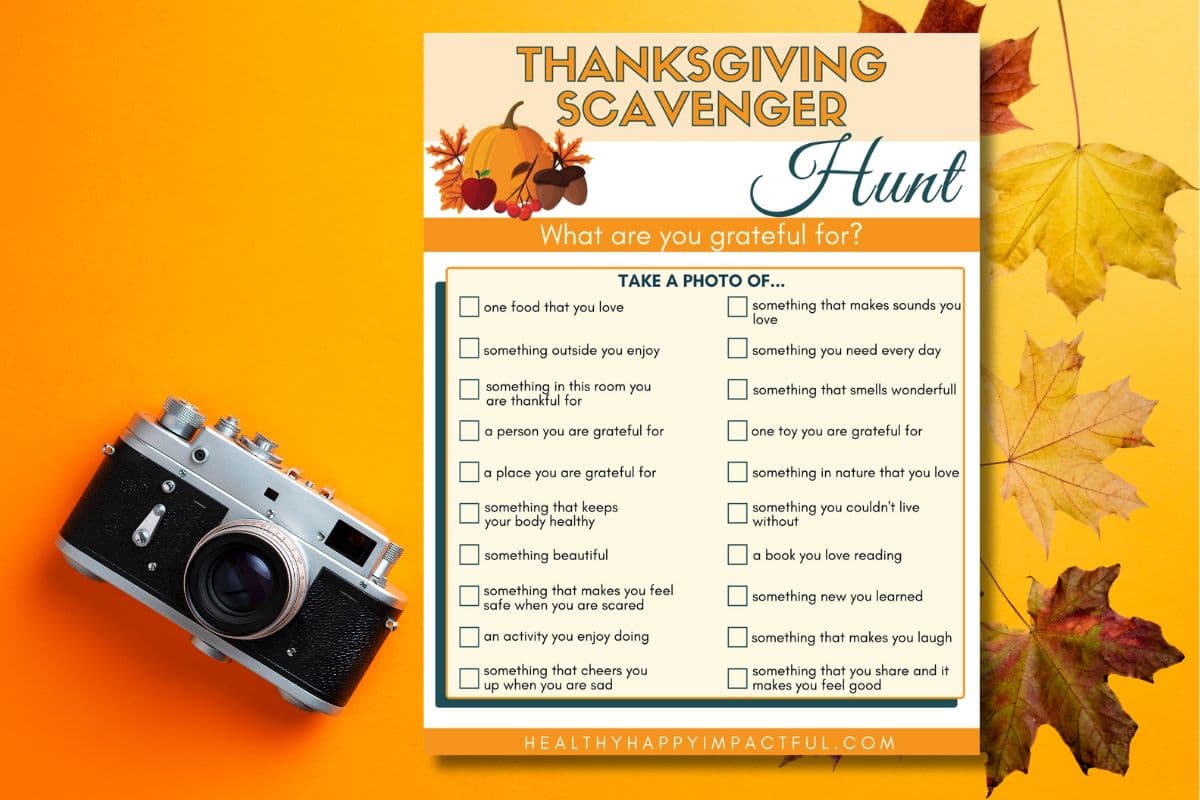 Why You Should Do the Thanksgiving Scavenger Hunt for Kids
This unique hunt emphasizes gratitude while taking photos. Here's why you should try it:
It's FREE!
No prep (just print and go!)
Teaches thankfulness in a fun way
Kids will LOVE to use technology and share!
No cleanup!
Seriously, is this not the BEST activity for kids?!
It's perfect for small or large gatherings to keep kids busy on Thanksgiving Day.
This post contains affiliate links, and I may earn a commission at no cost to you. See my disclaimer for more.
a place you are grateful for
something that keeps your body healthy
something that makes you feel safe when you are scared
an activity you enjoy doing
something that cheers you up when you are sad
something that makes a sound you love
something you need every day
…and more!
Supplies List for This Thanksgiving Activity
The free Thanksgiving hunt printable (below)
A digital device or camera
A pencil or marker to check off items
Pro Tip: Pull the scavenger hunt up on your phone if you don't want to print it.
Instructions: Kids Scavenger Hunt
1. Print out the download below on paper or cardstock.
2. Set rules. Kids find all or as many items as possible within a time limit.
3. Provide kids with a camera or device for pictures. Establish tech rules beforehand.
Pro Tip: My kids LOVED taking pictures with the iPad for this hunt.
4. Have kids hunt for their answers on the sheet. For young kids, read the statements to them. Older kids can complete it independently. In a large group, pair older and younger kids for collaboration.
5. At the end, kids SHARE the things they found that they're grateful for. Have them explain their choices for added benefit.
Make it a family affair! Have parents join the scavenger hunt for a fun item comparison. (I discovered just how much my husband loves his car.)
No camera? No worries! Find, describe, or draw the items. Get creative and have fun!
Other Easy Ways to Elevate Your Gratitude:
Thanksgiving Scavenger Hunt Printable HERE!
Grab the gratitude scavenger hunt pdf. Then, see prize ideas below!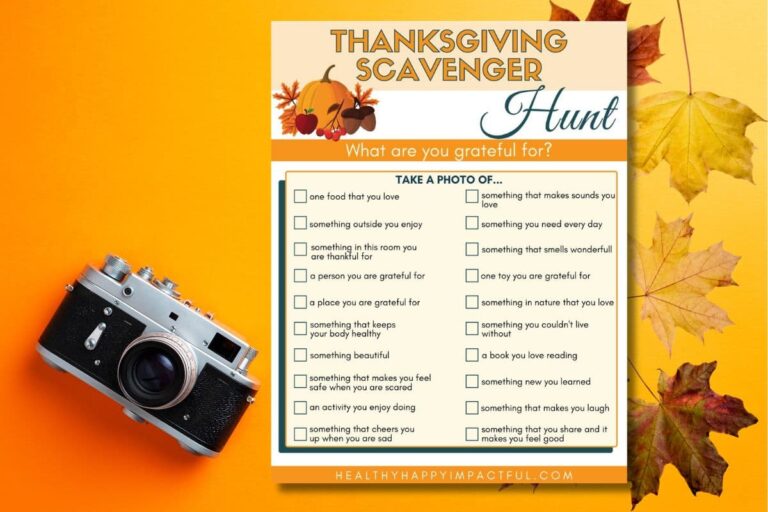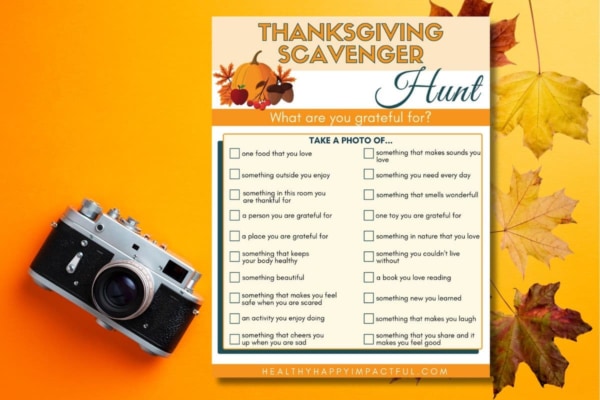 Pro Tip: To do the hunt multiple times, stick it in a page protector and mark it with a dry erase marker.
Repeat in different locations for varied results – at home, grandma's, outdoors, park, etc., revealing more to be thankful for.
Related:
Prizes for Thanksgiving Scavenger Hunt
Now, no one has to get a prize for this kids Thanksgiving Scavenger Hunt. But for added fun in a group, consider rewarding the person who finds the most or completes it the fastest.
A kids coupon for a privilege (extra electronics time, later bedtime, choosing dinner, etc.)
Fun holiday socks
A small craft or lego set
A homemade treat or snack
Gum
Get the free pre-made coupons!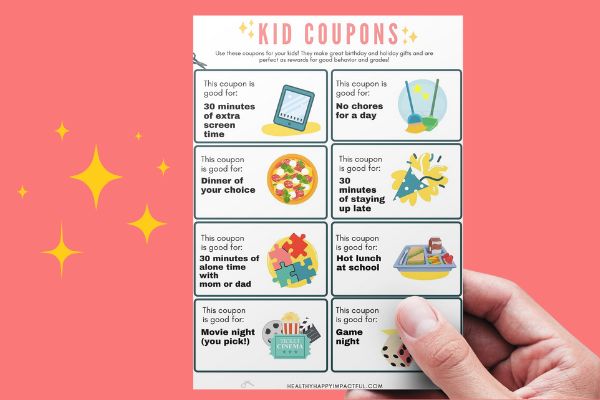 And if you are looking ahead to the holidays, try this Scavenger Hunt for Christmas!
More Fun Thanksgiving Games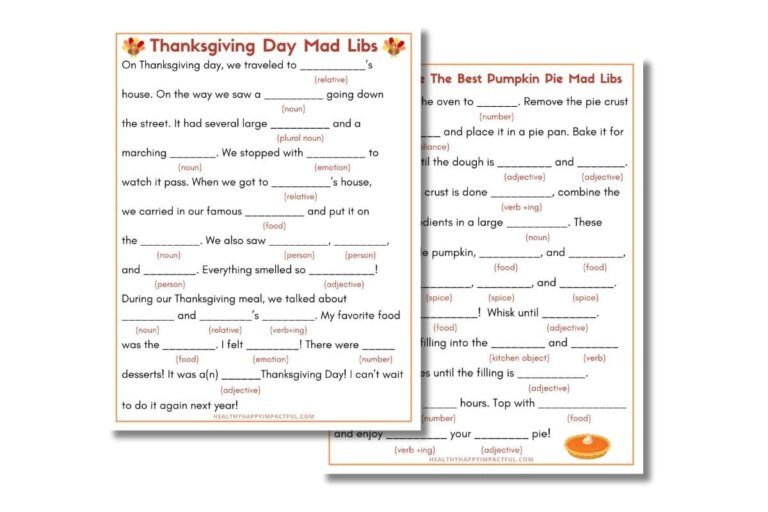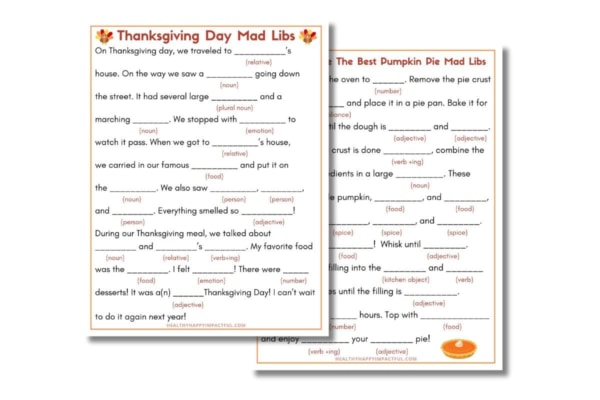 Free Thanksgiving Mad Libs: Grab two printable mad libs stories that will entertain all ages!
Trivia About Fall and Thanksgiving Day Trivia: These questions will test your seasonal and Thanksgiving knowledge!
Thanksgiving Jokes, Riddles, & Puns: When does Christmas come before Thanksgiving? Go to the article to find out!
Thanksgiving Would You Rather Questions: Choose between two lively choices AND get the free printable cards.
Holiday Tradition Ideas
Looking for great ways to build remarkable relationships?! Look no further! Check out my affordable ebook with 260+ family traditions – perfect for making unforgettable memories this holiday season!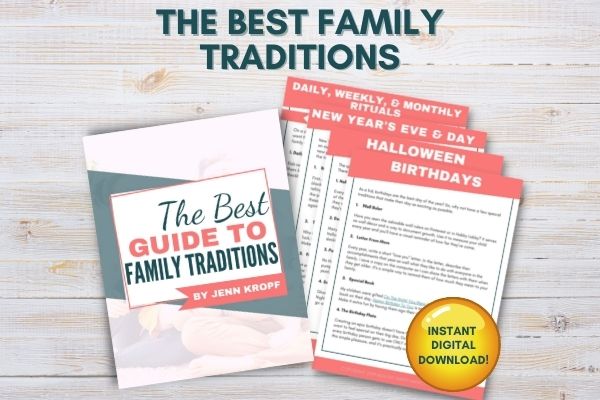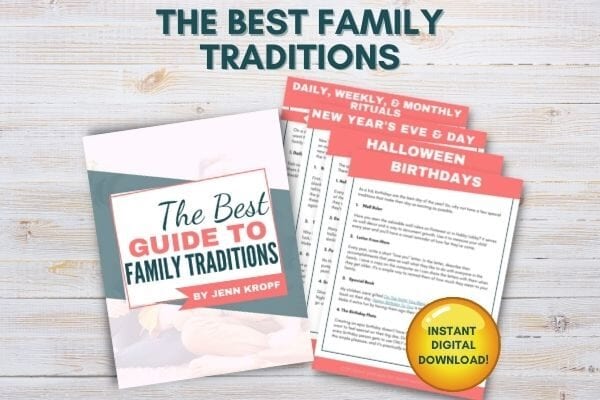 What's Next?
And finally, if you love Thanksgiving activities check out this Thanksgiving bingo from Crazy Little Projects.
Next, have some more fun with friends and family with Thanksgiving Charades!
And Read These Other Awesome Thanksgiving Posts…
And if You Are Thinking Ahead to Christmas, Read:
Try This Free Photo Scavenger Hunt for Kids This Thanksgiving!