A Unique Photo Thanksgiving Scavenger Hunt for Kids
What is a gratitude scavenger hunt?
Wondering what to do on Thanksgiving Day? Here's a fun Thanksgiving Scavenger hunt for kids that will be exciting, but also highlights the meaning of the day!
And if you don't have time on Thanksgiving day, the hunt will work anytime!
This post contains affiliate links, and I may earn a commission at no cost to you. See my disclaimer for more.
Why You Should Do the Thanksgiving Scavenger Hunt for Kids
This hunt is a bit different. First, it focuses on the life skill of gratitude. And second, it's all about taking photos! Here is exactly why you should try this gratitude scavenger hunt:
It's FREE!
There's no prep (just print and go!)
It teaches thankfulness in a fun way
Kids will LOVE that they get to use technology, and be excited to share!
There's absolutely no cleanup!
Seriously, a scavenger hunt is the BEST easy activity to do with kids!
And it's perfect for a small family or a large gathering of kids to keep them busy on Thanksgiving day.
Items on the Thanksgiving Scavenger Hunt Include:
something outside you enjoy
something in the room you are thankful for
a person you are grateful for
a place you are grateful for
something that keeps your body healthy
something that makes you feel safe when you are scared
an activity you enjoy doing
something that cheers you up when you are sad
something that makes a sound you love
something you need every day
…and more!
Supplies List for This Thanksgiving Activity
The free Thanksgiving hunt printable (below)
A digital device or camera
A pencil or marker to check off items
Instructions for Your Kids Scavenger Hunt
1. Print out the download below on regular paper or cardstock.
2. Decide on the rules. Have kids find all of them or as many as they can in an allotted amount of time.
3. Give the kids a camera, iPad, or other picture-taking device. Be clear on the technology rules and expectations before you start.
4. Next, have kids hunt for their answer to each statement on the sheet. For young kids, read the statements to them. Older kids can complete it entirely on their own. And if you have a large group, consider pairing up the older kids with the younger kids. They can help each other and take turns.
5. At the end, kids SHARE the things they found that they're grateful for. Have them explain why they chose that item for even more benefit.
Additionally, make it a family affair, and have parents do the scavenger hunt too! Then you can all compare your items!
No camera? No worries, just find the items! Or describe them. Or draw them. Either way, be creative and have fun!
Other Easy Ways to Elevate Your Gratitude:
Get the Free Thanksgiving Scavenger Hunt Printable for Kids HERE!
Then, see prize ideas below!
Bonus: To do the Thanksgiving hunt multiple times, simply stick it in a page protector and mark it with a dry erase marker.
Also, if you repeat it in different locations, you'll get lots of different results – showing the kids there's even MORE to be thankful for. So, do it in your home, at grandma's house, outside, at the park, etc.
Thanksgiving Scavenger Hunt Prizes List
Now, no one has to get a prize for this kids Thanksgiving Scavenger Hunt. But if you are doing it in a group, or you want to add a fun element, try giving these items to the person that found the most, or completed the hunt the fastest.
*Get the free coupons HERE >>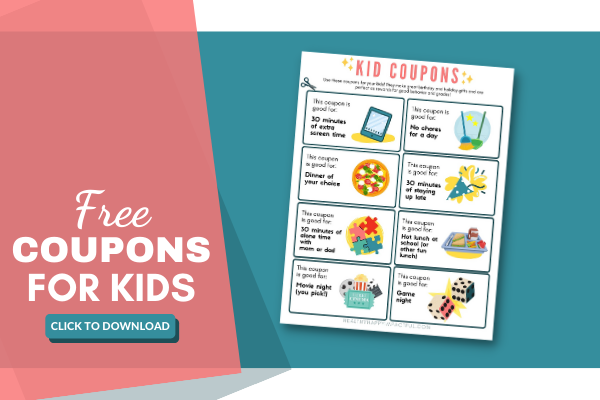 And if you are looking ahead to the holidays, try this Scavenger Hunt for Christmas!
Check Out More Holiday Tradition Ideas
Looking for great ways to build remarkably strong relationships?! Look no further! Check out my affordable ebook with 260+ family traditions – perfect for making unforgettable memories this holiday season!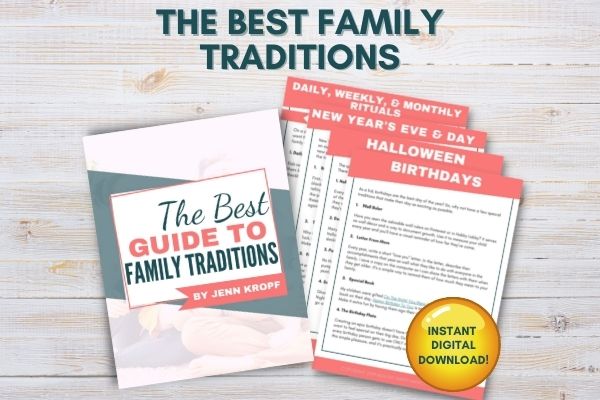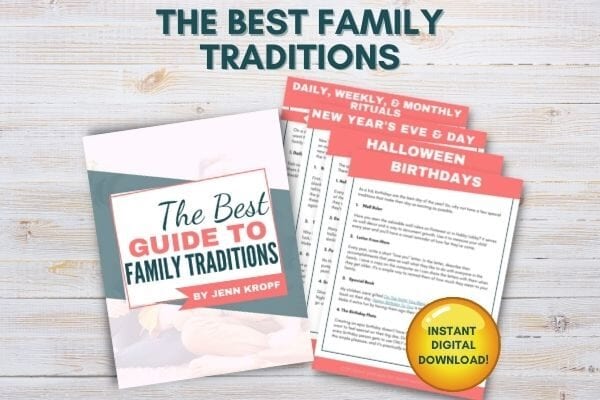 Before You Go…
And finally, if you love Thanksgiving activities check out this Thanksgiving bingo from Crazy Little Projects.
Now, enjoy the holiday with family and friends, and don't forget to reflect on life's many blessings!
And Read These Other Awesome Thanksgiving Posts…
And if You Are Thinking Ahead to Christmas, Read:
Try This Free Photo Scavenger Hunt for Kids This Thanksgiving!