18 Easy Gratitude Activities for Kids They'll Love (+ Free Printables!)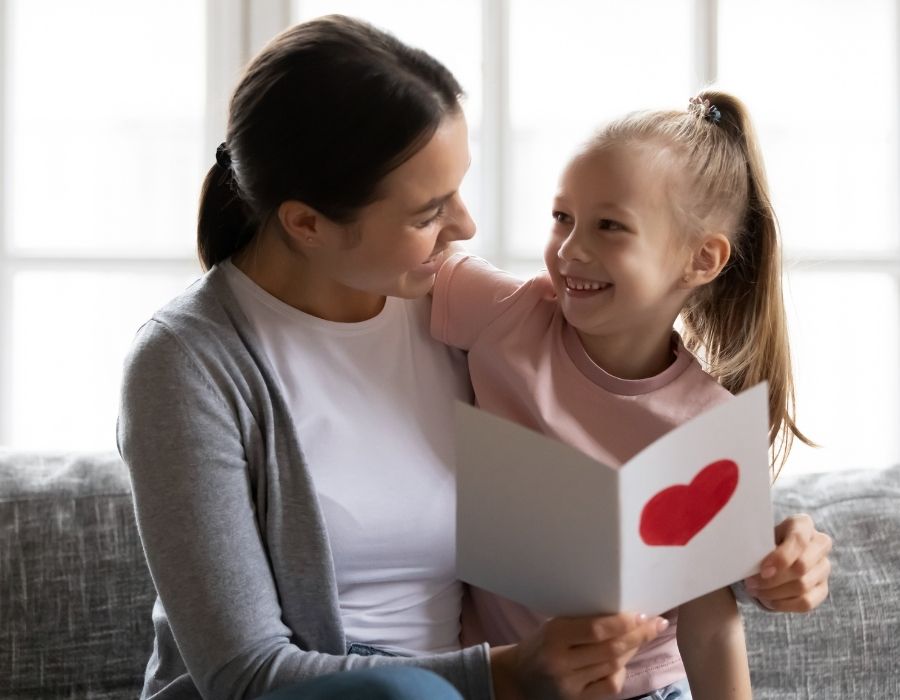 Why is gratitude important for kids?
First, many studies have shown that people who practice gratitude are happier and suffer less from depression and anxiety (here's just one source).
It's safe to say that we all want to raise happy kids. And that's why these gratitude activities for kids are so important!
This post contains affiliate links, and I may earn a commission if you purchase (at no cost to you). See my disclaimer for more.
How to Explain Gratitude to a Child
But I find gratitude to be a hard topic to define with my kids. At their ages, they don't understand the unique ways in which they are privileged or how powerful everyday blessings are.
That's why it works best by showing and doing gratitude with kids.
After all, kids will do what you DO, not what you say.
18 Fun Gratitude Activities for Kids
On that note, here are easy kids activities for gratitude that help them ponder their lives with positive emotion and awareness. (They are GREAT for students too!)
1. Write on a Gratitude Wall or Board
A gratitude wall can be anything from a gigantic chalkboard or a wall of your home (or classroom) with a collection of sticky notes.
If you have a large mirror, make it even more exciting by writing what you're thankful for with a dry erase marker on the mirror.
Do one every day or week. Then, watch as the wall fills up with all of the blessings!
2. Use a Gratitude Jar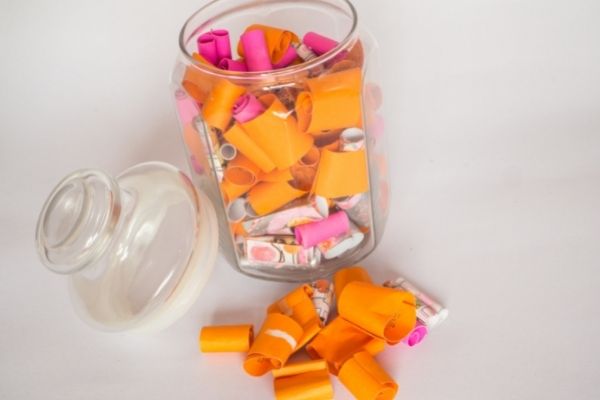 First, gather your supplies. Then make it a regular ritual to write something you are grateful for in the jar. Challenge your kids to write something different every time.
Simple supplies you'll need:
Paper (for the gratitude slips)
After, turn it into a game! Occasionally pull out the gratitudes and see if the group can guess who wrote each one!
3. Make a Gratitude Tree
Use a real tree branch, put a paper tree trunk on the wall, or simply draw one on paper. Then, hang paper (or drawn) leaves full of your blessings all over your tree until it's full.
*We love doing this activity after dinner leading up to Thanksgiving. If this is something you'd like to do from year to year, I recommend laminating your paper leaves and then pulling them out when it's time.
You could also get pre-cut leaves every year. See a full kit HERE >>
4. Do a Gratitude Scavenger Hunt
I created this gratitude scavenger hunt last year to allow the kids to have fun with technology. They ADORED it, and so we'll make it a yearly tradition. (Note: You don't have to wait for Thanksgiving to do it!)
5. Practice Manners
It may sound simple, but manners are the foundation of all kindness and gratitude. So, while this isn't an outright activity, it's still worth it to insist on "please," "thank you," and "excuse me" throughout the day.
6. Do Thankful Thursday
My daughter's teacher created what she calls "Thankful Thursday." Each child writes one person in the class he/she is thankful for and the reason why (or something awesome about that kid).
This activity not only helps kids appreciate, but also builds everyone up. (She also encourages them to write different kids every week)
It can be easily adapted for home too! See the best quotes and blessings for Thankful Thursday here >>
7. Write Gratitude Quotes
Next, inspire kids with simple quotes that make them think about the good in their life. Find short quotes for kids gratitude plus a free printable.
8. Hash it Out at Dinner
Start your dinner conversation by going around the table and hearing about everyone's blessings for the day. If you start the meal in this way, it sets the tone for an appreciative meal.
(A simple thank you prayer before eating is another example of great gratitude activities for kids!)
9. Send a Thank You Note
Thank you notes aren't just for adults! Have kids practice making notes to teachers, babysitters, essential workers, and anyone that helps them on a regular basis.
Related Posts:
10. Use A Thankful Object
Gratitude activities for kids are the most fun when you can make them tactile and sensory-based. So, write what you're grateful for on a pumpkin, tablecloth, or even a lampshade.
Turn an object into one beautiful reminder of your great life together!
11. Use Gratitude Questions or Cards
Next, use specific questions to dig a little deeper into the good stuff.
These will help everyone:
What is something you are grateful for about your family?
What do you love about your neighborhood?
What is one great change you're grateful you've made recently?
What are you glad you are able to use every day?
Who loves you and cares for you?
What body parts are you most grateful for?
What is something nice your _______ (parent, teacher, sibling) does?
What do you love about the age you are?
What are you grateful for about the season you are in?
What are you most grateful for in this room?
Related Post: Thoughtful Journaling Prompts for Gratitude
Pick up the free card questions in the resource library below!
12. Make Gratitude Rocks
If your kids love painting rocks, then turn it into a simple and artistic gratitude activity. Have kids paint five objects they are thankful for before they place the rocks around a trail or neighborhood.
Related Post: Meaningful Activities Perfect for Thanksgiving Day
*Check out this video for my favorite family gratitude exercises!
Then keep reading for more ideas!
13. Write in a Gratitude Journal
Next, start a simple gratitude journal with kids in a notebook. Number it 1-3 and spend a few minutes each night writing what your child is thankful for that day.
You can also use the great 3 minute kids journal on Amazon HERE >>
14. Try A Family Gratitude Challenge
This 30-day gratitude challenge is the PERFECT family activity to get everyone involved. Again, kids look to adults to model behavior. If they see you counting your blessings, then they will be MUCH more likely to participate.
Check out the free printable & 30 easy actions HERE>>
15. Read Books About Gratitude for Kids
Reading is a super easy way to introduce concepts that matter. Here are three amazing gratitude books for kids!
The Grateful Ninja (Ages 3-11)
The Grateful Ninja is a book about a child who does a five day gratitude challenge to focus on life's simple things. The ninja learns to cultivate an attitude of gratitude and good manners. It's such a powerful tool to use with kids!
See the Grateful Ninja HERE >>
Gratitude Is My Superpower
With the help of a magic stone, Betsy begins to feel grateful for all of the great things in her life: her parents, friends, and toys. But then, she discovers that the power to appreciate has been inside of her all along.
See Gratitude Is My Superpower HERE >>
Being Thankful (Ages 4-7)
In Being Thankful, nothing is as good as Little Critter wants it to be. And he's mad! Yet, on a trip to the farm, his grandmother teachers him that choosing to be thankful instead of upset can make you much happier.
Check out Being Thankful HERE>>
16. Write A Gratitude List
This one is simple and makes a fun family night activity! Sit down and come up with 10 things you are most grateful for as a family. As everyone contributes, you'll find out what each child tends to appreciate and leave with a sense of being truly blessed together.
Related Post: The Ultimate Gratitude List of Examples
17. Play Tic Tac Toe
Turn gratitude into a game! On a traditional tic tac toe board, write down different things in a kid's life in each spot. Then, as kids (and parents) play the game, they must say one thing they are thankful for before they can write their X or O.
Ideas include: Toys, books, movies, people, teachers, friends, parents, holidays, in your room, and in your neighborhood
*Grab this game + more gratitude resources in my family growth pack! You'll love the easy templates, cheat sheets, and charts that teach valuable lessons and build an incredible family bond!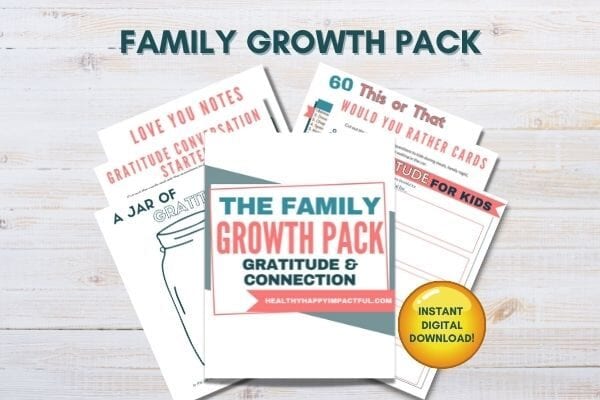 18. Take Gratitude Walks
Finally, have fun on a gratitude walk with kids. Encourage everyone to use four of their senses- sight, sound, smell, and touch.
What do you notice? What do you appreciate? Talk about what nature provides for us.
Then, watch them as they learn to acknowledge the amazing power of nature in our lives and hearts.
To Consider With Kids Gratitude Activities
I hope you enjoyed this great list of gratitude activities for kids and students. Most of them are easy and cheap, but build a lasting sense of positive life vibes. Make it a ritual or tradition for best results!
What are your favorite things to do with kids to inspire gratefulness?
Other Great Kids Posts to See…
Kids Activities for an Attitude of Gratitude