40 Easy Gratitude Activities for Kids They'll Love (Free Printables)
How do you teach gratitude to kids?
Gratitude activities for kids play a vital role in raising happy kids. Studies show that practicing gratitude boosts happiness and reduces depression and anxiety.
But defining gratitude with my kids is challenging. At their ages, they don't grasp their unique privileges or the power of everyday blessings.
That's why it works best by showing and doing gratitude with kids. After all, kids will do what you DO, not what you say.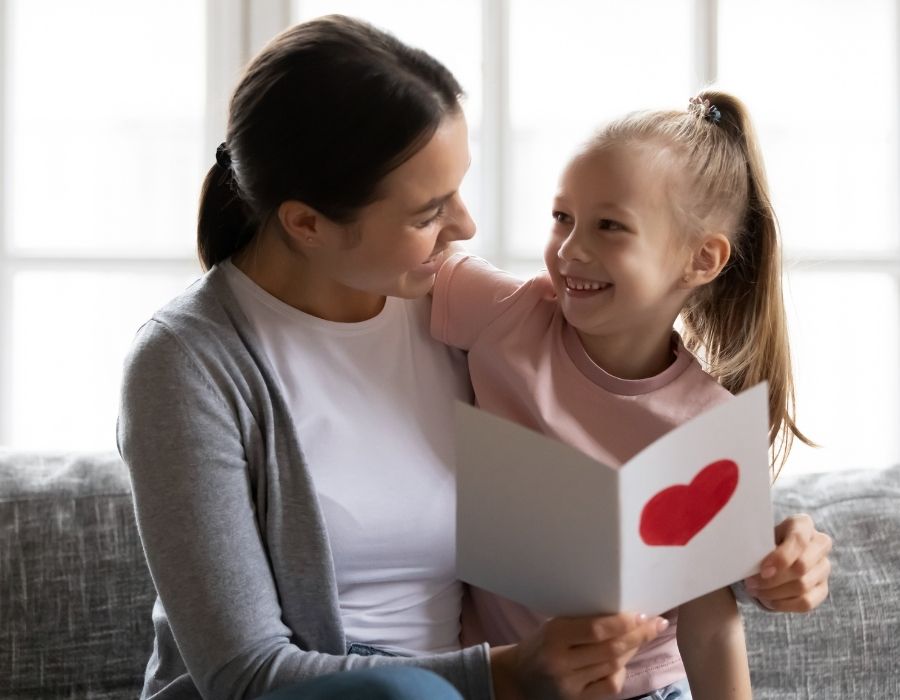 This post contains affiliate links, and I may earn a commission (at no cost to you). See my disclaimer for more.
40 Fun Gratitude Activities for Kids
Here are simple kids gratitude activities that promote positive emotion and awareness. (They are GREAT for preschool, elementary students, and teens too!)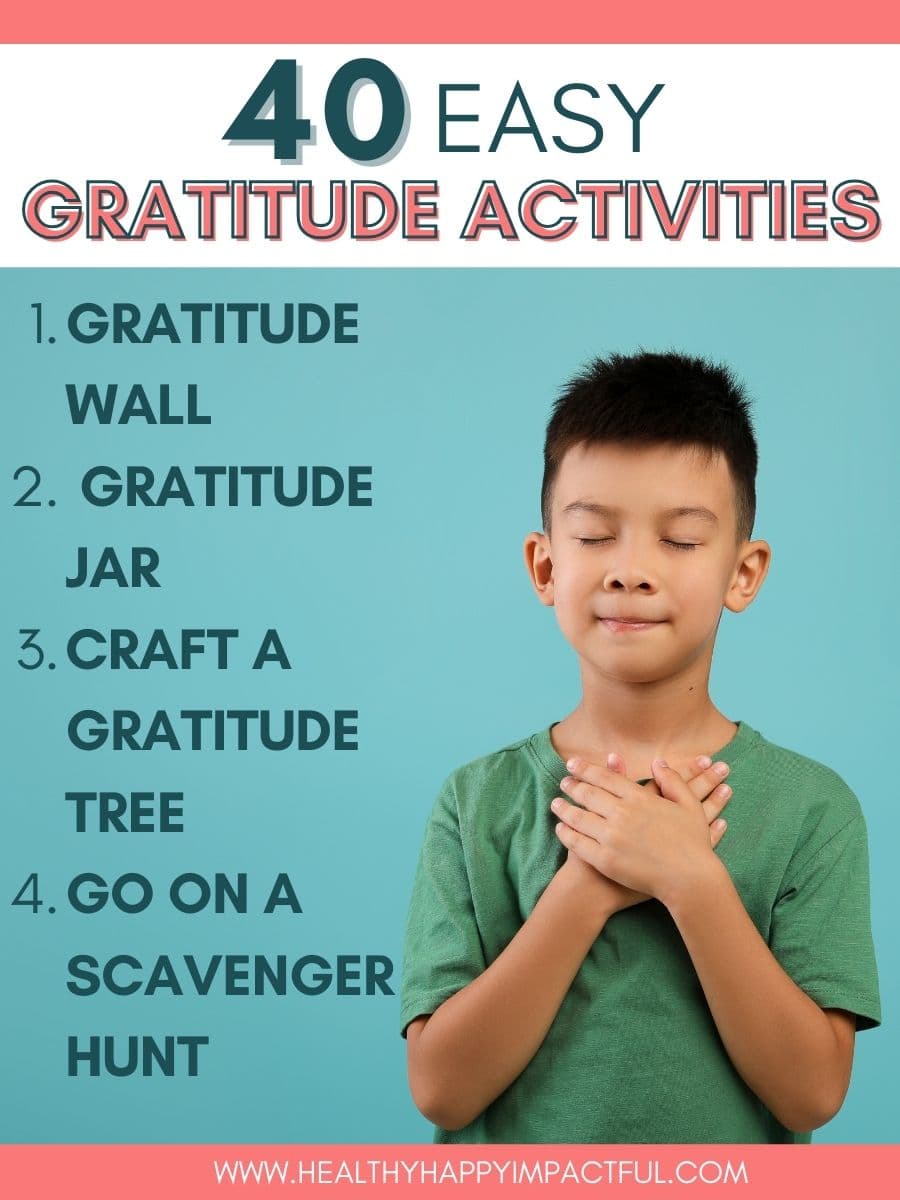 1. Gratitude Wall Activity
A gratitude wall can be a gigantic chalkboard or a wall of your home (or classroom) covered in sticky notes.
Build the excitement by writing thankful thoughts on a large mirror with a dry-erase marker.
Do one every day or week. Then, watch as the wall fills up with all of the blessings!
2. Implement a Gratitude Jar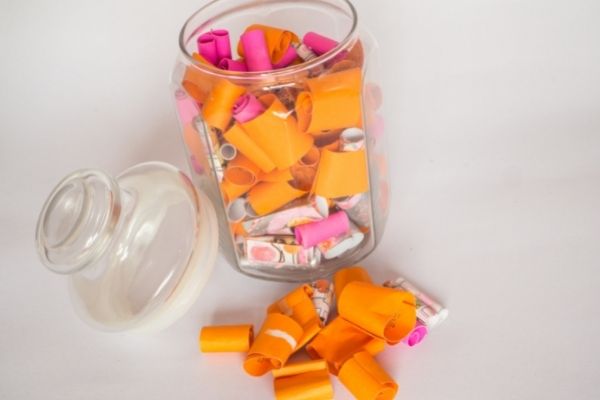 Make it a regular ritual to jot down something you are grateful for in the jar. Challenge your kids to write something different every time.
Simple supplies you'll need:
Paper (for the gratitude slips)
After, turn it into a game! Pull out gratitudes and have the group guess who wrote each one.
3. Craft a Gratitude Tree
Use a real tree branch, put a paper tree trunk on the wall, or simply draw one on paper. Then, hang paper leaves full of your blessings all over your tree.
Pro Tip: We love doing this activity leading up to Thanksgiving. For a lasting tradition, laminate your paper leaves to reuse in the coming years.
You could also get pre-cut leaves every year. See a full kit HERE >>
Related: Friendsgiving Gratitude Games
4. Take a Gratitude Scavenger Hunt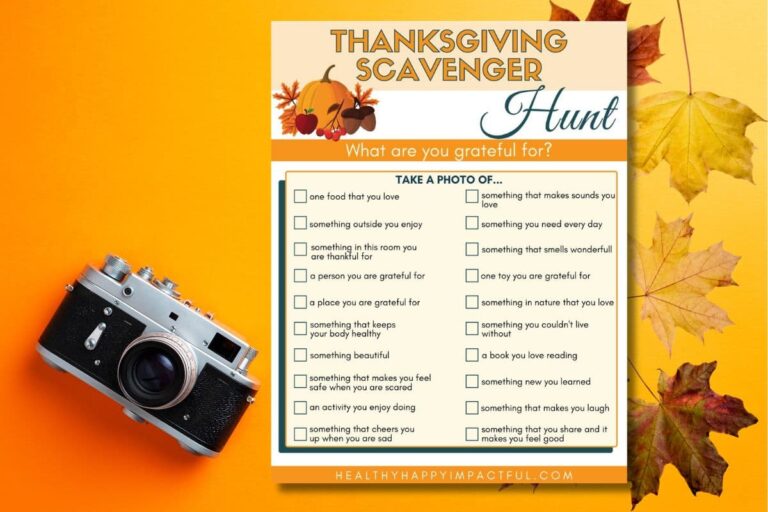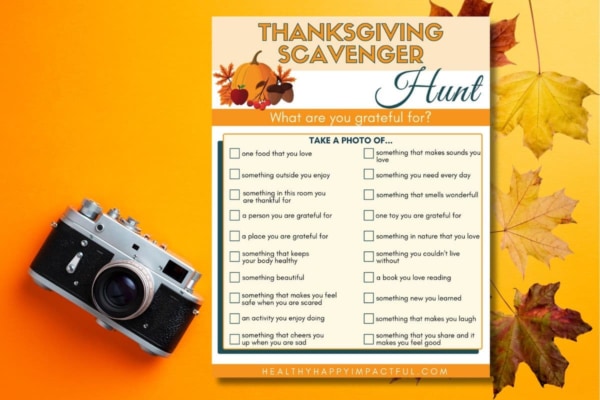 This tech-themed gratitude scavenger hunt is a beautiful yearly tradition.
Pro Tip: You don't have to wait for Thanksgiving to do it! Grab this free printable or pull it up on your phone.
Related: Nature Scavenger Hunt
5. Practice Manners
It's a simple activity, but manners are the foundation of all kindness and gratitude. Encourage 'please,' 'thank you,' and 'excuse me' throughout the day.
6. Implement Thankful Thursday
My daughter's teacher created what she calls "Thankful Thursday." Each child writes a classmate they're thankful for and highlights something awesome about them.
This activity not only helps kids appreciate, but also builds everyone up. (She encourages them to write different kids every week)
It can be easily adapted for home too! See the best quotes and blessings for Thankful Thursday >>
7. Write Gratitude Quotes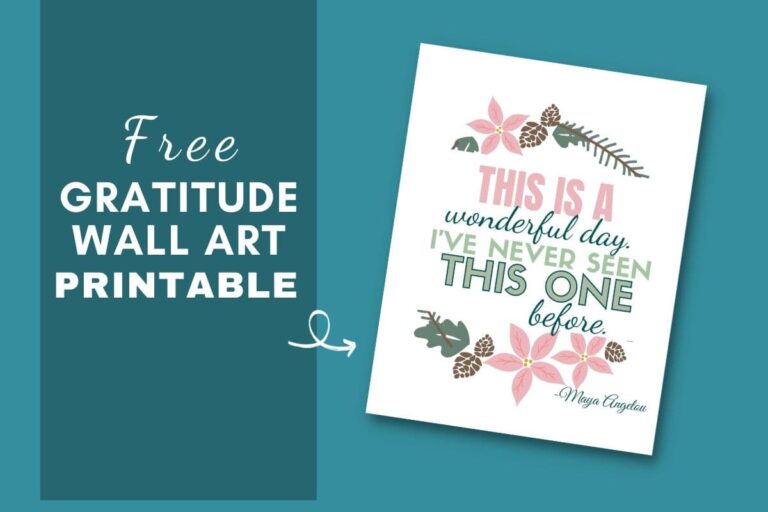 Inspire kids with simple quotes about the good in their life. Find short quotes for kids gratitude plus a free printable.
Related: Short Kindness Quotes for Kids and Best Thought For The Day Quotes
8. Hash it Out at Dinner
Begin dinner by sharing each person's blessings from the day. This sets the tone for an appreciative meal.
(Incorporate a thank-you prayer before meals for a wonderful gratitude activity for kids!)
Related: Easy Family Dinner Activities and Converation Games
9. Send a Thank You Note
Thank you notes aren't just for adults! Have kids practice making notes to teachers, babysitters, essential workers, and regular helpers.
Pro Tip: Keep a box of blank notecards for family use. Folded construction paper works too!
Use these printable thank you notes after kids' birthdays!
Related Posts:
10. Use A Thankful Object
Gratitude activities for kids are most enjoyable when tactile and sensory-based. So, write what you're grateful for on a pumpkin, tablecloth, or even a lampshade.
Turn an object into one beautiful reminder of your great life together!
11. Use Gratitude Questions or Cards
Next, use specific questions to dig a little deeper into the good stuff.
What is something you are grateful for about your family?
What do you love about your neighborhood?
What is one great change you're grateful you've made recently?
What are you glad you are able to use every day?
What body parts are you most grateful for?
What is something nice your _______ (parent, teacher, sibling) does?
What do you love about the age you are?
What are you grateful for about the season you are in?
What are you most grateful for in this room?
Related Post: Thoughtful Journaling Prompts for Gratitude
12. Create Gratitude Rocks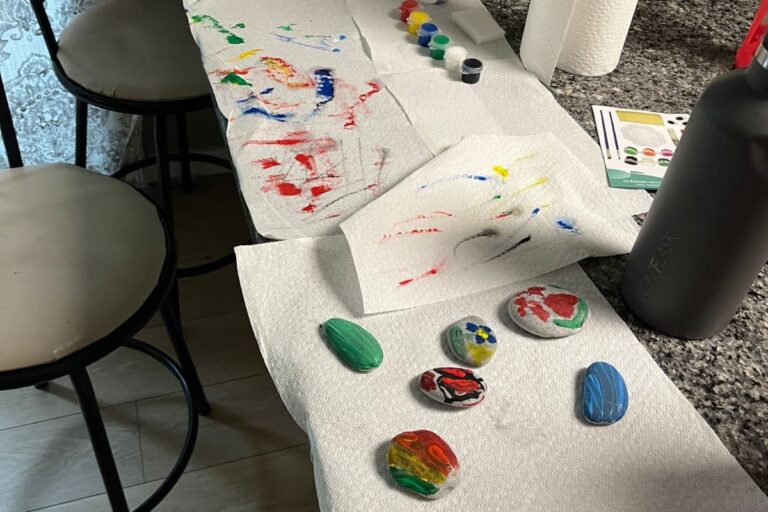 Transform rock painting into a kids gratitude activity. Have them paint five things they're thankful for. Then, place the rocks around a trail or neighborhood.
Related Post: Meaningful Activities Perfect for Thanksgiving Day
*Check out this video for my favorite family gratitude exercises!
Then keep reading for more ideas!
13. Write in a Gratitude Journal
Begin a gratitude journal with kids. Number it 1-3 and spend a few minutes each night writing what your child is thankful for that day.
You can also use the great 3 minute kids journal on Amazon HERE >>
14. Try A Family Gratitude Challenge
This 30-day gratitude challenge is the PERFECT family activity to get everyone involved.
Again, kids look to adults to model behavior. If they see you counting your blessings, then they will be MUCH more likely to participate.
Related: Fun Family Challenges for Home
15. Read Books About Gratitude for Kids
Reading is my favorite way to introduce concepts that matter. Engaging with these gratitude picture books makes for a fantastic activity.
Pro Tip: Books reinforce skills through stories. Let the book do the talking. Promote positive dialouge about the story and avoid the need for a lecture.
Related: Kindness Books for Kids and Inspiring Books
16. Best Preschool Gratitude Book
*Preschool thankful activities
In this beloved series, Bear has much to be thankful for! But how will he show his gratitude? Read this book to find out!
Pro Tip: After reading, preschool students can draw a way to show someone they are thankful.
17. Elementary Gratitude Book
The Grateful Ninja is a book about a child who does a five day gratitude challenge to focus on life's simple things. The ninja learns to cultivate an attitude of gratitude and good manners. It's such a powerful tool to use with kids!
See the Grateful Ninja HERE >>
18. Gratitude Is My Superpower Activities
With the help of a magic stone, Betsy begins to feel grateful for all of the great things in her life: her parents, friends, and toys. But then, she discovers that the power to appreciate has been inside of her all along.
See Gratitude Is My Superpower HERE >>
19. Watch A Thankful Read Aloud Video
Being involved in a read aloud is a favorite for kids of all ages. Plus, it sparks engaging conversations.
*Follow the questions and prompts in this video for more gratitude activities.
20. Write A Gratitude List
Enjoy a simple and fun family night activity! List 10 things you are most grateful for as a family. You will discover each child's appreciations and foster a sense of shared blessings.
Related Post: The Ultimate Gratitude List of Examples
21. Tic Tac Toe Gratitude Game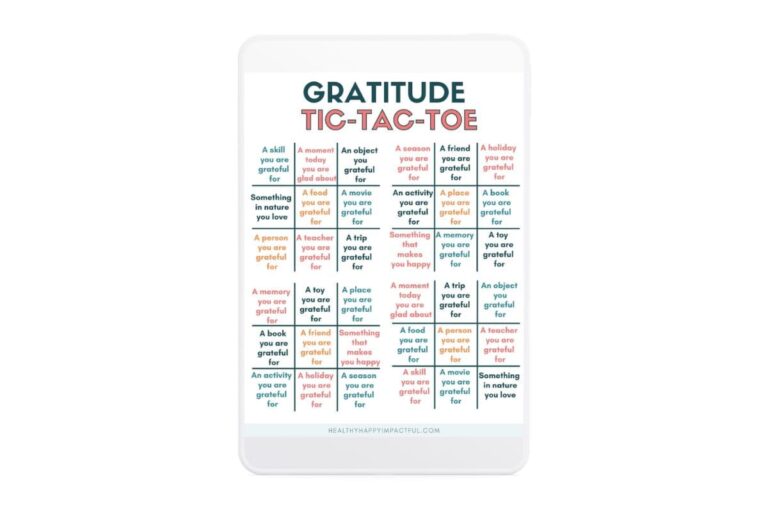 Turn gratitude into a game! On a traditional tic tac toe board, write down different things in a kid's life in each spot. As kids play the game, they must express gratitude before marking their X or O.
Ideas include: Toys, books, movies, people, teachers, friends, parents, holidays, in your room, and in your neighborhood
*Grab this game + more gratitude resources in my family growth pack!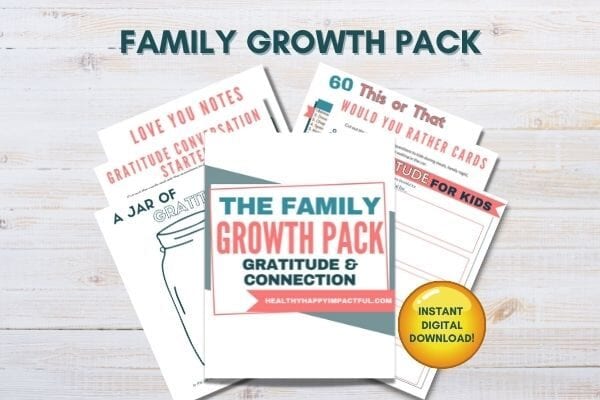 22. Take Gratitude Walks
Have fun on a gratitude walk with kids. Encourage everyone to use four of their senses- sight, sound, smell, and touch.
What do you notice? What do you appreciate? Talk about what nature provides for us.
Observe as they recognize the incredible power of nature in our lives and hearts.
23. Act Out Gratitude
Involve the whole family with gratitude charades.
Write out gratitude words and phrases on pieces of paper.
Put the papers in a bowl.
Divide into teams.
The first team picks a word and acts it out until guessed. If using a timer, continue until the timer runs out!
Keep playing until everyone has had a turn.
The team with the most correct guesses, wins!
Gratitude charades words and phrases ideas: grandparents, laughter, education, food, movies, Earth, vacation, coffee, etc…
24. Circle of Gratitude
Perfect for gratitude group or school activities. Form a circle and take turns sharing gratitude. Make it more fun by passing a ball to the next person to go.
Related: Breathing Exercises for Kids
25. Gratitude Candy Game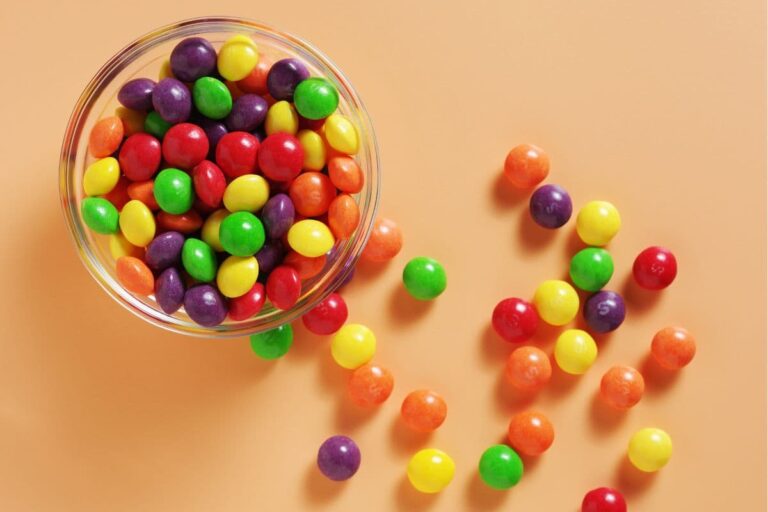 Use a fun size bag of Skittles for each person. Each person picks out one or two skittles. Based on the color, they share the corresponding thing they are thankful for.
Red: A person you are thankful for.
Orange: A place you are thankful for.
Yellow: A thing you are thankful for.
Green: An experience you are thankful for.
Purple: A blessing you are thankful for.
26. Gratitude Relay Games
Divide players into two relay teams. Each player says something they appreciate before passing a "gratitude baton" to the next person.
Pro Tip: Have a group of energetic students? Have them run, skip, or hop to a point and back. Then share their words of appreciation before passing to the next student.
27. Thankfulness Song
Singing is a great activity to teach and involve younger kids. Use this appreciation song video.
28. Design a Gratitude Collage
Use photos and magazines to find and cut out pictures of items your family is grateful for. Make a meaningful collage to display.
29. Fashion a Gratitude Bracelet
Help your kids create their own wearable reminder to be grateful.
30. Volunteer
Volunteering can significantly contribute to cultivating gratitude for kids in several ways:
Shifts perspectives
Cultivates a sense of purpose
Promotes generosity
Develops empathy
Plus, it is a great reminder of the abundance we have while it builds a gratitude habit.
31. Gratitude Paper Chain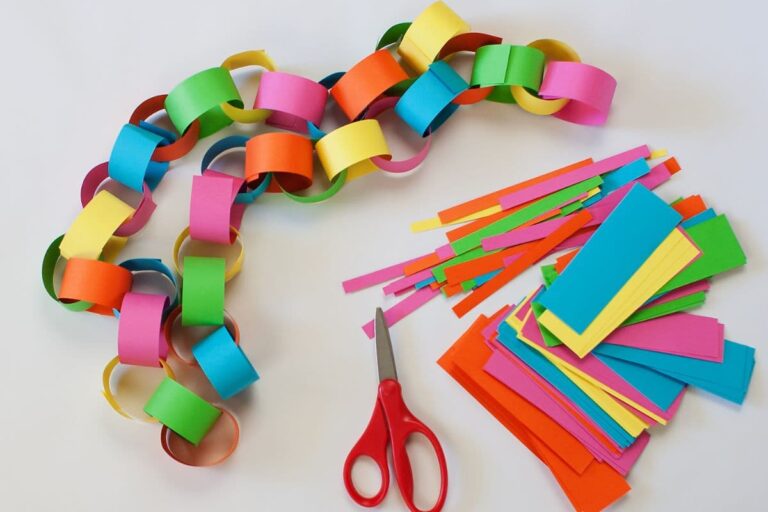 Kids create a gratitude paper chain. Write something they're thankful for on each link and assemble for display in the classroom or at home.
32. Gratitude Alphabet
Kids and students are challenged to find a word to express gratitude for each letter in the alphabet.
33. Gratitude Drawing Prompts
This versatile activity suits preschoolers to teens. Let them choose an item or draw a number to determine their their drawing.
34. Explore Gratitude Across Cultures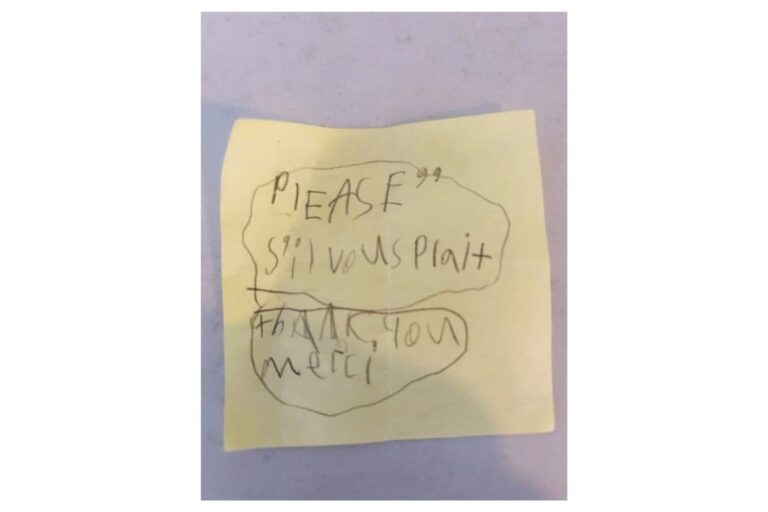 Inspired by school, my son learned to express please and thank you in French. He has kept this note in his room since.
We also like using sign language for 'thank you' in our daily routine.
35. Chore Charts
What do chores have to do with gratitude?
Contributing to the home fosters gratitude for the collective effort it takes to maintain the household.
Find a chort chart and ideas to make it work for your family.
36. Gratitude Graffiti Activities For Kids
Chalk up the sidewalk with gratitude expressions to family members, teachers, or neighbors.
37. Roll the Dice Gratitude Game
Focus on family with a roll the dice free printable gratitude game.
38. Thankfulness Tablecloth
Lay out butcher paper on your table and have kids color, write, and express gratitude on it. Use this as your tablecloth for your Thanksgiving meal!
39. Make Thankful Cookies
Make thankful cookies with your kids. Use a thank you cookie cutter design and hand deliver to the recipients.
Pro Tip: Model for your kids how to express specific words of thanks to an individual.
40. Watch A Gratitude Themed Movie
Elevate your family movie night with a theme of thankfulness.
A Charlie Brown Thanksgiving
How the Grinch Stole Christmas
Annie
Mary Poppins
Bethany Hamilton: Unstoppable
It's a Wonderful Life
Up
Also, check out more inspiring movies for family night.<<
What's Next?
Enjoy these gratitude activities for kids and students. They are simple yet impactful. Establish them as a ritual or tradition for lasting positive vibes!
Next, use these kindness activities for kids for more great idea to instill awesome and lasting skills.
Other Great Kids Posts to See…
Kids Activities for an Attitude of Gratitude