Free Thank You For Coming To My Birthday Party Printables
How do you say thank you after a birthday celebration?
Our oldest son celebrated his seventh birthday this year. He had his first big birthday party, which doubled the number of presents he received.
While my son thought that was great, he did NOT love the idea of writing more thank you notes.
So, I needed to find an easy way to help him say thank you to friends and family for all the birthday wishes. This Thank You For Coming to My Birthday Party Printable was a perfect solution.
Is it still necessary to write thank you notes?
Historically, the Chinese and Egyptian cultures were the first to write thank you notes. They would write and exchange friendship and good luck notes with one another on papyrus paper.
Later, around 1400, the Europeans exchanged notes by hand delivering them to friends and family. In 1856, a German immigrant brought greeting cards and thank you notes to America. (MTM Recognition)
Handwritten letters continue on as an important part of our culture, just as they were in these early times.
Science also tells us that expressing gratitude can…
improve relationships and strengthen new friendships
benefit self-esteem
improve your overall physical and psychological health (Psychology Today)
The more we practice gratitude, the easier it is. And the more we do it.
Finally, writing thank you notes shows the writer to be a thoughtful and appreciative person. Something we ALL want to teach to our kids.
This post contains affiliate links, and we may earn a commission at no cost to you. See our disclaimer for more.
What to say in a birthday thank you note?
When someone goes out of their way to celebrate your kiddo with birthday wishes or a gift, it's time to get the pen and paper out. But we can make it simple.
According to an Emily Post article, there are two main reasons we have stopped writing as many thank you notes.
1) We don't have the materials we need.
2) We don't have enough time.
Luckily, these thank you birthday printables solve both problems! The free printables give you two options to choose from, depending on your child's writing level.
On the first printable, your child will fill in the blanks of the attendee's name and the gift they received. Then they will circle a word that described the gift/party. Lastly, they will circle an emoji for how they felt and sign their name.
The second printable is lined for your child to create their own note.
How does my child write a birthday party thank you message?
We want our kids to willingly participate as well as recognize the value of the process.
*Bonus, they get to practice writing in a meaningful way. And writing can be tricky for younger kids.
1. Start with a greeting.
2. Express gratitude and be specific.
You can thank the attendee for coming to the party.
If you received a gift, mention the gift given and how much you liked it. What was the gift? What do you like about it? What do you plan to do with it? How did you feel when you opened it? Why was it a good choice for you?
*Writing Tip: Here are a few words for kids to describe gifts: awesome, fun, interesting, perfect, useful, cool, super, cute, creative, fabulous, unique, amazing, great, surprising
3. Mention what a great time you had at the party.
Mention something specific you enjoyed about the party (i.e. the cake or the activities and games at the party).
Was it a surprise? Had you been looking forward to it for a long time? Did you love the place you threw the party at? Does it have special meaning for you?
*Writing Tip: Here are a few words for kids to describe how they felt: surprised, happy, joyful, shocked, glad, delighted, fortunate, grateful, thankful, jolly, ecstatic, elated, exuberant, amazed
4. Add a personal comment.
Get creative! More advanced writers could add another memory from the event or a personal comment.
Will you see the attendee again soon? Did you do something specific at the party with that person? Do you have specific plans on using the gift you received?
5. Sign and send
Add a closing and have your child sign his/her name. Help him mail or hand deliver his thank you note.
Simple Example Messages
Use the examples below to get started.
More Complex Example Messages
Thank you for coming to my birthday party! Having so many friends together was so fun. Thank you also for the stuffed animal. It will be a great addition to my collection. I felt really happy that I was able to spend time with you.
I am thankful that you were able to come to my birthday party. The party was exciting and I had a great time. I hope you did too. Thank you for the gift card. I will let you know what I decide to get. It's fun being able to choose! See you soon!
Thanks for coming to my birthday party! It was fun turning 10 and celebrating with everyone. My favorite part was eating the cake and blowing out all those candles! I also enjoyed the book set you gave me. I am excited to start reading them this summer!
Thank you for celebrating my birthday with me! Wasn't the rock wall place so awesome? You did a really good job for your first time climbing. Thank you for the new soccer ball. The soccer season starts in a few weeks, so it will come in handy! See you at school!
How do I get the free thank you for coming to my birthday party printable?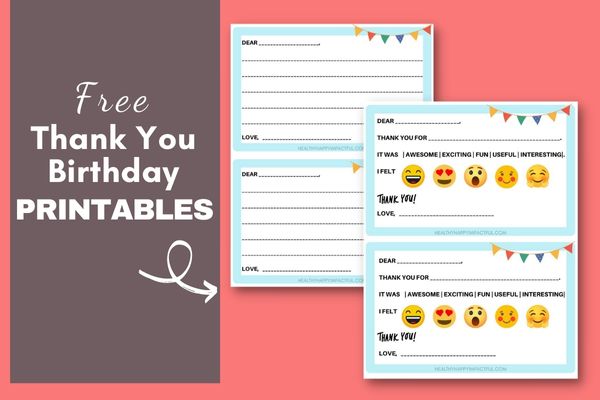 Grab the free printables here!
Simply download, print, write, and send!
And Don't Miss These Other Great Birthday Printables Too: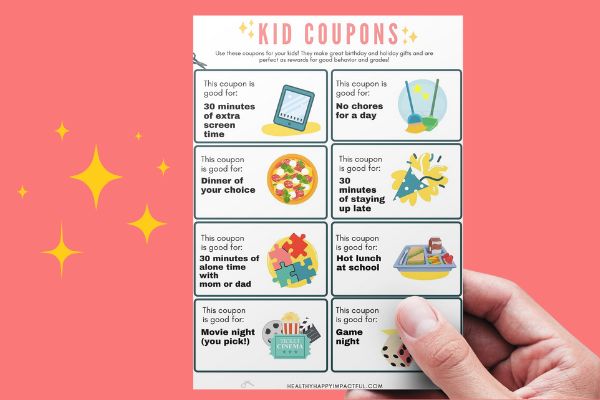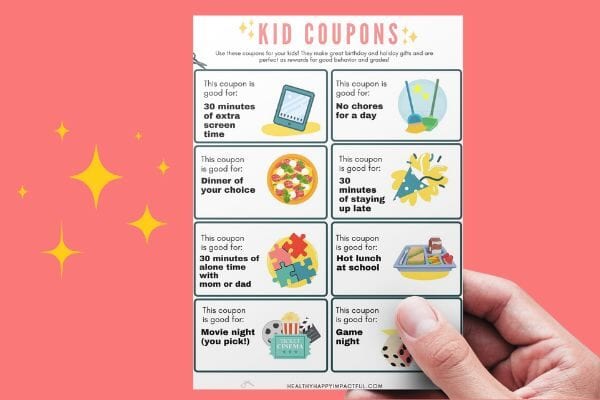 Free Birthday Letter Printable + What to Write to Your Child!
Free Kids Coupons (They make a fabulous birthday gift!)
Free Birthday Interview For Kids Printable
To Consider With Birthday Thank You Notes
I have a friend who writes me simple, but lovely thank you notes often. It's thoughtful and touching that she takes the time to do that.
Our daily lives are filled with texts, emails, instant messaging, and social media. We operate with quick and easy communication. But let's also continue to teach and guide our kids to carry on this time-honored tradition of gratitude.
Start with birthday thank you notes and use the free printables to get started.
Sources
More posts you'll love…
Birthday Party Thank You Note Printable