225 Epic Thankful Thursday Quotes, Blessings, & Ideas (2023)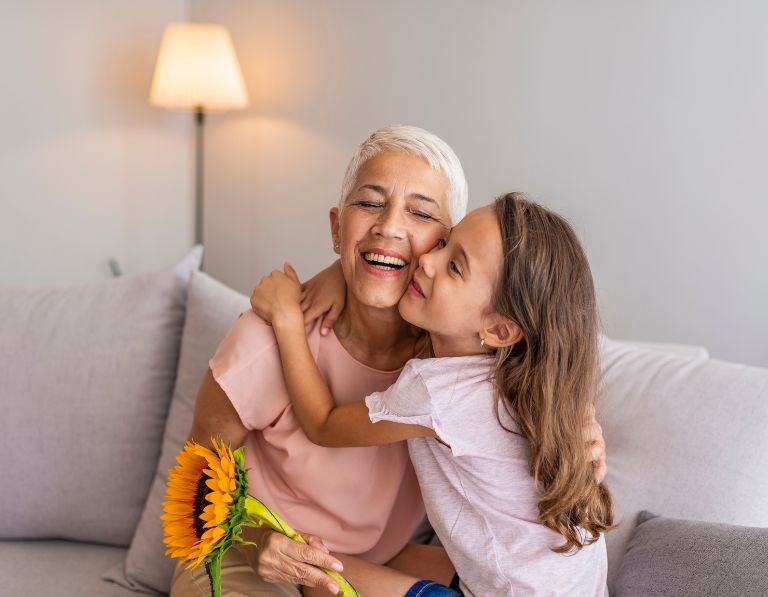 Ideas for Thankful Thursday That Make You Feel Amazing
We live in volatile times. Even worse, the news and social media make us feel like the sky is falling down on us daily. So, it can be easy to forget the good that shows up in our lives.
That's why today we're exploring how to brighten your world without escaping to a faraway island or eating a bucket of ice cream. Through Thankful Thursday quotes, images, and practices!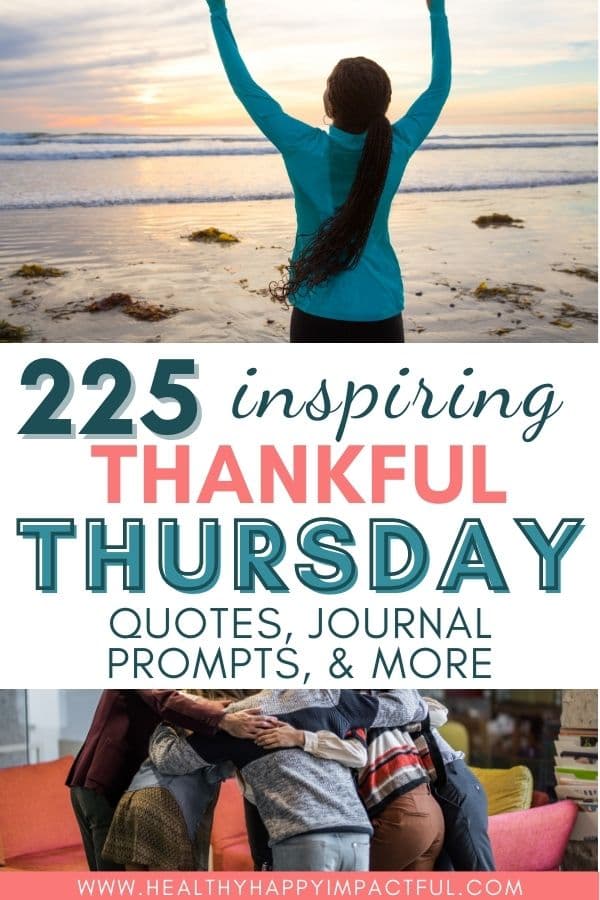 What is Thankful Thursday?
First, Thankful Thursday is a time that you set aside weekly (every Thursday) to remember your blessings.
You can do this in your journaling, at dinner with your family, or in the classroom.
My daughter's teacher gave us a beautiful example for school. She had her students practice writing about another person during a regular Thankful Thursday. My daughter came home smiling every time. It was the sweetest gift.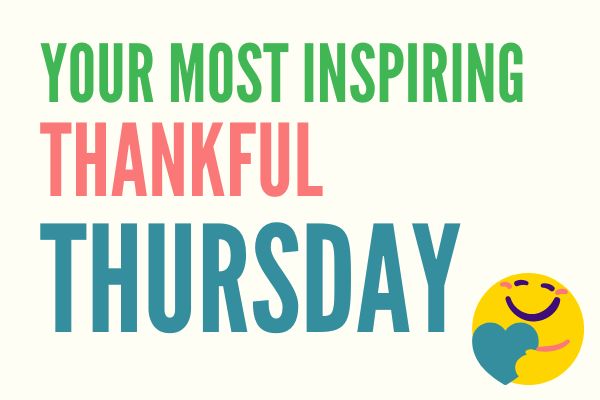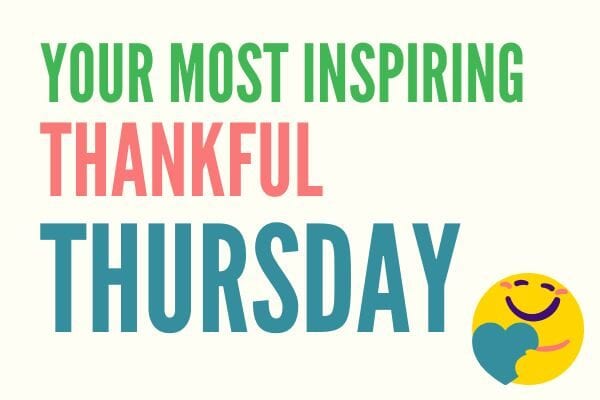 Why Should You Try it?
Gratitude is a POWERHOUSE for feeling happier and more peaceful.
And we know we should be more grateful. Unfortunately, remembering it in the midst of our busy lives is difficult. That's where Thankful Thursday comes in.
It's a once-a-week practice that helps you feel happier all week long.
What Should I Do For Thankful Thursday?
Thankful Thursday can be more than counting your blessings. Below you'll find quotes, affirmations, actions, journal prompts, and more that give you different ways to expand your joy.
50 Inspiring Thankful Thursday Quotes
First, there's nothing like an uplifting Thankful Thursday quote to make you feel inspired. Dig into these, and enjoy the mood boost!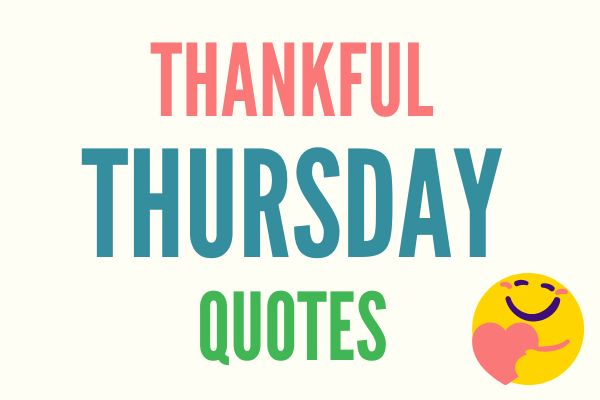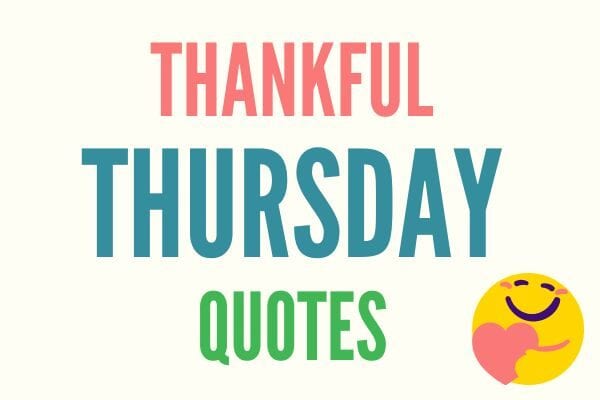 1. "Being thankful is not always experienced as a natural state of existence, we must work at it, akin to a type of strength training for the heart." – Larissa Gomez
2."Not what we say about our blessings, but how we use them, is the true measure of our thanksgiving."— W.T. Purkiser
4."Let us rise up and be thankful, for if we didn't learn a lot today, at least we learned a little, and if we didn't learn a little, at least we didn't get sick, and if we got sick, at least we didn't die; so, let us all be thankful."— Buddha
5."Strive to find things to be thankful for, and just look for the good in who you are." —Bethany Hamilton
6."Thankfulness is the beginning of gratitude. Gratitude is the completion of thankfulness. Thankfulness may consist merely of words. Gratitude is shown in acts." —Henri Frederic Amiel
8."Learn to be thankful for what you already have, while you pursue all that you want." —Jim Rohn
9."Be thankful for what you have; you'll end up having more. If you concentrate on what you don't have, you will never, ever have enough." —Oprah Winfrey
10. "Sometimes the little things in life mean the most." – Ellen Hopkins
11."For my part, I am almost contented just now, and very thankful. Gratitude is a divine emotion: it fills the heart, but not to bursting; it warms it, but not to fever." —Charlotte Brontë
12."'Thank you' is the best prayer that anyone could say. I say that one a lot. Thank you expresses extreme gratitude, humility, understanding."— Alice Walker
13."It's up to us to choose contentment and thankfulness now—and to stop imagining that we have to have everything perfect before we'll be happy." – Joanna Gaines
14. "I would maintain that thanks are the highest form of thought; and that gratitude is happiness doubled by wonder." G.K. Chesterton
15."In everyone's life, at some time, our inner fire goes out. It is then burst into flame by an encounter with another human being. We should all be thankful for those people who rekindle the inner spirit." —Albert Schweitzer
17. "No duty is more urgent than that of returning thanks."— James Allen
18."If a fellow isn't thankful for what he's got, he isn't likely to be thankful for what he's going to get."— Frank A. Clark
19."I have a lot to be thankful for. I am healthy, happy and I am loved." – Reba McEntire
20."The heart that gives thanks is a happy one, for we cannot feel thankful and unhappy at the same time." – Douglas Wood
22."The thankful heart will find, in every hour, some heavenly blessings." – Henry Ward Beecher
23. "If the only prayer you ever say in your entire life is thank you, it will be enough." – Meister Eckhart
24. "Some people are always grumbling because roses have thorns; I am thankful that thorns have roses." – Alphonse Karr
25. "No duty is more urgent than that of returning thanks." – James Allen
26. "Thankfulness is the quickest path to joy." – Jefferson Bethke
27. "We would worry less if we praised more. Thanksgiving is the enemy of discontent and dissatisfaction." -H.A. Ironside
29. "Be thankful for everything that happens in your life; it's all an experience." – Roy T. Bennett
30. "I'm thankful for my struggle because without it I wouldn't have stumbled across my strength." – anonymous
31. "For the yesterdays and today's, and the tomorrows I can hardly wait for – Thank you." – Cecelia Ahern
33. "There is something that happens when you are grateful: You continue to keep receiving blessings. So I will always be grateful." — Chrissy Metz
34. "Don't let the sun go down without saying thank you to someone, and without admitting to yourself that absolutely no one gets this far alone." – Stephen King
35. "Be present in all things and thankful for all things." – Maya Angelou
37. "There's no happier person than a truly thankful, content person." – Joyce Meyer
38. "If you want to turn your life around, try thankfulness. It will change your life mightily." – Gerald Good
39. "When it comes to life the critical thing is whether you take things for granted or take them with gratitude." – Gilbert K. Chesterton
40. "Keep your eyes open to your mercies. The man who forgets to be thankful has fallen asleep in life." – Robert Louis Stevenson
41. "Make it a habit to tell people thank you. To express your appreciation, sincerely and without the expectation of anything in return. Truly appreciate those around you, and you'll soon find many others around you. Truly appreciate life, and you'll find that you have more of it." – Ralph Marston
42. "When you rise in the morning, give thanks for the light, for your life, for your strength. Give thanks for your food and for the joy of living. If you see no reason to give thanks, the fault lies in yourself." – Tecumseh
44. "I never met a bitter person who was thankful. Or a thankful person who was bitter." – Nick Vujicic
45. "I may not be where I want to be but I'm thankful for not being where I used to be." -Habeeb Akande
47. "At times our own light goes out and is rekindled by a spark from another person. Each of us has cause to think with deep gratitude of those who have lighted the flame within us." -Albert Schweitzer
48. "The heart that gives thanks is a happy one, for we cannot feel thankful and unhappy at the same time." – Douglas Wood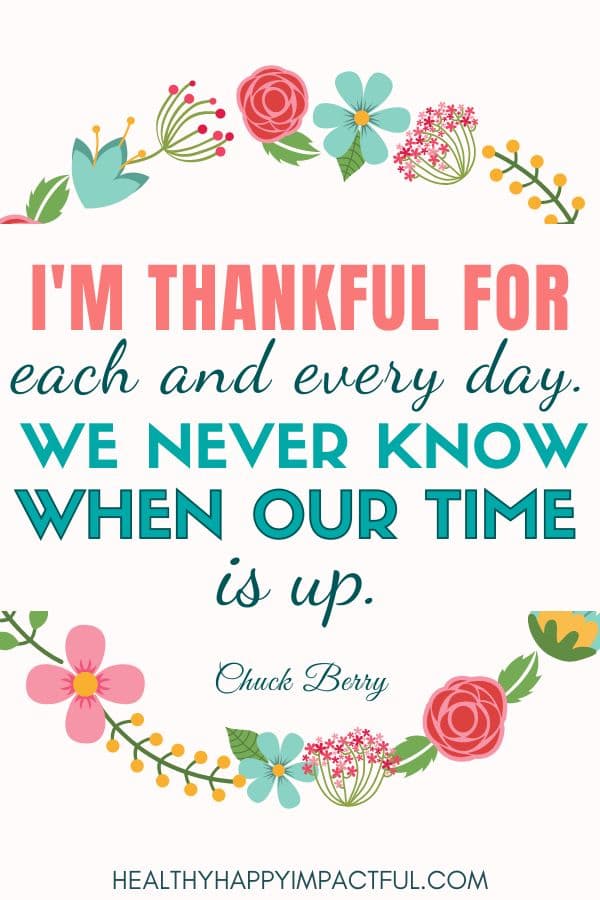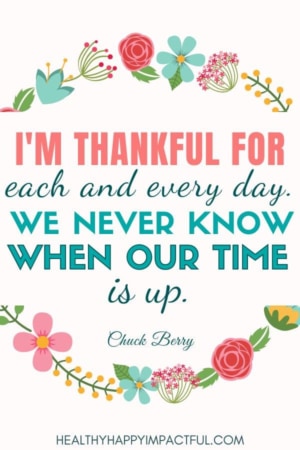 49. "I'm thankful for each and every day. We never know when time is up." – Chuck Berry
50. "Enjoy the little things, for one day you may look back and realize they were the big things." – Robert Brault
Related Post: Best Grateful for Life Quotes
50 Blessings List for Thankful Thursdays
Next, take a few minutes out of your day to notice your blessings. It's a huge happiness booster and a reminder that your life is one amazing work of art.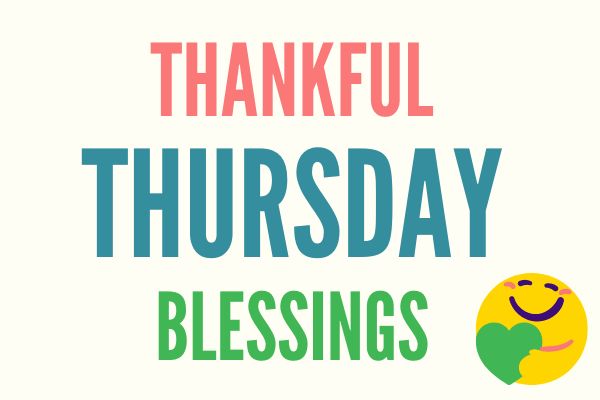 1. Family (No matter how dysfunctional, they will always be yours)
2. Friends (The people you choose to love)
3. Furry friends/pets
4. Kids/Grandkids
5. Partner
6. A home to live in
7. Food on the table
8. Access to good healthcare
9. A job that adds meaning to your life
10. The town or city you live in
8. Support from organizations and groups you're a part of (church, school, etc.)
9. Trips and vacations
10. Great coffee
11. A washer and dryer
12. A dishwasher
13. Warm showers
14. Moonlight
15. Sunshine
16. Exercise (and that feeling you get after your workout)
17. Creative outlets and fun hobbies
18. Hugs and kisses
19. The first step in doing something you know you've needed to do. (Get rid of a toxic relationship, take better care of your health, etc.)
20. The air we breathe
21. Heating in the winter
22. Air conditioning in the summer
23. Running water
24. Electricity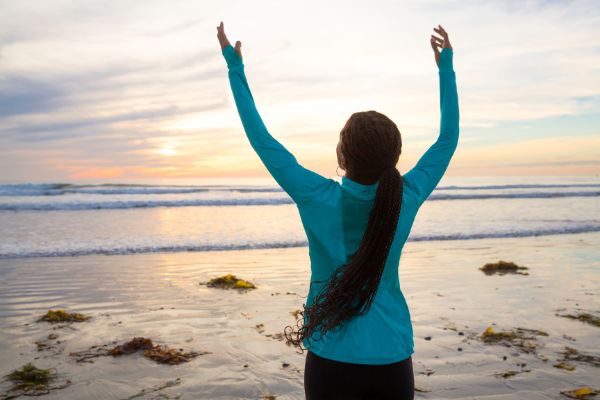 25. Clothes to wear
26. Your own growth. You are not the same person you were 10 years ago.
27. Naps
28. Porch swings
29. Finding a creative solution to a problem – and it works!
30. Finding inspiration in an unlikely source
31. Wine with friends
32. The look on your child's face when they are proud of something they've done
33. Making someone laugh
34. Good books
35. A cool breeze on a warm day
36. Sweet memories
37. Inside jokes (the ones that make you laugh years later)
38. A peaceful night's sleep
39. Music
40. Flowers
41. Walking on the grass barefoot
42. A comfortable, warm bed
43. Watching something grow
44. Eyesight
45. Hearing
46. Taste buds
47. A fresh, warm pastry out of the oven (warm cookies out of the oven too!)
48. Home-cooked meals from your childhood
49. Living in a country where you can celebrate your beliefs
50. Going through a struggle with someone and coming out stronger
Need more ideas? Check out the best gratitude list of things to be thankful for.
50 Ideas for Things to Do on Thankful Thursday
These things to do take your thankfulness to the next level. And deliver the best warm fuzzies.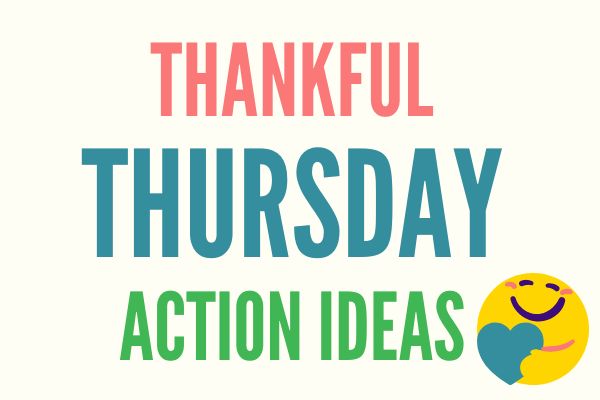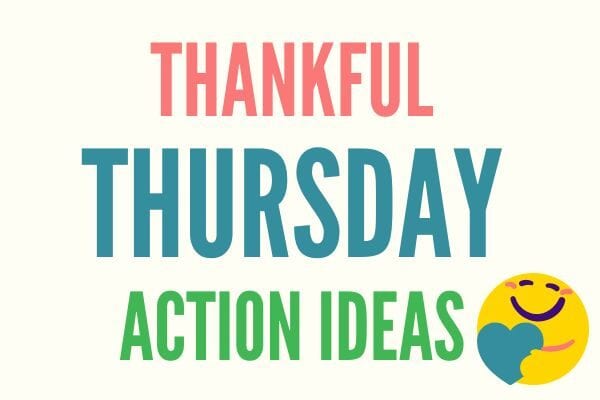 Thankful Thursday Ideas At Home
1. Thank a friend for the support that they offered recently.
2. Bake a treat and give some to others.
3. Tell your body "thank you" (and be specific about what for).
4. Write a gratitude list of blessings.
5. Write a great review for a product you love.
6. Write a great review for your favorite book.
7. Send a thank you to someone who inspired you.
8. Write down a memory you are thankful for.
9. Share three things you are thankful for at dinner.
10. Spend a moment looking at an old photo you are thankful for.
11. Do the gratitude scavenger hunt with your kids.
12. Write down three good things that happened this week.
13. Declutter, say thank you to the items, and then donate them.
14. Cook a meal for someone who usually supports you.
15. Say a prayer of thanks before a meal today.
16. Write about something that made you smile today.
17. Take a photo of something you are grateful for today.
18. Do the gratitude conversation cards with family.
19. Start a gratitude journal.
20. Try a gratitude meditation.
21. Write a love letter.
22. Say thank you for something specific. ("I noticed you….and I really appreciate it!")
23. Thank your mom.
24. Thank your dad.
25. Thank your grandparents…kids, etc.
26. Write down and put up three gratitude quotes around your home.
27. Remind yourself of what you've been through. And how far you've come.
28. Write yourself a thank you letter. (Thank your body, your mind, your strength)
29. Make a thankful tree with your family.
30. Start a gratitude jar.
31. Pay attention to your manners for a day.
32. Try a full 30 days of gratitude challenge with someone.
33. Read kids books about gratitude.
For more, see these easy activities to teach gratitude with kids.
Happy Thankful Thursday at Work Activities
If you express appreciation to the people you work with, you'll create a work environment that thrives. Not only does this benefit the work as a whole, but you're building a supportive team that has your back too.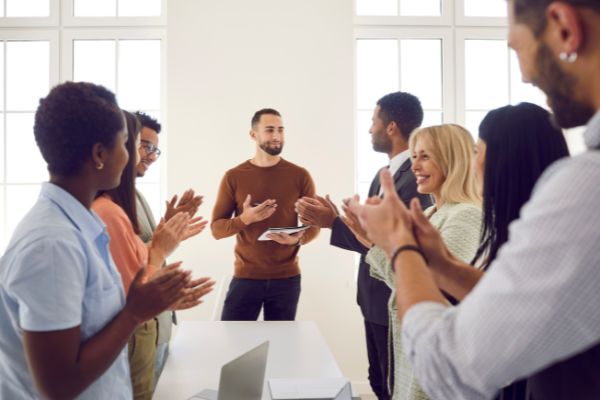 34. Send a thank you card to a coworker.
35. Do a random act of kindness.
36. Drop off a thank you gift to someone who helped you at work.
37. Bring treats to share with the office.
38. Send a thank you to a mentor or someone who has modeled the right path for you.
39. Send an email to someone who did a great job.
40. Write down a strength you have in your job – and why you are grateful for it.
41. Give a gift card for employees to get Grub Hub during a virtual meeting.
42. Give out fun awards to your employees. "Most organized"
43. Donate to a charity that your coworker or employee picks.
44. Put together something fun for people to do. A board game during lunch break or happy hour after work.
45. Remember your manners.
46. Celebrate with others. Recognize when your coworker had a small win or a big victory.
47. Say "Happy Birthday." By recognizing their birthday, you are telling them that you "see" them and that they are a part of the team.
48. Say something great about another person publicly – at a meeting, in front of another coworker, or on social media. Or put your staff on your website.
49. Write down something you're grateful for about work that has nothing to do with money.
50. Take someone out to lunch. Listen to their opinions and let them know you hear them.
For fun gratitude ideas in a school setting, see this article >>
25 Journal Prompts & Thankful Thursday Questions
Next, pull out an empty notebook and get writing! These prompts will help you think about your life in new, profound ways.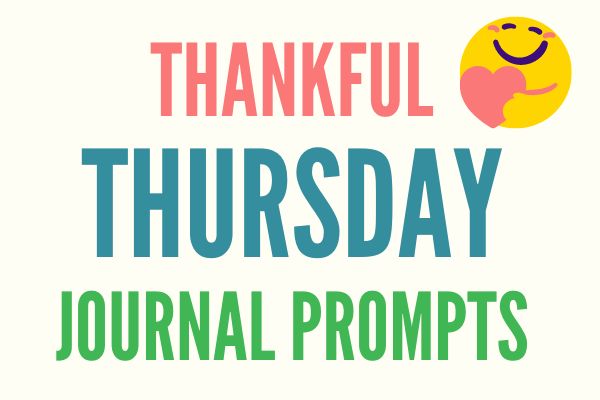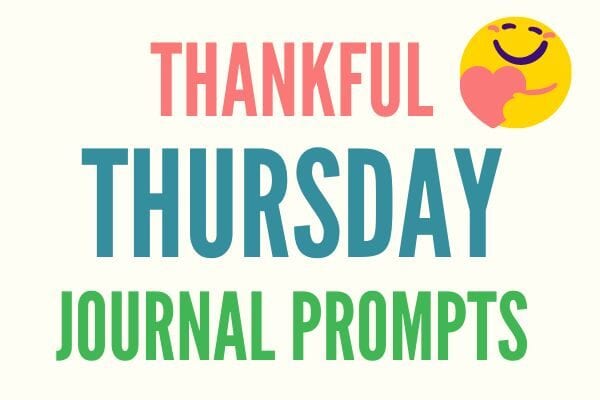 1. Name a friend or family member you are grateful for. Why?
2. What is a hardship you experienced that had a silver lining?
3. Where is your favorite place in the entire world? Why?
4. What positive memory happened in the last week that you are thankful for?
5. Where is your favorite place to go on vacation?
6. What discovery have you made in the last year that you are thankful for?
7. Describe something positive about your day today.
8. Describe a gift or help someone gave you recently.
9. Write about 5 things in your home that bring you incredible joy.
10. Write 5 things about your job that bring you joy.
11. Write 5 things about your family that bring you joy.
12. What's a guilty pleasure you are thankful for?
13. Describe something funny that you experienced or watched recently. Why did it make you laugh?
14. What activities in your day are your thankful for?
15. Describe the last time you helped someone and how it felt.
16. What has been the best thing about being the age that you are?
17. Name a person you are thankful for that shaped who you are today.
18. Describe something in the room with you now that you cherish.
19. Describe the last time you felt proud of yourself
20. What part of your body are you most thankful for right now?
21. Describe a hobby that brings you joy?
22. What is one of your favorite personal qualities?
23. What is something in nature that you appreciated recently?
24. What do you cherish about your children?
25. Describe the last time you felt inspired.
See more amazing thankfulness journal prompts >>
25 Positive Thankful Affirmations
In life, there are times when it feels hard to be grateful. No worries, because you can use affirmations to help train your brain.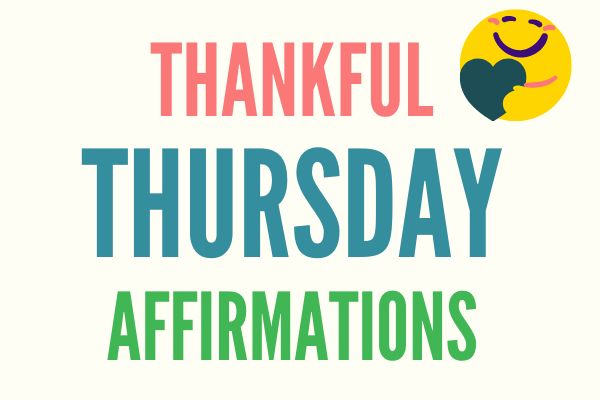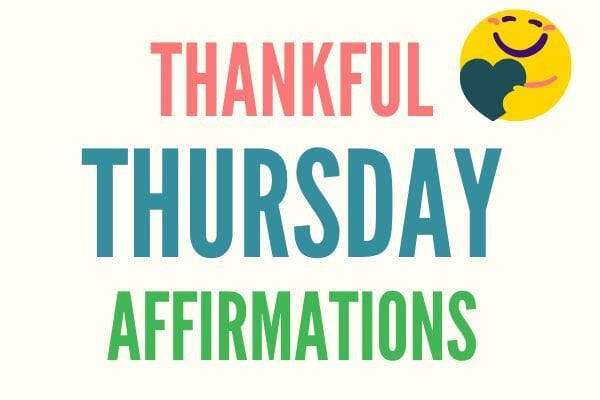 Say these to yourself in front of a mirror or in the shower and you'll start to notice more of the good around you.
1. I savor the sweet moments I have experienced today.
2. I can appreciate the good in everyone.
3. I look for things to be thankful for every day.
4. I am thankful for the energy I feel this morning. (Or the energy that got me through the day)
5. Today is a grand opportunity to live a creative, happy, and inspired life. I'm thankful for it.
6. I am thankful for all those who love and uplift me.
7. I am thankful for my resiliency and strength. I will overcome adversity.
8. I am grateful for the opportunities I have been given today.
9. I am thankful for the ability to grow in whatever way I choose today.
10. I am thankful for mistakes I've made that have helped me grow.
11. I am grateful for the process, not just the destination.
12. I am grateful for friends that enrich my life with their support, kindness, and wisdom.
13. I am thankful for work (or a purpose) that fills my life with challenge, inspiration, creativity, and passion.
14. My family and friends support me, and I am thankful for their love.
15. I am thankful for the teachings of the day.
16. I am thankful for my mistakes, as they have helped me grow.
17. I am grateful for the progress I made today.
18. I appreciate what my mind and body have done for me today.
19. I am grateful I have the power to make a change when I need to.
20. I am thankful for the opportunity to contribute to work greater than myself today.
21. I am thankful for my gratitude practice. It reminds me that life is good, and I am blessed.
22. I allow myself to appreciate the abundance that comes my way today.
23. Everything I need is already inside of me. I acknowledge and appreciate my power.
24. I am thankful for the moments of peace and happiness in the day.
25. I am honored that I get to ___________. (Practice saying I get to instead I have to)
See more powerful affirmations for gratitude >>
25 Thankful Thursday Conversation Starters
Pull these Thankful Thursday questions out at dinner, during a party, or anytime to help everyone feel more blessed and joyous.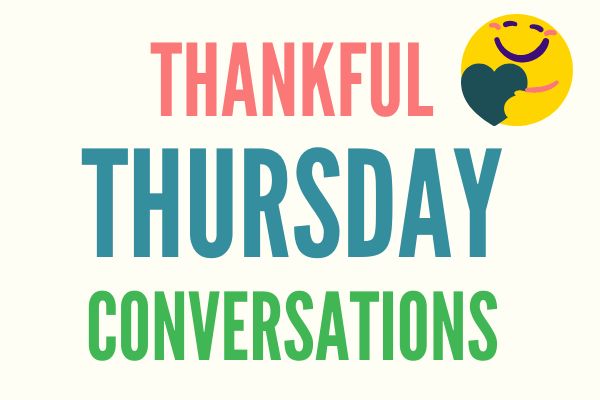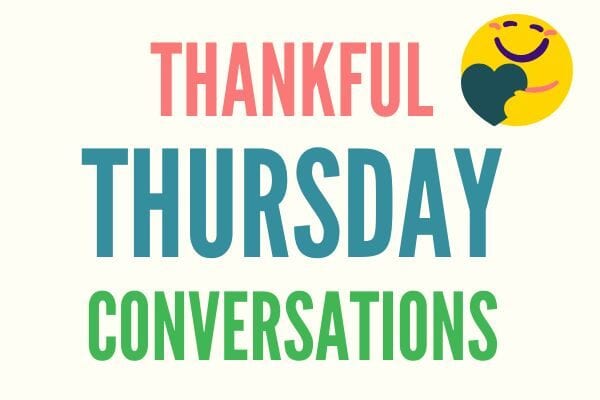 1. What are the top 5 things you are most grateful for?
2. What is something you are grateful for about your family?
3. What do you love about your neighborhood?
4. What is one great change you're grateful you've made recently?
5. What are you glad you are able to use every day?
6. Who loves you and cares for you?
7. What body parts are you most grateful for?
8. What is something nice your _______ (parent, teacher, sibling) does?

9. What are you grateful for about the season you are in?
10. What simple blessings do you try not to take for granted?
11. What are you most grateful for in this room?
12. What is something you used today that makes your life easier?
13. What do you love about your family?
14. What happened today that made you smile?
15. What's the most delicious food you've eaten recently?
16. Which holiday do you love the most? Why?
17. What's your favorite thing about school or your job?
18. When was the last time you showed appreciation to your friends?
19. When was the last time you showed appreciation to someone in your family?
20. What's something good about the weather outside today?
21. What song makes you want to dance when you hear it?
22. What makes you feel happy?
23. How did you help someone today?
24. How did someone help you today?
25. What makes you feel better on a bad day?
Grab these thankful conversation starters in the resource library!
To Consider For Your Thankful Thursdays
That's a wrap! You can come back to this post over and over during your Thankful Thursdays to reboot and drown out negativity.
What do you prefer to do on your Thankful Thursday? Leave a comment below and let me know!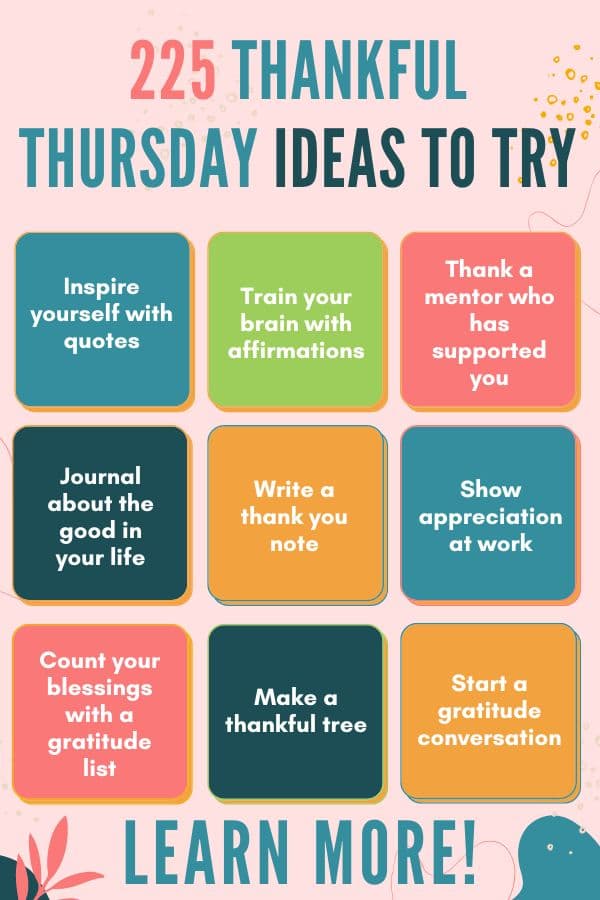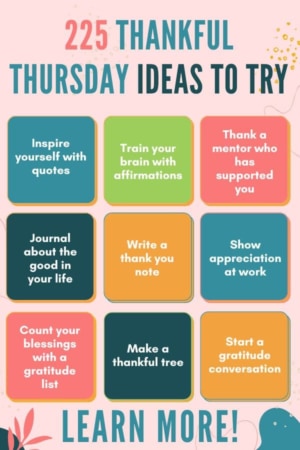 More fun gratitude posts you'll love…
Best Thankful Thursday Quotes, Images & More