115 Powerful Gratitude Affirmations for 2023 (+ More Essential Practices)
Appreciation Affirmations That Make You Feel Amazing
These powerful gratitude affirmations will help you feel blessed and joyful regardless of the situation.
Many of us struggle to remember life's goodness when we are thrown into a tough situation or busyness takes over our day. That's why these simple statements are an incredible solution!
Say them in the morning when you wake up, as you're taking an afternoon break, or at night before you fall asleep. Before you know it, you'll be noticing the small pleasures that bring true meaning to your day.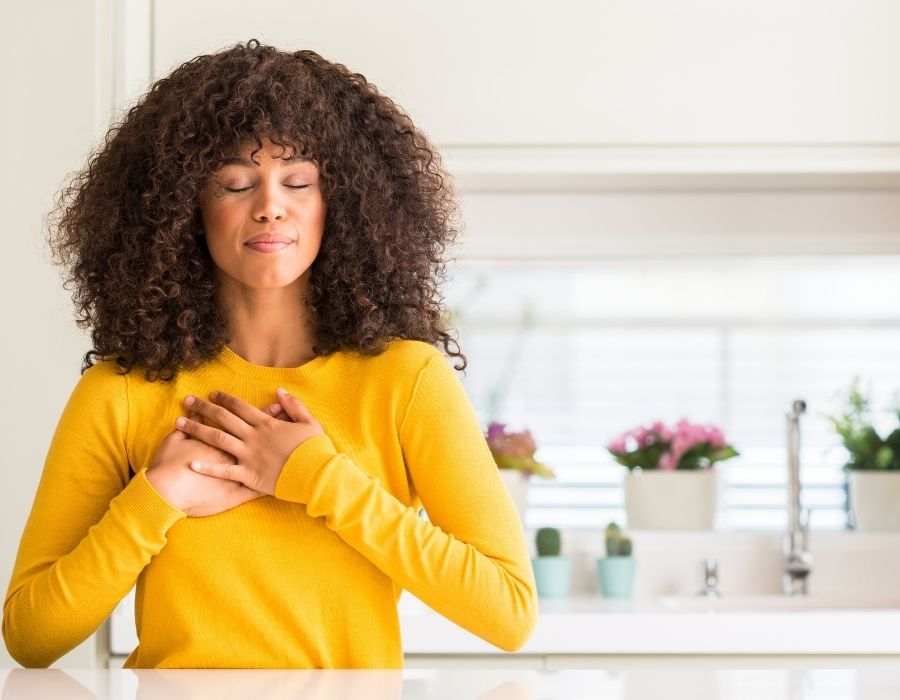 In this post, you will delve into the benefits of gratitude, find gratitude affirmation examples, and explore other types of practices to bring on the blessings.
The Benefits of Having a Grateful Heart
Study after study has shown us that gratitude is a bridge to greater happiness. Gratitude helps you feel stronger positive emotions, improve your health, handle adversity, enjoy your life experiences, and build better relationships (source).
Pretty amazing, right?!
The Law of Attraction & How it Works
Now, by using affirmations, you are also putting the law of attraction at work. This law isn't the voodoo magic that some make it out to be. It's simply the principle that what you focus on tends to come true. (A proven law of life)
In this case, if you focus on what you are blessed with, you'll start to see more blessings around you.
So, why not USE your thoughts and words to shape your future? Instead of letting life shape you!
115 Mighty Gratitude Affirmations
Next, use these statements "as is," or adjust them to fit your life. Then, enjoy the feeling of calm and peace coming your way.
Grateful Affirmations for Morning
1. I understand that today is a gift, and I will live it in this gratitude.
2. I am thankful for the ability to grow in whatever way I choose today.
3. I have food, water, and security as I wake up today. These are wonderful blessings to have.
4. My family and friends support me, and I am grateful for their love.
5. My coffee (or tea) reminds me that it can be the small things that create the most joy.
6. I recognize the beauty of the outside sunrise, and nature as it wakes for the day.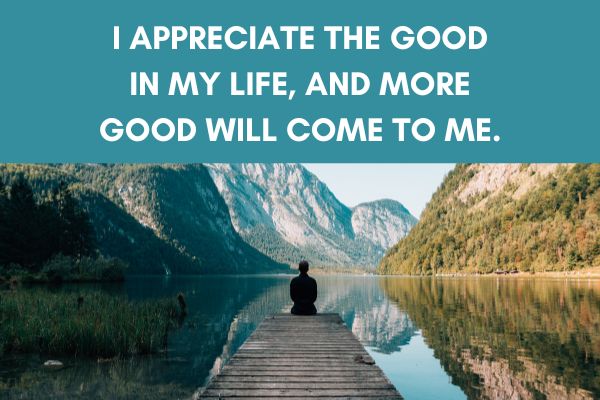 7. I appreciate the good in my life, and more good will come to me.
8. I realize that today is a grand opportunity to live a creative, happy, and inspired life. I'm thankful for it.
9. I allow myself to appreciate the prosperity and abundance that comes my way today.
10. I see this day as an opportunity to show appreciation for all that I've been given.
11. I look for things to be thankful for every day.
12. I am thankful for the energy I feel this morning.
13. I appreciate others for who they are.
See more morning ideas at:
Glorious Night Gratitude Affirmations
14. I am thankful for the teachings of the day.
15. I revel in the sweet moments with loved ones that came from this day.
16. I am grateful for the opportunity to be helpful to someone today.
17. I honor the effort I put into today and am grateful for my progress.
18. I recognize that there is a silver lining in every tough experience.
19. I am thankful for the moments of peace and happiness in the day.
20. I appreciate the simple, small pleasures that made my day beautiful.
21. I am blessed to feel safe and secure as I prepare to sleep.
22. I received many gifts from life today.
23. I recognize that everything may not have gone as planned today, but there was still plenty of good in the day.
24. I listened to my heart today, and for that I am grateful.
25. I affirm that I can find the good in anyone and anything. I let go of any hurts.
26. My pillow reminds me that as another day ends, I'm grateful to have spent it with those I love.
Related Posts:
Great Gratitude Affirmations for Self Love
27. I appreciate what my body and mind have done for me all the days of my life.
28. My self-care makes me a better, happier person. I'm glad I treat myself as someone who is loved deeply.
29. I see the efforts I take to give my body and mind the excellent care they deserve.
30. I am thankful for my mistakes, as they have helped me grow.
31. My skills and talents are strong, and I appreciate them.
32. I appreciate the positive thoughts that enter my mind – and guide my actions.
33. I recognize that I am unique. I am grateful to be different and special.
34. Everything I need is already inside of me. I acknowledge my power.
35. I'm growing in abundance and love every day.
36. I acknowledge my choice to see the light in my life.
37. I am thankful for my resiliency and strength. I know that I can overcome any adversity.
38. I realize that I have no limits, and I appreciate the opportunities that come my way.
See here for amazing self-love affirmations too >>
I Am Grateful Affirmations
39. I am grateful that I can be myself.
40. I am grateful for all those who love and uplift me.
41. I am grateful to my partner, for showing me what deep, mutual love can do.
42. I am grateful for my kids, for teaching me to be playful, patient, and kind.
43. I am grateful for friends that enrich my life with their support, kindness, and wisdom.
44. I am grateful for the process, not just the destination.
45. I am grateful I have the power to make my dreams come true.
46. I am grateful I have the power to make a change when I need to.
47. I am grateful to my teachers, for guiding and inspiring me.
48. I am grateful for my time in nature, and the healing it does for me.
49. I am grateful for work (or a purpose) that fills my life with challenge, inspiration, creativity, and passion.
50. I am grateful for my gratitude practice. It reminds me that life is good, and I am blessed.
For more, see this list of daily things to be grateful in life (I dare you not to feel blessed after reading it!)
Short Gratitude Affirmations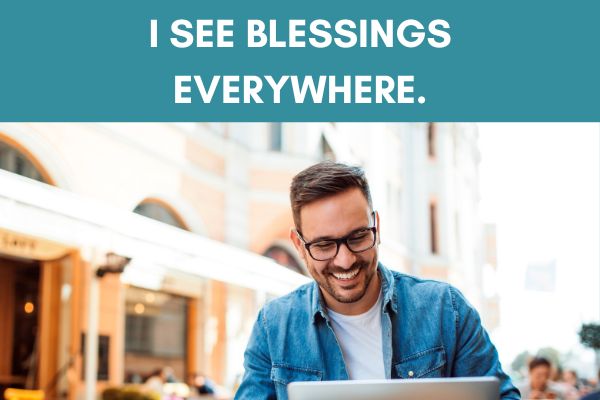 51. I see blessings everywhere.
52. Abundance is a state of mind.
53. I am grateful for this breath.
54. I am thankful to receive the care and love I need.
55. My heart is open to the good coming my way.
56. Gratitude is a daily practice.
57. I am the master of my fate.
58. I lead with gratitude.
59. I am open to all of life's blessings today.
60. Today, I will see opportunities I haven't seen before.
61. I am creating a life that feels good.
62. I am finding the balance between drive and peace.
63. I am a grateful person.
64. I see the glass as half full.
65. I am right where I need to be in my life.
66. Every day, I take a moment to acknowledge the good around me.
67. Happiness begins in my mind.
68. I find good in this moment.
69. I am aligning my daily world to my values.
70. Today, I choose to be grateful.
71. I forgive myself.
72. I accept my emotions: the good and bad.
73. I trust myself. And am grateful for that ability.
74. Gratitude changes my focus.
75. As I see more blessings, more blessings will come.
Gratitude Affirmations for Success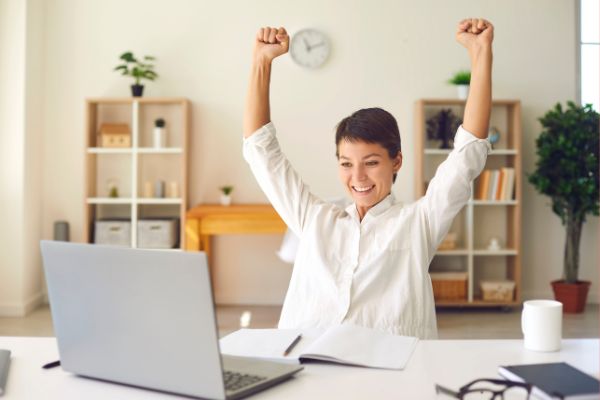 76. I am so happy that I am the creator of my future.
77. I put my energy into gratitude and love.
78. I am grateful for each day I can make a positive contribution.
79. I choose to be grateful (just as I choose to be happy).
80. I am grateful for the opportunity to grow today.
81. I am blessed to be able to contribute to my purpose.
82. Every day I plant a new seed for the future.
83. With each focused thought, I become more open to the goodness of life.
84. I am blessed with prosperity and abundance.
85. I am grateful for the challenges that today brings. They make me stronger.
86. I accept the creative energy that flows through me, allowing success to come my way.
87. I give myself permission to pause and feel abundant.
88. I allow abundance to flow to me, and I'm grateful for its presence in my life.
89. I am grateful for the dreams that fuel me.
90. Every situation in life has a purpose.
91. I may not be able to control the outside world, but I can always work on my inner peace.
92. I am thankful for my past, and the part it plays in my future success.
93. I see problems as solutions waiting to happen.
94. I appreciate every small step I took towards success today.
Gratitude Affirmations for Family
95. I express deep appreciation for those that love me today.
96. I am grateful for the people who love me for who I am.
97. I am thankful for my ancestors, and the path they have forged.
98. I appreciate what my partner does for me every day.
99. I'm so blessed to have the family that I have.
100. I am honored to be the mother (father/etc.) of my children.
101. My life is full of connection and laughter.
102. I am grateful to the Universe, for giving me the people I need in my life.
203. Everyone has a lesson to teach. I'm eager to learn.
104. I live in state of gratitude. I'm thankful for those I surround myself with.
105. I feel lucky to have such wonderful people in my life.
106. I am grateful for the people who brought me joy today.
107. I am thankful to everyone who has helped me get to where I am today.
108. I am honored to influence the lives of my family in a positive way.
109. I am grateful to have known what unconditional love is.
110. I am blessed to be able to ask and receive help from others.
111. I am grateful to be able to help those I love when I can.
112. Every kind word I say to those around me creates the relationships I long for.
113. I am a model of gratitude for my ___________ (children, partner, etc.)
114. Every hard moment with a loved one has its silver lining.
115. I am grateful for each and every moment with family I have today.
*See more affirmations for family and friends >>
Check out my 10 favorite affirmations for gratitude here:
More Fabulous Gratitude Practices to Try
If you are digging the way gratitude makes you feel, don't stop at affirmations! Here are other ways to count your blessing, and many of the following posts come with free printables for you too!
Gratitude Journaling
Starting a journal can change your life. Not only can you record your blessings every day, but you can use it to take notes, cleanse your emotions, and keep track of your goals.
To get specific with gratitude journaling, see these free prompts!
*And for self love and discovery journal prompts – see HERE >>
Blessings List Making
When was the last time you made a list of the wonderful things that encompass your life? You might be surprised to find that the things that bother you are actually incredible blessings.
Get started with your big list, by using these gratitude examples >>
Thankful Quotes
Next, we all need to feel inspired. If you read a gratitude quote or special saying every day, you are giving yourself gentle reminders to use your days as the gifts they are.
An Action Challenge
If you need a jumpstart, download this free challenge for 30 days of gratitude and spend a month getting a real sense of the wonderful things around you.
Related Post: Great Gratitude Ideas for Kids
Chain Gratitude
And finally, go deeper into your thankfulness with a gratitude sequence.
For example, as you sit down to eat your meal, silently express thanks to the cook, store cashier, store stocker, transporter, farmer, and factory. When you consider all of the things that happened to put this food in front of you, you'll discover an immense sense of gratefulness.
Aside from food, try it with:
Clothing you wear
Entertainment you watch
Books you read
The home you live in
The water you drink
It works for just about everything!
*See more specific ideas to skyrocket your joy by creating a Thankful Thursday practice here>>
To Consider With These Grateful Intentions
Need a little more guidance in your gratitude journey? Check out the digital self-care planner, a place to prioritize your wellness and gratitude goals – and make them HAPPEN!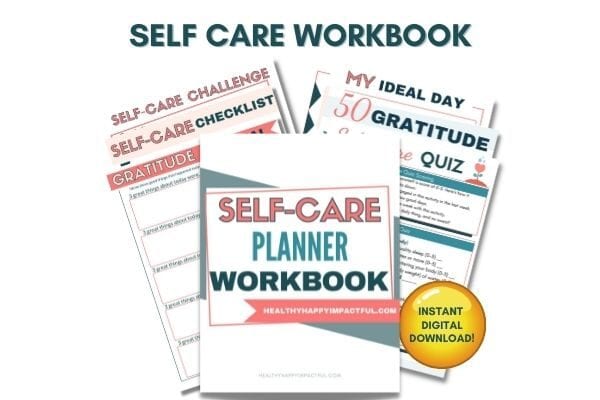 Finally, which gratitude affirmation is your favorite? Please share in the comments below!
Want to remember these affirmations?
Pin the post to your favorite board!
Other Helpful Wellness Resources on HHI…
Gratitude Affirmations for Love, Success, Peace, and Good Health