150 Simple Life Pleasures That Fill Your Day With Joy
Small Joys To Light Up Your Life
My father-in-law passed away recently, and we experienced a hard stretch at home. The days felt more like a slog than an opportunity to experience life.
A list of simple life pleasures helped me pull away.
Have you ever felt this too?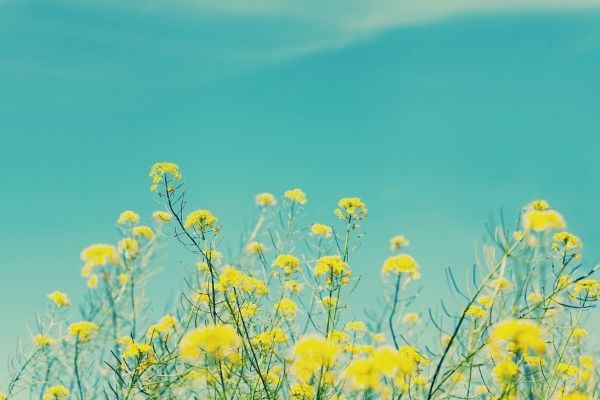 What can we be grateful for when life hits a low? Or even on our most ordinary day?
Simple Pleasures Meaning
First, what is a simple pleasure?
It's when you gain peace, satisfaction, or happiness from a small element in your life. Usually, simple pleasures come from everyday items or happenings. They're easy to overlook when you're not truly present.
What are examples of simple life pleasures?
The following is my list of simple joys, along with other amazing ideas. Many are cheap and are already in front of you.
Note: How would your list look different? I'd love to hear in the comments below!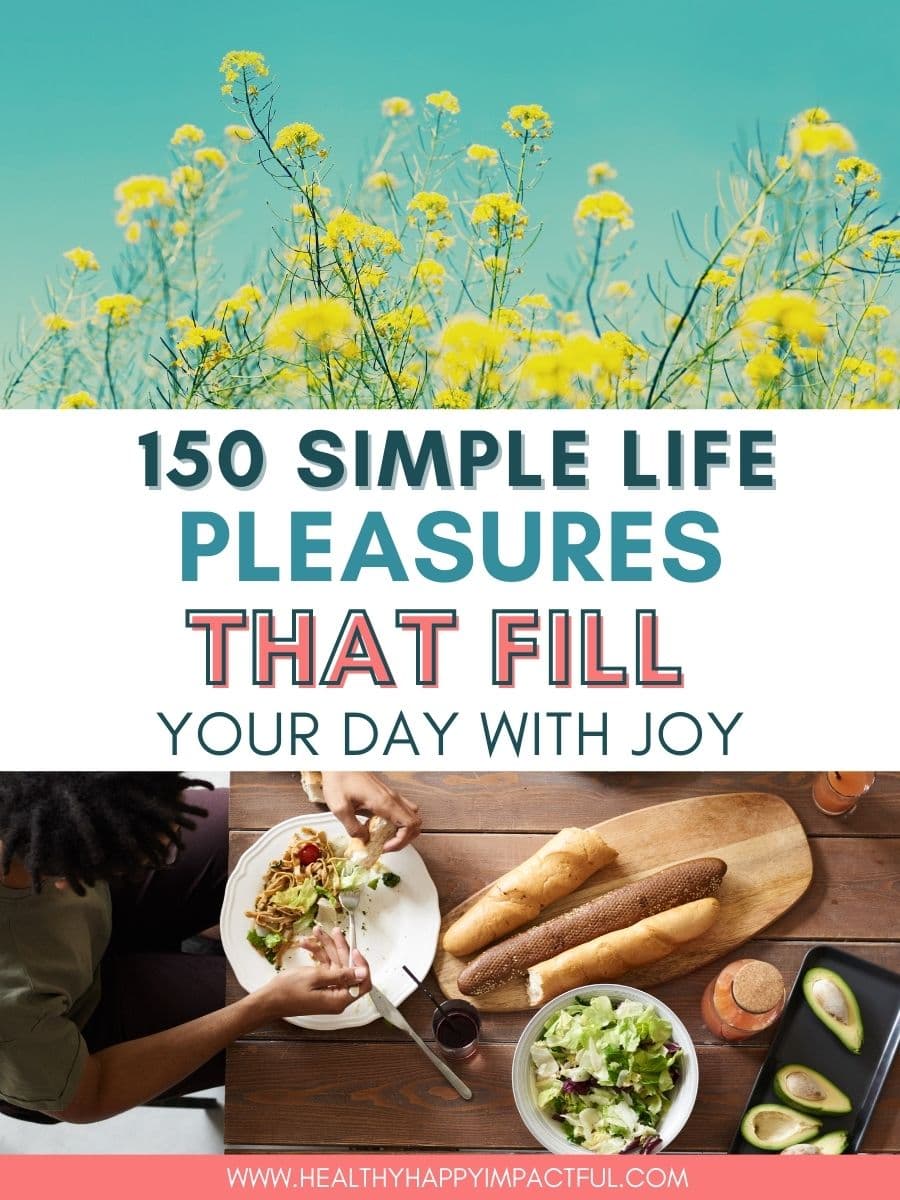 150 of the Best Pleasures in Life
Simple Life Pleasures and Joys Found With People
First, it's the people we love that bring us the most happiness. Do you find joy in these things too?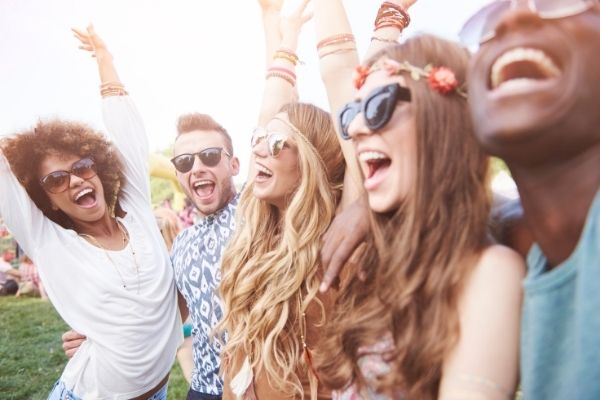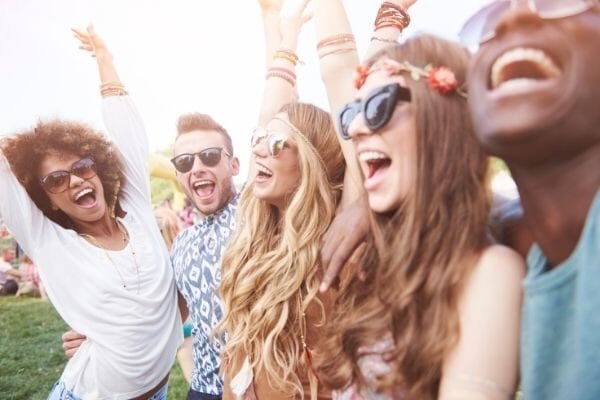 1. Toddler giggles – the sweetest sound I've ever heard.
2. A long insightful talk with a good friend
3. Hi-fiving someone in celebration
4. Walks with someone you love
5. A good bear hug
6. Getting lost in a tickle fight
7. Receiving an unexpected compliment
8. Snuggling in bed with a loved one
9. Catching your child being kind
10. When you get someone to smile (through a compliment, smile, joke, etc.)
11. The contagious excitement of kids opening gifts
12. Holding hands
13. Giving a child a special "love you" squeeze
14. Cuddling with a pet (dog kisses, cat purrs, etc.)
15. When a baby smiles up at you
16. Telling kids a story about your childhood
17. Your mom's voice when you need someone to listen
18. Lending a hand when someone needs it
19. Seeing old photos of your family and friends
20. Remembering a favorite childhood memory
21. A pillow fight
22. Bumping into someone you haven't seen in awhile
23. Uninterrupted time with your partner
24. Knowing a happy secret of someone
25. Toasting to family or friends
26. When your loved one says "I love you" out of the blue
27. Laughing out loud with your kids
28. Celebrating a birthday of someone you love
29. Watching your child turn a struggle into a success
30. Receiving an unpexpected gift
31. Having an intimate moment with your spouse
Related: Morning Quotes & Thoughts To Give You A Boost
Pleasures of Life Directly From Nature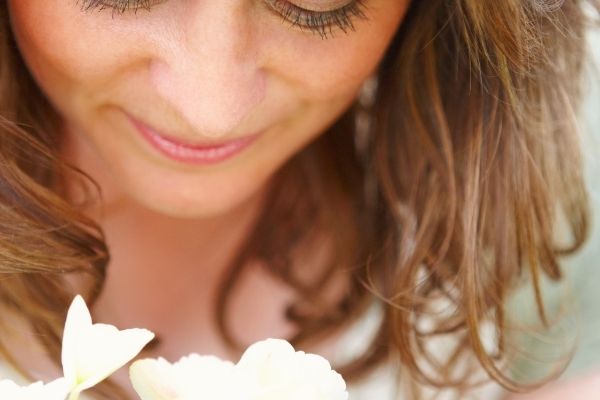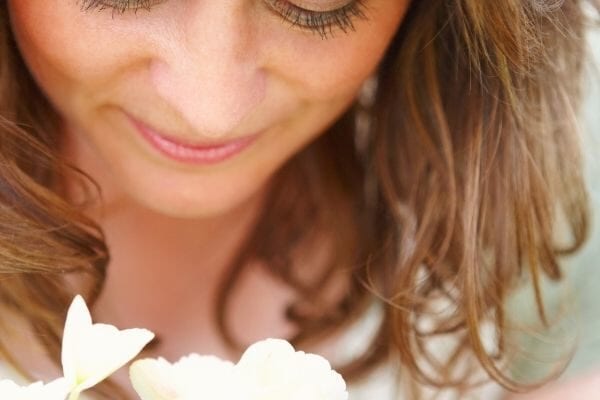 These are often taken for granted, but they bring a smile of wonder to your face every time.
32. Stargazing out in nature
33. Seeing a colorful sunrise
34. Watching the setting sun
35. Listening to the pitter-patter of rain on the roof
36. Hearing a noisy spring thunderstorm while you're cozy inside
37. Eating outside over a blanket on green grass
38. Staring at a full moon
39. Taking a nap in the warm sun
40. Touching a very old tree
41. The smell after it rains
42. The sounds of a stream after a good rain
43. The smell of the ocean
44. The first snow storm of winter when you're cuddled warm inside
45. The first tree buds and blossoms of spring
46. The smell of fresh cut grass (and feel of it under your feet)
47. The beautiful colors of the trees at just the right time in the fall
48. Spotting a rainbow (and watching kids' faces when they see it too)
49. Driving with your windows down and the breeze in your face
50. Stepping on a pile of crunchy leaves
51. Big fluffy clouds
52. A fresh untouched layer of snow
53. Watching the beauty of wildlife animals in their element
54. The first tulips that bloom every spring
55. The chipper birds outside your window, telling you the day has arrived
56. The sound of happy kids splashing in the pool on a warm summer day
57. Stopping to smell your favorite flower blooming
58. Seeing your garden grow
59. Walking barefoot on the beach
Related Post: Simple Ways to Improve Your Quality of Life
Dr. Danielle Kelvas, physician and mental health expert says, "We need adequate sunlight exposure to utilize vitamin D in our bodies. Spend as much time outside as possible. Open the windows. Take your shoes off and walk barefoot whenever possible."
Self Care & Personal Growth Pleasures of Life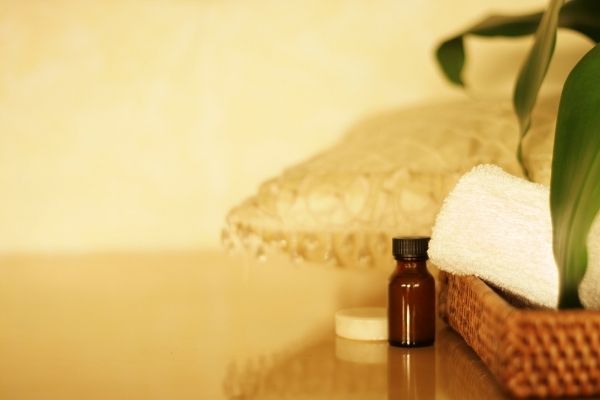 It feels good to take care of ourselves in a loving way, and these simple things push that special joy button.
60. A soothing bath or shower
61. Listening to your favorite music over and over
62. Accomplishing a goal that matters to you
63. Doing something nice for someone you love
64. A good shoulder massage (see these fun self-love and self-care challenges for more of these types of actions)
65. Reading an all-consuming novel or action adventure
66. Traveling to a new place
67. Long walks in nature reflecting on life
68. Feeling truly grateful (see here for easy ideas, free journal prompts, and gratitude quotes)
69. A good, hearty belly laugh
70. Getting a pedicure
71. How you feel after meditating
72. When you feel you look good (that outfit fits just right, your hair lays the right way, etc.)
73. A day where you don't have to be anywhere
74. The way you feel after a workout that pushed you
75. Making a bucket list
76. Seeing a movie or reading a book that shifts your thinking
77. Listening to a song that resonates with you
78. Eating by candlelight
79. Sleeping in with no alarm to wake you
80. An afternoon nap just because
81. Taking a shower after you've been really dirty.
82. Dancing as if no one is watching
83. A crossed off to-do list
84. Letting go of something that has been bugging you for too long
85. Taking time for a hobby you enjoy
86. Saying positive affirmations out loud
87. Washing your face first thing in the morning with warm water
88. Taking time to breathe deeply and stretch
89. Taking a mid-day walk
90. Getting a haircut or style
91. Pulling on sweatpants after a long day
92. Taking a quiet drive
93. Visiting a place you love
94. Having an empty inbox
95. Having an unexpected quiet moment to yourself
Need a little self-care help? Sign up for these 50 ideas and a checklist to make your wellness more of a priority!
*See also, ideas for a soothing self-care routine and 87 self-care quotes for more loving motivation>>
Finding Simple Life Pleasures In Food
Next, food has always been about more than survival. Food bonds people together, takes us back to childhood memories, and celebrates life milestones. These foods add a spark of pleasure to any day I'm living.
96. Homemade buttered popcorn on the stove
97. A quality piece of chocolate
98. The smell of coffee in the kitchen
99. That first sip of your favorite coffee
100. The smell of a slow cooker meal cooking that fills your home
101. Watermelon on a hot day (or any day)
102. Sipping champagne
103. Fresh vegetables straight from your garden
104. Indulging in your favorite meal
105. Enjoying that bakery treat you've been lusting after
106. Mom's chicken enchiladas. The food that brings childhood back.
107. Chocolate cream pie
108. Juicy summer tomatoes (that make the BEST BLTs)
109. Cookie dough (or the smell of fresh-baked cookies if any makes it)
110. Hot chocolate on a snowy day
111. Biting into a ripe, juicy berry
112. A slow-paced weekend brunch
113. Wine
114. The smell of fresh baked bread
115. When your new healthy recipe turns out to be a keeper with your family
116. A truly authentic meal from another culture
117. Friday night pizza and a movie
118. A hot steaming pot of chili on a cold day
119. Hershey's peanut butter cups
120. A ballpark hot dog
121. The first sip of hot tea on a cold evening
122. Chocolate cake
123. The first spoonful of ice cream on a hot day
Related: List of Habits to Improve Your Life & Growth Mindset Books
Simple Home Life Pleasures
And finally, home is where the heart is. And we should find many simple life pleasures where we spend so much of our time.
124. A clean house (with kids, anytime it's clean is a pleasure!)
125. A gentle cool breeze through your window
126. Fresh clean sheets
127. Burning your favorite candle
128. Staring at a cozy fire in the fireplace
129. Noticing your bright fresh flowers on the counter
130. Enjoying a cup of coffee on the deck or patio
131. A new, untouched notebook or planner
132. Coming back to a clean house after a long trip
133. Finding money in your jacket pocket you forgot about
134. Relaxing on a porch swing
135. A piece of art or decor in your home that moves you
136. Your favorite cozy chair
137. An empty dishwasher
138. An organized desk
139. Getting into your warm bed after a long day
140. A freshly painted room (that feeling of newness with a simple color change)
141. Noticing your child's drawing on the fridge
142. When a card comes in the mail
143. That fan that creates just the right amount of breeze and white noise
144. A newly cleaned shower
145. Close neighbors that you can count on for anything
146. The big comfy throw blankets to huddle under on a cold day
147. The photos of people you love lining the walls
148. Your favorite mug
149. Warm towels right out of the dryer
150. A decluttered room
Related: Vision Board Examples & Positive Growth Mindset Quotes
Benefits of Noticing Simple Pleasures in Life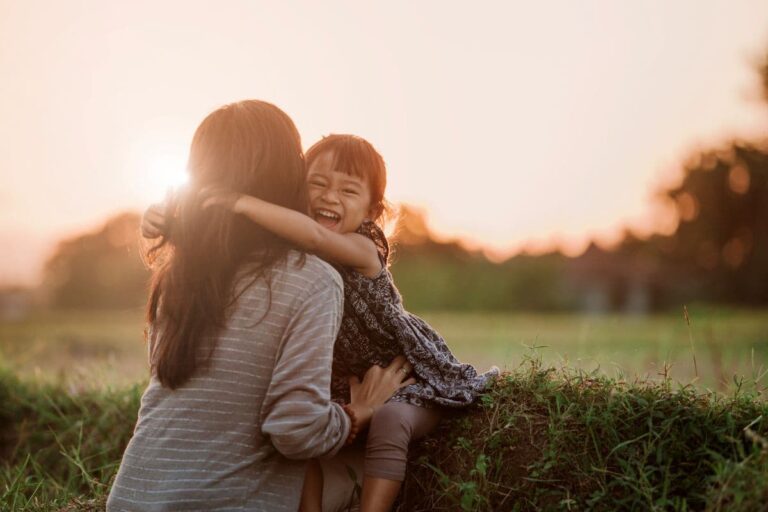 When we slow down and appreciate the simple pleasures around us, these small experiences have a profound effect on our overall well-being.
By embracing these experiences, we will notice a more balanced sense of contentment in many areas of our life.
Stronger relationships
Meeting personal goals
Increased focus and productivity
Reduced stress
Improved mental health
Did Focusing on Simple Pleasures Work?
It sure did! Not only did it remind me of what I'm most grateful for, but it showed me how much beauty I take for granted every day. And frankly, it helped us lighten up after such a heavy period.
To Consider With Simple Joys
Finally, I read Matthew McConauhey's book Greenlights recently, and at the end, he explains his desire to make his life "his favorite movie." What an interesting idea! We can all achieve this if we stop to notice the simple miracles around us.
So, where can you sprinkle these simple pleasures into your day? Could you add them to your morning routine? Maybe at night?
And what are your favorite simple pleasures in life? Do you have different joys?
More self-care posts & resources you'll love…
The Greatest Little Pleasures in Life