55 Best Self Care Sunday Ideas for Your Perfect Recharge
How do you pamper yourself on Sunday?
Use an epic Self Care Sunday routine to make yourself a priority. Give your body, mind, and spirit the love you deserve! It's time to stop wishing and start doing.
Self-Care Sunday Meaning
First, what is self care Sunday anyway?
You take one day of the week for YOURSELF.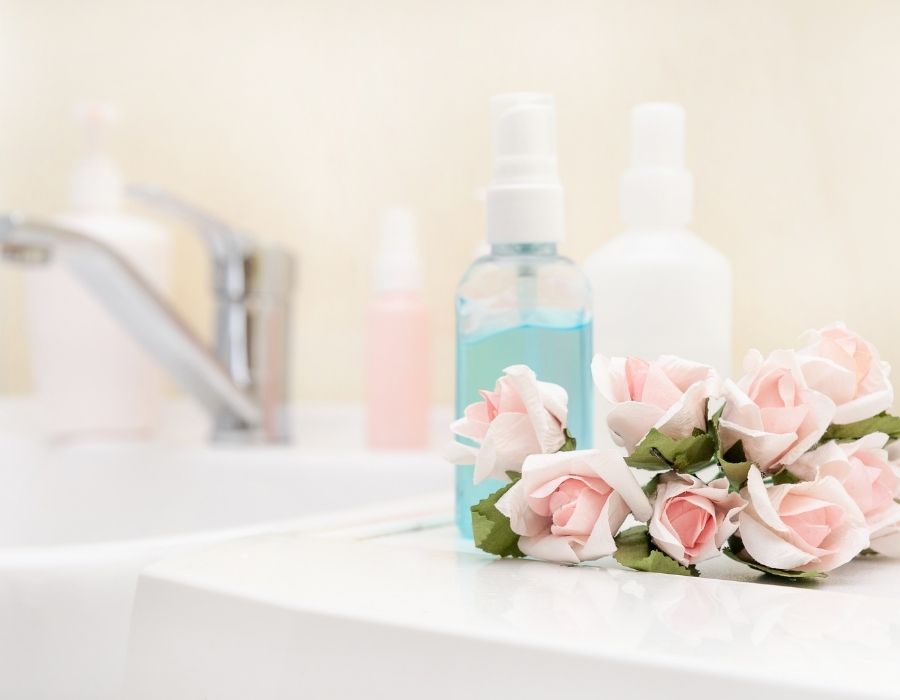 Restore your depleted energy and fire yourself up for a week ahead.
Usually, it's Sunday when we have more time. HOWEVER, it could be self care Saturday or Wednesday for you. The specific day isn't important.
What matters is that you're setting aside the time!
This post contains affiliate links, and I may earn a commission (at no cost to you). See my disclaimer for more.
55 Best Self Care Sunday Ideas
1. Breathe in Fresh Air
Nature is well-known for its positive effects on our mood and energy. In fact, almost every culture uses it as a healing tool.
Dr. Danielle Kelvas, MD says, "We need adequate sunlight exposure to utilize vitamin D in our bodies. Spend as much time outside as possible. Open the windows. Take your shoes off and walk barefoot whenever possible. This reduces the charge that builds up in our bodies and is clinically proven to reduce inflammation."
So, use this knowledge to take a nature walk, sit on your back patio surrounded by flowers, or read next to your favorite plant.
2. See People You Love
We are limited during the week on how much we see the people we really care about. Sunday is a great day to make up for that!
If connecting is important to you, set aside time for a weekly coffee, walk, phone call, or drinks on someone's deck.
3. Sleep In
Unless you're a diehard sunrise person, this is your chance to start the day slowly and at your own pace. So, turn off that alarm clock and let your body get up when it needs to for one day.
4. Ditch the Screens
You might be astonished at the amount of time you spend checking messages, email, and random feeds. If you are an average person, it's 2-4 hours PER DAY.
The best thing you can do on your self care Sunday is to ditch the technology. Give your mind a break from information overload and fill your day with real-world energy instead.
5. Indulge in Quiet Time
Now, because you aren't staring at screens all day long, you have the space to think. So, spend a few minutes every Sunday in stillness, meditation, or prayer.
By sitting alone, you'll gain amazing insights and feel much more connected with your true values. – See Meditation for Beginners HERE>>
6. Have Brunch With Loved Ones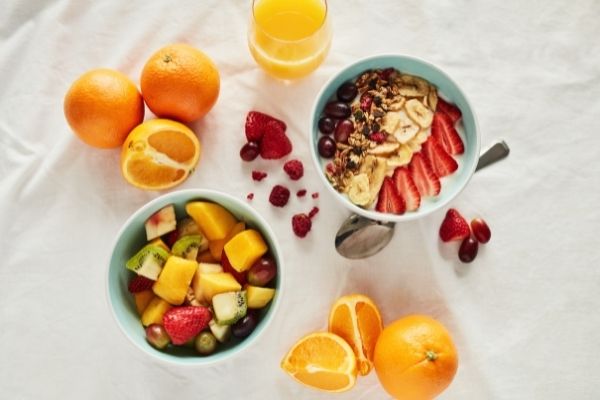 Breakfast is grab-and-go the rest of the week, but a large brunch is perfect for your Sunday morning with family or friends. Make something delicious yourself or find a restaurant you adore and connect on a deep level over nourishing food.
7. Enjoy Snuggle Time
In my biased opinion, every good self care Sunday routine should include time to cuddle with those around us. So, prioritize snuggling with kids, partners, and pets and utilize the amazing power of touch to recharge you.
8. Read During Your Self Care Sunday
Do you feel like you never have enough time to read?
Let's change that! Block out an hour or two of your Sundays to dive deep into a book. Explore a new world or learn something new.
Related Posts:
9. Make a Special Cup of Coffee (or Tea)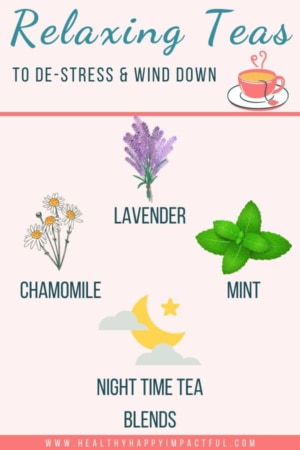 The fun part of self care Sunday is that you can make it special in small ways.
For a long time, my husband and I saved our special whole bean coffee for the weekend. It was a sweet little indulgence that had us looking forward to that time off.
10. Have a Bath Night
Would you love a Sunday spa night? Baths are the ultimate self-care tool that cost very little! Make it indulgent with your favorite salts, oils, and bubbles and you'll be excited for it all week long.
11. Meal Prep
Meal prep is a healthy gift you give yourself for days to come.
Yes, it's a little work on this relaxing day, but eating healthy is one of the best ways you can truly care for yourself and protect your energy through the week.
Related Post: Small Ways to Get Healthy
12. Go on a Picnic
If the weather is nice, get out in the sunshine. Pack a light meal or go all fancy with different cheeses and crackers.
13. Watch Your Favorite Show
This is in direct violation of #4, but if you have a show that makes you smile (and you never have time for), perhaps this is a good exception.
14. Establish a Family Night
Family night does not have to be complicated, but it is a weekly ritual that can add much-needed depth to your family. Here are some easy ideas:
Go to the swimming pool, then get pizza (our favorite for summer)
Watch a beloved kids movie
Eat a "snacky" dinner
Take a family walk or bike ride
*See more awesome family night ideas here>>
15. Get or Do a Mani Pedi
Now is the time to pamper yourself a bit! Doing your nails is a simple action that feels good in the moment, plus gives you something pretty to look at during the week.
16. Get a Massage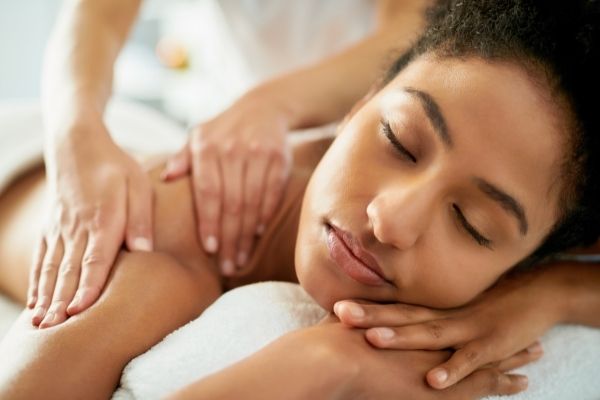 Next, splurge on a professional massage or have your significant other give you a DIY one. Then, watch that stress and tension melt away.
17. Inspire Yourself With Content
Want to start the week on fire with passion and motivation?
Use a part of your Sunday to get in the right mindset to own your week. Here are a few fun ways:
Watch an inspiring youtube video
Listen to a motivational podcast
Read a blog, article, or book that fires you up
Related Post: Superb Things to Do on a Rainy Day
18. Journal
Journaling is the most underrated free therapy a person can find. Not only can writing help you relieve toxic emotions, but you can get clear on your goals, recount your blessings, and dramatically increase your learning.
If you aren't journaling on the weekends (or during the week), you should definitely consider it!
*Check out these easy self-love journaling prompts to get started!
19. Plan Your Week Ahead
Taking 30 minutes to look at your calendar, plan your self-care out, and prioritize your most important tasks for the week will skyrocket your productivity without stressing you out.
20. Spend Time With Your Partner
In my home, it's difficult to connect one-on-one during the week.
That's why we created a Sunday morning date. Before the kids wake up, I (the early bird) make two cups of coffee and bring them to bed. We spend the next hour rehashing the week and talking about life.
*Try these fun would you rather couples questions to spice things up!
21. Tidy Up or Declutter
One ritual that I've added into Sundays is a 30 minute declutter. It's not picking up. It's getting the clutter OUT of our home so it's easier to pick up next time.
22. Branch Out
When was the last time you tried something new? This is your day! Here are a few simple ideas to branch out on Sundays:
Visit a new park
Eat at a new restaurant
Set a goal you've never gone after
Try a different workout
The ideas are endless, but one small tweak will help you feel confident and fantastic!
23. Have a Grooming Day
As a busy mom, doing simple things like trimming my eyebrows and clipping my nails gets pushed to the back burner. If you struggle with this too, set aside a few minutes every Sunday to groom (try this kit) and set yourself up for feeling good through the week.
24. Worship As Part of Your Sunday Self Care
If you are religious, centering yourself at your place of worship is an excellent self-care action!
25. Get in Fun Exercise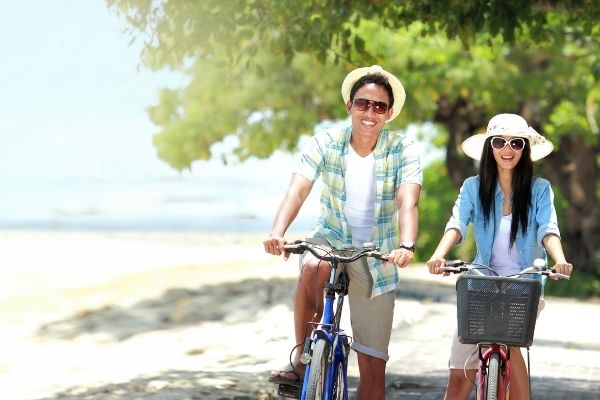 Sunday is a great day to move your body in a way that inspires you.
So, take a longer class at the gym or hit a trail. Or incorporate two other self-care ideas: (connecting with others and getting into nature) by going on a family bike ride or asking a friend to walk at a new park.
26. Make a Vision Board
If you have a vision board, make Sundays the day to check in with it. If you haven't made one, check out this vision board template and post to get working on your clear vision for the future today.
(These specific vision board examples will also inspire you!)
27. Create a Family Dinner Tradition
Next, would you love having parents, relatives, or friends over for a weekly dinner? This can be a simple tradition that keeps your extended family close for decades.
28. Splurge on Takeout
After working all week long, make Sunday your day to splurge on your favorite Starbucks coffee, deli, or restaurant.
29. Spend Time Visualizing
If you have a vision board or set goals, you should have an idea of where you'd like to be in your future. Now, take a few moments on Sundays to visualize how accomplishing those goals makes you feel.
What do you do with that extra energy, increased peace, or surplus of cash?
Make it real in your head and you'll make it a reality in the physical world too!
30. Try a Face Mask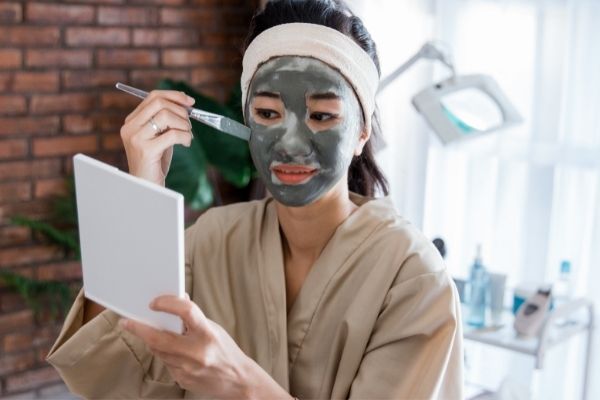 Face and lip masks are super fast and inexpensive ways to pamper your skin. So, invest in a few and make it your next self-care sunday routine ritual.
31. Make a Gratitude List
There is so much good around us that gets tainted by our mood or perspective. The best way to bring you back to your blessings is to write a gratitude list. Make it 10 items or 100. Either way, you'll realize that there are MANY beautiful things to be grateful for!
Related Post: Thoughtful Journal Prompts for Gratitude
32. Reflect
What went well last week? What needs improvement?
Considering the good and bad of the last week can help you enormously when fixing problems and celebrating wins.
(This is a great thing to do when you plan out your week #19 and make goals #33!)
33. Make Goals for the Week (or Check-in)
Create a few (manageable) goals for the week that keep you on track.
Examples:
Eat dinner as a family 5 nights
Make 4 smoothies this week
Be in bed by 10:00
Or use the day to check-in with an ongoing goal. Are you working to lose weight? Perhaps Sundays you weigh yourself, check your progress, reward yourself wisely, or make changes to your strategy.
Not sure where to start? Grab ideas for personal life and wellness goals >>
34. Prep for a Productive Monday
While the main purpose of Sunday is to recharge, you can also rev up for a glorious week by taking a few small actions. Consider doing these to lessen the load:
Set out your clothes, work stuff, or school stuff
Prep and put a timer on your Monday morning coffee
Prep ahead/set out meat to thaw for weeknight dinners
See Great Things to Do on Sunday or Smart Things to Do at Night for more>>
35. Play
Next, Sundays are a beautiful opportunity to relax and play with those you love.
Play fetch with your dog, chase your kids up the stairs, or have a nerf gun fight with your partner. Whatever you do to let your hair down, a good dose of laughter and fun will do wonders for your stress.
Related Post: How to Play More As a Mom
36. Make a Self Care Basket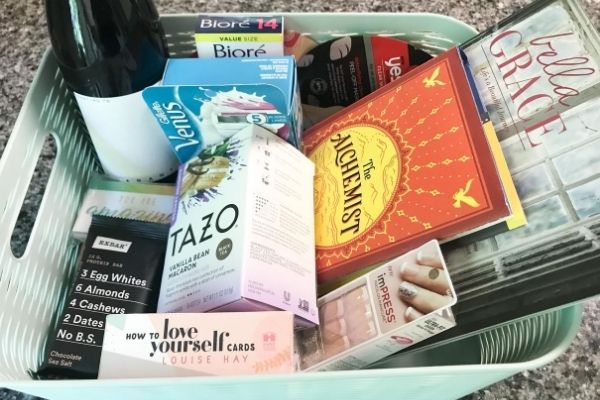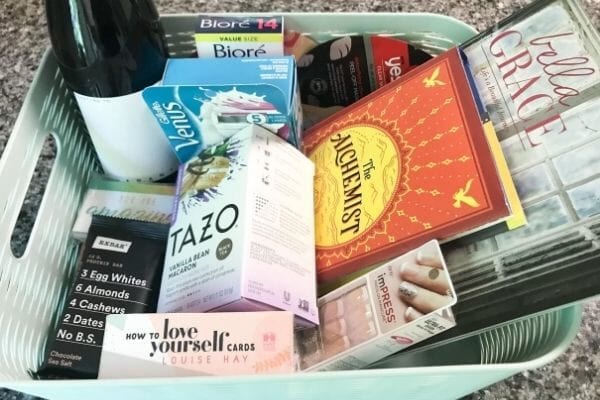 To really make your self care Sundays exquisite, prepare a kit of items that you use every week. See fun ideas at How to Create a Self Care Box, such as bath supplies, books, magazines, and special snacks.
37. Start a Challenge
Three challenges on this site are good for the soul. Start them during your Sunday self care, or cluster the activities into one day.
If you love challenges, don't miss this list for tons of helpful ones>>
38. Do Good for Others
One quick way to enjoy a happiness boost is to do something kind for someone else. Bring a coffee to your friend, donate to a cause, or invite a family over for dinner and you'll feel the unique joy of giving.
39. Make Something Special
Take the time to pursue a simple pleasure. Bake a food you LOVE or pursue another creative endeavor like drawing or painting. This small bit of inventiveness can open you up to be more creative in your workweek tasks too.
40. Cleanse Your Mind of the Week
Still stuck on whatever happened during the week? Put it down on paper and let it go. Get a free mind dump printable HERE to help.
41. Notice Your Favorite Simple Pleasures
Make a list of your 10 favorite simple pleasures – this master list will help.
Next, resolve to spend time every Sunday luxuriating in them. After all, life's best memories are often the beautiful in-between moments.
42. Spend Time in the Garden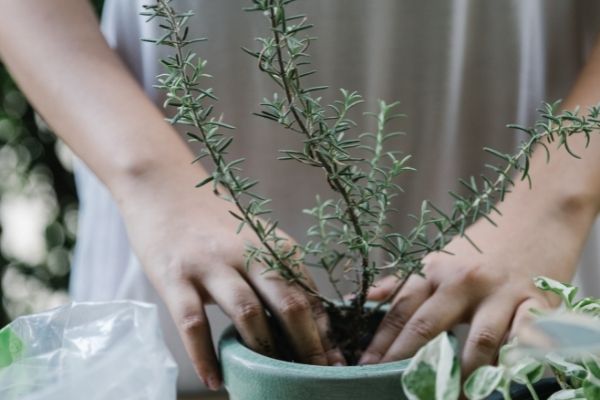 Connect with the Earth, get your vitamin D, and enjoy light exercise working in a garden or landscaping while your mind wanders.
43. Visit a Farmer's Market
If your local farmer's market or vegetable stand is open, hit it up for the sweetest fruit and most delicious vegetables you can find.
44. Go to Bed Early
Next, set your tone for the week ahead by slipping into bed early on Sundays. After spending the day rejuvenating, you'll be ready for a good sleep to hit the ground running on Monday.
10 More Creative Ideas For Sunday Self Care
45. Take a Self Care Quiz
Are you struggling to figure out what you need right now? Take this self-care quiz assessment to see what area of wellness you can prioritize in the coming week.
46. Train Your Mind With Affirmations
Pick beautiful loving affirmations to say to yourself today and start teaching your mind to be kind to your body.
47. Go Out to Dinner With Friends
One of my Self Care Sunday activities is a wine night with friends. You could also meet friends at a restaurant or host a potluck dinner. Either way, you're enjoying deep conversation and good food.
48. Start a Wellness Checklist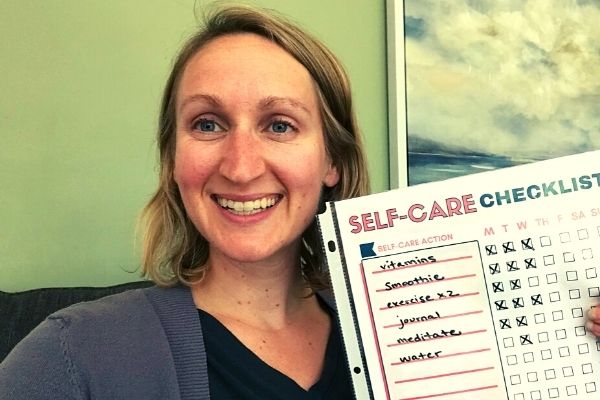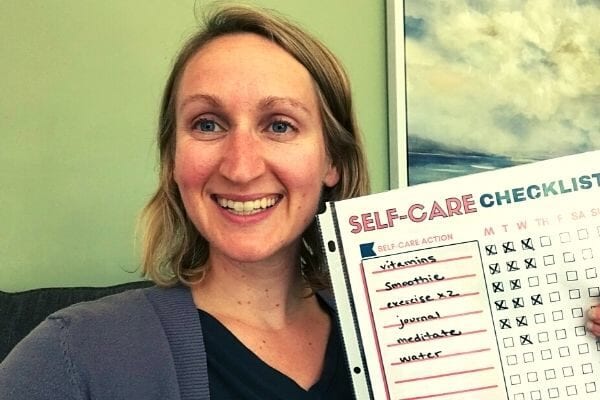 Don't let the Sunday Scaries get to you! Start one of these weekly routine self care checklists and streamline the self-care ideas you want to make part of your daily routine.
49. Read Inspiring Self Care Sunday Quotes
If caring for yourself is a struggle, you will benefit from self care reminders.
Write down your favorite self-care quotes where you'll see them in your home. Noticing them as you walk by will help you remember that you deserve to be happy too.
50. Turn Thankful Thursday into Thankful Sunday
Have you heard of Thankful Thursday? It's a once-a-week practice to boost your joy by remembering the good in your life. But, why not make it a Sunday ritual instead?
Check out this big list of Thankful Thursday ideas to get your gratitude on every Sunday.
51. Plan a Getaway
In recent years, many of us have experienced feeling stuck in our homes. If you feel this way, plan an upcoming three-day weekend, road trip, or incredible vacation.
It will give you a beautiful experience to look forward to. Plus, planning ahead gives you time to think about what will serve you best.
52. Make a Self Care Plan for the Week
Unlike planning your entire week (#19), this one is making sure that you take a small amount of time out of your busy weekdays to take care of yourself.
Of the options above, what one thing would you love? Now, when and where will you do it?
53. Eat Something Healthy for Sunday Self Care
Weekends are for splurging, and it's what we all love about them!
But don't forget to take care of your body too. By committing to one salad or smoothie, you're balancing out pleasure with nutrients that keep your body going strong for years to come.
54. Start a Self-Care Planner
The digital Deluxe Self Care Planner will take any Self Care Sunday practice to the next level. Use gratitude journal pages, planners, and challenges to make your day the true oasis it can be for your soul.
55. Find Beauty & Depth
Above all, leave the daily grind and the superficialness of the online world. Instead, spend this day living life deeply. Surround yourself with beautiful sights, conversation, ideas, people, and food.
If you follow just this idea, you'll be living on an entirely new level of life.
Tips to Make Sunday Happen
As with anything in life, consistency is the key. Try my self-care planner , or grab your free printables below to help you make it happen.
My Happy Self Care Sunday Routine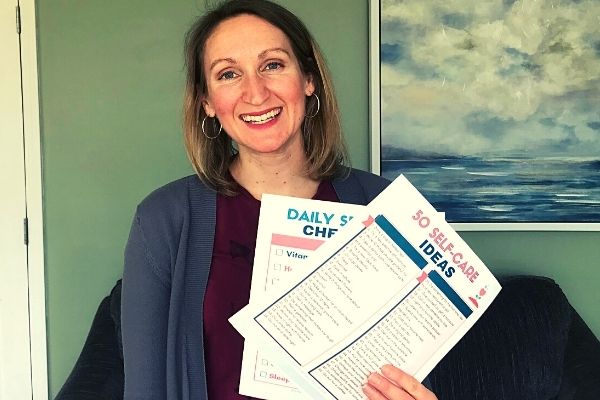 For an example, here's my favorite way to spend the day!
Enjoy coffee and snuggle in bed with hubby before the kids wake
Set 2-3 goals for the week
Take a long walk in nature
Talk to my sister about those weekly goals
Prep a few things for Monday, read, and go to bed early
You can also incorporate several Self Care Sunday activities together! For example, listen to an inspiring podcast while you take a walk. Or listen to music while you snuggle and sip tea.
*To map out your ideal routine, use this free time blocking template printable!
Why is Self-Care Sunday important?
The benefits of taking time to recover every week CAN NOT be overstated.
We live in a culture where work and busyness are highly valued. As a result, we feel tired and stressed much of the time. Even when we aren't doing something, we feel like we should be.
By carving out at least a day to focus on your wellbeing, you'll be giving yourself the gift of happiness and focus. You'll:
feel energized all week long
have more clarity on what's important
produce better work during the week (in less time)
prevent mental overload and burnout
What is a Good Self Care Sunday Routine?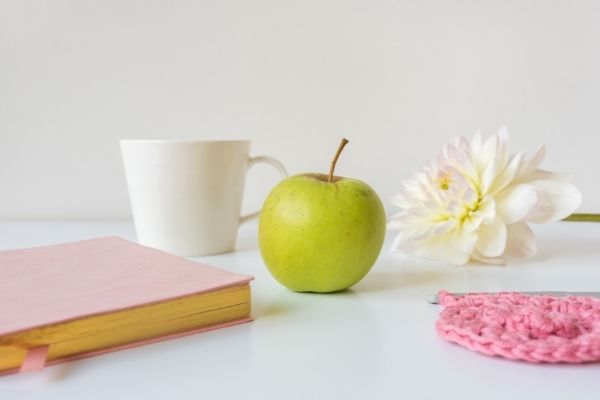 Now obviously, the best self care Sunday routine depends on your lifestyle and preferences. Perhaps you'd love to get up and watch the sunrise. Or maybe your priceless day starts with sleeping in instead.
Would you rather recharge alone or be surrounded by others? Relax or get moving?
This post will help you get CLEAR about your perfect day off. What pursuits bring you the most joy and energy? Do those! Below are excellent Sunday self care ideas to get you thinking.
To Consider With Things to Do on Self Care Sunday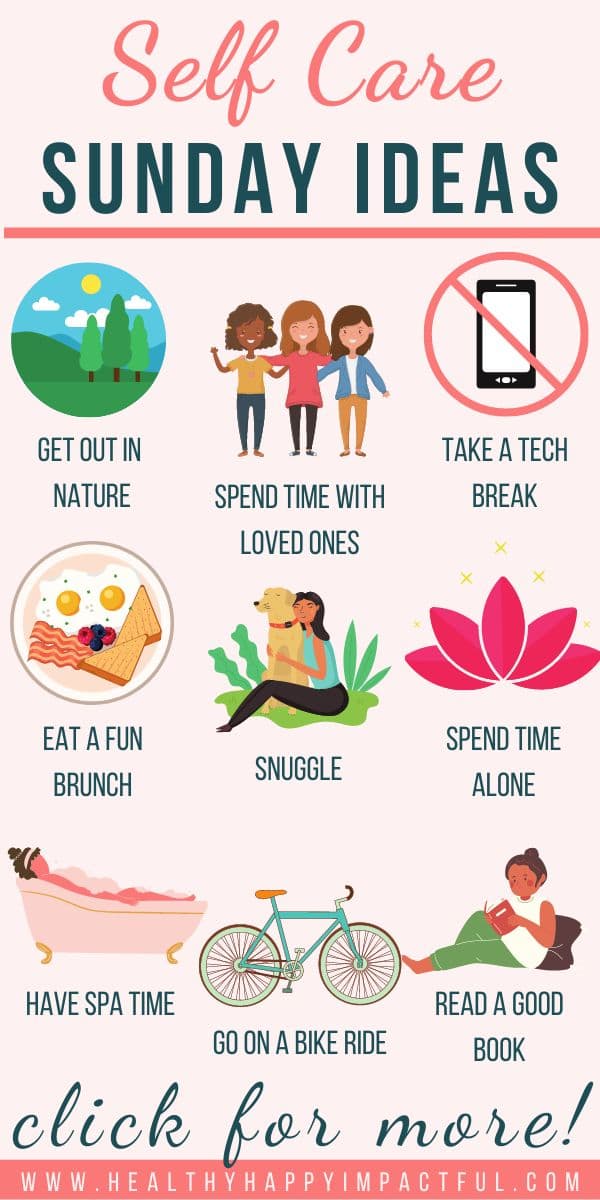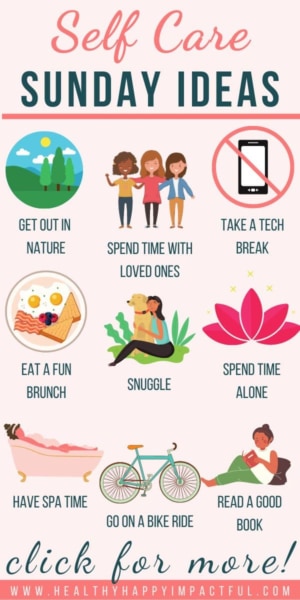 Self Care Sunday can stretch the whole weekend if you want it to. And honestly, why NOT make it a joy-filled two days instead of one? (Try this free self care bingo for women to guide you)
Or sprinkle these actions in during the week when you need a break. The sky's the limit for how you implement this!
*There's now a beautiful printable in the self-care planner too!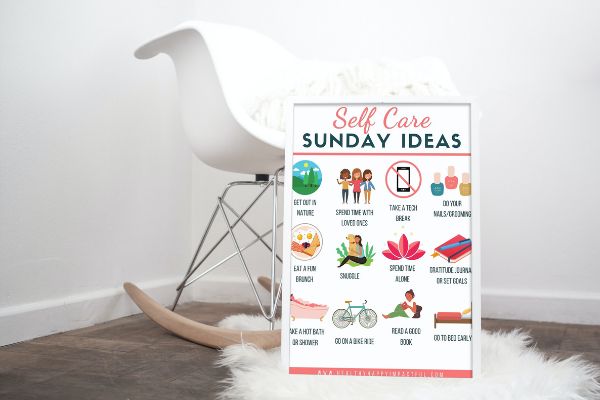 Other wellness posts and resources you'll love…
Sunday Self Care Ideas That Nourish Mind, Body, & Soul