The epitome of summer is just around the corner! Are you ready? Do you know of the best 4th of July traditions?
I'm looking forward to it because there is so much power in rituals that bring people together. Amazing relationships come from having intentional and undistracted time together, and holidays are such a great built in way to do that! Plus, you know, they're FUN!
As an adult, the 4th of July is a great time to sample summer eats, spend time with people we love, and celebrate the awesomeness of our country.
Add kids into the mix and it can be truly magical, and just one more way to create those lasting childhood memories. So, let's explore the best traditions for the 4th of July!
10 of the Best 4th of July Traditions To Start Now
1. Make fireworks special
Most of us already take the time to do or see some fireworks. While you wait for them, open up Pandora or another app and listen to some American themed songs.
If kids are around, be sure to break out the glow sticks and catch fireflies, and of course don't forget the snacks. Waiting is half the fun!
During fireworks snuggle up together. One family has a sweet yearly tradition of naming fireworks as they see them. The fun is in using imagination and coming up with the best names.
2. Go someplace unique to you
This is the most flexible of the best 4th of July traditions, so make it your own! Choose a special spot that you go to every year with your family or friends. Maybe it's a hike at a local lake, or a lunch picnic, or hitting up a nearby ice cream shop.
Find something that everyone will look forward to and make it a new tradition! The sky is the limit on this one!
3. Read the Declaration of Independence
This holiday is about America, so what better way to celebrate it than to discuss its history. What do you know about how this country was made?
Check out the Declaration of Independence and add a little learning into the day. Plus, it will foster some great discussion and appreciation amongst everyone.
4. Check out a parade
Parades are in full force on this day. If you love the idea of getting some fresh air with family and friends, check out your local parade. Don't forget your lawn chairs and cooler.
Stay and enjoy the festive cheer.
5. Have a cookout
If there's ever a time to get the grill going this is it! Nothing represents summer like the 4th of July! So, get those hamburgers and hotdogs grilling and enjoy all of the traditional summer time produce like corn on the cob and watermelon. Invite someone over and make it memorable.
6. Play outdoor games
Don't forget the games at that cookout! This is a perfect time to teach the kids how to play or get a hardcore adult game going. We rarely think to put out our outdoor games, so this is a great reminder to be playful during our holiday time!
7. Break out the special Food
And, of course, what's a holiday without food! Insist on some easy patriotic food for this day.
Now, as a blog that's trying to focus on the healthier side of things, I'd like to point out that this does not HAVE to mean loads of sugar and food coloring. Luckily, blueberries and strawberries make just the right colors! So, get out some fruit with whipped cream, or make some yogurt pops or homemade popsicles. There are tons of simple, healthy recipes on the internet. Check out my Pinterest board HERE for some healthy patriotic treat ideas!
8. Take a patriotic family photo
Document the memories with a photo of whomever you spend the day with. If you do this every year, you'll have a terrific snapshot of the unforgettable memories that were made and the way your tribe changed throughout the years.
9. Hang your flag
Regardless of your politic beliefs and backgrounds, we are crazy blessed to call this country our home. So, show a little pride, and put out a flag or banner. It's a fantastic reminder of how lucky we are to live in a country where we have the freedoms that we do, and the sacrifices that others make for it.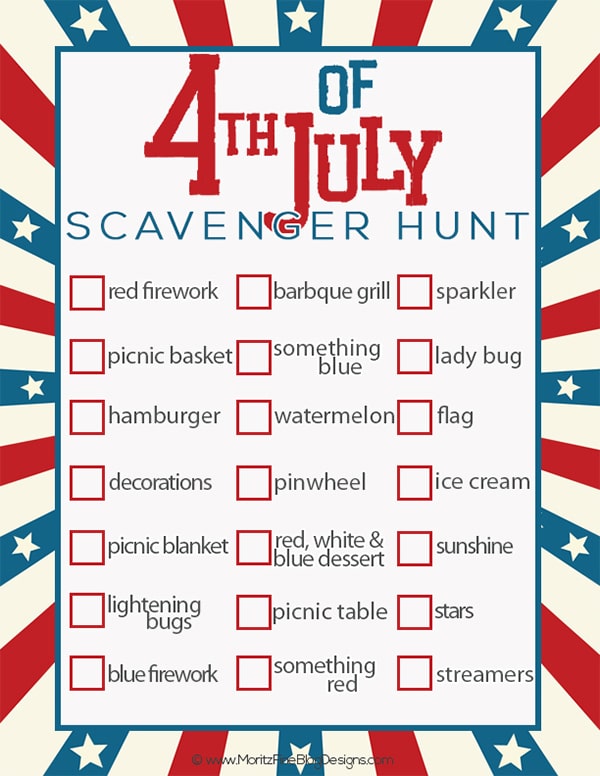 10. Try Some New Kid Activities
Lastly, do some fun activities with the kids! This cute scavenger hunt from Moritz Fine Designs will keep them busy. Or break out the crafts. We love making firework paintings on this day. If you find some bright neon paint, it even looks awesome on black construction paper. It's a super simple activity that doesn't require a lot of clean up!
For us, the 4th of July has been evolving in recent years! We hang our flag and do a craft earlier in the day. Later, we go over to a friend's house for a cookout and have fun with fireworks. Or, I should say the men have fun playing with fire! This year, I'd like to add a special hike or picnic for earlier in the day as well.
Hopefully, you're leaving with plenty of ideas for not only an engaging day with people you love, but also ways to celebrate the foundation of our country.
What do you think are the best 4th of July traditions? Do you do anything that's special or unique for the day? I'd love to know!
*Monday's post was featured on another blog! Check it out if you haven't!  Invest In Yourself For A Healthy, Happy, and Impactful You
Because you're worth it!