A Year of Dates: Amazing & Unique Ideas for Holidays
12 Months of Creative Date Ideas
Have you seen the movie on Netflix called Holidate?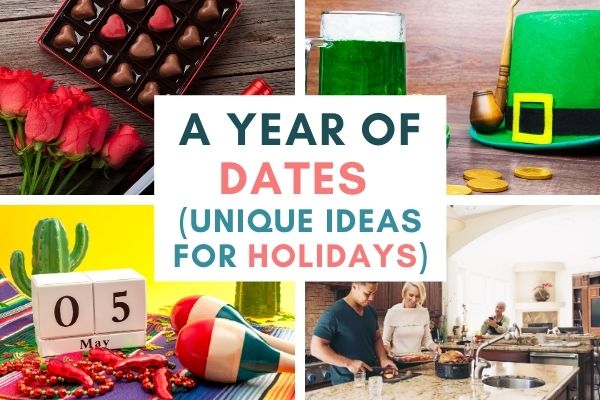 It's a recent corny (and inappropriate) romantic comedy. But it made us laugh.
The premise is two single people that meet and decide to get together only for holidays. This way, their families quit pestering them about dating and there's no pressure for gifts or commitment.
After almost a year of holiday dates, the result is a predictable love story. However, there are plenty of ridiculous missteps and antics along the way.
This article contains affiliate links, and I may earn a commission at no cost to you. See my disclaimer for more.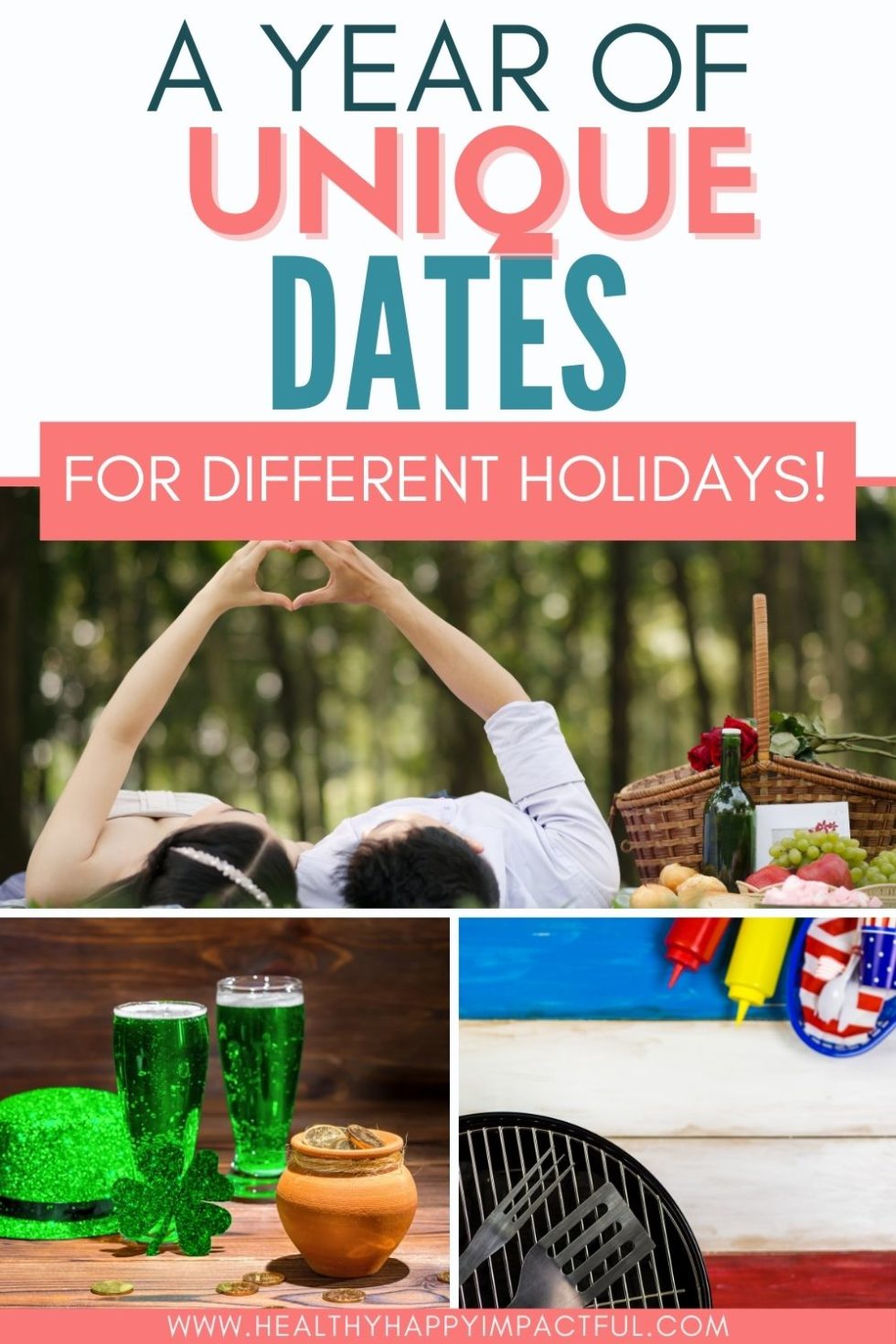 The movie was lighthearted. But the thing that struck me most was how much FUN they were having on these holiday dates.
So, today, I'm supplying a year of dates as a gift (I'm using it for Valentine's Day) or just as fun ideas for different holidays this year.
12 Months of Date Ideas: Holiday Style
For each section, I'll describe the date they do in the movie, plus other ideas! Mix and match, or keep them all at home. There's a lot of variation you can do here!
New Year's Eve
From the movie: Attended a New Year's Eve party at a fancy club.
Other ideas for a NYE date:
Go out for lunch at your favorite place
Have a romantic dinner with music, candles, and flowers (after the kids go to bed)
Movie marathon your favorite series
Valentine's Day
Movie: Met by chance (she was blowing him off) inside a candy store, then they did chocolate tasting in a car.
Other great V-day ideas:
Make reservations to a fancy dinner place
Go on a getaway or have a hotel night all to yourselves
Indulge in a corny romantic comedy
Build a blanket fort your kids would be jealous of
Have a "splurge" date (buy one indulgence in food, drink, clothing, activity etc.)
Related Posts: Unique Ways to Say I Love You & At-Home Ideas for Valentine's Day
St. Patrick's Day
Movie: Went to a bar with friends dressed in green, wigs, and face paint.
More for St. Pats:
Go out to dinner at a pub
Take a tour of a whiskey distillery
Easter
Movie: Brunch with her family.
Other special Easter dates:
Go for a long springtime stroll
Snuggle and relax in a hammock together
Make a sexy Easter basket (or two)
Watch the sunset together with champagne
Dye your own Easter eggs without the kids
Mother's Day
Movie: Lunch with her mom.
More ideas mom will love:
Enjoy a bubble bath or spa date together.
Stroll through the farmer's market and stop for brunch
Go on a couples hike and pack a picnic
Go to a wine tasting (or have one at home)
Walk through a botanical or rose garden together
Related Posts:
Cinco De Mayo
Movie: A wild night of Mexican food, shots, and photo booth taking
Other great fiesta date ideas:
Prepare your own Mexican feast with decorations
Use YouTube to learn the Mexican hat dance, salsa, tango, or another fun latin dance
Take your own selfies with a sombrero and decor
Invite a friend couple for a festive deck dinner and drinks
4th of July
Movie: Fireworks with family at the lake.
Additional Independence Day fun:
Go on a day trip somewhere
Sneak away to a cabin or beach house
Get sparklers and decipher what your partner writes in the sky
Go to the pool or beach together (just the two of you)
Have a movie night with classics like Independence Day or The Patriot
*Some of these ideas also work well for Memorial Day!
Related Post: Fun Family Traditions for the 4th of July
Labor Day
Movie: Attended a wedding.
More for Labor Day:
Visit a national or state park
Go on an unplanned road trip. Pack up and see where the car takes you!
Go camping (as a family, or just the two of you)
Hit the movie theater to see a fun film
Rent a tandem bike and go exploring
Halloween
Movie: Went to a Halloween costume party.
Other spooky date ideas:
Go through a haunted house together
Take a late-night walk in the cemetery
Make caramel apples together
Watch a horror movie cuddled up on the couch
Have a bonfire and s'mores night
Host a murder mystery party
Make Halloween treats together
Dress in your own sexy Halloween costumes after the kids go to bed
Related Post: 25 Adventurous Dates for Fall
Thanksgiving
Movie: Grocery shopping before getting together with family.
More turkey day favorites:
Have a pie baking contest
Do a Turkey Trot together
Get up early and enjoy a simple breakfast and coffee before the day with family
More Holiday Dates
Now, that's it for the movie, as the story ends right before Christmas. But no worries, I added these other holidays to complete a year of dates for you!
Father's Day
Workout together, then grab lunch at an outside patio
Go fishing (or hunting, shooting, etc.) – make a date out of what dad loves to do!
Find lyrics on Youtube and belt out your favorite tunes together
Related Post:
Christmas
Have a Christmas shopping date. Get your shopping done and enjoy each other.
Make some holiday goodies and taste test by candlelight
Go to a coffee shop and get a hot chocolate to savor there or at home
Go on a car date and drive around to see the lights
Related Post: Cozy Couples Christmas Traditions
Anniversary
Last but not least, don't forget this important holiday!
Visit the spot from your first date (reenact the date)
Share a favorite beverage while reviewing pictures of you together
Stay at a bed and breakfast
Take a long walk under the stars
*The ideas from Valentine's Day also work well here!
Related Posts: Love Gifts That Show You Care & Unique Date Night Ideas For Anniversary
*Looking for date ideas for a holiday not listed? Leave a comment below and I'll help brainstorm ideas! 😊
Make 12 Months of Dates Into a Gift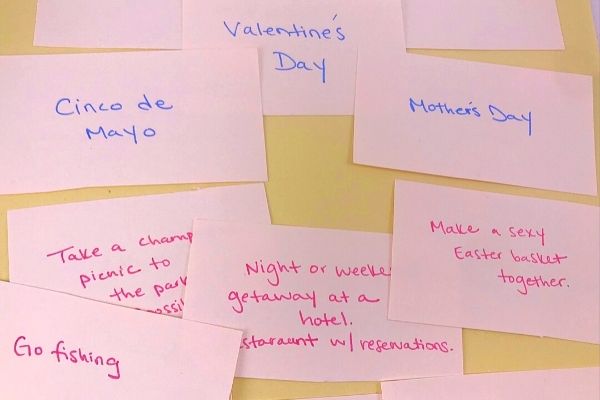 Now, to make this a gift, decide on what dates to do for each holiday and write them out. Pay for anything you can ahead of time, and set up a babysitter early to make it easiest to execute when the holidays come!
Find more date gift basket ideas HERE!
But, Be Flexible With Your Year of Dates
If you are parents you know that many holidays are now family territory. And that's ok!
Schedule your dates for a week before the actual holiday if it interferes with your family plans, or include the family if necessary. Quality time is what's important!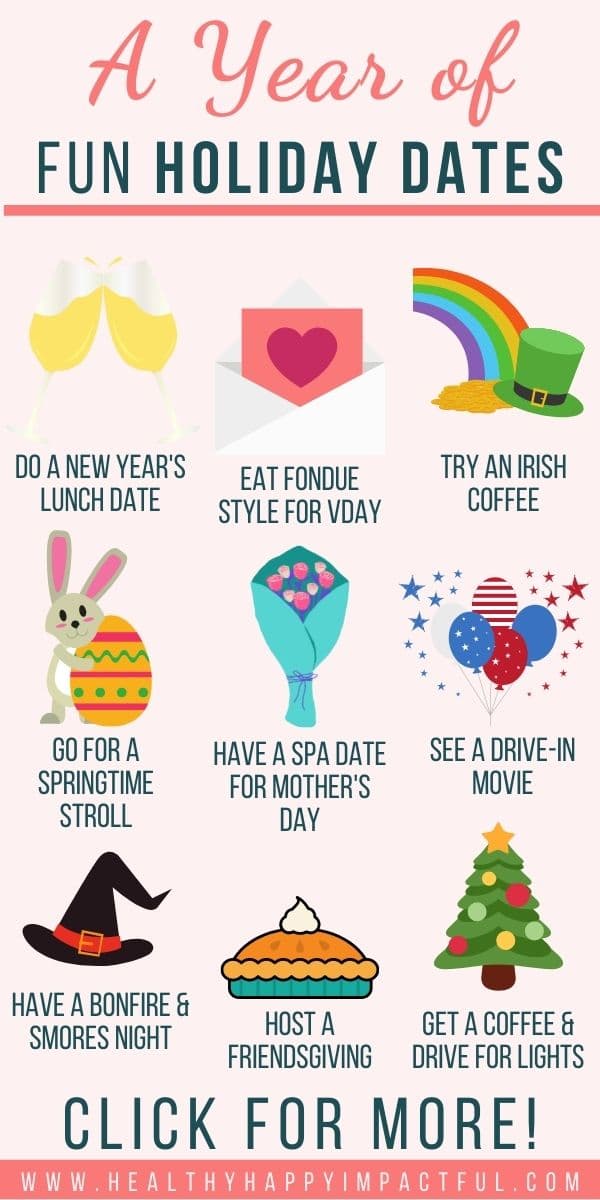 To Consider With A Year of Dates
Along with some juicy love coupons, this will be my gift for hubby this year! I think it's something we'll both enjoy enormously.
What are you going to do for a year of dates in your home? And check out these fun gift baskets for families if you need unique ideas for everyone!
Other Relationship Posts to Enjoy…
A Year of Date Ideas for Holidays