Easy at Home Valentine's Day Ideas for Couples
Fun Valentine's Day Things for Couples to Do at Home
With three young kiddos, my husband and have to do date night at home more often than not. So, I've been wondering…
How can I celebrate Valentine's Day at home with my husband?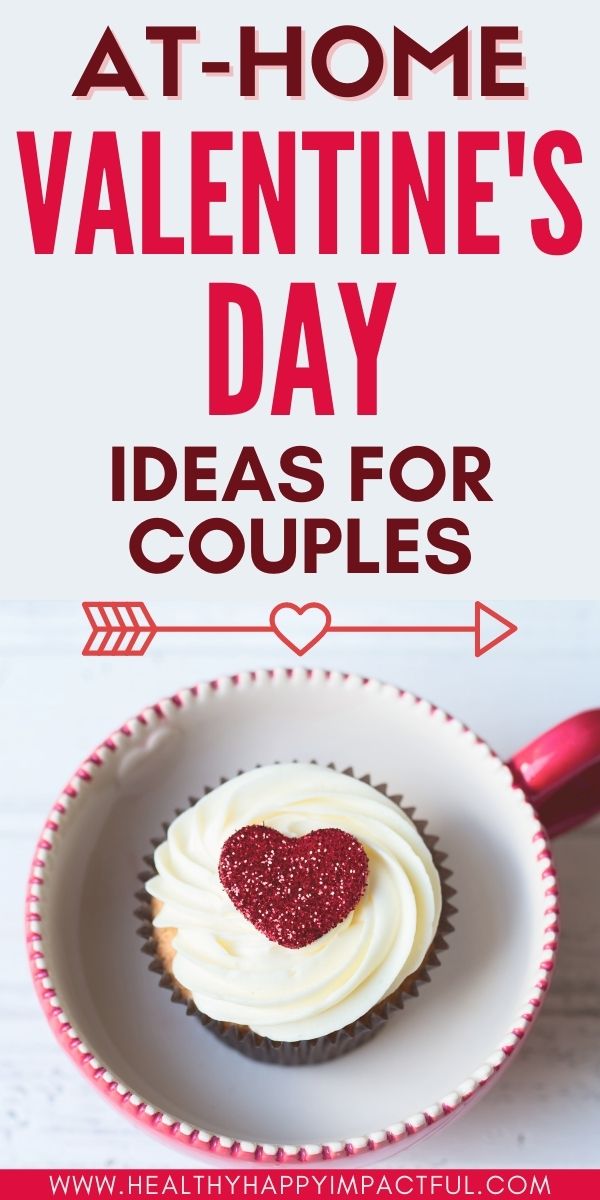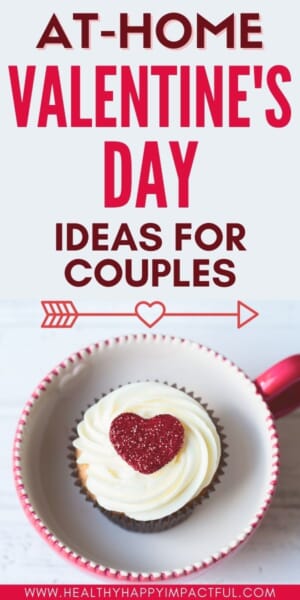 Are you in need of at home Valentine's Day ideas too?
Here are easy ways to have fun together without leaving your comfy abode.
1. Start With Breakfast in Bed
First, begin the special day with a simple breakfast together in bed! (This isn't a lot of work unless you want it to be.)
Buy muffins, indulgent coffee, and/or mimosa ingredients ahead of time, and get up a few minutes early to enjoy them together while the kids are still sleeping or otherwise occupied.
2. Do a Chocolate Tasting
What's your favorite chocolate? Do you know?
For a special Valentine's Day treat, buy three different kinds of fancy chocolate and do some taste testing together. Perhaps there's a variety or brand you find that's better than the others.
To go in-depth check out this chocolate tasting for couples at Datingdivas.com.
3. Liven Up Your Conversation
Time to get the conversation going! Get creative with specific questions for couples or play this Valentine's Day Trivia Questions Game. They are simple ways to talk about things outside of your normal routine!
These would you rather questions are for couples also work great >>
5. Have a Romantic Picnic
Picnics are the BEST cheap yet romantic date. Take your picnic delicacies on a blanket outside or on the floor in your living room next to the fire.
Here are fun picnic food ideas:
fancy olives
gourmet cheeses
salami or prosciutto
a piece of bakery cheesecake, cake, or cupcake
fresh fruit
sliced peppers or cucumbers that dip in guacamole
quality crackers or a fresh loaf of bread with butter
bottle of wine
chocolates
4. Get or Make a Pizza
Short on time or energy? There's no shame in picking up a pizza! Most places even have one in the shape of a heart for the holiday.
6. Swap Massages
Next, enjoy a little relaxing love on this fine day. Swap shoulder rubs, then enjoy a bubble bath (together or apart), candles, and chocolates by the tub. A foot massager works well too.
*Having a warm set of towels ready to go when you're done is a nice added touch.
7. Eat Mood Inducing Foods
Want to really spice things up?!
Serve up a dinner of foods that get the motor running…
Here are some aphrodisiac foods backed by science, according to healthline.com:
pistachio nuts
fenugreek
red ginseng
saffron
It turns out that the foods we associate with getting in the mood (chocolate and oysters) don't have a ton of scientific evidence to back them up. Yet, serving them may give you a nice placebo effect anyway!
8. Dance in the Kitchen
Next, turn up your favorite music and take your partner's hand. Enjoy a slow dance together or take it up a notch and get your boogie on. Either way, you'll be enjoying yourself!
9. Go Somewhere (Kind of)
For this unique way to make Valentine's Day special, there are two options.
Create a theme in your home from a place you've been or would like to go. For example, Houzz.com shows us how to bring the beach to our home. Then, enjoy the food and culture associated with that place.
OR
Plan out a future vacation together. Maybe it's a getaway you want to do with just the two of you. Or perhaps it's a family vacation that will create lasting memories. Whatever it is, spend the evening hatching out your plan.
10. Sneak Out
Perhaps you need to branch out and do something spontaneous.
Once the kids go to bed, bundle up and sneak outside to drink champagne in the snow. After you get a little chilly, warm up together by the fire.
*If you're feeling in a rut, check out these small ideas to get out of your comfort zone and do one with your partner!
11. Cook a Romantic Dinner
A fancy dinner by candlelight is always a fun treat! So, break out the good food and wine!
If you have kids and you'd love for this to be special for you and your partner, put them to bed early, or give a little extra tv time. Then, enjoy the food and great company.
12. Take a Personality Test
Confession: we were a wee bit obsessed with the Enneagram personality chart for a while.
But really, how cool is it to have a tool that helps you learn about yourself and your significant other?! The truth is, it's very difficult to see ourselves clearly. So, spend time learning about the two of you.
13. Make Dessert Together
Perhaps a fancy dinner is too much work! Instead, stick with dessert. Bake beautiful sugar cookies or a sweet heart-shaped cake to enjoy together at the end of the night.
14. Create a Dinner Bar
Another easy dinner option is to turn your dinner into a "bar." Make a nacho bar or baked potato bar and have fun putting creative toppings on your dinner.
15. Have a Living Room Campout
While this is one of our favorite family ideas in the winter, it also makes a great date! When the kids go to bed, make s'mores in the oven and enjoy them with wine and a film together. Or get creative with your own blanket fort.
Here's a great list of romantic movies and cute challenges for couples to help you connect!
16. Try Game Night
Dust off those games! Then, mix up a Valentine's cocktail, break out the snacks, and channel your inner playfulness for a night of board games, cards, or video games.
*Double bonus: challenge your partner to a game of strip poker or sexy Truth or Dare.
17. Get Out Old Stuff
One holiday, my husband and I pulled out old cards and gifts we'd given each other when dating. Not only was this free, but it was a bit emotional and kept us engaged for hours.
18. Write Your Bucket List
Next, have you ever thought of what you want to do with your one precious life?
Of course, all of those dreams affect your partner! So, get out a pen (or your computer) and dream together!
Check out these vision boards for couples, these fun bucket list ideas for couples, or this five year plan idea if you need a guide.
An Added Touch to Make Valentine's Day Special
The ideas above make for great stay-at-home dates. Now, let's find a few extra ideas to make Valentine's Day special for both of you.
19. Leave Love Notes or Gifts
Kids aren't the only ones that enjoy notes of love and appreciation (get free love notes for them HERE). Adults like it too!
So, pull out a few post-its and write something specific that you appreciate about your partner. The gesture won't go unnoticed.
Then, go to this link: A Fun list of creative little love gifts for more ideas!
20. Hold Hands
Easy, right? But as the busyness of life gets in the way, often we forget to do this. Bring it back on this day and be intentional about grabbing your partner's hand at least once.
21. Toast to Your Relationship
The two of you are still going strong, and that's something to celebrate! So, get out that champagne and toast your hard work and commitment.
22. Get a Fun Bedroom Game
Most parents of kids are tired. But we all need to shake up the routine once in a while. So, make it easy by purchasing a small bedroom game that helps you spice things up.
23. Hide Hershey's Kisses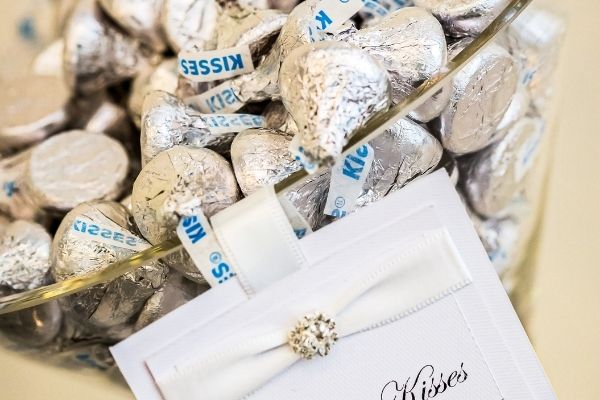 Here's a cheap, yet super EASY at-home Valentine's Day idea! Give your partner a jar of Hershey's kisses or hide them around their stuff. Everyone appreciates a little chocolate!
24. Write 10 Things
Finally, write ten things you love about your partner. Use this free reasons why I love you printable or make it into a card or booklet and suddenly you have a free but meaningful way to say I love you.
Find more ideas with 131 Ways to Say I Love You (without saying the words)
To Consider With At-Home Valentine's Day Ideas
These at-home Valentine's Day ideas can be used for any holiday, anniversary, or even just a regular date night at home!
What are your favorite Valentine's Day ideas at home?
More posts for couples and family…
Other awesome Healthy Happy Impactful posts…
Stay at Home Ideas For Valentine's Day That Will Rock Your World