20 Unique Love Gifts (Perfect For Valentine's Day or Your Anniversary 2023)
Find a Special Gift for Someone You Love in 2023
Last anniversary, my husband surprised me with one of the best love gifts ever.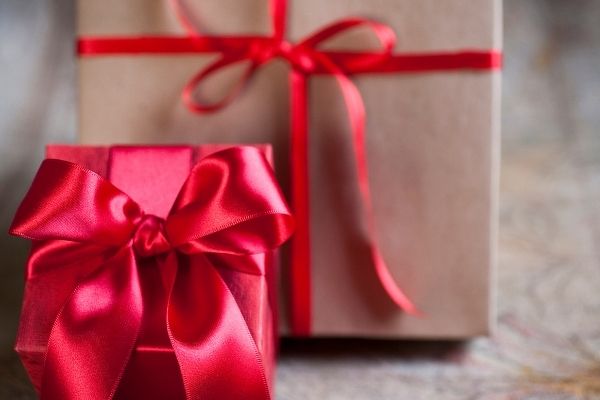 Years ago, when we were long-distance dating, I often sent him sweet and encouraging cards. It turns out, he saved every single one of them. So, he wrapped them up and we spent hours perusing them and reminiscing about old times.
It was such a simple, but thoughtful gesture. And I was in tears by the end.
(Now don't worry, I did not miss the fact that he gave me a gift that I had given him years earlier. I mean, well played husband, well played.)
This post contains affiliate links, and I may earn a commission at no cost to you. See my disclaimer for more info.
Yet, I was also shocked to realize that I used to be WAY more romantic. Three kids later, and sweet gestures have been replaced with falling asleep exhausted on the couch.
So, with Valentine's Day around the corner, we're exploring simple unique love gifts to give the man or woman in your life. Some work great for kids too!
Plus, all are easy items or actions that express love without putting a big dent in your wallet or schedule.
The following post includes:
Sweet gifts to make
Personalized love gifts to buy
Thoughtful gifts to do
Romantic Love Gifts to Make
First, if you're the DIY type, these small love gifts are sure to impress.
I Love You From A to Z
For this free idea, put together a collection of reasons you love your partner starting with every letter of the alphabet. For example:
A = All the hard work you put in for our family.
B = Butt. Your butt.
Make it into a poster or book, and you're done. If you have young kids at home, they'll LOVE helping with a PG version! *For a ready-made print, try this free 10 reasons I love you printable!
Date Night in a Box (or Basket)
Do you prefer gifts that make memories? Give the gift of an unforgettable date!
Here are ideas for an at-home breakfast date gift:
Champagne and orange juice (mimosas!)
Muffin mix or a pastry item from the bakery
A gift card to a local breakfast joint
Fancy coffee with gourmet creamer
Unique couples questions to get the conversation going
For more date basket ideas, check out this date night gift ideas post!
A Love Letter or Love Notes
If you haven't expressed yourself to your partner lately, try writing a short (or long) note telling how you feel and all the things you appreciate about him or her. Use these heart printable cutouts to help!
Short on time or paper? Use a dry erase marker and say it on the bathroom mirror!
We all love to feel appreciated sometimes, and this one takes very little time.
*For kids, print off these free love notes or use sweet love quotes!
Year of Dates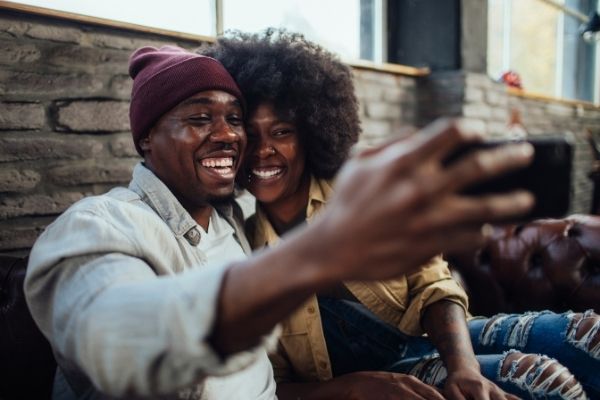 Is it time to spice up your dating routine?
Ensure that you get at least one fun date a month by planning out 12 dates for the next year. Write the dates on cards, and if you think you'll have a hard time following through, buy items ahead to make it as easy as possible when the time comes.
Message in a Bottle
Next, write a few encouraging and sweet messages in this bottle for your partner or kids to pull out. It makes for a personalized and unique way to say I love you.
*See Creative Ways to Say "I Love You" HERE for similar ideas!
"Love Potion" Kit
Next for the DIY lover, find a Valentine's Day cocktail or buy ingredients to a punch or mocktail that your partner would enjoy. Then, put it all together in a gift basket and label it the "love potion" for the day!
Here are some fun Valentine's Day cocktails, and another great drink that can be non-alcoholic.
Make a Sweet Treat
Finally, cake, sugar cookies, and chocolate-covered strawberries are all easy to put together. And most of us are happy campers with something sweet!
Personalized Love Gifts to Buy
Now, for those strapped for time, or with a recipient that appreciates a meaningful bought gift, these ideas will do the trick!
Adventure Poster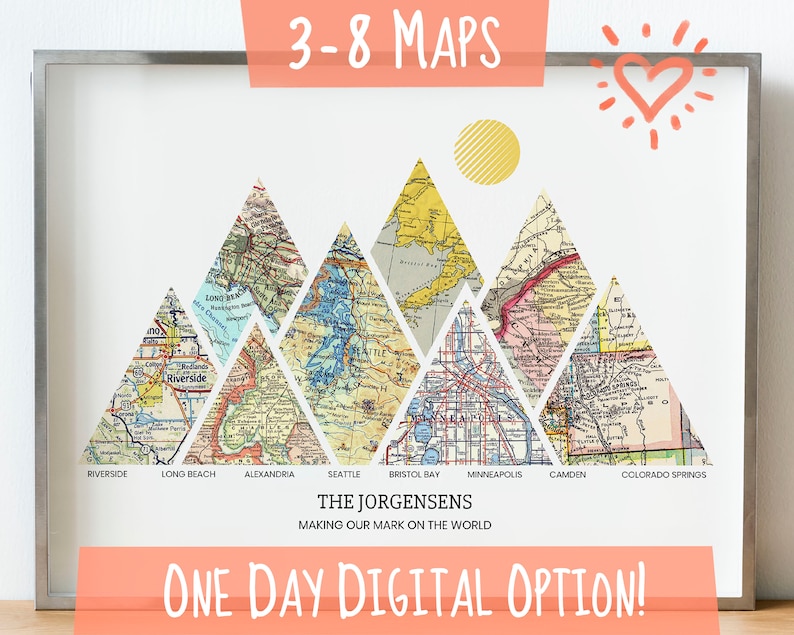 Celebrate your adventures together with this fun poster of the places you've been!
Heart Collage – Minted
This beautiful collage displays all of your best photos and memories. It's a thoughtful and artistic way to showcase your relationship.
Personalized Photo Puzzle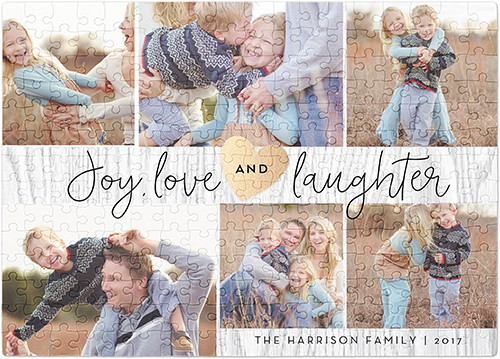 A photo puzzle comes from your favorite photos, and makes an amazing gift for women, men, or the whole family!
Compass Necklace
The sweet necklace above is a perfect (and inexpensive) way to show the woman in your life how much they mean to you.
First Dance Song Artwork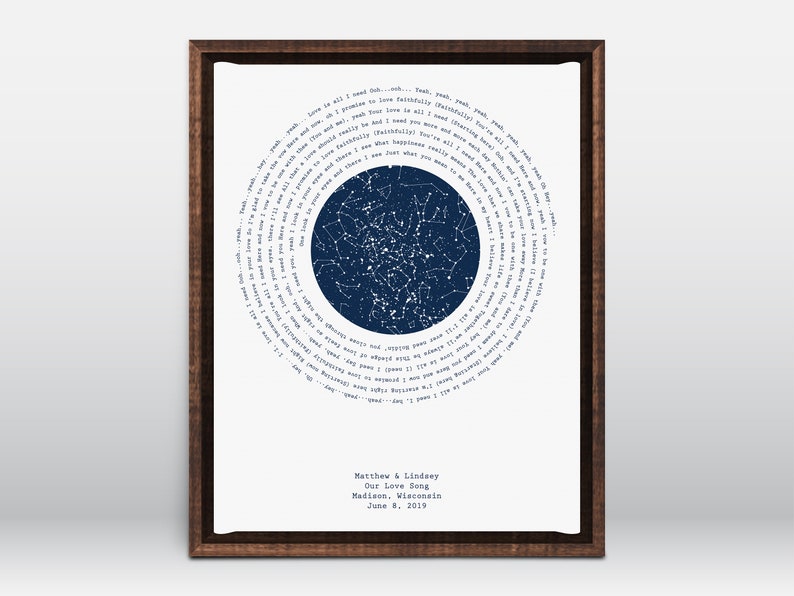 Next, commemorate your wedding day and first dance with this special gift you can display for years to come.
What I Love About…
The "What I Love About" book from Amazon is an easy winner! It has specific spots to fill in and help you get creative in expressing yourself.
A Funny Card
Now, sometimes there's just nothing like a card that makes someone laugh or highlights your weirdness. So, get the goofiest card you can, and go for it!
Personalized Cutting Board Etsy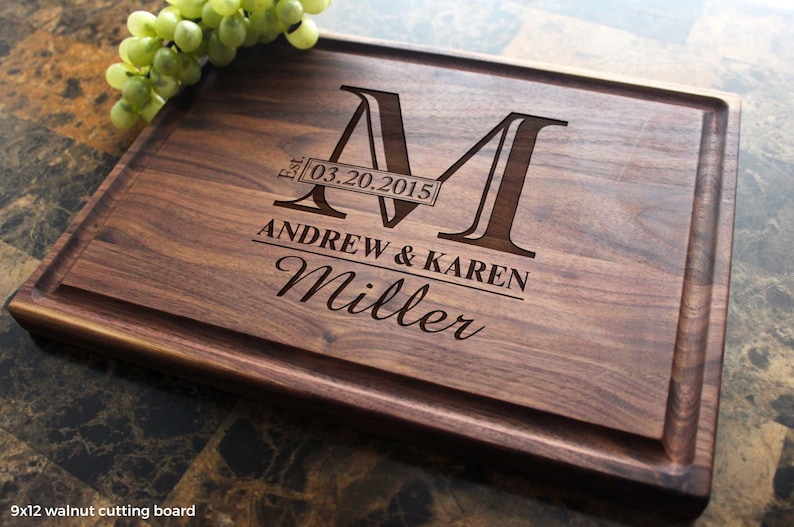 This monogrammed cutting board is such a neat way to spruce up your kitchen. It's one of the unique love gifts if one or both of you spend a lot of time in this part of your home.
Treat Filled Slippers
And finally, for a gift you buy…who doesn't love a cozy pair of slippers and some fun snacks? Not only is this easy, but it's a crowd-pleaser for anyone!
*Need more on WHAT TO DO with your partner? Read these ideas to celebrate Valentine's Day at home.
Unique Love Gifts to Do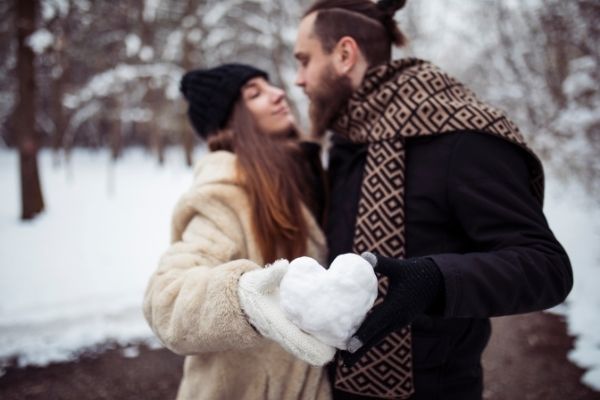 In our last category, the ideas below are all small gestures that speak volumes. All of the ideas make a perfect gift for someone you love!
Love Coupons
Make your own coupons for chores and favors or get these romantic free love coupons for your husband or wife!
Hershey's Kisses in a Jar
Another cheap, but sweet idea. I mean, who doesn't love chocolate?
Stick kisses in a jar or fancy glass for your partner to enjoy all day long!
Lunch Box Jokes
Next, if your partner or kids are leaving the house, stick a fun joke in their lunch or backpack. If not, tell them at dinner.
It's a small action that gets everyone laughing!
Plan a Trip or Getaway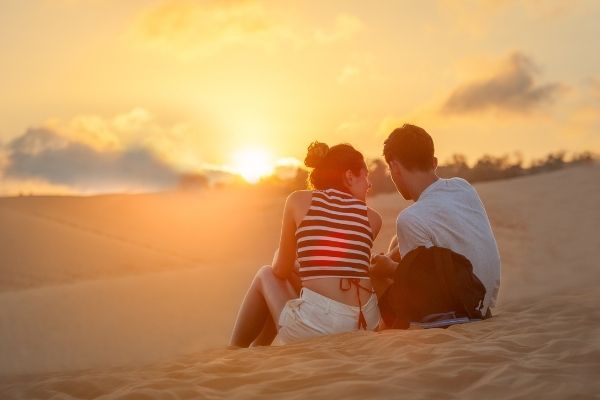 And finally, plan a trip for you and your partner or family. The act of planning is sometimes tedious, and doing it for the sake of your partner is a sweet way to show you care.
*For more activities with your family, check out these Awesome Family Activities for V-Day
To Consider With Unique Love Gifts
Use these ideas for Valentine's Day, an Anniversary gift, or just to show a little appreciation to someone that needs it!
What are your favorite love gifts? Has there been a gift that really brought you joy? Share in the comments!
Other thoughtful gifts that say I love you…
And more from Healthy Happy Impactful…
Personalized Love Gifts That Have Meaning