How to Make Friends As An Adult (& Keep Them for Life)
23 Easy Ways to Make Lifelong Friends
I have this awe-inspiring friend.
She just so happens to be the best networker I've ever seen.
I mean, I doubt she sees it that way. She simply wants to make lifelong friends as an adult.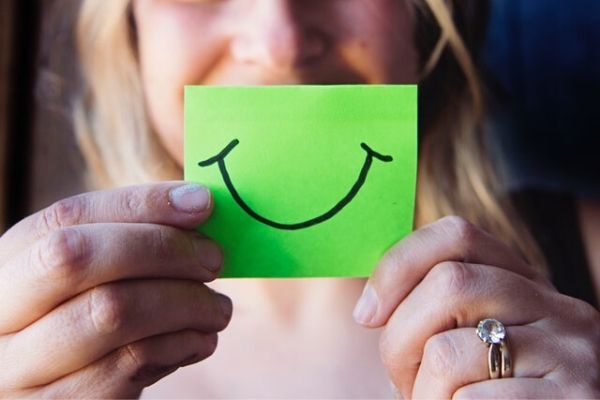 But she can make a friend out of ANYONE and make it look incredibly easy.
Plus, she inspires me to do better, as friends should do. Heck, I've been taking notes from her for years because for the rest of us mortals, making friends as an adult can be extremely intimidating.
Why Friends Matter (Even as an Adult)
My friend is a mentor for a reason.
Importantly, we need people in times of celebration and in times of need. Because, guys, there are plenty of both in our lives no matter who you are. Why go through it alone?
Furthermore, the research tells us that relationships are the crucial element to a joyful life.
Yet, even if you ignore the feel-good aspects, community is how people succeed. We are so much more likely to support and go out of our way for those that we know and like.
This post contains affiliate links at no cost to you. However, I only recommend products I love. See my disclaimer for more.
How to Make Friends & Stay Connected
Many of the sensational ideas below come straight from things that I have seen her do to build her tribe of people. So enjoy!
1. UTILIZE THAT FIRE PIT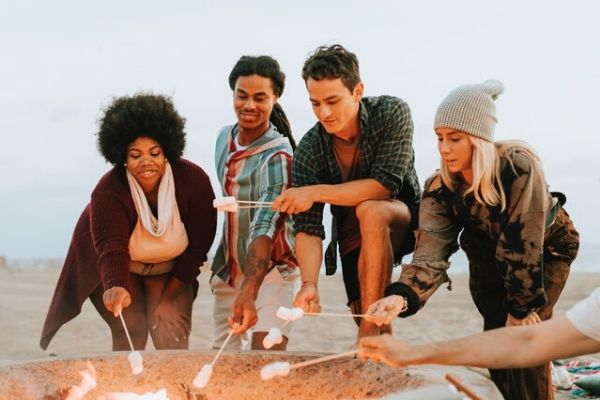 First, throw some chairs outside and get your fire pit going.
Invite people over, or just sit in the front of your home and be visible! Have a cooler of drinks for anyone that stops by!
2. HAVE A REGULAR WINE NIGHT OR WINE CLUB
Wine night with friends is one of the best things ever invented for moms (and everyone.) I can do it after bedtime, and if I have it at my home or somewhere close, it's extremely convenient.
3. WALK WITH NEIGHBORS
My amazing friend sets up a "walk with neighbors" occasionally.
She announces it to the neighborhood, and we simply meet at a spot and take a walk. It's free and we all get a little exercise too! Plus, it's a great way to meet people you wouldn't necessarily talk to!
4. HAVE PIZZA AT THE PARK
It's pretty easy to make lifelong friends as an adult when you have food. So, grab something quick and easy, and send a text to someone to see if they want to meet at a park to enjoy it with you.
No cooking or cleaning involved, and they will probably be relieved they don't have to cook either!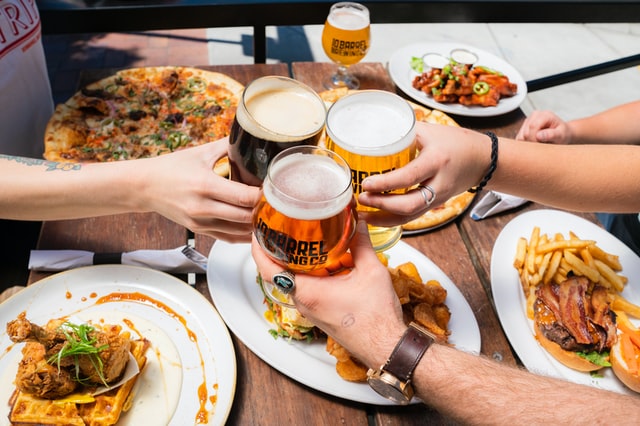 5. INVITE SOMEONE OVER FOR DINNER
We have always had this as our goal, even though three kids make this a bit more difficult.
BUT, it's worth it. If we make the same dinner I would have already made, then it's no extra work. And, honestly, I'd rather people see my house messy, than never invite anyone over.
6. FIND GARAGE SALES IN THE NEIGHBORHOOD
When your neighbors are having garage sales, stop by for a chat! It's an easy way to spend time with people that live around you!
7. ASK TO CARPOOL
I never would have thought of this, but by being part of a school carpool I naturally see other moms on a more regular basis.
The same goes for walking! When we walk to school, I ALWAYS see someone there to talk to.
So, get out in your community! It's also one of the easy ways to make friends through work if you do a work carpool.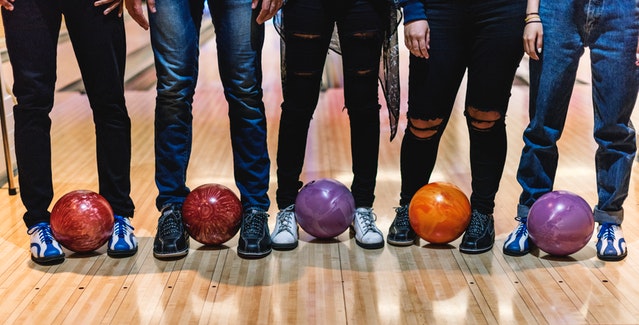 8. JOIN A GROUP, CLUB, OR ORGANIZATION
Are you struggling to meet new people? Join anything! There are church groups, school groups, running groups, knitting groups, you name it.
So, follow your passions! Facebook and Meetup are great places to find such groups.
9. DROP OFF A COFFEE TO SOMEONE
This is just a super-easy way to get out and talk to someone. Every time I do it, I have built-in friend time for a few minutes to help me get through the day!
10. HAVE A PARTY
Celebrate the change in season, and use it as an excuse to build community! At the beginning of summer, throw a party with bounce houses, yard toys, or slip n slides.
This can be as easy or complicated as you want!
Related Post: 5 Tips To Get The MOST Out of Summer With The Kids
11. JOIN A BOOK CLUB
Do you know someone that loves reading? Read a book separately and talk about it! Choose any genre! Then, start a club!
Related Post: The 5 Best Self Growth Books
12. DO ANNUAL FRIEND TRIPS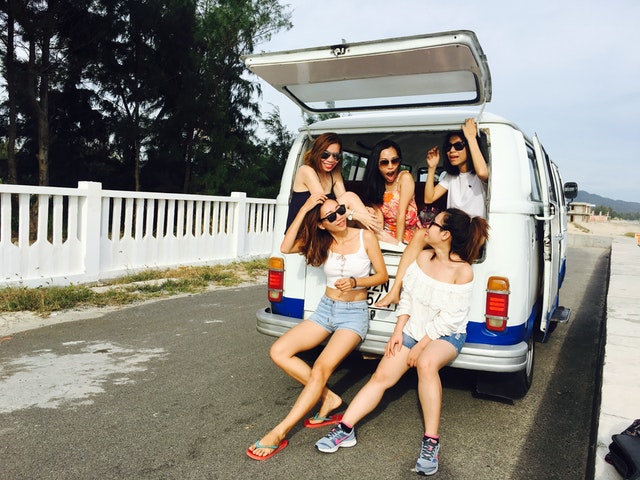 Annual trips are a fantastic way to grow your relationships. I may not get to see some friends often, but I know that there are sacred times of the year.
So, plan small and large trips with friends that get you out of your comfort zones and create awesome memories.
13. CELEBRATE CINCO DE MAYO
This is a brilliant way to build your neighbor community!
Put a table up in your front yard with a crockpot of taco meat, fixings, and some margarita stuff. Invite your neighbors over and have a front yard Cinco De Mayo party!
It's very easy, and it's a fantastic way to get to know neighbors that you never talk to.
14. SHOW A MOVIE OUTSIDE
In the summertime, find a projector and show a movie! Put a sheet over your garage door, pop some popcorn and invite a few people over.
15. DO COFFEE, LUNCH, OR DINNER DATES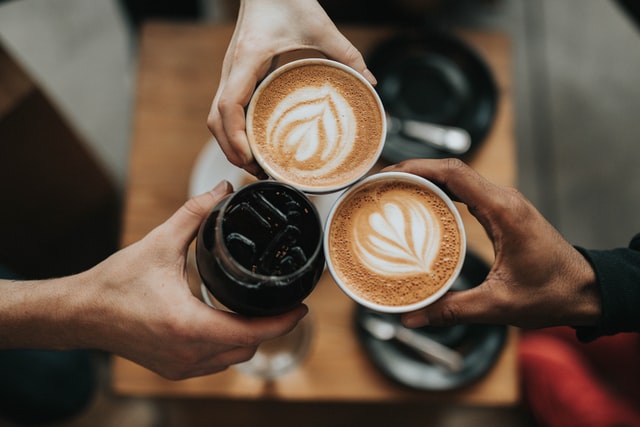 This is self-explanatory. Make it a priority to see friends and family regularly.
Schedule in a weekly or monthly time if you can, so that it comes FIRST in your calendar.
16. GO TO AN ANNUAL CONCERT
Are you a music lover?
Commit to see a concert every year and invite someone new to go with you! Or make it an annual tradition with the same person!
17. CREATE SPECIAL HOLIDAY TRADITIONS
We see people more around any holiday, which makes it a PRIME time to make and maintain your friendships. Here are a few ideas!
Do an ornament exchange every year around Christmas.
Go out on an annual couple's date with a group of friends around a holiday you love.
Friendsgivings are a popular way to get people together. This doesn't need to be traditional food, it's just a way to bring others close!
Any annual traditions for holidays will create unforgettable memories, and it's doesn't have to be at Christmas. Check out my unique ebook for 257+ tradition ideas for all different times of year! It includes an entire chapter on friendships!
18. GO OUT ON A GROUP DATE
Invite another couple out on the town. Or even hire a babysitter to watch the kids in the basement while you do dinner and games upstairs!
Check out fun games to play HERE.
19. SET UP A PLAYDATE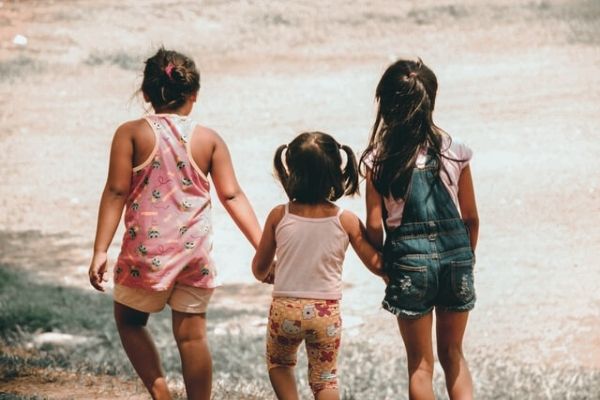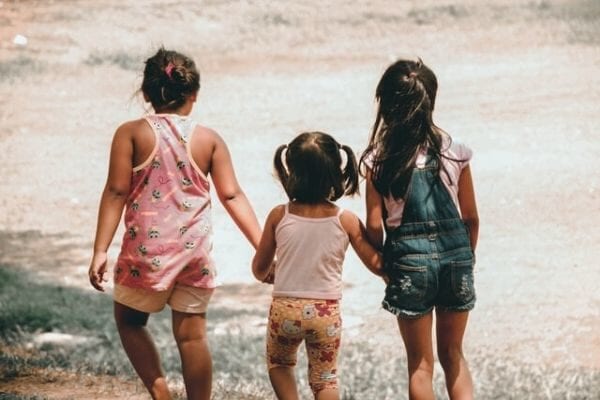 Having children gives you something in common with other parents. During the summer or school breaks, it's easy to meet someone at the park and get to know a parent.
No kids? Have a dog meetup instead!
20. DROP OFF A GOODIE
The first time my neighbor friend dropped off cookies, I was so surprised. Like, people do that?!
And here's the thing, I had just suffered a late miscarriage that led to a middle of the night ambulance and emergency procedure.
I was a MESS, to say the least. That one simple act meant more to me than she could have possibly known.
You never know what people are going through behind closed doors.
So, make it a welcome to the neighborhood, or just as a gesture to show you're thinking about them.
Related Post: 16 Inspirational Ways to Spread Positivity
21. VOLUNTEER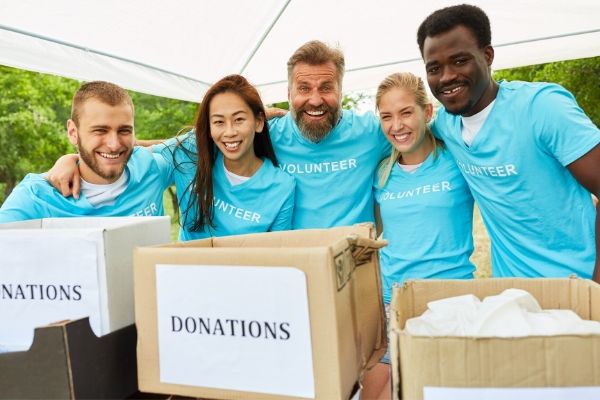 By giving your time, you will meet an entirely new group of people that also have your same interests at heart.
Whether that's politics, animals, healthcare, or the environment, you already have something to talk about!
This is a great way to find those amazing friends to make as an adult!
22. EXERCISE WITH FRIENDS
This doesn't have to be a hard class! For a while, I did a restorative yoga class with a friend. It was the best stress relief I could have gotten at the time and it brought us closer together.
But if you're looking to sweat it out, invite someone to an intense one and get fit together!
The accountability will make it easier to work out too! Win-win!
Related Post: How to be Healthier in 2020
23. TRY A PROGRESSIVE DINNER
Finally, set up a progressive dinner in your neighborhood. Have appetizers at one home, dinner at another, drinks and dessert at another.
What a fun way to mix things up and try something new!
And check out the free cheat sheet HERE to put on your fridge!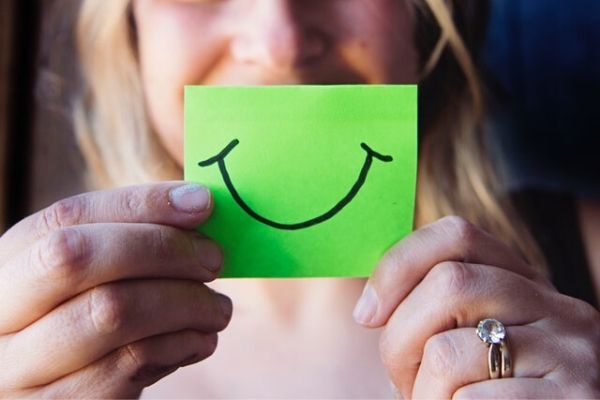 When You Meet Someone New
Finally, I KNOW that meeting new people is tough for most of us. So, here are three easy steps to make sure that you make friends as an adult with whomever you meet!
1. Make eye contact and smile. Go first, and make people feel comfortable.
2. Ask questions about them!!!! People feel as though they are connecting when they can talk about themselves.
(The second time I met my neighbor friend, I realized that she was EXCEPTIONALLY good at asking other people questions. No wonder she's so likable!)
Try these: The Best Ice Breaker Questions
3. Compliment them. Besides asking questions, complimenting them is another way to make someone feel good. Make them feel good, and you've got a new friend.
Check out this fun, quick video for more:
Something To Consider With Friendships
Making friends is not often an easy task, and it's equally as challenging to stay in touch with friends when life gets in the way.
So, what do you do that helps you make lifelong friends? How do you maintain them?
Finally, if you'd like more about making friends as an adult and building your incredible network, this book is a thorough guide that improved my thinking immensely.
Other posts for a happy you…
Make Lifelong Friends as an Adult