150 Girls Easter Basket Ideas 2023: Gifts You'll Love
What do you put in a girl's Easter basket?
Are your kids excited for Easter yet?! Today, I've got Easter basket ideas for girls that will make putting together their baskets EASY! (I've shopped through the list myself!)
Plus, these Easter basket stuffers are practical, encourage learning, or get them outside. All great things!
And, as with my non-toy gifts list, you won't find junky candy or stuff on this list! Each item serves a purpose!
This post contains affiliate links, and I may earn a commission if you purchase. See my disclaimer for more.
*Keep this list handy and save it to Pinterest!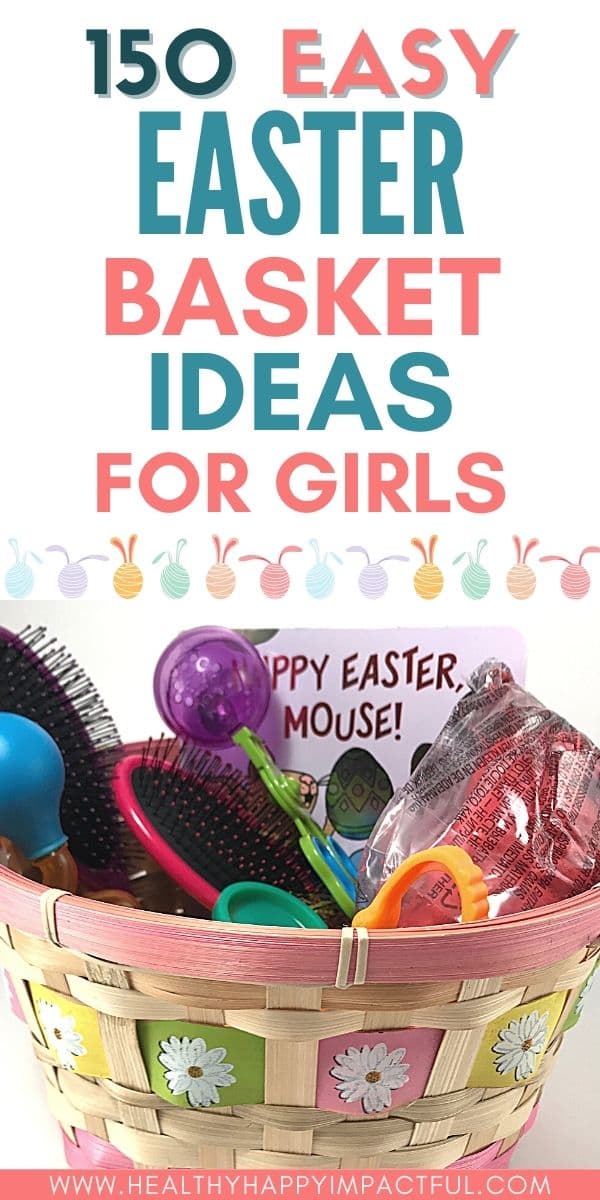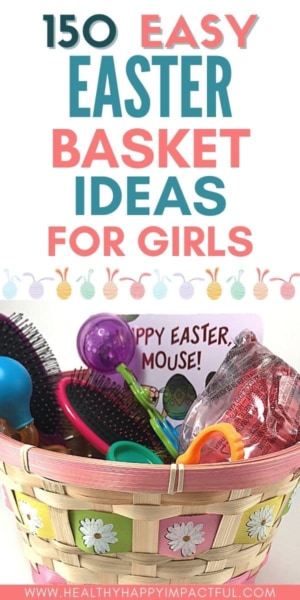 *If you have boys, check out this Easter basket ideas list for boys too! There are gender-neutral ideas for both lists, so flip back and forth for a mix that fits your child's interests perfectly!
And, if you're looking for a baby girl Easter basket or for tween and teen girls, read to the bottom of the post! I've gotcha covered!
Useful Easter Basket Ideas for Girls
First, let's start with practical gifts because they are items you NEED, plus they can be exciting to kids! Win-win!
Health & Hygiene Items: Stick in a bright new toothbrush! The spinning ones are extra fun. Plus, add in fun toothpaste, cartoon bandaids, and gummy vitamins.
Garden Essentials: Does your girl love helping outside? Put seeds in her basket along with gloves and a small shovel.
Check out larger garden tools HERE. >
Cool School Gear: Next, put in a new water bottle or bright lunch box to get her to the end of the school year. This cool (BPA-free) water bottle allows your girl to decorate it herself!
Rain Gear: It's the rainy season, so allow her to continue playing outside by gifting a fun printed umbrella, rain jacket, or colorful rain boots.
Hair Accessories: I swear my daughters' hair takes a life of its own! Fun hair ties, and a quality hairbrush are a must. We LOVE these Wet Brushes for getting out tangles.
Plus, if your girl is into scrunchies, then these Easter bunny scrunchies are so adorable!
Room Items: My girl very much appreciates cool stuff in her room, and usually they are useful items. So, consider a fun alarm clock or beautiful night light that helps with the daily routine too.
Clothing: Give the gift of a nice Easter dress, new socks, or even fun printed underwear.
Bath Stuff: A fun new pink bath towel, soap, and colorful washcloths are all things you need, plus making bathing time more fun.
Best Curiosity & Learning Easter Gifts
Next, develop their curiosity, creativity, and exploration skills with these girls Easter basket ideas!
A Butterfly Growing Kit: A butterfly growing kit is still our favorite gift EVER (for either gender). Nothing beats watching nature in action!
A watch: I love that this one helps teach them analog time! Plus, it's FROZEN! Our daughter also is obsessed with this fitness watch that tells her how many steps she has.
Scratch Art: These scratch art activity books from Melissa and Doug are the perfect size to take on car trips and on the go!
Wikki Stix: This re-usable wax and yarn kit makes for great custom sculptures! It's also a unique craft to bring out on rainy days!
You can grab this activity book too that starts your child off with ideas.
Fine Motor Tool Set: If your young child loves sensory bins or just loves digging and exploring, these tools come in handy!
Craft and Cuddle Bunny: This unique stuffed animal from Alex Toys lets the child draw on her special bunny. Plus, it comes off in the wash, so the kid can color again and again!
Play Dough or Moon Dough: You can never go wrong with materials that promote creativity. This play foam is unique, or try this classic, but festive egg play dough!
Painting or craft supplies: Are you running low on these items? Stock your child back up with glue, paints, brushes, googly eyes, popsicle sticks, and more. Here's a full craft kit to make it easy!
Art supplies: My girls LOVE to color, so this pink art case is a perfect gift to stick in their basket!
Puzzle: These are always a winner. Go with her interests or stick with spring themes like weather, animals, and rainbows. This Easter hidden pictures puzzle is popular!
Paint by Sticker Books: Sticker books are a wonderful idea for creative fun without the clean up! If your girl enjoys stickers, she'll love using them to make a picture! Here's a fun unicorn one!
Reader Favorite
Stained Glass Projects: Kids will enjoy letting in the sunshine with their special stained glass on the window. This stained glass butterfly makes for an easy project!
Lego sets: Legos are a winner any time of year, and something that all kids appreciate. Here's a specific Easter one!
Melissa and Doug Slice and Sort Wooden Eggs: This fun wooden toy is great for young kids to practice cutting, sorting, and matching.
Books for Easter Baskets for Girls
Books: Books like Happy Easter Mouse or Pinkalicious Eggstraordinary Easter are sure to be a winner in your Easter basket ideas for girls!
Other amazing books include:
*For more books, check out the books section in the basket ideas for boys! (Many are gender-neutral!)
Fun in the Sun Girls Easter Basket Ideas
Enjoy this large section of Easter gifts for girls that get them OUTSIDE!
Flower Garden: This paint and plant flower growing kit makes a beautiful addition to your backyard, and will give her something to look after this spring.
Fairy Garden: Next, let your daughter get excited about growing her very own garden for fairies! This one even lights up and includes painting.
Water Toys: And of course, think ahead to summer! Don't forget the water balloons, a slip'n slide, a sprinkler/splash pad, or water soakers! You'll be glad you did in July!
Walkie Talkies: While you wouldn't necessarily consider walkie talkies an outside toy, it's an easy way for you to send the kids outside to play with them! They are also great for camping and hiking!
Bike Accessories: Next, encourage bike riding with fun things for their bikes like a bell, cool bike helmet, basket, or cute bike wheel spokes.
Outside Toys: Quality binoculars, a jump rope, and even a simple tree swing do wonders for keeping the kids busy outside.
Special Outside Fun: We LOVE including things in their Easter baskets that keep the kids entertained outside. Bubbles, a fun bubble maker, a kite, this festive egg sidewalk chalk, and sidewalk paint make that happen.
Beach/Pool Necessities: Now, the pool and beach! If you'll be heading there, consider throwing a beach ball, shovels, a fun sand play set, a beach towel, swim goggles, or a new swimsuit into the mix.
Here are fun foldable beach buckets >>
Nature scavenger hunt: Not everything needs to cost money! Print a free nature hunt here and start exploring!
Outdoor Equipment: Whether it's an Adidas soccer ball, frisbee, or backyard zip line, now is your opportunity to get kids active!
Summer Accessories: Every girl I know loves bright flip-flops! Plus, sunglasses and a fun hat keep them protected in the hot months.
Kinetic sand: This sand is a super fun opportunity to create and play inside or out! Choose bright colors and it's a real springtime treat!
Related Post: The Best Spring Bucket List (one for kids & mom!)
Just for Fun Girl Easter Basket Stuffers
Next, many of these items are low-cost and make great fillers around larger basket items! And, some are also fantastic for putting in your eggs!
Small Stuffers: Nail polish, chapstick, colored pencils, finger puppets, temporary tattoos, gum, glow sticks, and springtime stickers are perfect in your basket (or your egg fillers)!
Would You Rather Easter: This fun book of questions will keep everyone entertained for hours. And probably produce some giggles too!
Find Easter would you rather questions on this site too!>>
A Camera: This digital camera even has a bunny on it! Talk about themed correctly!
Gel Pens: Most girls love a good gel pen, and these even sparkle.
Jewelry: Help them be festive with a pair of hypoallergenic stud bunny earrings. Or try a mommy and me necklace set that brings extra meaning to the basket this year.
Easter Egg Slime: Finally, check out this awesome unicorn slime! It's a great small sensory play item!
Easter Eggstravaganza Mad Libs: Find fun fill-in-the-blank word games all about Easter.
Love Notes: These free love notes put a smile on any child's face. Easter trivia questions are fun too!
Easter Basket Ideas for Teen Girls
Now, teen and tween girls can be difficult to buy for! But these unique Easter gifts are sure to be cherished in her basket.
Technology: Consider a Kids Echo Dot if they love music. The kid's version allows for parental control!
Phone accessories would also be highly valued with your teen. Plus, this lipstick-sized portable charger will keep all of her devices going!
Ideas for on the Go: Teenagers are often on the go, so a nice stainless steel tumbler, water bottle, or a cute insulated tote lunch bag make thoughtful teenage girl Easter basket ideas.
A Great Book: Strong is the New Pretty is a celebration of beautiful girls in all shapes and sizes being themselves. And it's a wonderful pick to empower your daughter as she navigates the rocky terrain of growing up.
*Check similar growth mindset books HERE >>
A Locker Mirror: Often, teen girls enjoy small items in their locker, so why not a mirror or storage item to keep her organized.
A Fun Game: Not Parent Approved is based on Cards Against Humanity, but this version is a hilarious game for teens that is completely family-friendly!
Luggage or Luggage Tags: If your teen has spring break or summer plans, it's the perfect time to gift travel items! This 2-piece suitcase set comes in a lot of fun styles.
Bath Supplies: These bath bombs look like eggs and will help your teenager relax. (My seven-year-old is already obsessed with bath items!)
Magazines: Need a cheap filler? Add in a magazine to something they're interested in! (Lip balm is another great low-cost filler for teens – and this carrot cake flavor is perfect for Easter!)
Clothing: Teen girls can be a bit picky with their clothes, but if there's something she has been wanting, this is a great time to get it for her. Try these Forever 21 jeans >>
A New Purse: Help that teenager stay organized with her money and information! Here's a popular purse/backpack. And a unique personalized wallet>>
Gift Cards: Money/gift cards to where she hangs out, or a gas card to help her get around are big winners in your teen girl Easter basket! Grab an Amazon gift card here>>
iTunes Gift Card: Most teens download their music digitally, so an iTunes gift card makes for a useful gift too!
Teen Hygiene Supplies: Body wash, deodorant, fancy shampoo, face wash, a razor, and shaving cream are all practical but great options! Or try a set like this one >>
*Also, check out the "experiences" section at the end of this post. Many of those Easter basket ideas for girls work well for older ones too!
Baby Girl's First Easter Gifts (or 2nd)
Next, if you've got a baby girl Easter basket to shop for, try one of these!
Biscuit's Pet & Play Easter – This sweet board book is a fun touch and feel experience too!
Fun Easter Socks and Bunny Shoes- I mean how adorable are these?!
On the Go Travel Sound Soother: This cute little lamb will make baby feel better anywhere you go. The smaller size allows for taking it with you!
Simple Springtime Puzzles – Large wooden puzzles are wonderful for babies that are beginning to figure things out.
A Wubbanub Infant Pacifier – These popular binkies double as a paci and a toy! Plus they come in just about any animal you can think of!
Wooden Egg Shakers – These eggs make for an easy introduction to music!
Guess How Much I Love You – This classic bunny book is a great starter for your child's library!
A Personalized Easter Book – This unique Springtime book uses the child's name throughout the book. How cool!
A Bunny Bath Towel: Be sure to have the camera out when she wears it because this is seriously cute!
Matching Eggs – help your little one get started with colors and shapes!
An Easter Bib: We love the wipe down ones! It's so much easier!
An adorable Easter outfit – Baby girls are the MOST fun to dress! Here's an adorable Easter outfit!
Stacking Cups – These 8 colorful cups are great for developing newfound skills and make for easy storage.
Bath Toys and Books – And finally, play items for bathtime are a fun part of baby's day! Try these squishy bath books and this super fun Octopus toy!
Epic Experience Gifts
Finally, these ideas encourage quality time together, and you can't beat that!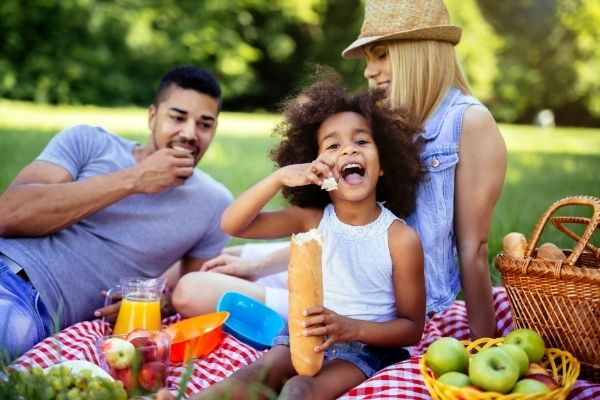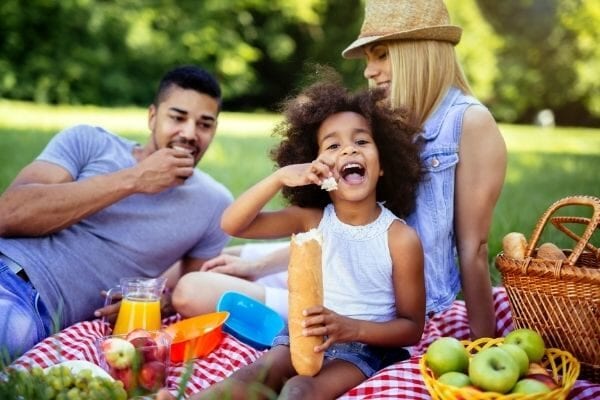 Kid Coupons: Give these FREE coupons for kids for things like game night, extra screen time, or a free chore day. They are the perfect addition to your Easter baskets for girls.
Tickets to the Zoo: It's warming up and the animals will be out. What a perfect family outing! If you don't have physical tickets, stick a fun diy voucher with a date in the girl's basket.
Tokens to the Batting Cages: Whether your girl plays softball or not, this is a fun outing!
A Voucher to Get Ears Pierced: If your child has been wanting to get her ears done, include a coupon date for this as well.
Tokens/Coupon for the Local Petting Zoo: This is cheaper than the zoo, but just as fun for kids.
Movie Tickets/Gift Card: Let her choose the movie and enjoy a film out!
Other Gift Cards: Kids love gift cards as much as adults. So, give them one to a restaurant or store they love, then watch their eyes light up.
A New Family Game: A board or card game is at-home quality time together at its best!
A Voucher/Coupon for Mini Golfing: Fresh air and put-putting as a family!
Tickets to a Professional Game (major or minor): Cheer on your favorite team together from the stands.
Ticket/Voucher for Another Fun Outing – The ideas are endless when it comes to things kids love! A trampoline park, indoor playground, water park, and rollerblading will all bring out the smiles in everyone.
Related Posts:
What I Got My Kids for Easter Video
Watch for exactly what I bought my kids ages 2,7, and 9 last year!
To Consider With Easter Baskets for Girls
* Need ideas for your specific child? Leave a comment below with her interests, and I'll help brainstorm ideas. 😊
Phew! That's a big list of Easter basket ideas for girls! I hope you found it useful and it makes putting together your baskets a breeze this year.
What are you giving this year? I'd love to know in the comments!
Other popular family posts on HHI…
Best Easter Basket Ideas for Girls: Baby, Toddler, & Teens Too!