11 Green Salad Recipes To Make You Forget You're Being Healthy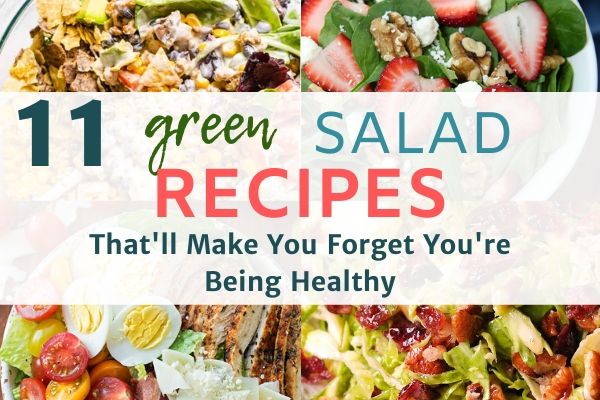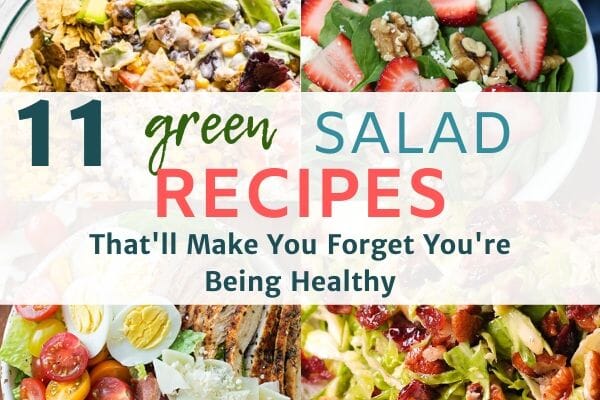 It doesn't matter what you believe in. Whether vegan, paleo, keto, or vegetarian, they all center around one central theme for a healthy lifestyle. Vegetables, and lots of them.
The very BEST way to get those in? A GREEN SALAD. Hands down, nothing else comes close.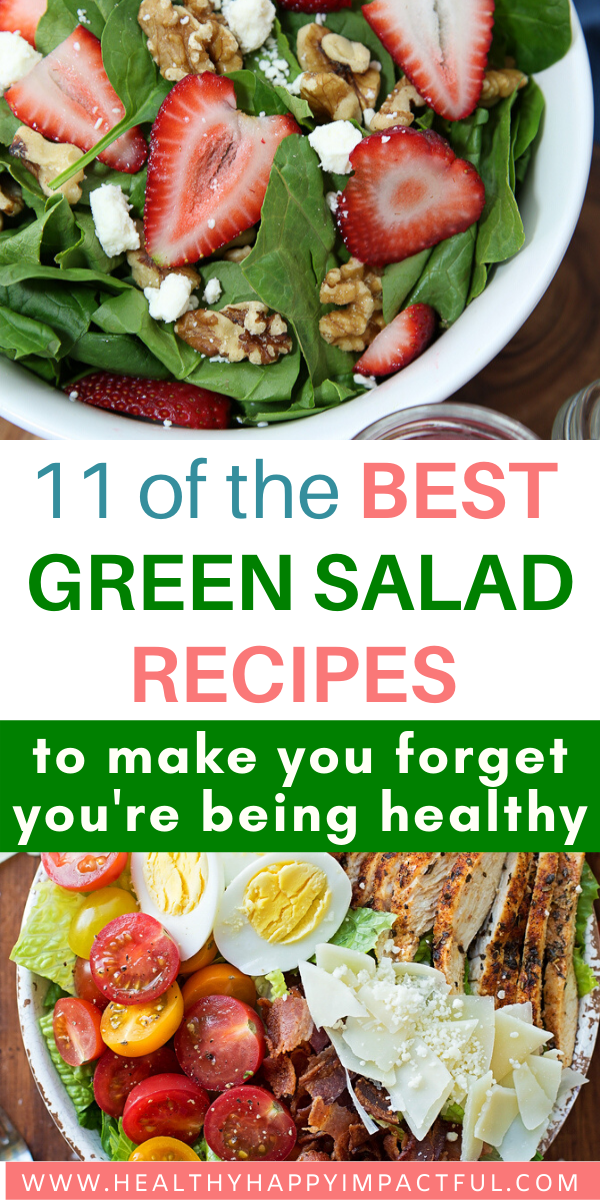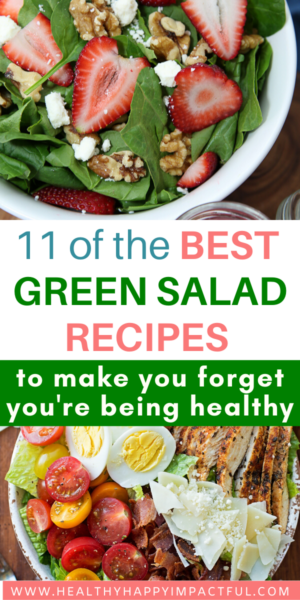 Furthermore, when I wrote about 21 fast weeknight dinner ideas, I was blown away by how many readers chimed in about the delicious salads they eat when time is tight!
One reader even keeps a tray of salad jars in the fridge to throw together a amazing salad at a moment's notice. Um, brilliant!
Unfortunately, most of us think salad, and think boring. And maybe it is a little bit. Because what's good for us isn't always glamorous.
In fact, usually what helps us live our very best selves is found in the least exciting parts of our lives. Fortunately, we are choosing to take care of our bodies, and salads are the fast track to do that.
Besides, perhaps our attitude can be fixed simply by taking the time to spice our salads up and make them a little fun. Try these 11 green salad recipes this week!
11 Green Salad Recipes

1. Caesar Salad
I love that this version of the classic has meat and tomatoes to make it a full meal by itself! No side salad here!
This beautiful dish will fill you up, and make it easy to convince others to eat it too! I'm especially digging the parmesan shavings!
2. Spinach Strawberry Feta Salad
My mouth has been watering for this salad ever since a reader explained that it was her go to weeknight dinner meal.
I chose this particular recipe because I'd really like to try to make my own sweet dressing for this salad, and all of the ingredients here are pure.
I even saw some versions of this salad with avocado, which would add some awesome healthy fat.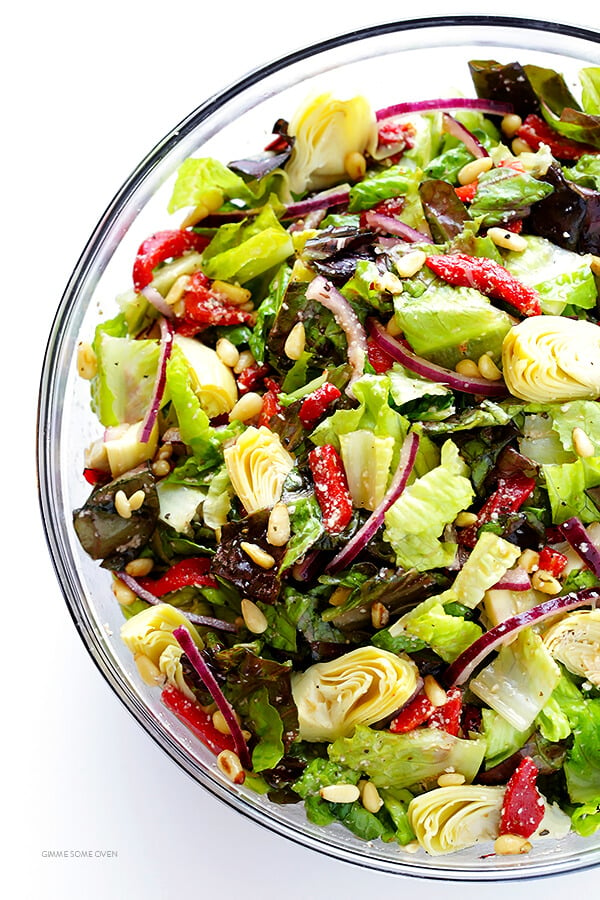 3. Greek Salad
We LOVE the greek salad at Zoes, and this looks like such a delicious twist on it. I love that there are artichoke hearts in it, and the vinaigrette she features with it looks flavorful!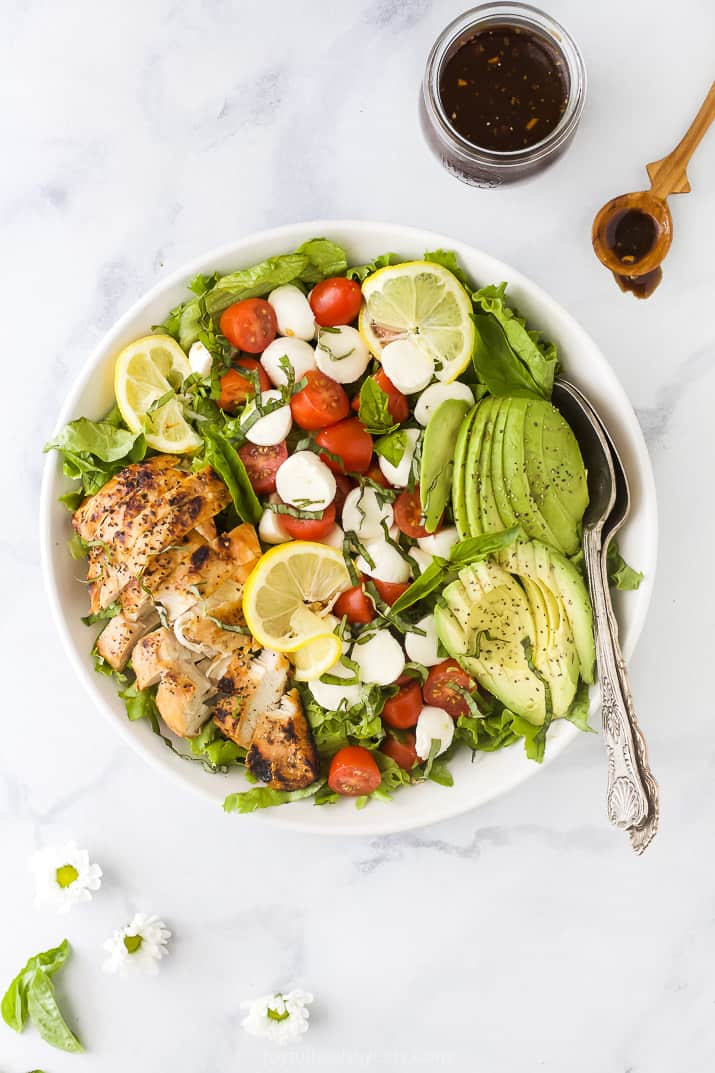 4. Caprese Chicken Salad
Ok, you caught me. I really just wanted a salad in here that had those amazing fresh mozzarella balls. So, that's pretty much why this one is in here!
But I also love that there's basil and tomatoes, and all things that remind me of summer. And like all the rest, this is so fast to make.
5. Apple Cranberry Walnut Salad
I've been dying to try some sweeter salads, and I really love the crunch of apple in a salad from time to time. This recipe fits the bill perfectly with what I'm looking for, plus all of the dressing ingredients are already sitting in my fridge and pantry.
This one may be the easiest for me to put together!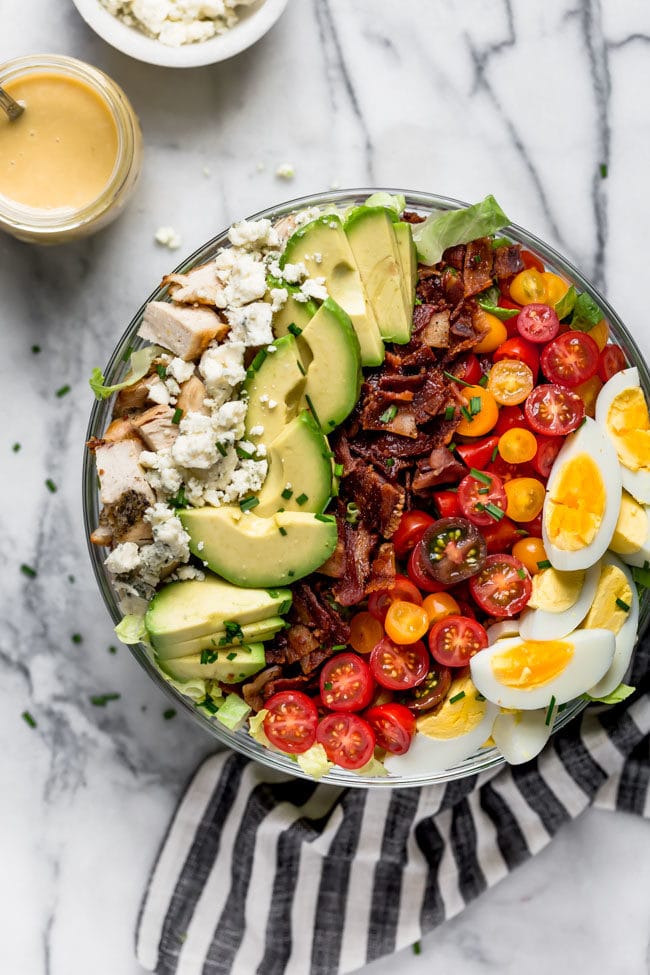 6. Cobb Salad
Like the caesar salad above, this salad makes a hearty meal on it's own. Sometimes, I just love a salad that I can throw a whole bunch of different things into!
This one features an interesting homemade dressing, but if I were to ever cheat and use a bottle of Ranch for nostalgia sake, this would be the one.

7. Chopped Salad
I'm so excited about this salad because it features two items not found in any of the others! Salmon and couscous! This is a lovely way to try something different than the norm! Let's branch out a little!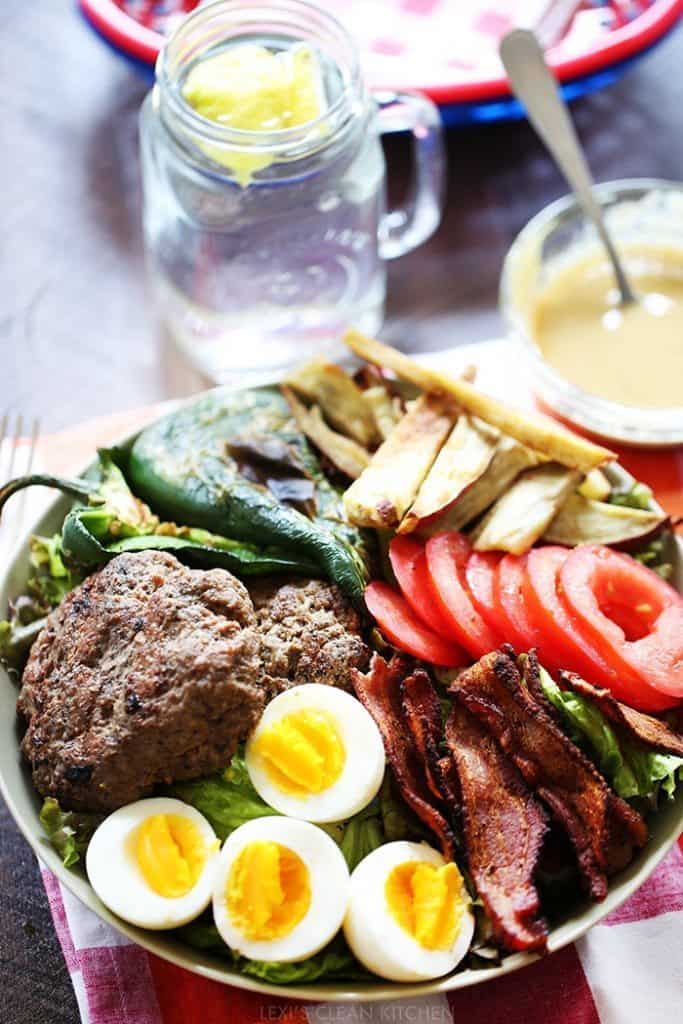 8. Burger Salad
Um gosh, I wonder why this one is on the list?! I think you could get even the biggest salad haters in on this recipe! The mustard dressing finishes it off perfectly!
9. Brussel Sprouts Salad With Honey Mustard
We don't actually do brussel sprouts often here, but this one just seemed to pull me in because it looks scrumptious.
This will make a great variation to a traditional salad, when you are sick of lettuce!
10. Cashew Crunch Salad
This divine looking salad has the perfect Asian flare and promises to provide just the right amount of crunch. The simple sesame dressing is the perfect addition. It looks so delicious, I can't wait to try it!
11. Healthy Taco Salad
And lastly, the old stand by. When we run out of ideas, we usually do something taco related for dinner at our house. This taco salad has me excited because she uses yogurt as the dressing. And well, that couldn't get any easier!
Plus, I love that she cooks turkey, as I've never done that for a salad before! Of course, the tortilla chips in the mix don't hurt either!
My Green Salad Recipes Challenge
I've been trying to add more vegetables into my diet for months, and reader comments a month ago inspired me to add more salads into the mix. So since then, my personal challenge has been to have a salad for lunch 5 times a week.
Sometimes I have a wrap or sandwich too, but it I try to include at least a small salad. And It's been working really well despite the fact that they haven't been nearly as fun as these 11 green salad recipes!
Join Me & Add Some Extra Salads!
So, by all means, take the 5 salad challenge with me! Can you get a green salad in 5 days a week? Your body will thank you, and if you try these recipes, so will your tastebuds!
Which one will you make first? Share what you think when you try one!
You May Also Enjoy…