A Spring Self Care Challenge
We all want to be happier and healthier in the long run, but building strong relationships and healthy bodies take time. Yet, how can we feel that way sooner rather than later?
We deserve to smile, laugh, relax, and feel amazing now, while we are working hard on bright futures!
I propose that we take part in a spring self care challenge! 🙂
As a mom, I have to create systems and tricks to take care of myself, otherwise it just never happens! So, I'm issuing a simple challenge this month, and I couldn't be more excited!
I've compiled a list of incredibly easy actions to do for ourselves for the rest of the month! We'll be making our own health and happiness a priority for a small part of each and every day.
*This post has been updated here to better explain the self care challenge! >>
The actions are geared towards spring to make the most of this bright season. So, challenge yourself to do one everyday, or simply pick a few for this week!
The Spring Self Care Challenge
The activities are pretty self-explanatory, but here are a few examples and pointers for specific days to get the juices flowing!
April 8th: Try a new flavored water recipe. Check out my Drinks Pinterest board for LOTS of delicious healthy water ideas!
April 9th: Create a vision board. Go old school with magazine pictures and images/quotes, or create your own inspirational board on Pinterest for your goals!
April 11th: Start a new inspiring book. I just ordered Girl, Stop Apologizing! This book article has lots of other great ideas!
April 12th: Do something playful. Crack a joke, chase around a kid, or have a tickle fight.
April 15th: Write down 3 things you're thankful for. Or buy a new fun journal and start a gratitude practice. (Find 50 journal prompts HERE)
April 17th: Simplify or detox in one way. Take a few minutes to declutter, clean up accounts or inbox, juice fast, or go without your phone all day.
April 21st: Meal prep healthy food for the week. Cut up veggies, make healthy snacks, or throw a few things in the freezer for later.
April 22nd: Listen to a new podcast or TEDTalk. Check out this article of the top 20 inspirational podcasts HERE.
April 25th: Open the windows and air out the house! If you're feeling extra motivated, wash the bedding for crisp sheets and fresh air!
Check out the spring bucket list for moms for even more ideas!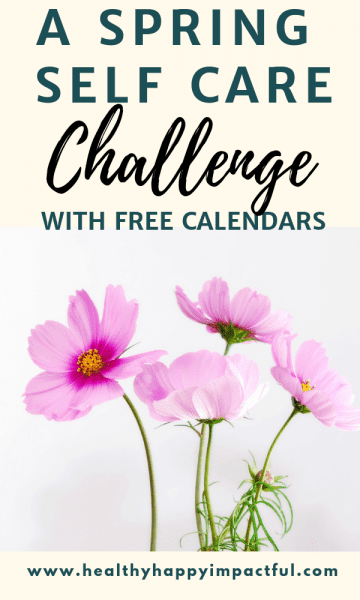 Make It Your Own
Personalize It – Modify the calendar to fit your needs and passions! If some of these don't work for you, then substitute in other ideas! You could add spring cleaning, working out, etc.
The possibilities are endless (see the end of the post for more resources)!
Be Flexible – I'm rarely able to follow the order of calendars exactly. Feel free to adjust and move around what works on different days. The weather may dictate the timing of some activities.
And, if you forget, then simply make it up when you remember! This is meant to make us feel good, not stress us out.
Fit It In Your Budget – Additionally, the list can vary from DIY to professional. I plan to beg my hubby for a shoulder massage at home, but splurge on a pedicure and haircut.
I also don't mind using some of these things as an early Mother's Day gift to fit them into our budget. Do what works for you!
So, who's with me for this self care challenge? Are you in?! And for more, don't miss the Digital Self Care Planner – with awesome checklists and cheatsheets!
Ladies, we NEED to put ourselves first sometimes! Let's be a happier and more inspired bunch this spring! I can't wait!!!
Other Self Care Posts to Enjoy…
Check out some more self care ideas from these awesome bloggers!
7 Self Care Habits For Spring over at Living Life To The Fullest
Spring Self Care Habits at An Empowering Perspective