110 Best Halloween Bucket List Ideas For 2023 (Free Printable)
Best Ideas For Your Unique Spooky Bucket List
Halloween is a season of fun, thrills, and community. But it sure goes by fast. In fact, often Halloween is over before we've even taken advantage of all the fun activities.
That's why, today you'll find this amazing list of Halloween bucket list ideas. There's anything you can think of – for kids, family, and even adults too!
Halloween Bucket List Ideas for the Family
First, this is a Halloween bucket list for kids that's age appropriate and family-friendly.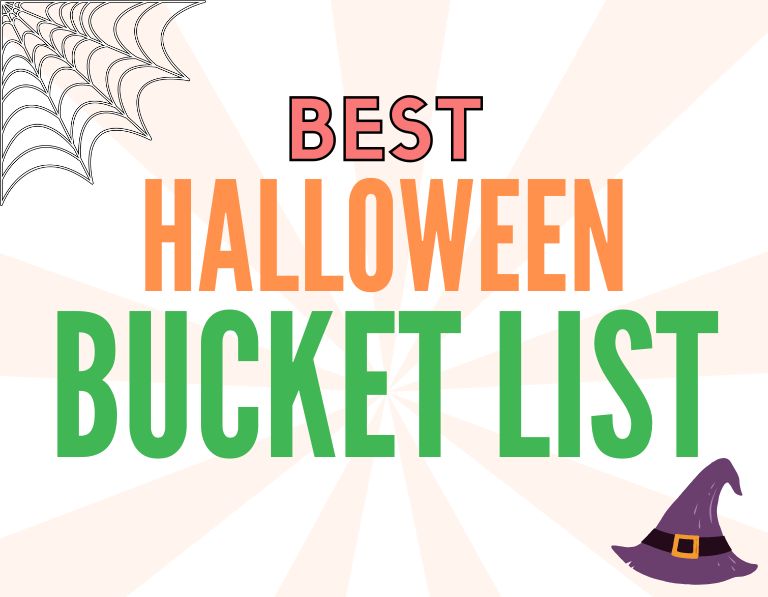 1. Decorate your porch for Halloween
Grab a wreath or go all out making your front porch as spooky as possible. Enlist the help of your kids to see how they dress it up.
2. Find unique looking pumpkins
Big round pumpkins are boring. Instead, search for the most unusual ones you can find.
3. Go costume shopping or make a costume
Help the kids pick out their favorites or get creative with what you have on hand. And who says kids get all the fun? Choose a witchy hat to wear to give out candy too.
4. Make a spooky treat
The goodies you can make this time of year are sinfully spooky. And so much fun! Try one of these easy ideas:
5. Watch Hocus Pocus
Introduce your kids to the magic! Then, play Hocus Pocus trivia.
6. Read Halloween books
Grab the best Halloween book ideas here, and then read them aloud in your spookiest voice.
And listen to this Halloween read aloud too!
7. Visit a pumpkin patch
8. Decorate your yard
Find cool black and orange lights. And don't forget those fun spider webs for the bushes.
9. Visit a haunted house
10. Roast pumpkin seeds
Save the seeds from carving night, and have everyone taste test.
11. Boo your neighbors
Spread a little joy to others this Halloween. Use this free boo printable to make it easy.
12. Tell ghost stories
Get a campfire or firepit going for added effect.
13. Eat candy corn
Don't forget those little candy pumpkins too!
14. Carve pumpkins
15. Watch a scary (or not-scary) movie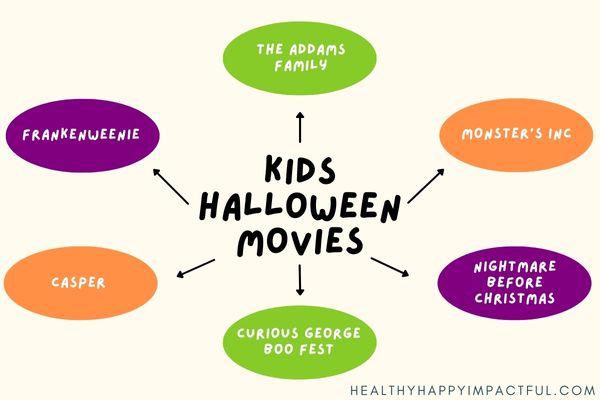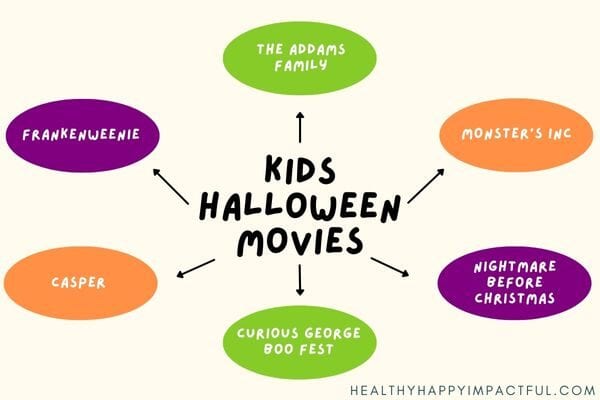 There are so many great Halloween ones for kids. Curious George's Boo Fest has been our family favorite for years!
16. Wear your favorite Halloween pajamas
Need a new pair? These are adorable!
17. Have a blindfolded taste test session
After your kids get their trick or treat stash, put a blindfold on and see if they can tell which candy is which.
18. Color Halloween picture pages
See fun free coloring pages here >>
19. Host a Halloween party
Try these
20. Make a kid-friendly witches brew
With a combination of ginger-ale, sherbet, and pineapple juice, this drink is very easy to make.
21. Dance to Halloween music
22. Make creepy crafts
You can spend an entire afternoon making crafts to hang up. Find great ideas for things to make here. You'll see everything from pumpkin suncatchers to DIY trick-or-treat bags.
23. Have a photoshoot with your costumes
24. Make mummy pizza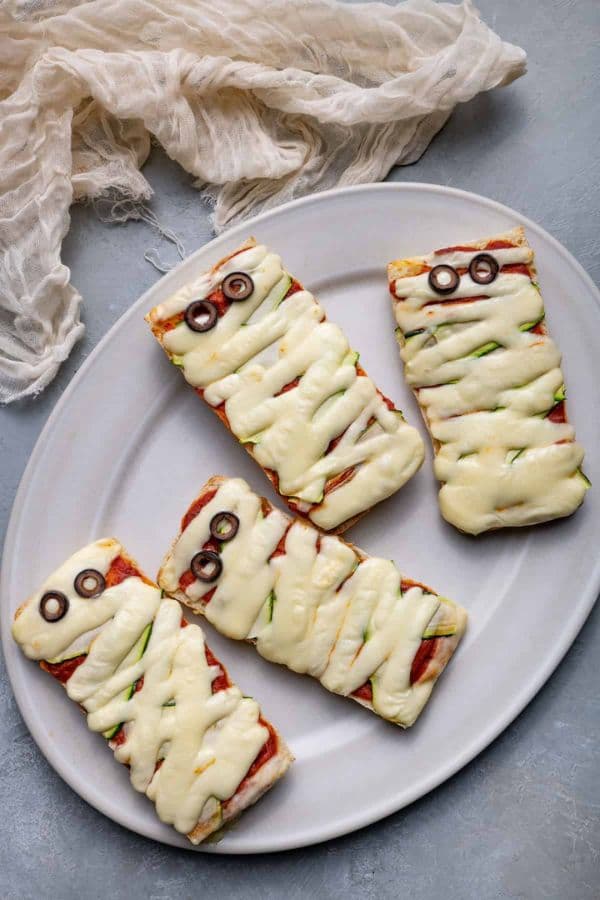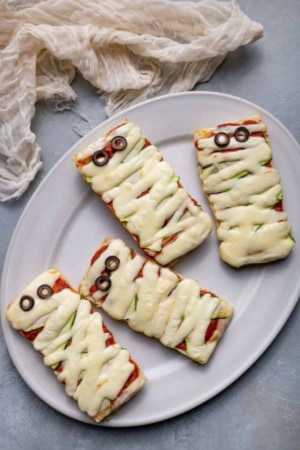 Luckily, this is easy. Just make your pizza in the shape of a rectangle. Use olives for the eyes and criss-cross your cheese to look like a mummy wrapped up.
25. Go bobbing for apples
26. Play flashlight tag or Ghosts in the Graveyard
27. Make s'mores
28. Have a campfire
S'mores or not, a campfire is the perfect fall activity.
29. Have the kids star and direct their own "scary" movie
It'll be interesting to see what they come up with!
30. Play Halloween charades
Brainstorm with your kids a list of Halloween terms. Witches, skeletons, etc. (And you can use some from the image below). Then, use the words in your own themed charade game. You can use the same set of words as Pictionary too.
31. Do a Halloween scavenger hunt
Find two Halloween scavenger hunts here, that feature spooky fun for different age levels.
32. Make ghosts out of old bedsheets
33. Make DIY Halloween slime
Witch slime seems spooky enough. Here's a recipe for pumpkin slime too.
34. Escape a corn maze
35. Test your Halloween trivia
What did people originally call candy corn? Chicken feed.
Have fun and learn something new with a Halloween Trivia Quiz!
36. Halloween 'I Spy' Game
Walk around your neighborhood and only use Halloween related things in your game. Or print this free printable and do an I spy game on paper.
37. Make Halloween sensory bags/bin
If you're into sensory bins, then you can have a lot of holiday-themed fun. For the base, use cobwebs, green jello, or black beans. Then, fill it with fake black spiders, squishy eyeballs, or anything you have on hand.
38. Play "wrap the mummy"
Wrap the mummy is easy, and a great game for a Halloween party. Put the kids in small groups, and see which group is the first to wrap one team member in toilet paper (to look like a mummy). You could also use white streamers and set a timer to do it in a set time frame.
39. Make a fun spooky breakfast
Make anything from an orange jack-o-lantern smoothie to a full-on feast with Halloween-shaped pancakes and mummified breakfast sausages.
40. Explore the neighbors' decorations with an evening walk
We like to count how many pumpkins we see on a walk around the neighborhood before Halloween.
41. Go TRUNK or Treating
Many local organizations and businesses have them.
42. Play Clue (*Unique Halloween bucket list idea!)
Clue is the perfect murder mystery for elementary kids. Or try 13 Dead End Drive.
43. Go Trick or Treating
44. Make caramel apples
45. Make or color Halloween bookmarks
These free bookmarks are super cute, and easy for kids to color.
46. Light up the bathtub with orange glowsticks
Or make it a full glow-in-the-dark party by sticking glowsticks in balloons and pumpkins too.
47. Have a Harry Potter movie marathon
If you're not into this series, see if there's another magical adventure your family can go on.
Related: Best Harry Potter Trivia Questions & Answers
48. Put together a family Halloween costume theme
Be a team of bandits or a family of superheroes!
49. Visit an old cemetery
50. Color and cut Halloween masks
You can grab a variety of free masks to make at It's Always Autumn.
51. Try making mummy hot dogs
52. Paint pumpkins
Painting is often easier than carving. So, if you have little ones, give it a shot!
53. Make healthy Halloween treats
Make a fruit parfait that mimics candy corn (layer pineapple, mandarin oranges, and whipped cream). Or go easy with banana ghosts.
54. Do a Halloween-themed puzzle
Goblins and Goodies and Ghouls…Oh my! It's 300 pieces, so a great number of pieces for kids.
55. Create a spooky Halloween playlist
It's time for the Monster Mash!
56. Decorate with Halloween costume photos from years past
It's a fun way to remember old times.
57. Try the Switch Witch Tradition
The night after Halloween, the kids leave some of their candy out on the doorstep. (The crazy witch uses it to feed her bats). In exchange, she'll leave you a small prize. It's a great way to get rid of excess candy without the fight.
58. Make a Halloween-themed obstacle course
Throw anything out into the yard you can think of: cobwebs, pumpkins, and durable decorations work well. Then, add to the obstacle course with sidewalk chalk activities.
59. Play Halloween Tic Tac Toe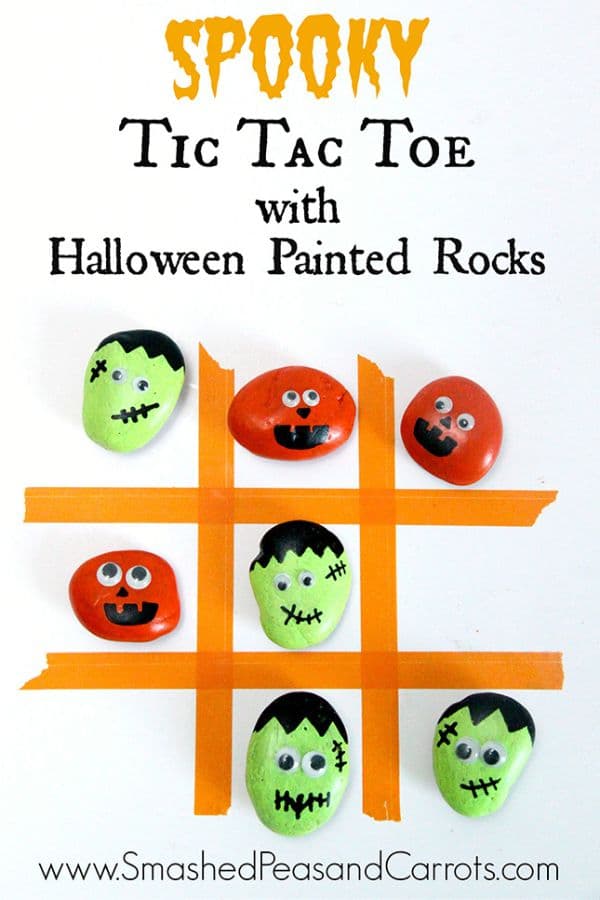 You can play Halloween tic tac toe with markers or candy. Or try this amazing craft + game! Make the rocks first and then get playing!
60. Cook a batch of pumpkin chili for the family
Find a great pumpkin chili recipe here.
61. Watch Coco and celebrate the Day of the Dead after Halloween
Related: Best Kids Books That Are Movies
Halloween Bucket List Ideas For Adults
Next, these bucket list ideas are wonderful for adults and couples. They're great if you don't have kids, or when your kids are otherwise occupied.
61. Host a Murder Mystery party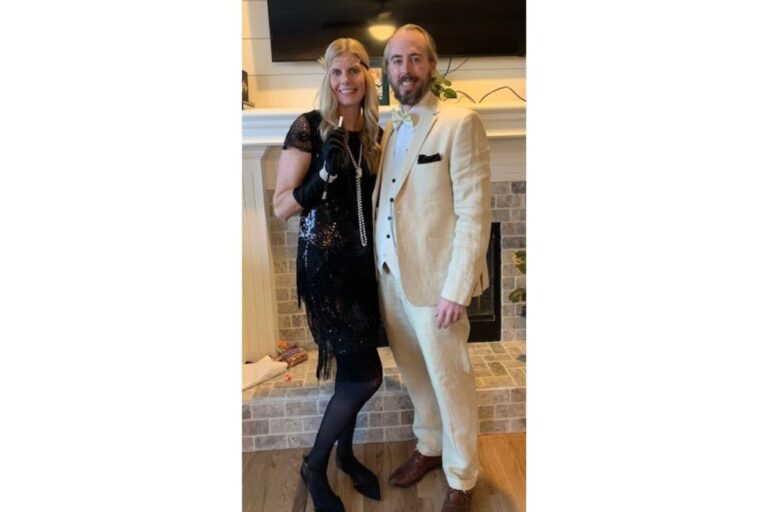 I attended one of these with my husband and was surprised at how much fun it was! We were sucked in almost immediately and tried to figure it out all night long.
62. Dress up in a couples costume
Superman and Wonderwoman would make a great team. Or why not Aladdin and Jasmine? Really, the sky's the limit with this one.
63. Visit an Octoberfest
64. Visit a haunted house
One set up to scare people. Or a real one.
65. Learn the dance to Thriller
66. Do a cemetery or ghost tour
67. Use a Ouija Board
When I was a teen, my brother decided that we should try this. I've never freaked myself out so much in my life.
Were we moving the tab with our hands? Probably. But perhaps it was the spirits!
68. Mix a fun Halloween cocktail (or mocktail)
Kickstart the spooky fun by mixing a festive drink. This post has the best Halloween cocktails to try.
69. Go on a hayride
70. Make a scary movie bucket list to watch
This will ensure you don't miss any that you would have wanted to watch.
71. Go to the movies for the latest thriller
72. Booze your neighbors
Turn the traditional "boo your neighbors" into a hilarious adult one. See the idea here >>
73. Watch a scary movie
One that makes you keep the lights on. And the doors locked.
74. Book a room at a haunted hotel
75. Make a dessert with leftover Halloween candy
So you didn't have as many kids come to the door as you thought? Make leftover candy cookies.
Bonus Tip: I also like to save colorful Halloween candy for gingerbread houses later. It saves money!
76. Go for a full moon walk
A great Halloween bucket list idea for couples!
77. Do cool Halloween nails
Black and orange nails are fun. Or try purple and lime green!
78. Have a pumpkin spice latte date with your partner or friend
79. Make cute adult Halloween crafts
One year, I spent an evening with friends painting a ghost for my front door. It was relaxing, creative, and enjoyable. Plus, now I have something cute to look at.
80. Visit a Halloween / Fall festival
81. Hand out candy to trick or treaters
82. Dress up your pet in a Halloween costume
Don't let them miss out on the fun!
83. Run or walk a Halloween 5K
84. Hit the drive-in-movie theater for a creepy movie in your car
Good luck getting out to go to the bathroom…
85. Take a road trip to visit a truly creepy place
With the history that surrounds places like Salem, Massachusetts you can give yourself a big scare just being there.
Check out this list of the creepiest places in each state for a location near you.
86. Watch a ghost hunters show
Or binge-watch the Vampire Diaries, American Horror Story, The Walking Dead, Charmed, or anything that puts you in the Halloween spirit.
87. Host an adult Halloween party
If you don't have kids, or your kids are older, this is a great place to test out those Halloween cocktails and try grown-up games like horror movie trivia (#97).
88. Impress your friends with a Halloween 7 layer dip
Seriously, it's the traditional dip, but with an adorable Halloween theme. Who wouldn't want to make this?!
89. Have a game night on your Halloween bucket list
Play any game you have or make a grown-up scavenger hunt.
90. Challenge your friends to a pumpkin carving contest
The most creative wins!
91. Turn your home into a haunted house
Give the next person who walks into your home the scare of their life.
92. Play virtual (or in person) Halloween bingo at work
This can be a great ice breaker or team-building activity. Find out who's a horror movie fan and who gives out full sizes of candy bars. See free printables at teambuilding.com.
93. Telly corny Halloween jokes or riddles
What do you call a witch's garage? A broom closet! Find more at cool what am I Halloween riddles>>
Related: What Am I Riddles
94. Set the table for spooky fun
A few skeleton hands and spider webs might do the trick.
95. Play around with Halloween makeup
Perfect that bruising black eye, Frankenstein stitch, or green witch face. Spend a night trying whatever you want.
96. Try a pumpkin soup recipe
This soup recipe is both simple and delicious. A great pick for Halloween.
97. Test your knowledge of horror movie trivia
Have you watched a few horror movies in your time? Quiz yourself and your friends with these horror movie trivia questions and answers.
98. Go hiking at night
With others (stay safe!) And probably NOT right after you watch a horror movie…
99. Try a fun s'mores variation
I dare you to try Reeses in your s'mores. You'll never go back.
100. Play a Halloween prank on someone
101. Read a Halloween horror book
Break out thrillers like The House on Foster Hill and Stephen King's The Shining.
102. Make your own pumpkin spice latte
This DIY pumpkin spice version has lots of great reviews.
103. Have a Halloween sleepover
Invite friends or family over for the night. Kids or adults. It's always fun to throw out the sleeping bags and stay up late.
104. Bake Halloween cookies
You don't need kids to enjoy unique Halloween cookies. Bake sugar cookies or try fun spider cookies.
105. Go Apple Picking
106. Attend or host a masquerade
Tired of the same old Halloween costumes? Switch it up this year with a masquerade party and enjoy a little mystery.
107. Check out a candy-making factory
See how your favorites are made.
108. Create a candy wreath
Here's a simple how-to tutorial.
109. Do an escape room with others
110. Drink apple cider
To Consider with the Halloween Bucket List
There are ideas for every age and interest in the Halloween bucket list above. I hope you found something you love.
Next, grab a free printable in the resource library below to post the family bucket list on your fridge!
More fun bucket list posts you'll love…
2023 Halloween Bucket List For Kids and For Adults