You've Been Booed Free Printable for Neighbors & Friends – Grab it Now!
When families "boo the neighbors," kids go around their neighborhood to anonymously drop off goodies at doorsteps. It's a wonderful activity and it continues to be an easy and cheap way to send love to your neighbors.
So, use this free you've been booed printable with your goodie bag!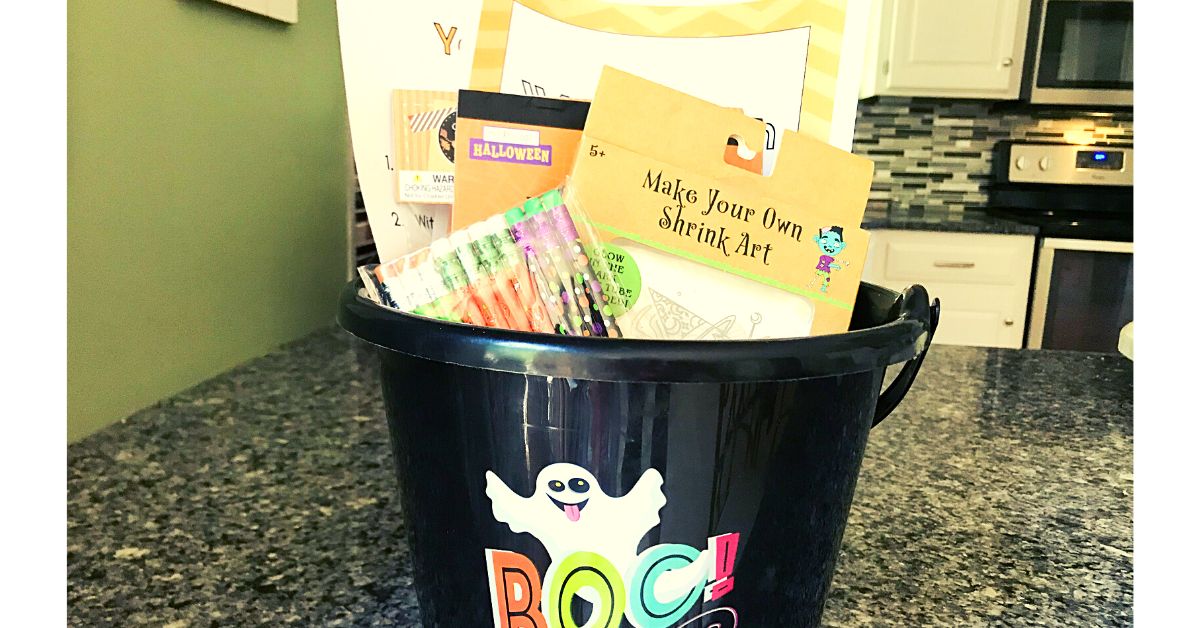 First, Here's What You'll Need to Boo Your Neighbors:
We'll go through ideas for each of them in order!
Two small to medium-sized containers to hold goodies
The you've been booed free printable (2 copies for two neighbors)!
Your awesome boo kit goodies (see below for lots of ideas!)
This post contains affiliate links, and I may earn a commission at no cost to you. See my disclaimer for more info.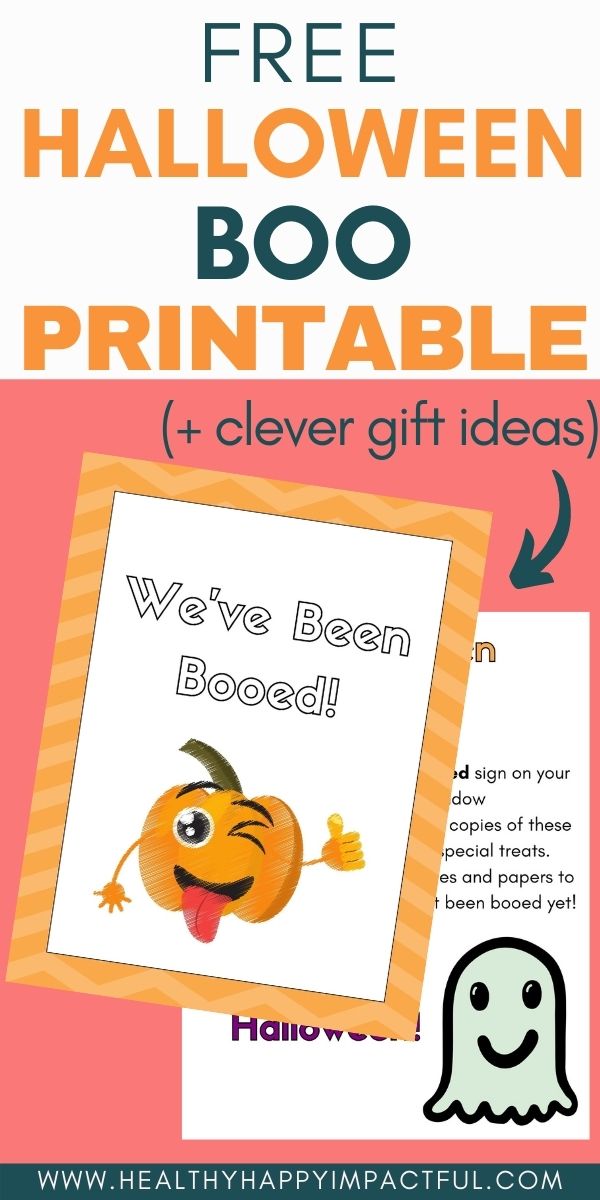 Great Options for Your "You've Been Booed" Container:
These include big and small options!
Boo Your Neighbor Ideas for Goodies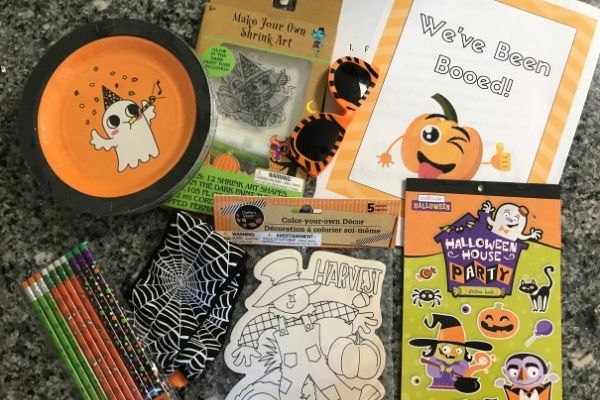 Next, fill the containers with fun things that get the kids excited. Here are simple, but awesome ideas!
For an added touch, sharpie eyes and a mouth on a white balloon! Then, attach it to your basket!
Where to Find This Stuff
The Dollar Store and Target dollar bin are fantastic places to find seasonal goodies for cheap! And since all parents are incredibly busy lately, you can use the quick Amazon links to get your goodies shipped straight to you!
You've Been Booed Printable Instructions
Once you've got your goodies and printables together, drop off your boo baskets without your neighbors knowing! The kids love doing it after dark to add an extra dose of excitement. It's the old doorbell ditch!
Then, have fun seeing how far your good cheer spreads!
Download the Free You've Been Booed Printable Now!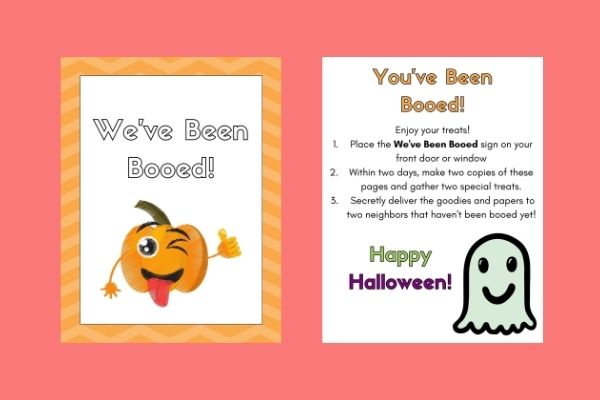 More than anything, I wanted this printable to be a little silly. We could all use some lighthearted fun nowadays!
Next, check out other ideas to spread the love and build relationships below!
You've Been Booed Ideas for Adults
Who says this can only be done with kids?! If you know someone that doesn't have young kids, but could use some extra cheer, include them with a few grown-up treats! Candy, orange socks, spooky mugs, and old-school Halloween movies are all fun ideas!
Next, check out this awesome adult option! Drop off a "You've been boozed" basket to your adult friends! Many grown-ups could use a little alcohol to get them through the candy rush of Halloween! 🙂 Check it out HERE!
And for a gift basket ideas just for the moms, click on the Witch's Survival Kit.
Finally, read How to Spread Positivity for more ideas on spreading the love no matter what time of year it is!
Holiday Family Traditions
Next, with the holidays almost upon us, shop my low-cost ebook with TONS of easy-to-do family activities and traditions! You'll never regret strengthening your most valuable relationships!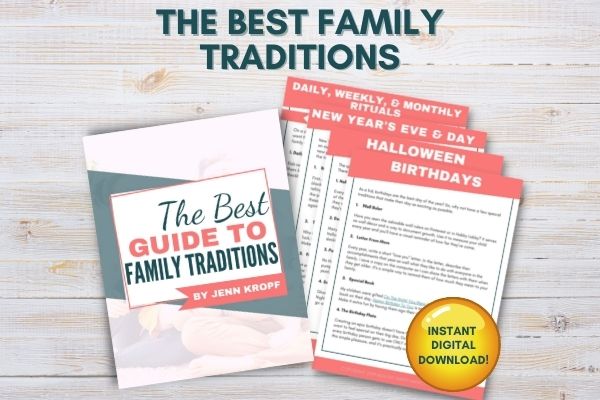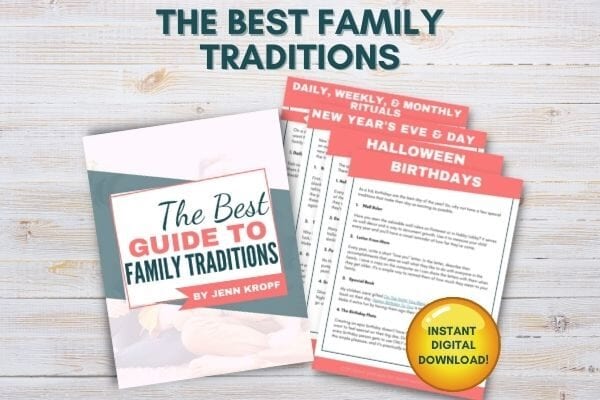 To Consider With The You've Been Booed Printable
This activity is meant to spread love and cheer to your fellow human beings. But, moms, let's keep it real. With so much going on, this is not something to stress over. So, keep it simple and small if you're short on time and energy!
What do you think of the you've been booed free printable?! I hope you enjoy it!
Other Fun Halloween & Fall Posts…
Print the Halloween Boo Printables Now!