3 Easy and Delicious Vegetable Soups For Winter
What healthy meal is the easiest to throw together when time and energy are at a low? SOUP. It's my go to in winter. Soups are staples at our house because they are also delicious and good for you.
These 3 soups even fit the bill for starting out as dairy, meatless, and grain free. Not only are they crazy easy to make, but they are extremely versatile. I can add or subtract according to whatever I have laying around in the fridge. If we have leftover meat or veggies, I'll throw it in the soup after it's done.
On the side we add crackers, veggie chips, or fruit. It's an easy, light dinner. While a regular blender and food processor work just fine, I do recommend an immersion blender to make these soups a breeze! Without further ado, here are 3 of our all time favorites!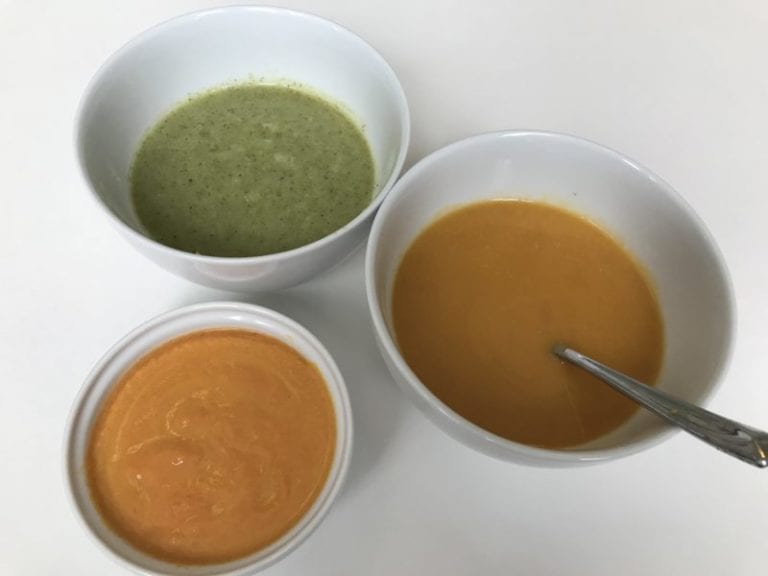 Butternut Squash Soup (The adult favorite) Modified from The Whole30 Cookbook
3 Tablespoons butter or coconut oil
1/2 cup diced onion
1 medium butternut squash
2 cloves garlic, minced (I just use 1 tsp granulated garlic)
1/2 teaspoon ground ginger
4 cups chicken broth
1 teaspoon salt
1/2 teaspoon black pepper
Preheat the oven to 375 degrees. Cut the squash lengthwise and scoop out the seeds. Place the halves face down on a pan with a little bit of water. Roast in the oven for about 45 minutes (depending on the size of the squash). It's done when you can easily stick a fork in it.
Melt the fat over medium heat in the bottom of a pot. When it's melted, add the onion and cook until translucent, 2 to 3 minutes. Add garlic and ginger. Scoop the roasted squash out (leaving behind the skin) and add. Stir and cook about 1 minute. Add the broth. Liquefy with an immersion blender or transfer to in a normal blender or food processor in batches. Return the pureed soup back to the pot. Heat the soup over medium-high heat until it thickens a little bit, 7-10 minutes (I shorten this step if I'm in a hurry). Season with salt and pepper. You could add spinach, kale, or chicken if desired.
Broccoli Cauliflower Soup (The 7 year old favorite)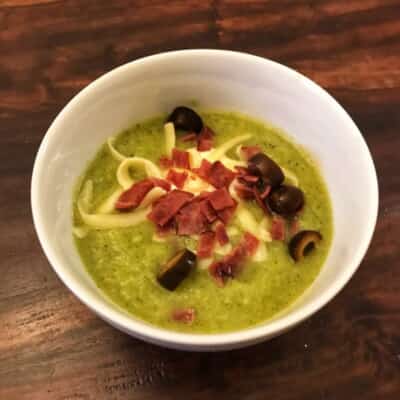 One head of cauliflower
1 large or 2 small/medium broccoli crowns
4 cups of chicken broth
4-6 cloves of garlic, roasted garlic or 1 tsp granulated garlic
Sea salt and black pepper to taste – I usually start with 1 tsp and add more later if needed. (I like things salty!)
Toppings: chopped bacon, plain greek yogurt, olives, cheese
Chop broccoli and cauliflower into large pieces and steam in a pot with a little bit of water. Once veggies are soft, drain the extra water and add garlic and broth. Liquefy by using an immersion blender or throwing it in a normal blender in batches. Return the pureed soup back to the pot. Simmer for an additional 10 minutes (I shorten or skip this step if I'm in a hurry). If the soup is too thick, I add additional water or broth in small amounts until it's the consistency I want. Add salt and pepper to taste. My son loves this soup because we load on toppings and make it fun!
Carrot Soup – Wholesomelicious (The 4 year old favorite)
This carrot soup features simple ingredients I always have on hand. I use coconut milk or cream (cream makes it a little richer), and as many or few carrots as I want. My pickiest eater asks for it regularly. The blogger even recently added an instant pot recipe for it! It's an original recipe by a nutritionist, so check it out here!
These are three great options to get the week started off right! We can't learn to cook healthier if we don't experiment, so try one of these this week. Take some risks and tell me what you think after!
What other delicious and wholesome soups do you love??? Share in the comments!
Other Great Healthy Food Posts: