Free Printable Love Coupons Template (Instant DIY Gift)
Blank Love Coupon Printable for Free!
Giving coupons to those you love is one of the most versatile, affordable, and thoughtful gifts you can give.
And while I ADORE using kids coupons, often the things I want to offer are unique, and don't fit exactly what someone else has already made.
Which left me wondering…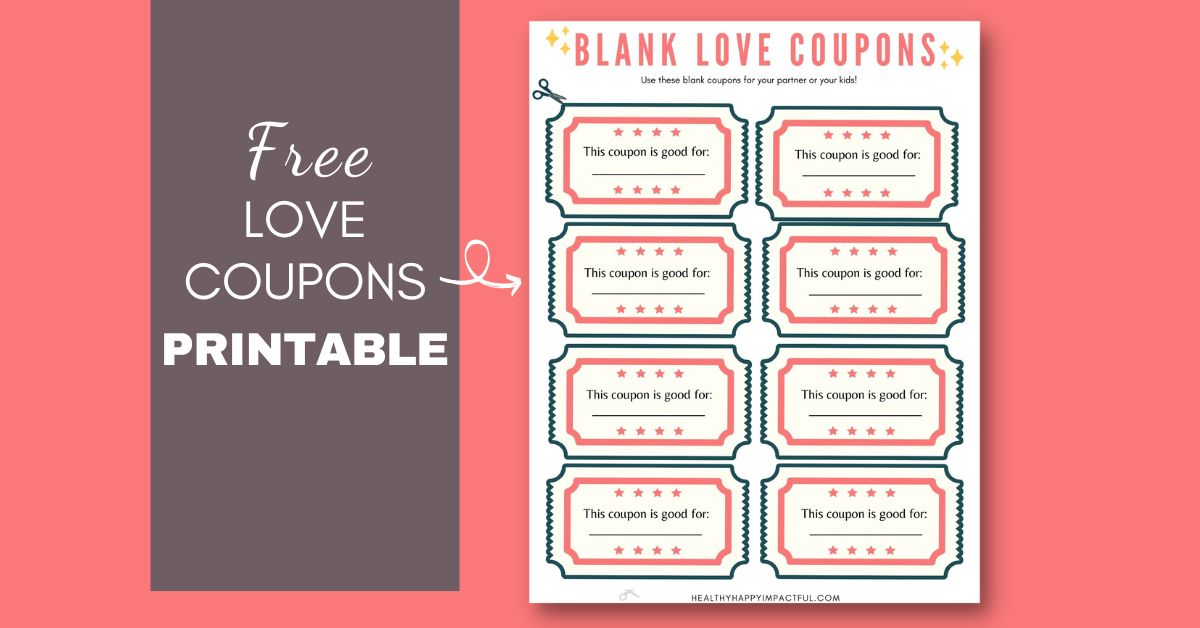 How do I make my own coupons?
And what should I write in a love coupon?
With this post and the free love coupons printable you can answer both questions! That way, the coupons can be used over and over in different ways.
This post contains an affiliate link, and I may earn a commission at no cost to you. See my disclaimer for more.
The other amazing benefit of a template is that it can be used by adults or kids! This makes a sweet (and free) gift for Valentine's Day, Mother's Day, Father's Day, or any holiday!
So, before we get to the blank love coupon printable, here are loads of fun love coupon ideas, depending on who you are giving them to!
Love Coupon Ideas for Your Partner
If you are giving this to your significant other, here are some good actions to use!
A massage or shoulder rub
Movie or show of your choice
A planned evening out on the town
One guilt free screens day
Win the argument (or at least have the last word, haha!)
Of course, you can also make these into naughtier coupons! I'm keeping it PG here, but there are lots of creative ideas that will make your partner extremely excited to use them!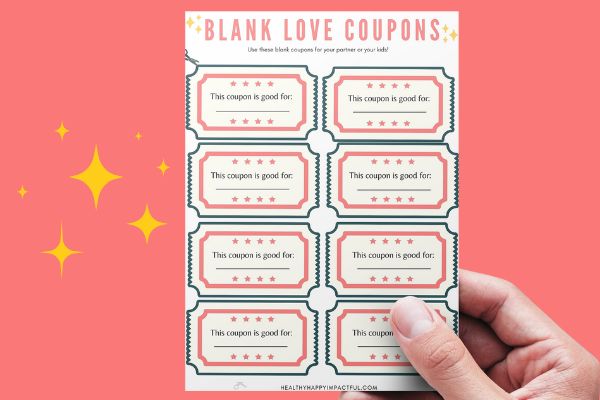 *Read these thoughtful love gifts for more help with gifts your partner will LOVE!
Love Coupon Ideas for Your Kids
Coupons work SO well for children, and help focus on experiences instead of stuff.
Getting ice cream (or another favorite treat)
Backward day (or pancakes for dinner)
Really, anything that your child likes to do is a great one to add to your coupons!
*Keep scrolling to get your blank love coupons! For other free kids printables, check out these fun school note ideas for kids and kids coupons page!
Coupon Ideas for Mom
Moms love coupons too, so let the kids make their own!
Ideas include:
An hour (or morning) of quiet time
A cup of coffee or tea made by someone else
Favorite meal (made by someone else, of course!)
Looking for other ideas for her?
Coupon Ideas for Dad
As you'll see, many of the ideas that work for mom, also work for dad! Plus, here's a few others specific to the amazing guy in your life:
A BIG hug (or tickle fight/wrestling match)
An hour (or morning) of quiet time
A cup of coffee or tea made by someone else
Favorite meal (made by someone else, of course!)
*Find more awesome gifts for dad HERE.
Free Love Coupons Printable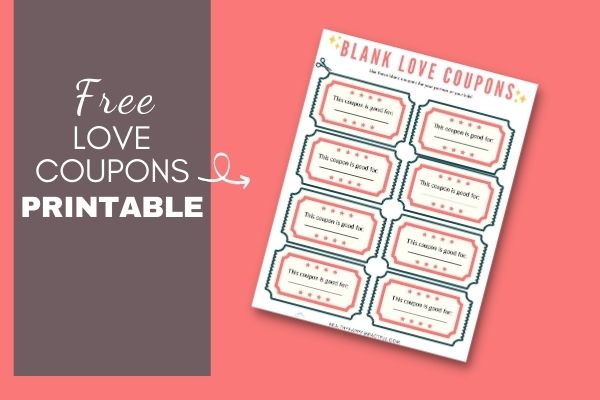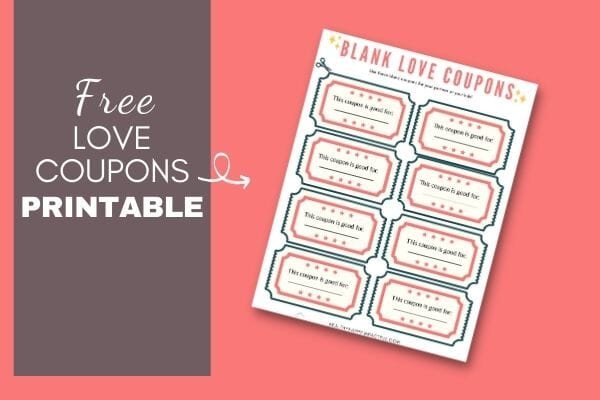 1. Grab access below and download them straight to your inbox!
2. Print them
3. Write in and cut the coupons you want to use, in whatever creative way you'd like to use them (see more gift presentation ideas below).
Related: Free Kids Reward Coupons – in the resource library too!
Creative Gift Presentation Ideas
Try A Coupon Book
Now, if you want to make multiple coupons into one gift, then staple them together or use washi tape. You can also cut out a strip of paper just larger than the coupons to use as a cute cover.
Place Them Into a Jar
Your recipient can draw from the jar when they want to use the coupon. Wrap your jar with a cute little ribbon and BOOM! You have an amazing gift.
Put Them on a Key Ring
You can also hole punch each coupon and stick it on a book ring if you'd like for them to be together but separate. This idea works really well for holiday gifts.
Re-Use Them Over and Over
Now, if you know you will use them for different purposes laminate them or print them on durable cardstock to make them last.
For 48 pre-made love coupons done for you, go here>>
And use Code LOVEGIFT for 20% off!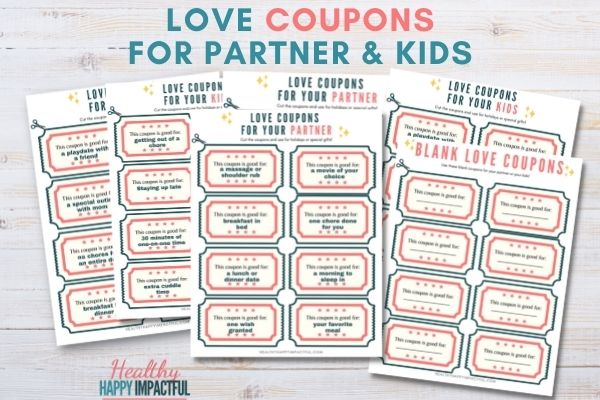 More Free Love Printables on HHI
10 Reasons I Love You
This "sweet reasons I love you printable" goes well with the coupons too!
Love Notes for Kids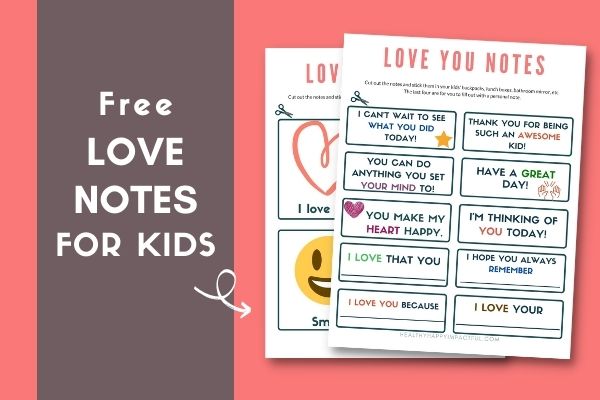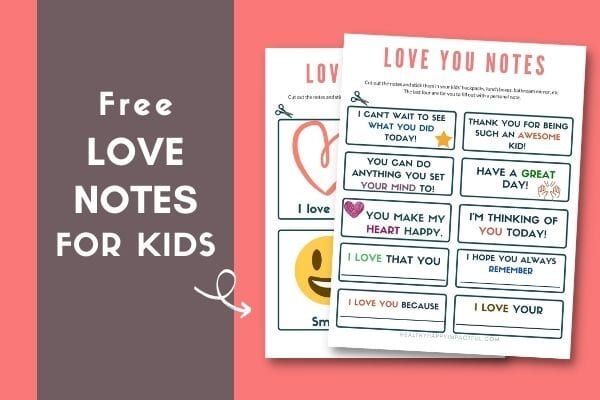 Need a way to help the kids feel special? The free kids notes make them smile and build self-esteem and confidence!
Free Heart Cut Outs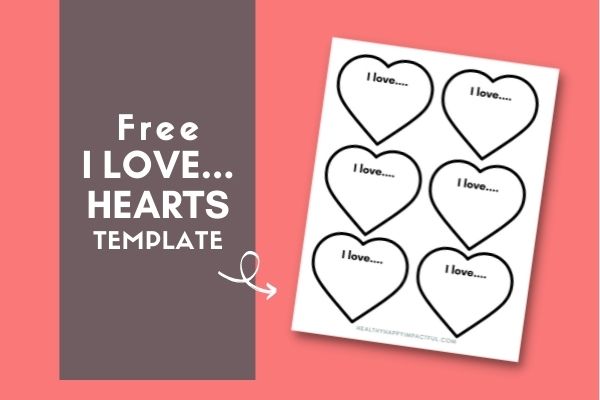 Finally, use these free printable hearts templates to express how you feel! We love sticking them on bedroom doors in our home.
* These Valentine Trivia Questions also make for a great to spend quality time together >>
To Consider With Free Printable Love Coupons
I love the fact that these are so versatile for different holidays and people. I hope you find them useful too!
What are you going to use your free coupon love printable for? Let me know!
Want to have these love coupon ideas and template handy?
Other free printables you'll love on the site…
Blank Love Coupons Template Everyone Will Love!