What is a Good Gift for Someone With Anxiety?
40 million people in the United States suffer from an anxiety disorder (source).
Plus, of course, these statistics were taken BEFORE the recent craziness of the past year. The odds are good that you know someone who suffers from anxiety.
This post contains affiliate links, and I may earn a commission at no cost to you. See my disclaimer for more info.
What is Anxiety?
Anxiety sufferers worry, become agitated and restless, experience difficulty concentrating, and lack of sleep. For some, it's a manageable problem. And for others, it is truly a debilitating mental health challenge.
So, it's time for some relief! Check out the best gifts for people with anxiety. These items will calm, relax, and soothe ANYONE that needs it!
*And if you're shopping for a person under 18, don't fret! The end of this article has great ideas specifically for kids that suffer from anxiety!
The 30 Best Gifts for Anxiety Sufferers
1. Acupressure Mat & Pillow Set
First, relieve tension in your pressure points with this relaxing mat. Simply lay on the "needles" for 10-30 minutes and enjoy improved stress levels, circulation, and better sleep.
2. Soothing Herbal Teas
Teas have been used for centuries to ease anxiety and help us sleep. So, take advantage of the ancient wisdom and buy a set of comforting teas to enjoy on a cool night. Check out one HERE.
3. Calming Essential Oil Blends
Like tea, essential oils were the first (natural) way to affect your mood, health, and emotional state. So, gift a diffuser and soothing essential oil blend for your friend or family member to try.
Print this list of Self Care Ideas to go with the gift!
4. Lava Rock Bracelet
*Amazon's Choice
This pretty bracelet is made of lava rock which absorbs essential oils well and acts as a natural diffuser on your wrist! Add your favorite oils and enjoy a calmer and happier day.
5. An Adult Coloring Book
Next, kids and adults alike benefit from a creative release. So, give a positive book like The Good Vibes Coloring Book to anyone needing to take their mind off of things for a while.
6. A DIY Self Care Kit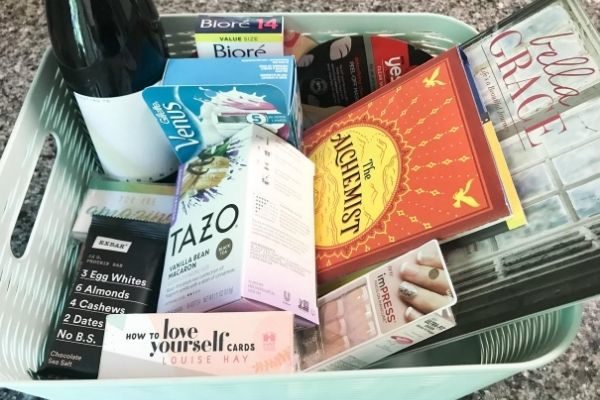 A self-care kit benefits ANYONE and is incredibly easy to put together. The picture above is my own self care basket for 2021 (click to find lots of great ideas). But it's also the perfect inspirational gift idea for someone with anxiety.
"Nothing can bring you peace but yourself."

Ralph Waldo Emerson
7. Massage Gift Card
To anyone that enjoys the healing power of touch, a massage is Heaven. If your person is someone like this, a massage gift card is an amazing gift!
8. Weighted Blanket
A weighted blanket works wonders because it adds a small comforting weight to wind you down for a restful night's sleep. As someone once described to me, "it's like a hug in a blanket."
9. Inspiring Prints
Wall art makes great gifts for anxiety relief because they present visual reminders to slow down, enjoy the day, and remember to breathe. Check out this beautiful tea wall art HERE.
Related Post: 60 Inspiring Gratitude Quotes + Free Wall Art
10. Classical Music
Classical music is known to calm us and reduce brain activity. One study even suggests that this type of music reduces anxiety (source). So, give the gift of a music subscription or old school classical CD to the one you love.
11. Books About Anxiety
The more you know, the better you can manage symptoms of anxiety.
Here are some HIGHLY rated books for those seeking knowledge about this mental challenge:
You Can Do All Things: Drawings, Affirmations, and Mindfulness to Help With Anxiety and Depression
Not into a specific anxiety book? Try 25 of the Best Books for Women
12. Incense
For many, the scent of burning incense helps them relax. One study has found that a component of frankincense activates brain pathways to ease anxiety and depression (source). Try incense HERE.
13. Candles
Burning candles give much of the same therapeutic relief that incense provides. The best candle gifts for people with anxiety include the Bath and Body Stress Relief Candle.
14. An Anxiety Journal
Journaling is an AMAZING way to get spiraling thoughts out of your head. It's even better when you have a guided journal that helps you work through your anxiety. Check out one of these great gifts for people with anxiety:
Related Post: How to Start a Life-Changing Journal Practice
15. A Yoga Mat & Free Class Options
Regular yoga practice is scientifically known to reduce the symptoms of anxiety in women (source). With clear benefit for your mind and body, why not gift a free class gift card and yoga mat?
Looking for other self care ideas? Sign up below for a free toolkit!
16. Honey
Did you know that honey reduces anxiety? It's true!
The properties in honey produce a calming effect when taken in moderate amounts. So, give the gift of simple honey sticks or a high quality, local honey!
17. The Buddha Board
*Most popular with readers!
The Buddha Board is a completely unique way to help anxiety sufferers calm down. This product is based on the Zen idea of living in the moment, as the water painting comes and goes as it dries. But it is a soothing and creative activity to slow you down.
18. Bath Items
A bubble bath is the best cheap self-care activity for women! The warm water and sweet fragrances of a bath combine to help you relax after a long day. Add bath bombs, bath salts, lush towels, a bath pillow, and a bath tray to your amazing anxiety gift basket.
Check out these Herbivore Calm Bath Salts to get your search started!
19. Subscription to a Meditation App
Meditation is another scientifically proven practice to fight against anxiety and depression. It's also very simple to get started!
However, it's MUCH easier with a meditation app to guide you through the process. Gift your recipient a month-long subscription to Headspace or Calm to let them try out the practice and see if it helps them.
Related Post: An Easy Meditation Guide for Beginners
"You don't have to control your thoughts. You just have to stop letting them control you."

Dan Millman
20. Stress Less Cards
*Amazon's Choice
The Stress Less Cards Set is a unique set of 50 mindfulness activities designed to help you relieve stress and anxiety. These cards are even used by health care professionals.
Check out 27 Uplifting Morning Affirmations for a free option.
21. Chinese Baoding Balls
If you're looking for something simple and a bit different, try these small baoding balls. They work like a stress ball and moving them within your hands helps eliminate distractions and promotes relaxation.
22. A Daylight Therapy Lamp
Vitamin D plays a HUGE role in our mood and emotions! Many people are deficient and affected by seasonal depression in the winter. So, give the gift of sunlight with this daylight therapy lamp.
23. Gift Card For a Pedicure
Like a massage, a professional manicure/pedicure is a calming activity for anyone that needs to engage in soothing activities that ease worry and restlessness. Gift cards to your local salon are easy and effective gifts for people with anxiety.
24. Aromatherapy Pillow
These pillows are not only soft but also give off a hint of herbs to help ease you into a great night's sleep. This pillow even doubles as a heating pad for extra relaxation.
"Don't let your mind bully your body into believing it must carry the burden of its worries."

Astrid Alauda
Gifts for Kids With Anxiety
It's incredibly sad, but more kids than ever suffer from anxiety. So, here are gifts for anxiety relief specifically for the wonderful kids in your life.
25. Anxiety Relief for Teens
#1 Best Seller
This is a book aimed at giving teens mindfulness practices to alleviate their anxiety. It's especially helpful for young adults that need practical techniques to get them out of spiraling thoughts.
26. Cosmic Kids Yoga
There are MANY benefits of yoga, and kids can benefit from it as much as adults. Cosmic Kids Yoga is a website that provides free YouTube Videos with fun and calming yoga stories. If kids love the videos, gift them the Yoga App with no commercials and a huge library of fun sessions.
27. Worry Monster
The Worry Monster is a fun-loving stuffed creature that eats your child's worries and keeps them tucked away in it's zipper pouch. There's also a fun book to go along with it and explain what the monster does.
28. Breathe Like a Bear
#1 Best Seller
Breathe Like a Bear is a children's book that teaches mindfulness exercises to young ones. These short breathing practices and movements help kids naturally calm down and improve focus.
*Here are other amazing Children's books!
29. A Fidget Spinner
Fidget spinners have long been known to help kids with sensory challenges, but they also work at relieving anxiety. Check out this fidget spinner for a child that would benefit from something in his or her hands.
30. The 3 Minute Gratitude Journal for Kids
*Best Seller & Popular With Readers!
Finally, this low-cost journal is a quick way for kids to focus on the good in their lives. Gratitude is an unbeatable tool to ease stress and anxiety.
Something to Consider With Anxiety Relief Gifts
Finally, anyone living in today's uncertain environment would benefit from the calming gifts on this list. So, check them out today! And keep them in mind for your 2020 Christmas list!
What are your favorite gifts for people with anxiety? And what comforting products do you enjoy?
Other Stress Relief Posts to Enjoy…
The Best Anxiety Gifts for Everyone in 2021