12 Weeknight Crockpot Meals For A Healthy You
Easy Crockpot Meals When You Need Something Fast
I asked, and readers responded unanimously!
We NEED more healthy weeknight crockpot meals to feed our families and help us get on with our days. Because slaving in the kitchen just isn't an option!
Furthermore, we're all looking to keep the kitchen cool when the weather turns hot. The crockpot is the easiest way to do so!
The Best Healthy Crockpot Recipes
So, I gotcha friends. These twelve meals are easy, healthy, AND delicious. Everything we're looking for.
Plus, I've tried and loved all of these amazing recipes myself! Mom tested and approved!
This post contains affiliate links at no cost to you. See my disclaimer for more.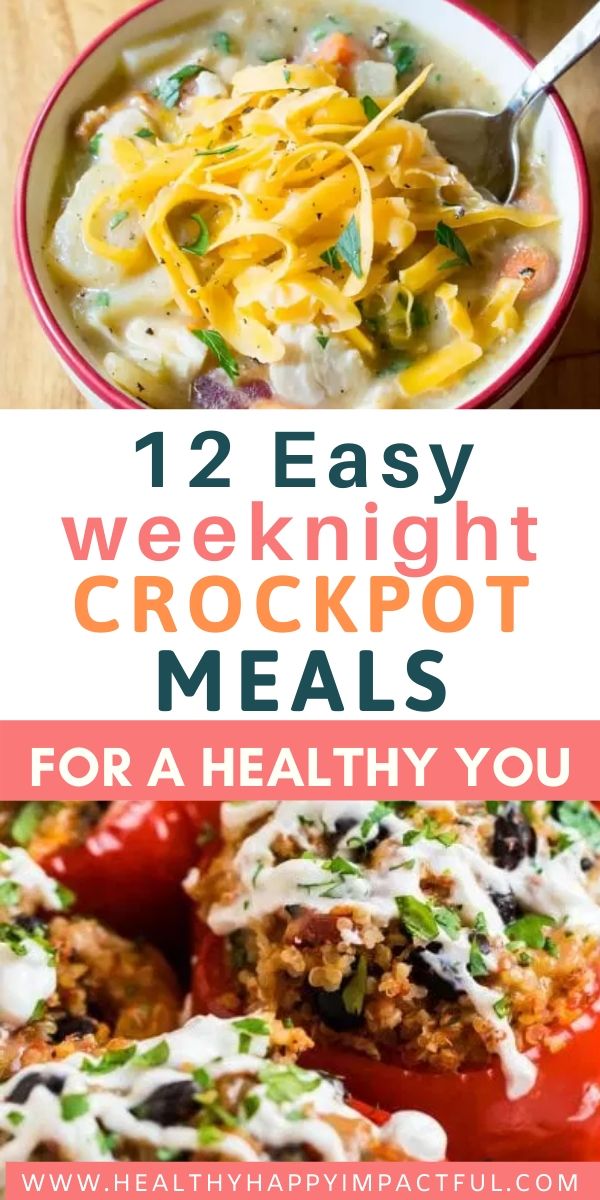 1. Slow Cooker Pot Roast
The first and BEST of weeknight crockpot meals? It HAS to be pot roast. Because I swear the crockpot was invented for this dish. The recipe here is so flavorful and tender, don't you think?!
2. Crockpot Chicken Fajitas
This fajita mixture contains lots of veggies and all clean ingredients which makes it a super nutritious dinner option.
What a super easy Mexican food night!
3. Healthy Crockpot Potato Soup With Chicken
Potato soup is always a favorite with my kids, and I like that this recipe adds carrots and celery into the mix. It's also one of the FEW potato soups I've seen where the base is dairy-free!
4. Slow Cooker Garlic Parmesan Chicken & Potatoes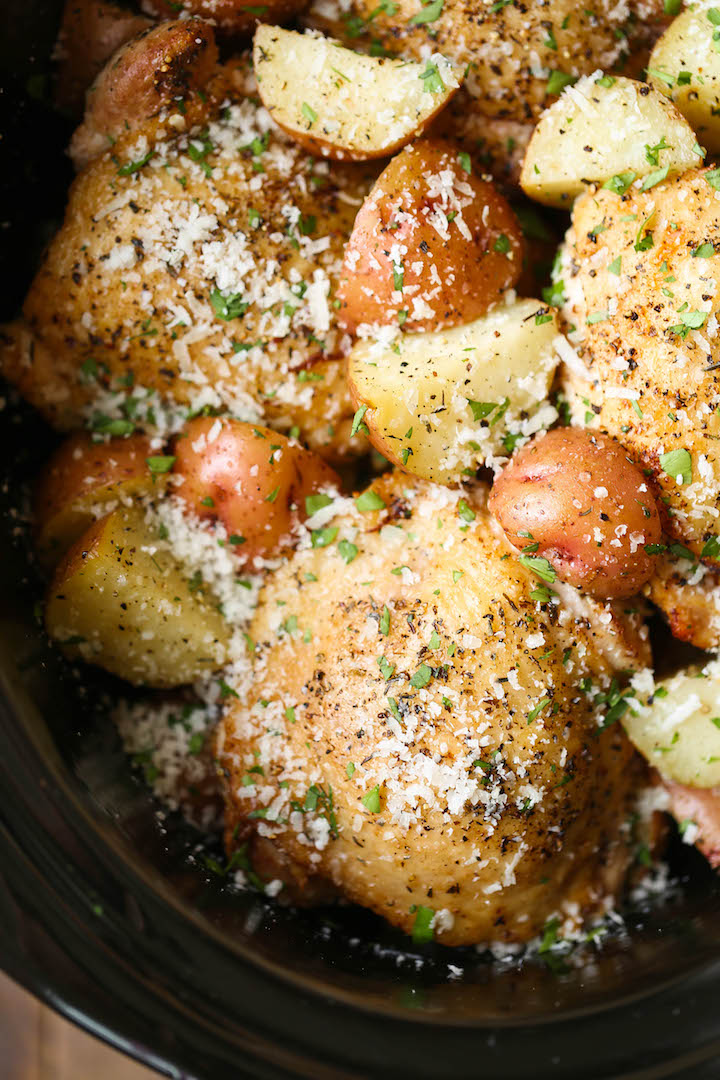 This budget-friendly weeknight meal uses chicken thighs as the protein and adds a little pizzazz with all that parmesan. Yum!
5. Crock Pot Chicken And Rice
This is one of my favorite healthy weeknight crockpot meals because it shows you can make more than soups in your slow cooker! This dish is the perfect answer to a little variety.
Plus, cooking rice with the rest of your food is a lot less clean up!
6. Crockpot Stuffed Peppers
Stuffed peppers are always a fun and healthy way to dress your dinner up. But my favorite thing about it?
It's a great recipe to use up what you have in your fridge! The filling can be extremely versatile.
7. Healthy BBQ Chicken Quinoa Casserole
Quinoa is a great superfood grain, but often it's hard to know how to cook it or what to put it in. This recipe puts a creative barbecue spin on the healthy food that's sure to please everyone!
8. Crock-Pot Sweet Potato Stew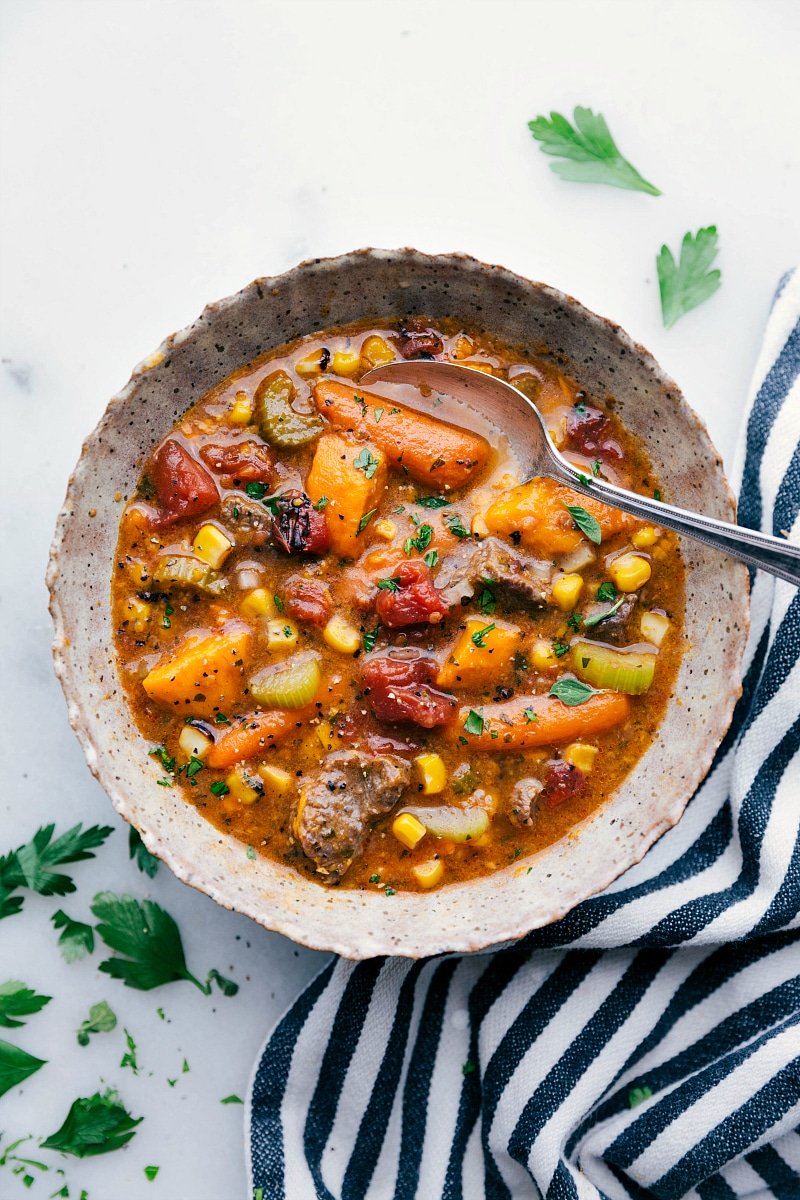 This stew has LOTS of veggies for one of the healthiest stews I've seen. I also love that there's an instant pot variation! That means it's perfect if you forget to get it together early enough.
Don't have an instant pot? They're MAGICAL and make life easier by eliminating loads of time.
*Related Post: 15 Best Dump and Go Instant Pot Meals
9. Crock Pot Teriyaki Chicken
If you love Chinese takeout, this is a must-try recipe! Throw it in the crockpot and enjoy a cheaper and healthier meal. You'll forget all about that restaurant menu!
*Looking for more ways to save time?! See this popular post of Must Haves for Busy Moms!
10. Slow Cooker White Chicken Chili
Chili is a big staple in our home, and I love the white chicken varieties. This one is BURSTING with flavor.
If you're also a chili lover read this article for another great recipe: 21 of the Best Healthy Recipes For Fall
11. Slow Cooker Buffalo Chicken
We're suckers for sweet potatoes at our house. It's like the guilt-free carb. And this recipe is good enough to serve a crowd or have for a tailgate!
12. Slow Cooker Butter Chicken
Finally, this Indian recipe gets all of its great flavors from a variety of spices. It's gluten-free and paleo. And it's delicious on a bed of regular or cauliflower rice.
How else can I make weeknight meals easier?
The crockpot isn't the only way to put together a healthy meal easily! Check out these tips, and add them to your healthy crockpot meals for amazing timesaving results!
1. Get Meat out the Night Before
NOTHING stinks like getting ready to make dinner and realizing your meat is still a frozen brick! So, get out that protein the night before, or even a day or two ahead.
2. Prep Dinner in the Morning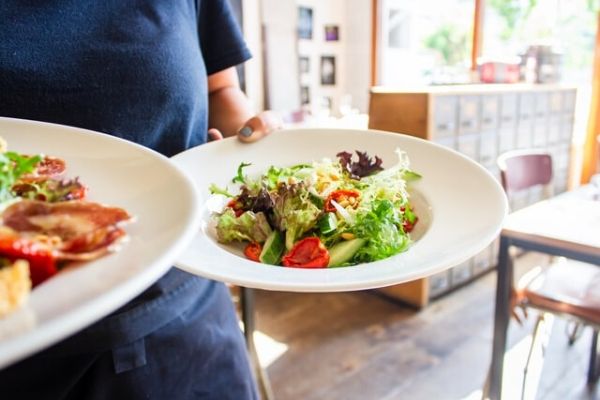 Five minutes of thinking ahead (even without the crockpot) could save you an hour later! This is as simple as soaking beans or chopping a few veggies.
3. Double the Recipe and Freeze for Later
This is HANDS DOWN my favorite trick. Your freezer is your friend!
Casseroles and soups are GREAT for adding to the freezer! The chicken chili, sweet potato stew, chicken and rice, potato soup, and chicken fajita recipes above would all make marvelous freezer meals!
So, cook once and eat again another day!
Check out these freezer meal posts for more!
4. Meal Plan
Plan at the beginning of your week so you know ahead of time what's for dinner.
Additionally, make it easy by putting all of your recipes in one place. Check out The Big List of Dinner Ideas for a free printable to put in that binder or meal planning notebook!
This meal planner will keep you organized, or check out the free weekly meal planner printable.
5. Cook in Big Batches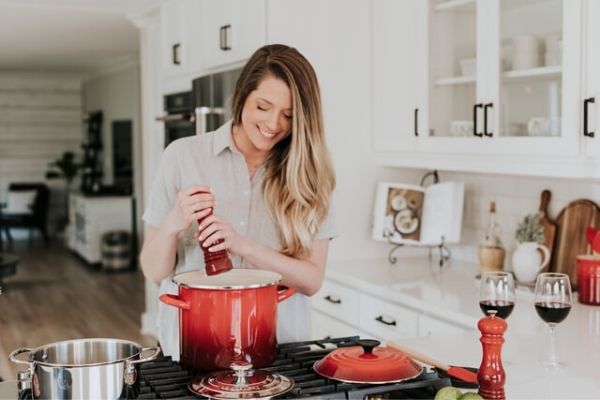 Cook once, and eat your goodness in different ways the rest of the week! Make condiments, cook grains or beans, and cut and roast veggies ahead of time.
6. Pick Up a Rotisserie Chicken
The protein is all the work, so this is a healthy way to cut down on dinner time! Simply add a few side veggies and you're good to go!
7. Stock Your Kitchen With Healthy Protein
Finally, canned beans, tuna, salmon, and other easy proteins help bring a meal together in no time. So, be sure to have those on hand when you need to throw something together last minute!
Related Post: 21 Quick & Healthy Weeknight Dinners
Don't forget to get helpers involved to make ALL dinners easier!
These are the perfect kids' knives to let little ones help with easy tasks, without worrying about their fingers!
Helpers = faster weeknight crockpot meals!
Something To Consider With Crockpot Meals
There you have it! Twelve divine recipes to try out in the next few months, plus a few other quick ideas to get the dinner job done!
And like any good healthy crockpot recipe, you'll set it and forget it… to come back hours later to a fantastic smelling house and a flavorful meal.
What do you think are the best healthy weeknight crockpot meals? I'd love to know!
Let's connect!
Find more daily tips and inspiration on Instagram, Pinterest, and Facebook!
Healthy life posts to enjoy…
Healthy Weeknight Crockpot Dinners