How to Make a Birthday Special (Without a Big Party)
Unforgettable Birthday Ideas Your Kids Will Love
I'm always looking for how to make a birthday special, but the idea of throwing a birthday party makes me break out in sweats. Many people throw spectacular birthday parties and love doing them.
I am not one of them.
I believe that being a great parent looks different for all of us. We should play to our strengths and drop what doesn't make us happier or better parents.
So, let's give up the guilt! I'm perfectly happy attending beautifully crafted parties, but I know that throwing them just isn't my thing. For several reasons…
Why No Big Birthday Parties
This post contains affiliate links, and I may earn a commission at no cost to you. See my disclaimer for more.
THE BIRTHDAY WORKLOAD
Thank you for the beautiful ideas, Pinterest, but I'm not going to spend hours getting 50 origami flower napkins just right.
I'm not that crafty, and I have three small kids.
Three separate parties every year making the right favors and games is a TON of work. And it fills me with panic just thinking about it.
THE BIRTHDAY STUFF
My kids already have a bazillion toys.
Some toys are great, but too many and my children don't appreciate what they're getting. (why I wrote a BIG list of non-toy gift ideas for kids!)
Plus, I get overwhelmed by a lot of stuff, so adding a bunch to my house gives me enormous anxiety.
Large Birthday Party Alternatives
Before we get to fun birthday traditions, please know that you don't have to swear off ALL parties! Check these low-key party options out, then read on for how to make a birthday special without a party at all!
THROW OCCASIONAL BIRTHDAY PARTIES
First, host birthday parties for special birthday years only.
We throw a first birthday party, and I know some that do it when children reach five and ten year birthdays so that they are spread out.
TRY LOW KEY BIRTHDAY PARTY IDEAS
We have attended parties where kids just play at the park, gym, or pool. They are super laid back and essentially playdates that include a cake.
DO DONATIONS
Additionally, we love it when kids bring donations instead of gifts.
Not only does this teach a meaningful lesson, but it gives the birthday child the thrill of delivering donations to an organization that needs it.
Pet shelters, women's shelters, and hospitals are always on the lookout for supplies.
THROW AN ANNUAL PARTY
Finally, at our house, we enjoy one big summer party (instead of 3 separate birthday parties) as a way to still get friends, family, and neighbors together once a year.
What Can I do Instead of a Birthday Party?
Now, it's still extremely important to me that the kids feel special on their birthday. So here are our easy but unforgettable birthday traditions!
11 Stellar Birthday Ideas for Kids
1. GO BIG WITH DECORATIONS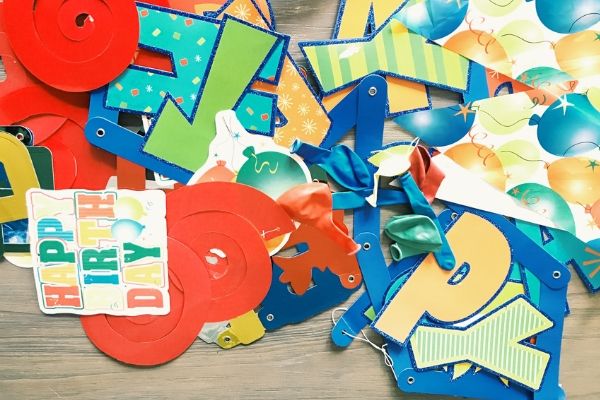 We have lots of reusable banners that we hang around the house as well as balloons to blow up. All of this gets put out the night before, so they see it as soon as they walk down!
Find great cheap decorations HERE >>
2. HAVE A SPECIAL BIRTHDAY DINNER
Just because there's no party doesn't mean there's no special celebration!
On the night of the birthday, we have grandparents come for a dinner of the child's choice. Being kids, it's usually pizza. Then, we celebrate with cake and a few presents!
3. GIVE BIRTHDAY COUPONS
I'm a big lover of coupons!
They take up no space in my house and don't make my kids psycho from sugar. For birthdays, they get a coupon for 30 min extra TV, 1 extra hot lunch at school, and/or to stay up late for 15 minutes.
Check out this free birthday coupon printable for kids!
4. WRITE LOVE LETTERS
Every year, I write each child a short letter on their birthday about the special things they loved, have learned, and have accomplished throughout the year.
The letters make them feel amazing, and it's an extra reminder that they are loved.
Additionally, I try to keep a copy of each letter on the computer so that when they turn 18 I can give them all of the letters as a gift!
Sign up here for a free birthday letter template! Or click on the picture below!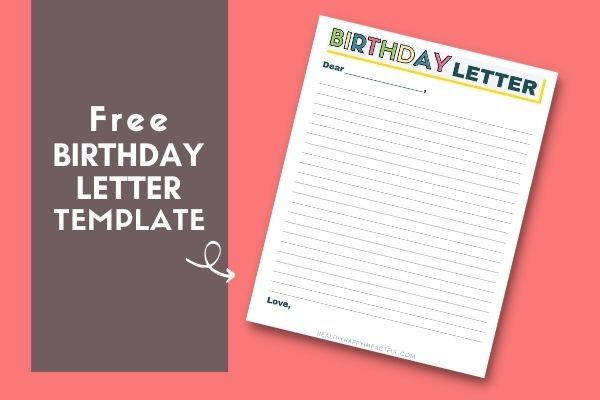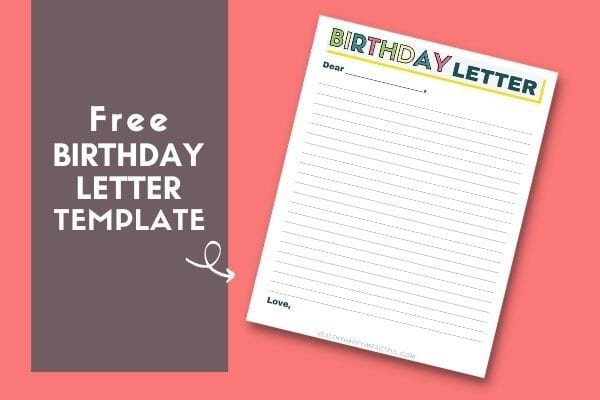 *For something pre-made, try these free love notes for kids! (And when it's over, you'll love the free birthday thank you notes for kids to write)
5. MEASURE THEM ON THE RULER
*Our favorite sentimental tradition!
We made a simple ruler when our oldest was little and measure the kids at birthdays!
It has been SO fun to see how tall they are each year and compare how tall the siblings are at different age points.
This ONE is beautiful and personalized for each child >>
6. GET TOGETHER WITH FRIENDS
Since we seldom do birthday parties, we like to do a birthday dinner together with a few family friends around the special days.
That way the kids still get to "invite friends" over, but we're not overwhelmed.
7. ONE-ON-ONE BIRTHDAY DATES
Every birthday, we have a one-on-one date with mom and date at a separate time. Here are some great ideas for your quality birthday time:
Buy a book at a book store
Go out to a fancy dinner or restaurant of the child's choice
Explore the nearby creek or go fishing at a lake
Go to the zoo or amusement park
Take a picnic somewhere new
Fill the bathtub with pillows, books, and snacks and read
*This tradition is close to my heart, but it is harder if you have many kids or lots of activities.
Now, instead of an outing, we spend one-on-one time at home doing whatever the child wants to do on his/her birthday. Read for more one-on-one kids tips!
8. READ A SPECIAL BOOK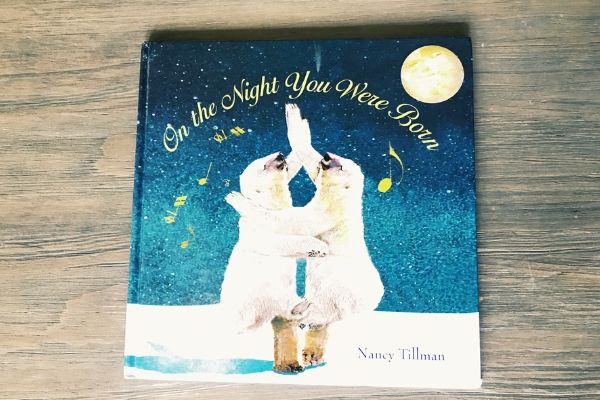 Our children received The Night You Were Born at birth, and I love reading it to them to remind them of how unique they are.
Another great birthday book option is Happy Birthday To You by Dr. Seuss.
9. DIG OUT THEIR BABY ALBUM
What child doesn't want to see themselves as a baby?
Peruse their baby book and special mementos. Then, you can all see how much they've grown over the years.
Celebrate Milestone Birthdays
We have a few special traditions to celebrate the kids' five-year milestone as well! But these could easily be turned into something special for other birthdays.
10. THE Q & A BOOK
This is the BEST book to promote meaningful conversations between children and parents. It is a fantastic three-year guide for kids. And every day has a different short prompt to discuss. Examples include:
What was the last thing you built or made?
Which language would you like to learn and why?
Which do you like more, being inside or outside? Why?
My son and I have talked about the questions in this book for the last two and a half years just before bed, and now my daughter is in on it as well.
*Or for a free option (and less commitment), get this awesome set of birthday interview questions (+ print the free printable right from the post!)
Related: Great Experience Gift Ideas For Kids
11. THE 5 YEAR PHOTO BOOK
Finally, I am the WORST at printing pictures out. It's one of the reasons we use Chatbooks (an automatic printing service).
Yet, I give them each a special book of their first five years of life on that milestone birthday. At least when they're older they will have something to look at that isn't from a computer!!!
Love the idea of creating unforgettable family memories?
Then, check out my bargain ebook, filled with 260+ unique family tradition ideas for major holidays, birthdays, and everything in between! With this ebook, you'll gain irreplaceable quality time and make your family stronger.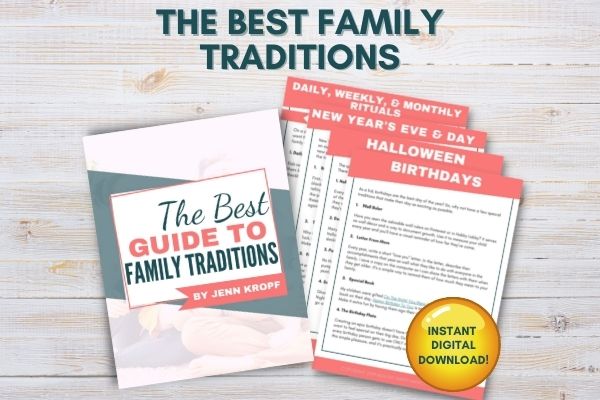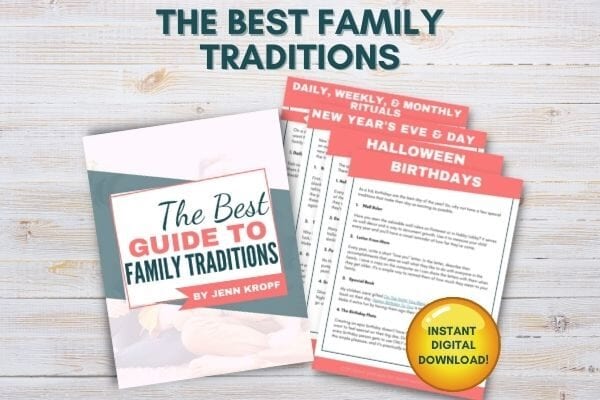 Remember, different traditions work with different people. Try out several to find your fit. But keep it fun and stress-free!
How do you make a birthday special? Do you have unique traditions?
*Not able to celebrate with others due to health concerns? Check out more at How to Make a Birthday Special at Home
And check out these other great family posts:
How to Make A Birthday Special (No Party Needed)