How To Use Gratitude To Savor More Life Moments
"Enjoy the little things in life. For one day you'll look back and realize they were the big things." – Kurt Vonnegut.
Why Gratitude?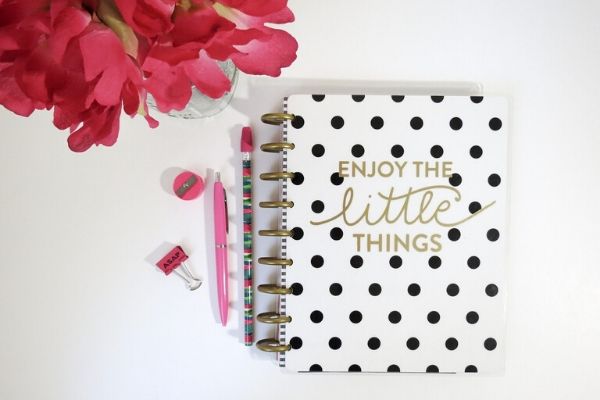 Yet, like most women, I play a lot of different roles in my life. Oddly enough, few of those roles involve standing still. Even when I am in one place, my mind is usually jumping ahead.
Smelling the roses can be easier said than done.
So I came across gratitude as a helpful way to savor more of those little life moments that pass by so quickly. And in extension, work towards a happier life.
Over time, I've implemented two different gratitude practices that have been so beneficial for different reasons. I'm sharing my real-life application, and each takes less than 5 minutes.
Even the busiest of women can find the time.
The Gratitude Journal
I write down three things I'm thankful for every morning.
It can be anything. The beautiful weather outside. My hot cup of tea. My healthy children. It's very simple.
The journal really gets me to appreciate things in my life that I wouldn't normally think about.
I'm pretty consistent as it's on my self-care routine and a part of my day now.
Additionally, it is wonderful to go back and look at the past gratitudes I have in the journal. Some days are hard and we lose perspective. The journal often makes me realize I have an extremely blessed life.
Related Post: 60 Uplifting Quotes to Be Grateful
The 3 Moments
Before I fall asleep, I think about three specific moments in my day that I am grateful for.
This one makes me feel amazing.
When I think about my 3 life moments, I can always picture the exact look on my daughter's face when I made her laugh, the feel of my husband's hug, or even the smile on my student's face when she figured something out.
I can see it in my mind, and it brings me back to that moment.
As an added benefit, I spend my day subconsciously looking for the moments so I can remember them for the end of the day. Something small will happen and I'll think "that's one of my moments today."
It gets me to actually stop and smell the roses because I'm searching all day long.
An Update
Since originally posting this article, I have bought and now use the 5 Minute Journal daily.
It was recommended to me and now I HIGHLY recommend it as well!
It has both gratitude practices built into the journal as well as a spot for me to write my goals! Plus areas to prioritize and reflect.
I love not having to find different journals or papers to do everything I love, and it only takes 5 minutes twice a day.
HERE is the journal on Amazon! It's worth it!
*For specific gratitude templates, check out the complete self-care planner here>>
Thank You
Before I go, I wanted to say I'm so grateful for you, my readers. This blog has let me explore an interest for writing that I've had for a long time.
So thank you for letting me share my words with you.
Something To Think About
Take my experiences and try one or both yourself. Enjoy your blessings today!
You will find yourself stopping to savor those special life moments just a little bit more.
Need help making it happen? Try the Weekly Self Care Checklist
Other Great Healthy Happy Impactful Posts to Enjoy…