7 Ways To Make Healthy Cooking Easier
Who out there has an overabundance of time and energy?
……Crickets
The lack of either one is an excuse to eat out or find chips in the back of the pantry for dinner. For me, a big issue with healthy cooking is the time and energy I don't have. When I make a healthy homemade pizza it takes a lot more out of me than throwing a frozen one in the oven. And sometimes, the battle between healthy homemade or a quick packaged food can be a nightly battle.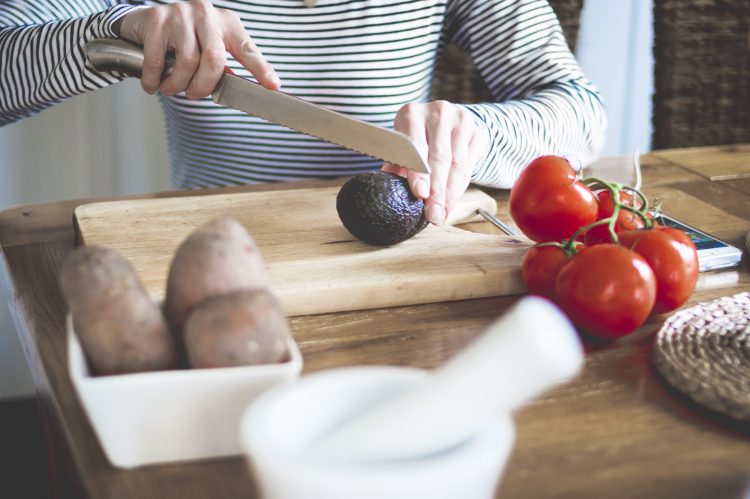 Alas, we aren't all doomed to spend hours in the kitchen to stay healthy! There are ways to be more efficient. I've been testing more of those ways since the third baby came along. Here are 7 tips to make healthy cooking easier!
How To Make Healthy Cooking Easier

1. My Absolute Favorite: Double EVERYTHING
As soon as I find a recipe we love, I make a double batch and freeze one. This goes for meals, snacks, bars, granola, refried beans…almost anything! I now do 1/2 of the cooking I used to do because I can pull food out of the freezer at a moment's notice.
As an added bonus, I still only clean one set of pots and pans when I double, so I'm only doing 1/2 of the clean up too! My favorite part. This has freed up SO MUCH TIME! 
Related Post: Easy Make Ahead Breakfasts
2. The Instant Pot 
We received this as a gift, and I was a little skeptical. Now, all I can say is WOW. The fact that we can throw a frozen piece of meat in it takes away all of our excuses to eat out.
We're still testing out correct times, but I'm throwing my hat in with the believers. It's just so fast and easy to put together a delicious meal. 
Related Post: 12 Crockpot Meals Perfect for Weeknights
3. Meal plan
This one helps for obvious reasons. If we have a plan, we're not rummaging through the pantry at 5:00 pm. Plus we can pull things out of the freezer in the morning or chop veggies ahead of time.
I like to meal plan one week ahead, or just have the same reoccurring meals every week. It's even easy to pick themes like Mexican Monday to make the weekly planning go quickly. 
4. Meal Prep
I'm at a middle ground with this. Meal prep helps us execute the meal plan, but I also think it can go overboard and we can use up hours of a good Sunday if we let it. Now, if I know it will be a busy week, it helps tremendously to stay on track in the healthy department.
I generally try to chop veggies for salads and wash fruit. My husband makes boiled eggs too. To me though, with most foods it's a lot less work to just double when I'm already making something.
Am I making eggs this weekend for breakfast? Make a bunch so I have a few days worth. That way I'm rarely getting separate supplies out!
Related Post: A Sunday Checklist for a Successful Week
5. Get Help
My kids are usually excited to help. We bought some kid knives on Amazon HERE a few years ago, and it enables the kids to cut lots of things without cutting themselves. Now, when the kids are really young, it's definitely NOT easier for them to help, but that husband hanging around is pretty capable too!
6. Buy It Already Done
Now, this does cost more, so I generally try not to do it much. But you know what, occasionally the choice is between a pre-made salad and a frozen unhealthy option. If an already put together salad gets me to stay healthier, then I'm all for it.
7. Try New Healthy Recipes When There's Time
This one is more about managing the time we have. Weeknights are for getting stuff done and unwinding. Any time that I try to make a new recipe on a weeknight it ends up with me crying and cursing the world. Kind of exaggerated. Kind of not.
Definitely experiment with new healthy foods, but do it when there is plenty of time to read a recipe without trying desperately to get dinner on the table in the next twenty minutes.
Related Post: 21 Healthy Weeknight Dinners Done Fast
Something To Think About
These should help make the week's food a smoother affair. Healthy cooking can be easier and doesn't mean we have to be slaves to the kitchen! What time saving kitchen tips work best for you? And what Instant Pot recipes do you love? We're still getting the hang of it!!!
Other Great Posts from Healthy Happy Impactful…