30 Best Reading Journals For Book Lovers Of All Ages (In 2023)
What is a reading journal?
Do you wish you could remember details of the books you read?
Or have you ever started a book only to realize you've already read it?
A reading journal helps you keep track of the books you've read and your thoughts on those books. Enhance your reading life, and try out one of the reading journals on our list for adults and kids.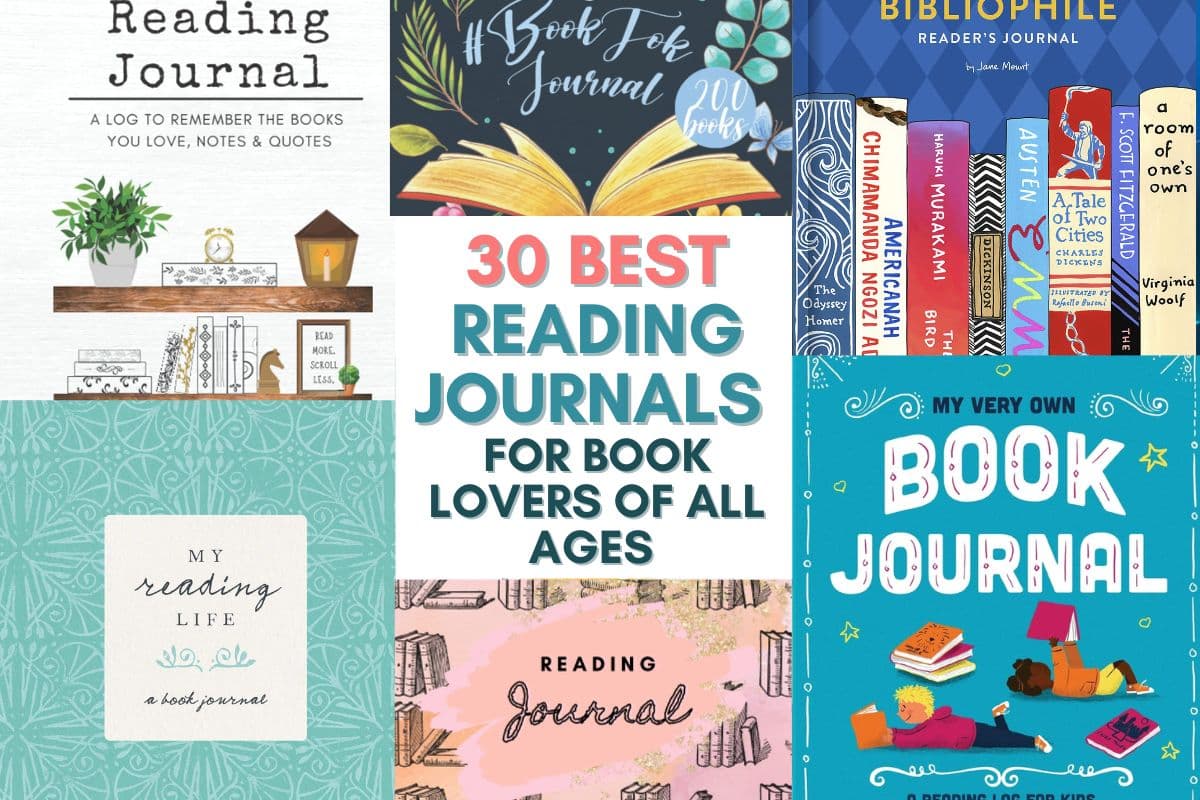 This post contains affiliate links, and we may earn a commission at no cost to you. See our disclaimer for more.
Why should I keep a reading journal?
A good book journal will:
Help you remember your favorite books to share with others
help you better retain what you read by writing it down (source)
Keep your reading life organized
Improve book club discussions
In addition, reading journals are a fun and unique gift idea for book lovers.
Are you convinced yet? Use the list below to find the best reading journal for you and your kids!
Best Reading Journal Ideas For Adults
1. KUNITSA CO. Reading Journal
*5 Stars on Amazon
Track and review your reading in the KUNITSA CO. journal. With room for 52 book reviews and places to track reading challenges, this is an all-in-one notebook.
This hardbound reading journal comes in four colors and is a portable size. It is a great gift for the book lover in your life!
Journal Details: 8.5″ x 6″ dimensions, hardcover, premium ivory paper
2. Reading Journal: For The Love Of Books by Paper Peony Press
*5 Stars on Amazon
Record the best highlights in this comprehensive book journal.
Pages included in this journal:
daily reading tracker
literary bucket list
genre checklist
room for 52 book reviews
space for favorite quotes
books borrowed/lent out tracker
Readers will love the modern design!
Journal Details: 6″ x 9″ dimensions, linen-wrapped hardcover with gold foil, 116 pages
3. My Reading Life: A Book Journal by Anne Bogel
If you have goals or you are looking to start a reading habit, check out this journal. It's designed to help you get the most out of your reading time.
With inspirational quotes and seasonal booklists, this journal will guide you to track and celebrate your wins.
Journal Details: 5.25″ x 7.25″ dimensions, hardcover, 192 pages
4. Reading Journals for Book Lovers
Organize your reading thoughts in this easy-to-carry, spiral book with a leather cover and pen loop.
With plenty of space for overall book impressions, main takeaways and thoughts, and memorable quotes, you can thoroughly record your reading.
This book journal will no doubt help you stick to your reading habit.
Journal Details: 8.25″ x 6″ dimensions, leather cover, spiral bound, pen loop, elastic closure, inner pocket, 160 pages
5. The Bookish Companion (Mini) Reading Log and Notebook by Karla Nikole
The Bookish Companion reading log helps you track, rate, and review your daily reading and thoughts.
If you are looking for a simple and portable reading log, this will be a great one for you.
Journal Details: 6″ x 9″ dimensions, paperback, 120 pages
6. BookTok Journal for 200 Books by LRN Prints
This 8×10 reading log is larger, has a unique and fun interior design, and can help you track 200 books. You will be able to track:
Title, author, genre, and rating
Favorite chapter, character, & quote
Date started, finished, book-length & more
Get the BookTok Journal here!
Journal Details: 8″ x 10″ dimensions, paperback or hardcover, 242 pages
7. Reading Journal: A Log To Remember the Books You Love, Notes & Quotes by C. Whitney
*Comes in hardcover and paperback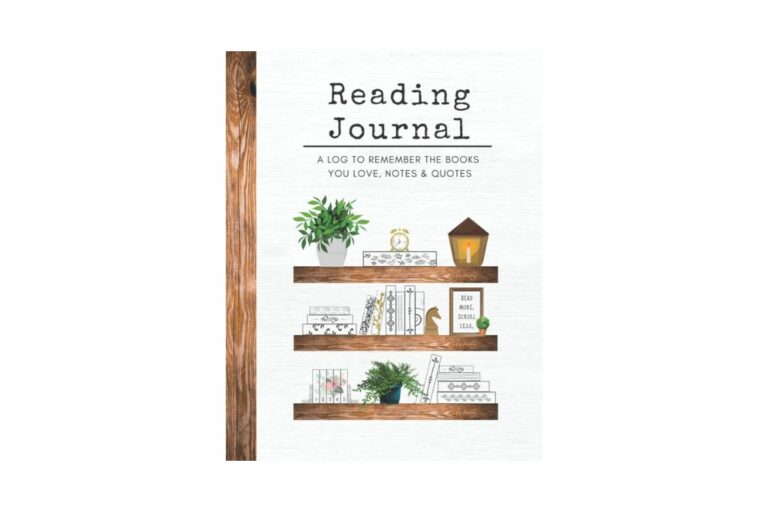 Keep a summary and record of up to 50 books with an additional twenty blank pages for extra notes. This is ideal to keep you organized and has plenty of space to hold your thoughts.
Journal Details: 8.5″ x 11″ dimensions, paperback or hardcover, 133 pages
8. Book Club Book Journal-Reading Journal For Book Lovers by Lamare
*Great choice for men or women and comes in two colors
This is a simple bullet journal for reading lovers to log books, notes, summaries, and conclusions along their reading journey.
Book Club is a bright and colorfully illustrated journal with room for more than 80 books.
Journal Details: 8.5″ x 6″ dimensions, hardcover
9. Reading Log: Gifts for Book Lovers by Smart Bookx
*Paperback or Hardcover
This book log has 100 pages with sections for review, quotes, ratings, and an inspiration tree. Included at the beginning is a table of contents for easy use.
Journal Details: 8″ x 10″ dimensions, hardcover or softcover, 109 pages
10. Reading Journal: A book tracker for bookworms! by GM Reilly Books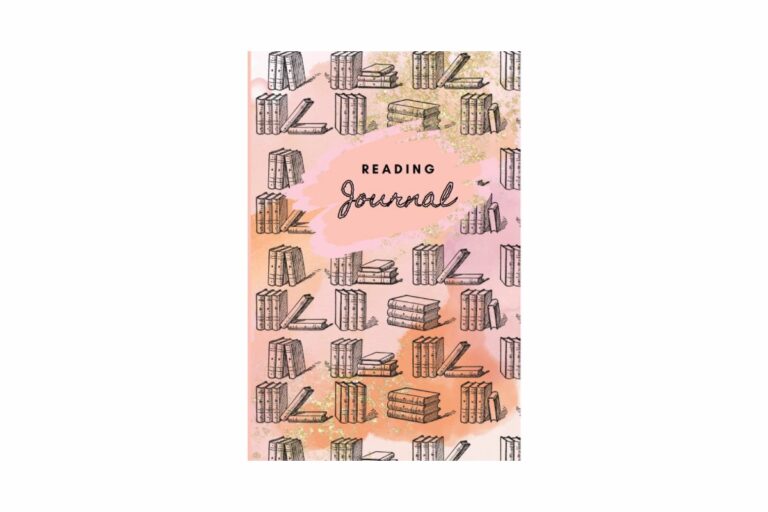 Calling all bookworms! Grab your copy of this unique and easy-to-use journal.
Included are pages to make a list of your favorite books, recommendations, wish lists, reviews, and more! You can also use the bookshelf coloring pages to track your progress.
Journal Details: 6″ x 9″ dimensions, paperback or hardcover, 120 pages
11. Reading Journal Diary for Book Lovers: Track the Books You Read and Create a Personal Reading Record to Look Back On by Beaucoup Lire Press
*Printed on cream paper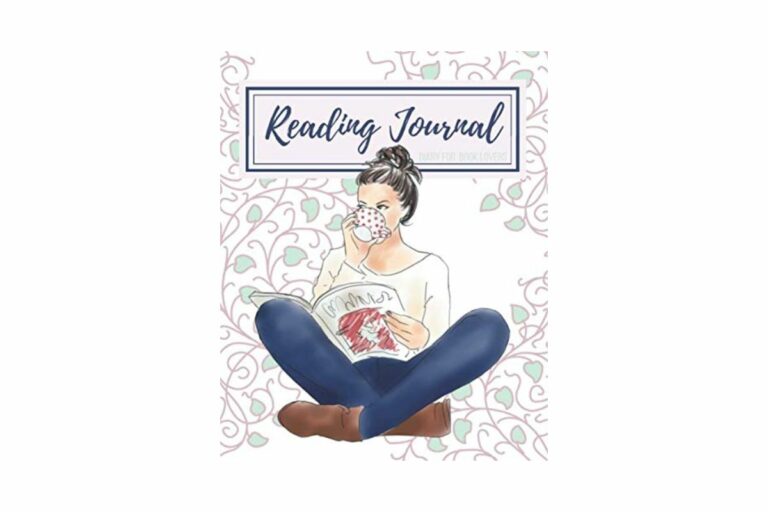 Organize your reading with room for over 100 reviews and plenty of space on 8×10 inch paper to write.
This journal will help with reading goals, getting back into a reading habit, and becoming a more mindful reader.
Journal Details: 8″ x 10″ dimensions, paperback, 110 pages
12. Keep Calm and Read A Book: Reading Log by SmArt bookx
Use the Keep Calm and Read A Book Reading Log to record, rate, and write down your inspirations from the books you read.
Track 100 books and also find a list of the Top 100 voted Fiction books so you will always know what to read next!
Keep calm and find this journal here!
Journal Details: 8″ x 10″ dimensions, paperback, 109 pages
13. A Clockwork Reader Reading Journal by Hannah Azerang
Use the prompts for a thoughtful approach to recording your reading insights.
Creatively design your own section for each book.
Use the challenge prompts to figure out what book you will read next.
Track your books and enjoy the quotes from the author
Record your thoughts on the book vs. the screen adaptation.
Journal Details: 7″ x 9″ dimensions, hardcover, 256 pages
14. Letterfold Book Passport Journal- Pocket-sized Reading Book by Letterfold Store
*Perfect for a pocket or travel bag
This pocket-sized book contains room for 20 entry logs to record details along with a blank page to record thoughts for each book.
Included in the back are bonus pages with bucket lists, activities, and other checklists.
Journal Details: 5.5″ x 3.5″ dimensions, 48 pages
15. The American Library Association Recommended Reads and Planner: 17-Month Book Log Organizer with Stickers by ALA
*Contains a 17-month calendar & inspirational stickers
Use this planner from the American Library Association to write down your reading goals and track them each month. Also included are book recommendations and journal prompts.
It's perfect for tracking your reading habit whether you are new to reading or an avid book lover. It's also great for book clubs!
Journal Details: 6″ x 8″ dimensions, hardcover and double spiral binding for easy writing, 224 pages
16. Reader Harder (A Reading Log): Track Books, Chart Progress by Book Riot
Created by Book Riot, record books and write your reviews as well as try out the 12 challenges mentioned throughout to challenge yourself as a reader.
Journal Details: 5″ x 8″, paperback, 160 pages
17. Bibliophile Reader's Journal by Jane Mount
*A great gift for readers
Take notes on the plot, favorite characters, and quotes. Plus, rate your reading with this literary journal filled with bookish art by bestselling author and illustrator Jane Mount.
Journal Details: 6.25″ x 8.3″ dimensions, 128 pages
18. Book Club: A Journal by Read it Forward
*Best reading journal for book clubs
Take this fun book club journal with you to your next club night and never forget what you've read and discussed. It also includes lists of books that are great for book clubs!
Journal Details: 5″ x 7″ dimensions, 224 pages
19. The Book Club Journal: All the Books You've Read, Loved, & Discussed by Adams Media
This is made specifically for book club members to remember the important details during book club meetings.
The Book Club Journal also includes tips to make your book club stronger and a list of suggested favorite books.
Journal Details: 7″ x 9″, paperback, 256 pages
Printable Reading Journal Ideas
If you are looking for creative printable reading journals or template ideas, check out these options. Then, create your own reading journal.
20. Simple Reading Journal Template
Image from onplanners.com
Use this simple and free PDF to start your own reading journal today. This is great for your first reading notebook.
21. Wisteria Book Journal PDF
Image from Wisteria Book Co
Grab 15 adorable reading printables that include reading logs, book trackers, monthly challenges, and more! Print them all yourself.
Digital Reading Journal
Digital reading journals can make it quick and easy to journal online without carrying a book with you.
22. Goodreads Free Digital Reading Journal
Use the simple and free reading journal on the Goodreads app to track books, write reviews, and follow your favorite authors and readers.
Join the Goodreads challenge for added reading motivation.
23. Free Digital Reading Journal
Leave the worry of finding a pen and your journal behind you. Update this 7-page digital journal right from your phone.
Related: Inspirational Books for Women and Growth Mindset Books for Kids & Adults
Best Reading Journal For Kids
Kids also love to track their reading and see their progress. If your bookworm likes to write or even draw, they may enjoy a reading journal.
Also, it will inspire your reluctant reader to become more engaged. It can:
24. My Reading Adventures: A Book Journal for Kids by Anne Bogel
Encourage your reader to enjoy books and have space to write down their thoughts with My Reading Adventures book.
Inside, look for book recommendations for a variety of interests and genres and question prompts to get your young reader thinking.
Journal Details: Ages 8-12, 6″ x 8″ dimensions, 144 pages
25. Bookworm Journal: A Reading Log for Kids (and Their Parents) by Potter Gift
This cute bookworm journal comes with a unique twist! Each time you read a book and fill out a journal entry, tear off the perforated corner of the page and see the bookworm "eat" his way through the entire journal!
Journal Details: Preschool-3rd grade, 6.6″ x 8.4″ dimensions, 112 pages
26. My Reading Journal: A Guided Journal for Kids To Keep Track of Their Reading by Y.Y. Chan
*Includes a variety of activities to develop reading
Are you looking for a way to develop your child's reading skills? This extensive journal includes strategies and activities to help your kids dive deeper into reading:
KWL charts & Venn diagrams
Interview questions and poster designs
Interactive reading activities
Related: Best Interactive Kids Books
Journal Details: Ages 9+, 8.25″ x 11″ dimensions, hardcover with full color, 99 pages
27. Reading Log: Gifts for Young Book Lovers by SmART bookx
Log up to 100 books in this reading tracker for readers. With wide-ruled lines to help young writers and simple vocabulary, this is a great reading notebook choice for kids.
Journal Details: 8″ x 10″ dimensions, tough matte paperback with secure binding, 111 pages
28. Reading Log For Kids: Reading Notebook for Ages 7-12 by Belle Journals
This is a great child-friendly reading log option that is easy to use, with coloring opportunities on each page.
Your child can record up to 100 books, track their minutes spent reading, and much more.
Journal Details: Ages 7-10, 8″ x 10″ dimensions, paperback with durable matte finish cover, 108 pages
29. My Very Own Book Journal: A Reading Log For Kids (And Grownups) Who Love Books by Jennifer Farley
Grab this Book Journal! It has space to fill in 50 books as well as review and rate those books.
Included inside is extra space to draw and a section at the end to pick these "Desert Island Books".
Journal Details: Ages 5-12, 6″ x 9″ dimensions, paperback, 116 pages
Related: Kids Books That Are Movies
30. Printable Reading Notes and Fun Pack
The Kids Reading Fun Pack is a great printable reading journal you can access right now.
This pack includes:
Note-taking pages filled with journal prompts and activities
Literacy games like reading bingo, a book scavenger hunt, and fun ways to improve reading comprehension
Monthly bookmark trackers for coloring the books your child read throughout the year
Plus, reading stickers and motivational posters, and more!
This is a must-have place for your child to keep their reading notes and ideas.
<<Grab the Kids Reading Fun Pack here!>>
Related: Free Summer Reading Log Printable and Inspirational Books for Kids & Teens
How To Start A Reading Journal
1. Decide what type of reading journal works best for you.
Do you want to track progress or also have a place to write down reflections?
Do you want reading prompts?
Space to write down book lists?
Blank pages or pre-formatted pages?
Would you like a bullet journal reading log for more creativity?
Digital or printable?
Consider the size and binding you prefer as well
2. Set a time each day or week to update your journal.
Set aside a time for you to journal about your reading. Put a reminder on your phone to help.
3. Aim for progress, not perfection.
If you are new to journaling about your reading, aim for consistency. Don't sweat it if you forget to journal. The more you do it, the more of a habit it will become.
There is no "right" way to keep a reading journal.
4. Make it a family hobby.
Use the reading journals for kids above to get them involved in their own reading hobby. You will find that they are excited to track what they read and plan their next book adventure.
Related: How To Start A Journal
To Consider With A Reading Journal
Overall, a reading journal can be a helpful tool for book lovers to keep track of their reading progress and thoughts.
Are you going to try one? Let me know!
More HHI posts you'll love…