The Ultimate 2021 Gift Guide (Self-Care, Family, & More!)
Hi friends! Below are all of what we are loving for Christmas gifts this year or things we have bought/used that are AMAZING! Enjoy!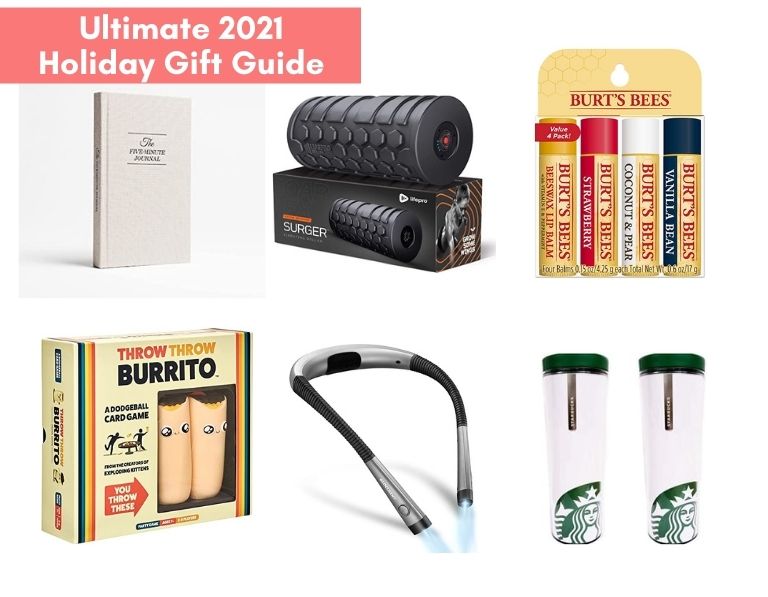 Great Self-Care & Health Vibes
First, holiday specials and gift opportunities make it a perfect time to invest in yourself and those you love!
The Headspace App: I've meditated with this app almost daily for 6 years. It's safe to say, I LOVE IT. If you are looking for an amazing investment in your mental health, they are running a 60% off Black Friday special.
Lifepro 4-Speed Vibrating Foam Roller: I started with a cheapie roller, and bought this one three months ago to see if I could tell a difference. Since using this after my morning workouts, my shoulder and neck tightness have improved 75%.
The 5 Minute Journal – This is the journal that finally helped me build a sustainable gratitude habit.
The Self Care Workbook Planner – It includes guided templates that make your wellness a top priority. I use the printables regularly to help me re-set or schedule self-care every single day. It's 20% with the code HOLIDAYS here>>
Peloton Gear: I work out with the Peloton digital App at home ($14 a month and you don't need their equipment). Truthfully, I've never worked out as often or ENJOYED working out so much in my life. It has been an incredible investment. Their gear and bike shoes are on my Christmas list! And you can get two months membership free HERE >>
My Favorite Water Bottle: I got tired of wimpy water bottles! This is the sturdiest bottle I've ever bought, and it's big enough to not have to refill it all the time!
My Top 3 Stocking Stuffers
Just for Kids
My kids get a lot of stuff from others. So, I try to gift them things they will use or that promote something meaningful! Here are three gifts we're giving this year.
Bean bag chairs: We're creating a little reading corner in our home and getting all three their own special chair.
LED Booklights, digital bookmark, and books: Do you see a theme here, haha? These will be stocking stuffers! (Find more girl and boy ideas HERE>>
Modeling Clay, Slime, and Playdoh – All three of these are making an appearance in various stockings. The kids are still at an age where sensory play and creating with imagination is fun!
(Kinetic Sand has been a HUGE winner from the girls Easter basket gifts and top Easter fillers gifts for boys too!)
Date Night Gift
Many years ago, my husband and I decided to gift experiences instead of stuff to each other. (The truth is, we aren't huge gift people). Here's the date night gift I'm giving him this year!
Bookstore Coffee Date at Home
I also intend to pick out background music and get our fireplace going for this date! See here for a huge list of these kind of date gifts!
Best Picks for Family Connection
Overnight Hotel Stay – Instead of adding to the pile, we decided to gift the kids a night at a local water park hotel. I'll add snacks and pool stuff to the gift to help them get excited and I know they'll love this more than anything else we would have gotten them.
Throw Throw Burrito – This is an insanely fun game! It's more physical which is perfect for a family with kids – and by FAR our favorite game of the year!
Our Christmas Eve Box – I love using the idea of a Christmas Eve box for things that bring us together (and keep us busy waiting for Santa). Here's what's going in it this year!
The Night Before Christmas Book (It's the last book in our Christmas book countdown)
An updated family photo (the kids like having one on their night stand)
Hot chocolate, marshmallows, and a few chocolate sticks (for a fun hot cocoa bar)
Popcorn or salty snack to go with a Christmas movie
New pajamas for each child
See here for an entire list of Christmas box ideas for every age
Bonus Pick: Family Organization
The Hercules Tuff Charging Station: If you don't have one of these, you need one pronto! This small thing saved us SO MUCH frustration! We no longer have to worry about charging and we always know where the kids' ipads are. *My favorite family purchase of 2021!
See our charging station here >>
That's it! I'll keep updating as the holiday nears! Have a beautiful season!