It's the spark that lights a fire
Happy 3 pt Thursday! Here are 3 ideas to consider:
Quote of the Day
1. "Gratitude is a powerful catalyst for happiness. It's the spark that lights a fire of joy in your soul." – Amy Collette
---
Hosting a Friendsgiving or Thanksgiving this month?
2. Try Yam Races
Give participants a yam and a spoon. Players must use the spoon to roll the yam to a certain point and back. The first one back is the winner!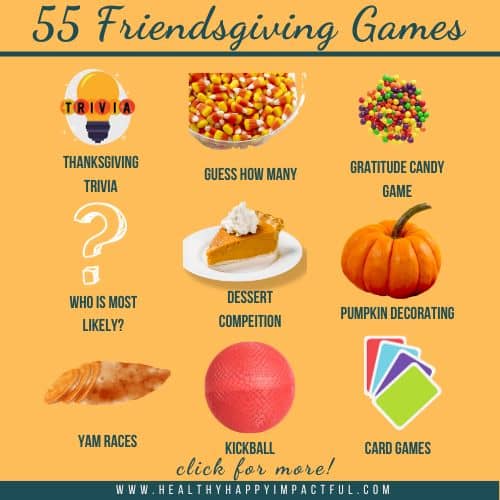 ​Your guests will love these free Thanksgiving Trivia Cards too​.
​See more Friendsgiving game ideas​ >>
---
How You Can Practice Gratitude in November
3. The other day, I heard the wise words "you are what you practice." If you want to feel joyful and blessed, make it part of your daily routine in November.
Check out these free resources for a grateful month:
Stay tuned for more ideas in November!
Love always,
Jenn Kropf
Founder of ​Healthy Happy Impactful​​
P.S. Our November family tradition is a Thankful Tree​. It's never perfect. (Sometimes we forget. Sometimes it doesn't even look like a tree.) But it does help us see the good in each day of the month.