Here are 3 ideas to consider:
Quote of the Week
1. "There is a calmness to a life lived in gratitude, a quiet joy." – Ralph H. Blum
---
Thankful Thursday
Research shows that gratitude is a key to feeling happy. We know that ​counting your blessings​ can turn around your day.
But in my life, I struggle to remember to do it. (Heck, some days it's all I can do to keep my kids' names straight…)
So, when my daughter came home from school with a weekly ​thankfulness activity​, I thought it was genius. She was smiling wide about her blessings.
What if ONCE a week was more realistic?
So, instead of finding the time daily, could you set aside 20 minutes every Thursday? Or Sunday?
Could you enjoy feeling thankful while you drink your Saturday cup of ☕?
And keep it simple. A once-a-week practice could mean you:
After you're done, take a second to enjoy the abundance you've created. It's amazing! And you did that with only a few minutes.
---
Unique Family Photo Hunt
3. Next, let's extend that grateful feeling to the whole family.
Use your phone to complete this ​Gratitude Photo Hunt​ or print the free pdf. Then, let your family take pictures of what they hold dear to their heart. Bring it out on Thanksgiving or enjoy it any time of year for a boost of good feelings!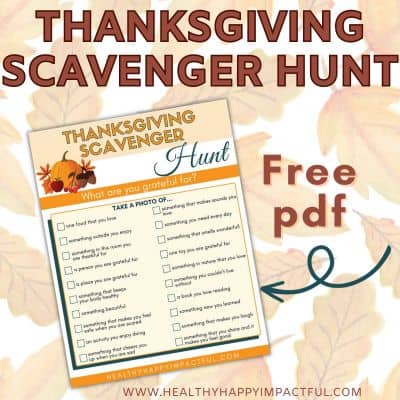 For more like this, check out the ​New Family Night Club​. It's a once-a-week email with a ready-to-go family night!
Love always,
Jenn Kropf
Founder of ​Healthy Happy Impactful​​
P.S. ​Silly Thanksgiving pun​ for you:
I yam what I yam, and I yam thankful!