Inspiration For All The Moms That Need To Smile
This post is for the hard mom days.
Motherhood is filled with unspeakably sweet moments, but it also has some of the most difficult moments we ever experience. Any mom will tell you that motherhood is not for the faint of heart.
One moment we're cherishing their sweet laughs and the next those same angel children are whining, fighting, or having meltdowns. Plus, we have an enormous amount of responsibility as moms, and sometimes the days are so dang tough.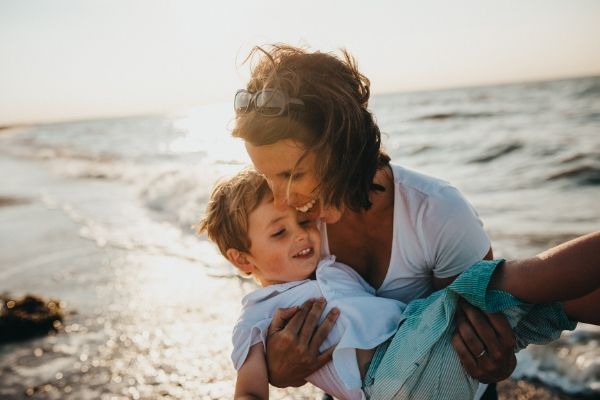 So, here are some quotes that are guaranteed to put a smile on your face today and keep things in perspective. The job of mom matters so much! It can sometimes feel thankless and exhausting, but it's also the MOST important job we will ever have.
First, Mom Quotes To Make You Laugh
Because nothing works better than a good chuckle.
Can you relate to any of these?
What I say to my son: "Get dressed." His interpretation: "Stand around naked watching television with one sock on." – unknown
Most days…
"To be honest, I'm just winging it. Life, motherhood, my eye liner. Everything." – unknown
Um, yes…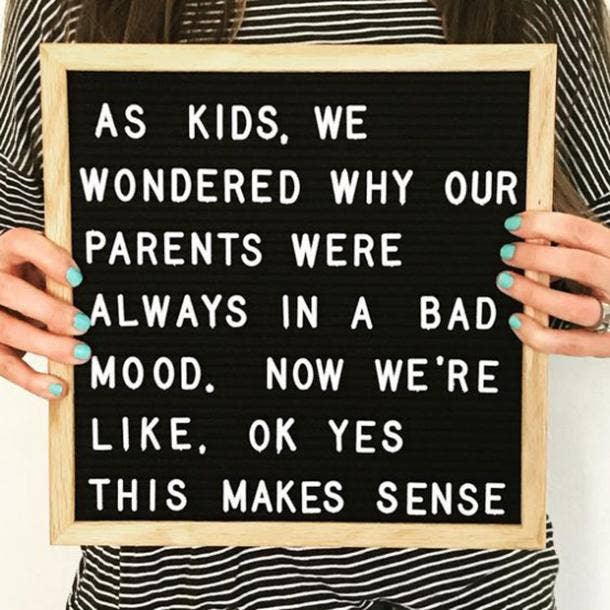 "As kids, we wondered why our parents were always in a bad mood. Now we're like, ok yes this makes sense." – unknown
My common complaint…
"It's the freakin' weekend, baby. I'm about to do 15 loads of laundry." – unknown
Really though…
"I see all these moms who can do everything, and I think… I should have them do some stuff for me." -NotSalmon.com
I wish they would just forget…
When I tell my kids I'll do something in a minute, what I'm really saying is "please forget." – unknown
I'm glad I'm not the only one…
I'm at the point in parenting where "what did I just say?" could either be a threat or a genuine question. – @katewouldhaveit.com
100% true…
"Boys: Less drama than girls, but harder to keep alive." -NICOLE FORNABAIO/RD.COM
Especially with snacks…
"Every time I say 'no,' my kid hears 'ask again, she didn't understand the question." – Housewife Plus
Related Post: Must Haves for Busy Moms
Every. Single. Time.
"Dear kids, sorry I yelled. In my defense, you were acting like a bunch of psychos." [email protected]
Then, Mom Quotes to Inspire
Now that you're hopefully relaxed and smiling, here are some quotes to remind you what an amazing job you have, and that you're rocking it, awesome lady!
Lincoln knew…
"All that I am, or hope to be, I owe to my angel mother." -Abraham Lincoln
YES. YES. YES
"You can be a mess and still be a good mom. We are allowed to be both." – @sweats_and_swaddles
Children teach what love is…
"If I know what love is it is because of you." Hermann Hesse
The purest love…
When you are looking at your mother you are looking at the purest love you will ever know." Charley Benetto
Remember, the years are short…
"The Days are long but the years are short." Gretchen Rubin
We forget this often…
The most important work you will ever do will be within the walls of your own home." – unknown
We all struggle…
"Successful mothers are not the ones that have never struggled. They are the ones that never give up, despite their struggles." Sharon Jaynes
No one is perfect…
"There is no way to be a perfect mother, but a million ways to be a good one." – unknown
Sums it up…
Motherhood is a choice you make every day. To put someone else's happiness and well being ahead of your own, to teach the hard things, to do the right thing even when you're not sure what the right thing is…And to forgive yourself over and over again, for doing everything wrong." Donna Ball
Related Post: Free Printable All About My Mom
SOMETHING TO THINK ABOUT
That's it! I hope this gave you the extra push you need to finish the week strong with your kiddos! Remember, we're all in this together, and we all face the hard stuff at different times. So, lend an ear when another mama needs a little extra support!
Check out my guest post to find out how to make life a little easier: "How To Ask For Help To Create More Balance In Your Life"
Other mom posts you may enjoy…