Am I Taking Risks For Astonishing Growth?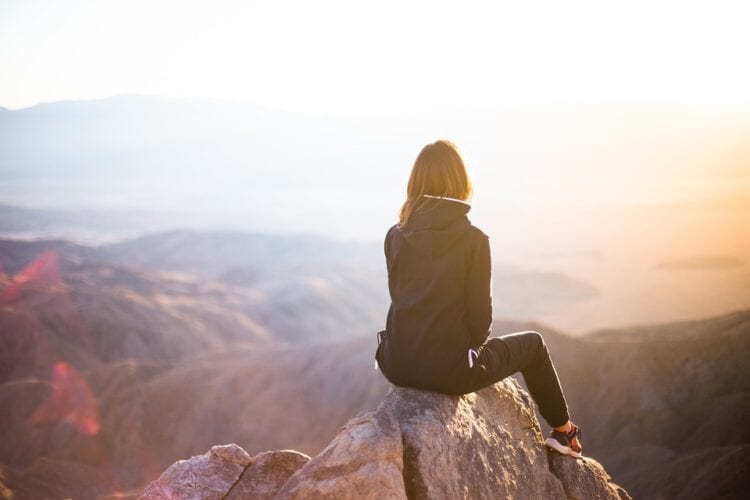 In 2018, I took what I felt was a big personal risk.
I got pregnant with our third child.
At the beginning of the year, I had two healthy children, but I had also gone through three miscarriages. We had always wanted a third, but I was coming off of a difficult miscarriage the year before.
I was scared, worried, and feeling defeated. In spite of this, the doctors couldn't find anything to say we shouldn't try again.
So, I decided to take the leap.
Several almost panic attacks later, my sweet Isabel was born. Could things have gone wrong? You bet. I thought about all the different ways many many times. And if they had, I would have dealt with it.
But you know what, it was so worth the risk. It was worth the breakdowns and middle of the night worrying. And all of my children have been well worth the absolute misery of the miscarriages that came before them. So now, when I hold the baby I wasn't sure I could have, I wonder if perhaps I need to be more open to risk in general.
2019 Risk Taking Goals
Therefore, my 2019 goal is to take more risks. I'm naturally cautious, as I think most women are. I choose security over risk often. And I don't know anyone that wants to fail or be judged by others.
However, we can't ever achieve our real dreams if we don't take a risk somewhere along the way.
Start this blog – Done! Phew!
2. Actually tell people about this blog! – Terrifying, but necessary! Done!
3. Invest in a rental property – We've been talking about this for years without moving forward. I'm trying to break the actions down so it seems less scary.
4. Go on a short getaway with my husband – Am I the only one that worries the one time we leave together we'll die in a fiery crash? Done!
5. Get Lasik – I'm afraid the procedure will accidentally blind me, but i'm trying not to overthink it! Done!
6. Improve my Spanish – I have been working on this for a while with italki.com. My Spanish is pretty good, but I would like the courage to strike up more conversations.
7. Get an accountability partner – Done! I have stalled for years because I was afraid of what others would think. I finally asked my sister. Turns out she was excited too. What was I so worried about? Done!
Related Post: The List of Life Changing Habits to Improve Your Life
8. Have a conversation with my husband about future goals.-Done! My husband isn't quite as crazy goal-oriented as I am. Sometimes I feel like we aren't on the same page, but I don't want to rock the boat. But when I took the chance and got him to sit down to think about our future, he had some fantastic ideas. Done! – You may find this year planning post helpful for this!
*Use this post to get out of your comfort zone too!
Finally, I find this famous quote inspirational every time. It's lengthy but deserves a slow read.
"It is not the critic who counts; not the man who points out how the strong man stumbles, or where the doer of deeds could have done them better. The credit belongs to the man who is actually in the arena, whose face is marred by dust and sweat and blood; who strives valiantly; who errs, who comes short again and again, because there is no effort without error and shortcoming; but who does actually strive to do the deeds; who knows great enthusiasms, the great devotions; who spends himself in a worthy cause; who at the best knows in the end the triumph of high achievement, and who at the worst, if he fails, at least fails while daring greatly, so that his place shall never be with those cold and timid souls who neither know victory nor defeat." – Theodore Roosevelt
Something To Think About
So, what risks have you taken that were well worth it? And more importantly, what risks will you take this year? Or even today?
Do something you have always wanted to do. Have that tough conversation. Or break a scary thing down into smaller less intimidating actions. The best rewards involve taking a chance. Throw caution to the wind this time and reach a little farther.
*I even purchased this bracelet from Amazon to wear every day. I do best with visuals!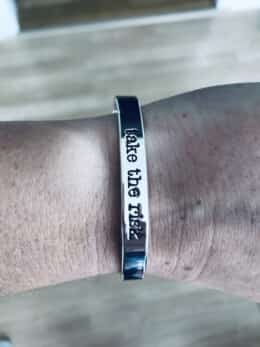 Happy risk taking! For a 6 month update be sure to check out THIS POST HERE. 🙂
For more of my miscarriage story, check out…
How To Survive Pregnancy After Miscarriage
Other Personal Development Posts…