Easiest DIY Cold Coffee In The World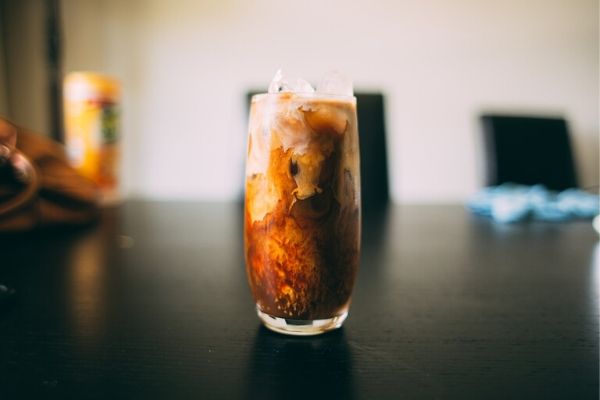 Summer is coming!!! And that means cold coffee is making its yearly comeback.
Now, my husband has officially converted more people to his DIY cold coffee than I can count. It's been incredibly surprising to see people get SO excited over it. The only reason I can think is because it's shockingly easy and requires very little equipment.
He's even got me addicted, and I don't normally drink that much coffee! So, I figured it was time to share it with more people!
If you love cold coffee of any kind, you will LOVE this! And if you're a coffee house aficionado, this one trick could save you thousands of dollars over time. It's worth trying it just for that!
How To Make DIY Cold Coffee
What You Need
A 32 oz. Mason Jar
1/2 or 1/4 measuring cup
Coffee Grounds – We usually just use Folgers, but you could get more gourmet!
Coffee pot
Filter
Strainer
The process is super simple!
1. Pour 1/2 cup of coffee grounds into the mason jar (I use 2 1/4 cups full because it's easier to dump).
2. Add cold water and fill up the jar. Put the lid on and do one small shake to mix it up. Sit it in the fridge for 12-24 hours.
3. When you're ready to make it, give it one more little shake to get the grounds off the top of the jar. Put your strainer and coffee filter over your coffee pot and slowly pour the coffee into the strainer/pot.
4. That's it! Crazy easy, right! Then, add WHATEVER YOUR WANT!
We try to stay pretty healthy, and consume it in large quantities with ice, almond milk, and a little maple syrup. BUT you could get your own vanilla syrup and cream to make it even more decadent.
And, if you are an addict like my husband, get the most giant mason jar you can find available. He uses 64 oz jars, so he has plenty!
He even likes to save his Starbucks cups and re-use them with this coffee, so he feels like he's still getting a Starbuck's treat. Look at him using mind tricks to save money!
So, there you have it! A delicious, healthy, and extremely cheap way to make DIY cold coffee at home! It doesn't get any better than that!
Try it today, and enjoy your summertime cup of coffee a new way!
Other Healthy Living Posts to Enjoy…